Coastal 7.5
---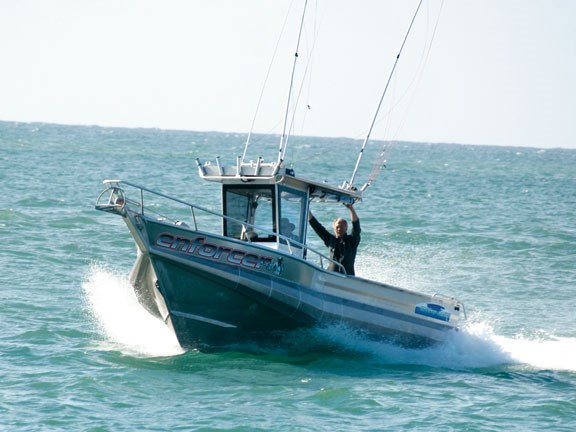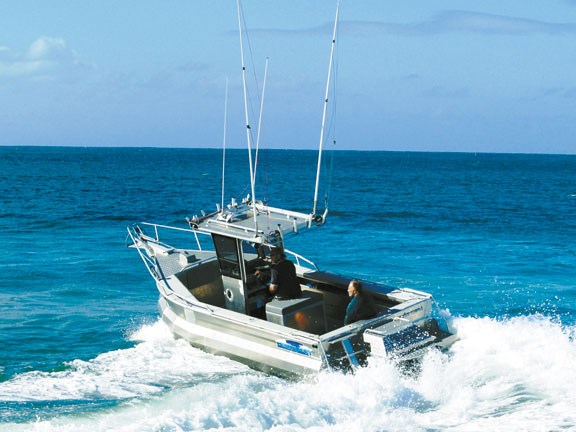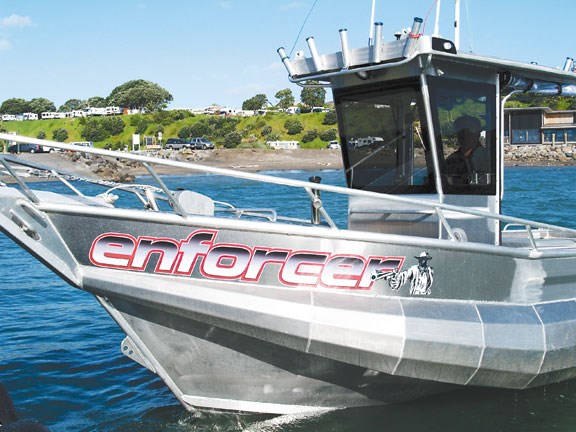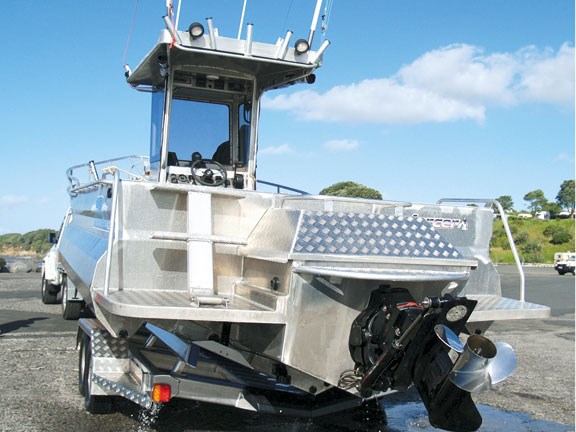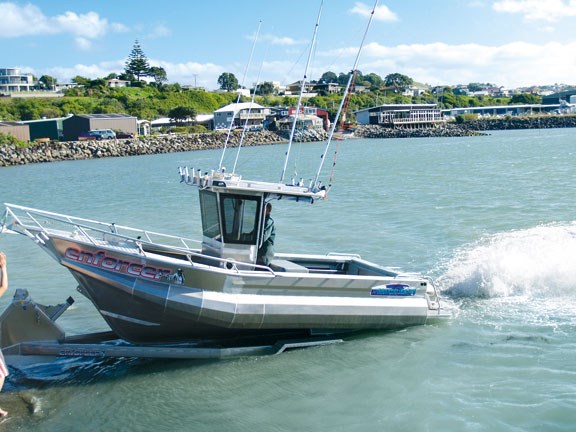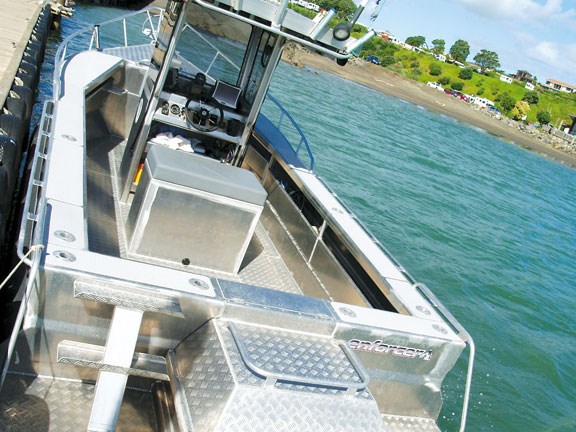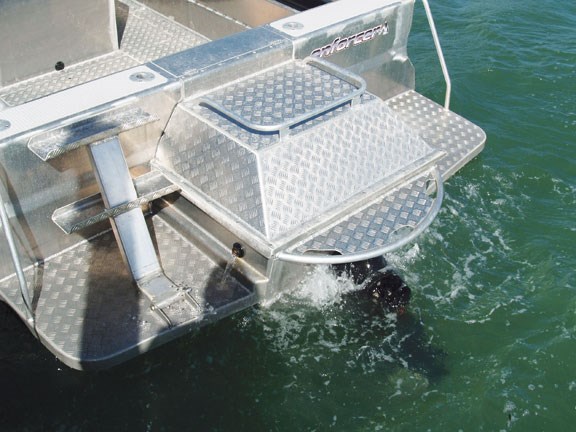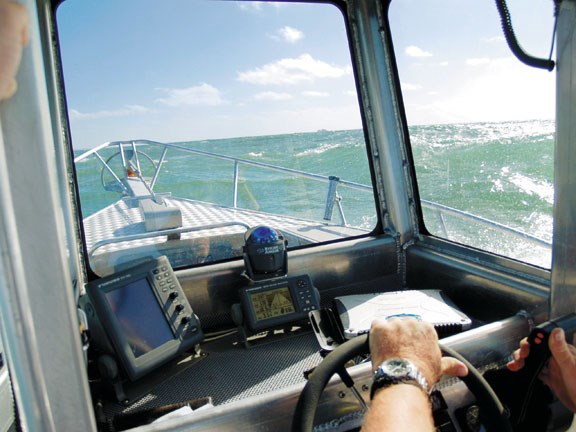 While its looks may not suit more discerning tastes, hard-core West Coast fishermen will appreciate the rugged construction of this purpose-built fishing boat
Rugged construction
Great ride
Well thought out cockpit
No cavitation or over-revving
Huge buoyancy
With a background as a commercial fisherman, charter boat operator and tug master, Barry Govier wanted a boat he could easily fish on solo, with room to work big fish, and for people to spread out if fishing in a current. And, because she'd be hunting game fish and tuna a fair distance offshore, the boat had to be fast, rugged and sea kindly.
Govier took his ideas to Keith Blowes, who designs and builds the Coastal Boats range in the south Taranaki township of Manaia. The 7.5m LOA Enforcer, which takes him fishing on an almost daily basis, was the result.
A lot of Enforcer's design input came from the Coastal 47 and other boats that Blowes has built, but she was largely a joint venture between owner and builder.
Construction started with Blowe's signature 50mm x 50mm x 6mm T-bar keel in 5083 marine grade alloy overlaid with half round boat channel. Frames were added, on 600mm centers, and stringers, with 100mm between them, followed. The pontoons have half frames every 600mm, and the whole structure is covered by 5mm hull plating.
All that alloy means Enforcer tips the scales at 2.8 tonnes and Blowes built a custom alloy dual-axle road trailer.
Wheelhouse
One of Govier's requirements was a centre console. The result was Enforcer's mini wheelhouse amidships. The 5mm wall thickness and 8mm-thick tinted reinforced glass windows give a feeling of security and provide protection from the elements. Roll down clears prevent the weather coming in from the sides.
Electronic navigation is via Panasonic Toughbook laptop computer and Nobeltec charting programme interfaced with a Furuno GP50 GPS. A Furuno 582L FCV colour sounder supplies information on where the fish may be.
The wiring was done by Govier and has full redundancy inbuilt for all systems in a loom neatly stowed beneath a watertight hatch in the wheelhouse ceiling.
A wheelhouse width console could seat four people, back to back, but for those who prefer to stand, full length hand rails run around the wheelhouse and the cockpit. More are welded to the pontoons forward and others double as steps to climb on the forepeak.
An electric windlass, remotely controlled from the wheelhouse, takes care of deploying and weighing the Rocna anchor.
Dimensions
Enforcer is surveyed by Maritime New Zealand for nine people and, for survey purposes, has a registered length of 5.98m. The boat carries her 2.7m beam well forward with pronounced shoulders to butt spray well away from the rest of the boat and has a feel of stability and roominess that normally takes a lot more boat to achieve.
Engine and power
Govier opted for a 250 horsepower 5.7L V8 Mercury petrol engine, which puts its power to the water via an Alpha stern drive and Mirage 15" x 13" prop. The engine is isolated in a sealed aluminium engine case, which vents out under the gunwale and has a small watertight hatch forward for maintenance.
The house and start batteries are located in a watertight locker in the starboard side of the transom with a three-way switch to control their output.
The Mercury draws its juice from a 375L tank independently mounted amidships beneath the boats 6mm tread plate decking. Govier says a day's trolling uses about 110 litres.
The Mercury makes easy work of launching Enforcer out onto the plane and she quickly reaches a top speed of 26 knots with the Chevy-based V8 engine turning over at 3400rpm. Cruising speed is 17-18 knots.
Performance and handling
Handling is what the Coastal Boats do best. From top speed, it's possible to put Enforcer's helm hard down in either direction and the boat simply goes round in a circle – no cavitation, over-revving, prop break out or other nasty vices.
Blowes attributes some of the remarkable handling characteristics to the boats deep forefoot and deep vee entry. Enforcer begins with a 40-degree deadrise forward and has a progressive run aft to 21 degrees at the transom. There's also a three-degree drop in the keel as it goes forward. The pontoons protrude 100mm below the hull plating to help with tracking ability and provide extra lift.
"We had 15 people on board for the survey stability test," Govier laughs, "and she went down by about 25mm."
Fishability was also a key concern in Enforcer's evolution. It features hip high gunwales, deck tread, LED lights beneath the gunwale, as well as 24 rod holders on the boat plus five on the more rocket launcher plus outriggers for trolling. A 375L live bait tank is accessed via a hatch under the central seating.
With her huge buoyancy and high sides, you'd have to work pretty hard to ship any water in Enforcer's cockpit but, in the unlikely event, twin sumps on either side at the transom have Rule electric bilge pumps.
Read in-depth boat reviews in the latest issue of Trade-A-Boat magazine, on sale now.
Specifications
LOA 7.5m
Beam 2.7m
Engine 13hp 5.7L V8 Mercury petrol
Towing weight 2800kg
Keep up to date with news from Trade-A-boat or like us on Facebook!