Tender: Quicksilver Heavy Duty Sports
---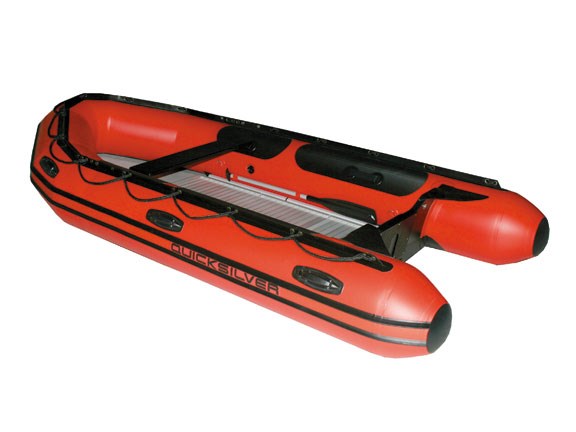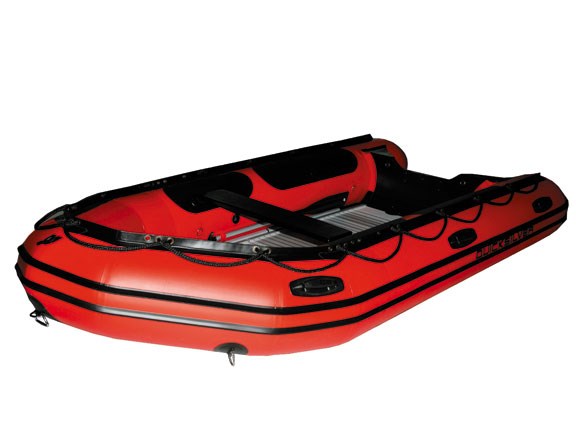 The Quicksilver Heavy Duty Sports models are the perfect platforms for diving or fishing
Stable
Can hold big engines
Super-tough fabric
Great handling
Built to last with specially reinforced fabric and stable aluminium and fibreglass floors, the Quicksilver Heavy Duty Sports can carry up to 11 people and all their gear.
Ranging in size from 3.65 to 4.7 metres, the Heavy Duty Sports range has reinforced transoms for bigger engines.
Available in long-life Duratex or super-tough Hypalon fabric, all are built to last and come with a three or five-year warranty.
The 365
Able to carrying up to six people, Quicksilver's 365 Heavy Duty Sport inflatable has a strong interior construction featuring fibreglass and aluminium floorboards, providing stability so passengers can move around safely
An inflatable keel gives the bottom of the boat a deep V which, when combined with the recommended 25hp engine, makes for great handling.
Ample rope grabs make it easy for swimmers and divers to get in and out of the 365, while stainless steel towing eyelets in the transom mean tow sports are an option.
With external cleat/handles and internal davit points, transportation and launching is simple.
The reinforced transom is made from a laminated ABS sheet and includes a self-draining valve that can be opened and closed from inside the boat.
The 365 Heavy Duty Sport is constructed with three internal air chambers plus the inflatable keel for additional safety and comes with a choice of two quality fabrics.
Duratex is a heavy duty long-life fabric that offers excellent resistance to ultra-violet light, cuts, abrasions and general wear and tear. Premium quality Hypalon also resists damage from fire, chemicals and oil.
The Duratex models feature welded seams, while the Hypalon boats have glued seams.
Quicksilver Inflatables has 22 high quality models in six hull styles – including roll-ups, air decks, fibreglass/aluminium floors and two types of rigid hulls.
The Quicksilver Heavy Duty 365 is a good option for those likely to give their tender more abuse than they average boatie. This boat, with its hyperlon construction, has proven popular with rock fisherman as it really is as "tough as old boots".
Stay tuned for more Tender reviews in the coming months...
Read in-depth boat reviews in the latest issue of Trade-A-Boat magazine, on sale now.
See Quicksilver boats for sale.
Keep up to date with news from Trade-A-boat or like us on Facebook!