Sealegs Amphibious Boats
---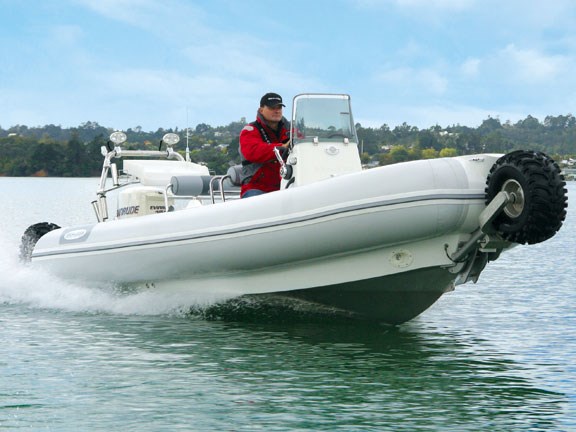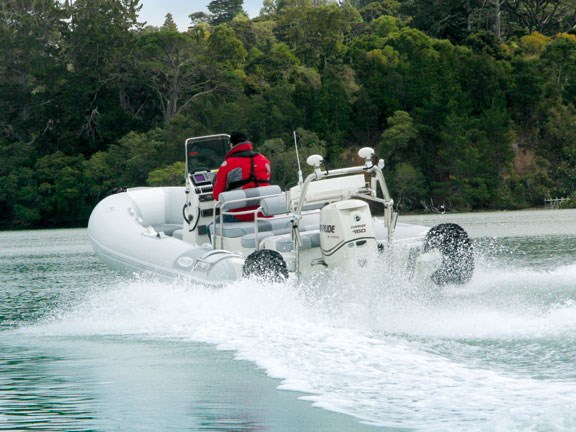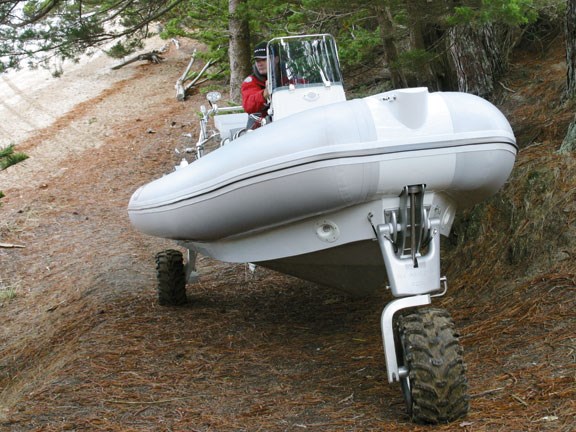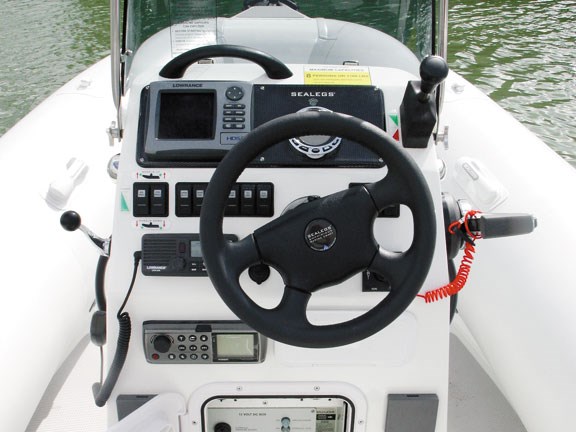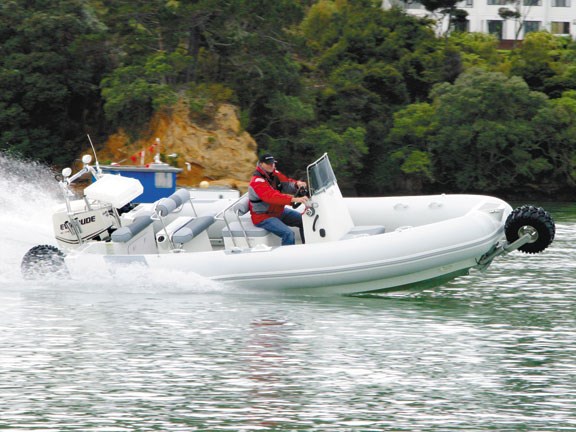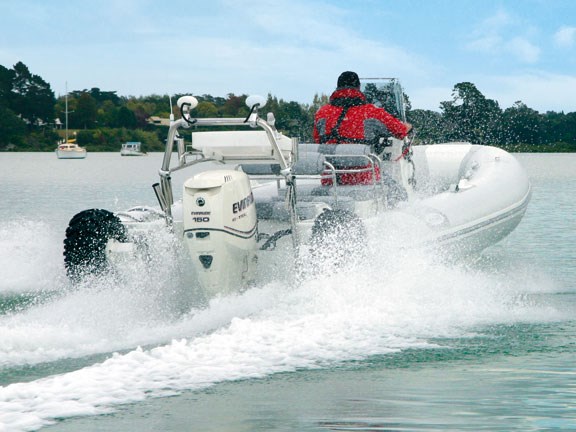 Sealegs amphibious RIBs (Rigid Inflatable Boat) have a reputation for robust engineering and excellent build quality, leading to export sales growth in 22 countries
Diverse range of applications
Handling feels solid and robust
Easy fingertip controls for functionality
Engineered to ensure reliability and longevity
Quiet, vibration-free operation
As the largest and most successful amphibious manufacturer, Sealegs founder Maurice Bryham is ever mindful that Sealegs' future rides on its boats' functionality and reliability in all extremes.
This, he says, is why Sealegs has concentrated its resources on developing robust engineering and a quality build programme, and securing compliance at the exclusion of almost everything else.
Now six years in production, Sealegs management believes the company has turned a corner, transitioning from start-up to a period of expansion and diversification. This, says Bryham, reflects Sealegs' confidence in its manufacturing processes and quality control.
What's the guts?
A Sealegs amphibious RIB are an aluminium hull with two large inflation tubes attached to each side.
The Sealegs difference is that most RIBs require a trailer to get them into and out of the water. With a Sealegs you don't. You simply hop on board, press a few buttons and switches, and drive the boat in and out of the water.
Sealegs are equipped with three mini-tractor wheels, two drive wheels at the rear and a third at the front to prevent the boat toppling over and to provide steerage.
So how does it work?
Sealegs RIBs have two engines; a conventional outboard engine hung off the transom for powering the boat in the water, and a second, smaller air-cooled petrol engine placed in a central compartment within the boat.
This second air-cooled Honda engine creates hydraulic pressure, which powers the rear wheels and lifts them out of the water once the RIB is floating and has sufficient depth to lower and start the conventional outboard engine.
In land-mode Sealegs are neither road legal nor designed for extended operation.
The standard Sealegs RIB will operate comfortably on land for about 10 minutes every hour at a maximum speed of 10km/h, after which you run a risk of overheating the air-cooled Honda engine. However, Sealegs offers an upgraded option providing continuous land operation.
Despite the standard inboard engine developing just 24 horsepower it has remarkable torque for crawling through mud, sand and shingle.
Land crab
Sealegs are no more difficult to operate and drive than a mobility scooter. Simply press a toggle switch on the centre console and the twin-cylinder air-cooled engine bursts into life. Press another switch and the wheels drop down and lock into position. As the wheels touch the bottom simply throttle forward and you're on your way.
You can kneel your Sealegs at the bow by retracting the front wheel so that the RIB lowers and rests on its bow allowing passengers easier access on and off the boat.
Trailer is no fuss either. Steer the RIB onto the trailer and attach the winch cable to the bow, lower the wheels and you're on your way.
Bullet-proof
Sealegs designers have catered for the additional weight of its RIBs by increasing the number and size of longitudinal and transverse frames built into the hull and continuously welded to prevent hull deformation due to wracking.
All alloy work is from 5083 marine-grade aluminium and fabricated on site using the latest CAD router.
Bryham says more than 500 components go into every boat and most are manufactured on site and stress analysed. Major components forming the drive line are cast or milled from solid aluminium, with hydraulic hoses internally housed and sealed for durability and protection.
The Sealegs 520mm hull pontoons are manufactured from chemical resistant Hypalon, which provides greater UV stability, strength and operating life than PVC materials. Each tube has three separate air chambers for improved safety and carries a robust full length rubbing strake.
The hull form is conventional with a 21-degree transom deadrise and a single flat continuous chine rail. All internal metal work including console, seating and locker bases and cabin sole are powder coated or painted in two-pot polyurethane with self-adhesive rubber deck tread in passenger areas.
Sealegs' internal configuration has a single stand-up helm console housing the switchgear and standard electronics package. A small acrylic windscreen provides minimal protection with the additional option for a canvas bimini cover.
Seating and storage options are reasonable with a double box seat forward of the helm station enclosing the batteries and a third single seat at the bow providing anchor and rode storage beneath. Additional storage is available in two underfloor compartments and two side lockers.
The helm seat provides covered and vented protection for the inboard engine. A stainless arch is fitted across the transom for aerial and optional halogen floodlighting. The hull is also fitted standard with twin halogen headlights.
Bryham says Sealegs provides a range of options, including detachable stretchers, davit lift slings, emergency lights and communications equipment.
Sealegs recommends and fits Evinrude E-Tec outboards as standard.
On the water
Sealegs RIBs are heavier than similar-sized RIBs, with the 6.1m and 7.1m respectively weighting in at about 1000kg and 1200kg.
While not excessive, the 21-degree transom deadrise puts more of the Sealegs hull in the water and this, particularly in the 7.1m RIB, equates to a softer more comfortable ride in choppy conditions.
Cornering is perhaps not as precise or snappy as it might be on a lighter RIB, but the bigger Sealegs shows a willingness to lean into the turn and stick to its work.
The steering is also a little heavy but it is precise and predictable and the RIB handles and feels solid and robust.
Read in-depth boat reviews in the latest issue of Trade-A-Boat magazine, on sale now.
Read more about Sealegs here.
Specifications
Sealegs 7.1m amphibious RIB
LOA 7.13m (23"5')
Beam 2.61m (8"7')
Draft 0.41m (16")
Deadrise 21 degrees
Weight 1220kg (inc outboard and fuel)
Engine 150hp Evinrude Etec
Max payload 700kg
Keep up to date with news from Trade-A-boat or like us on Facebook!