MasterCraft X-15
---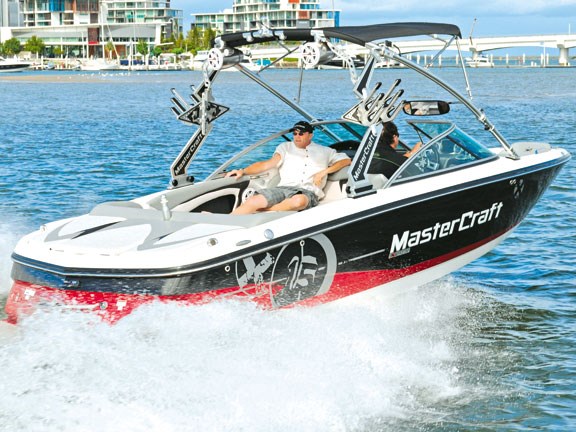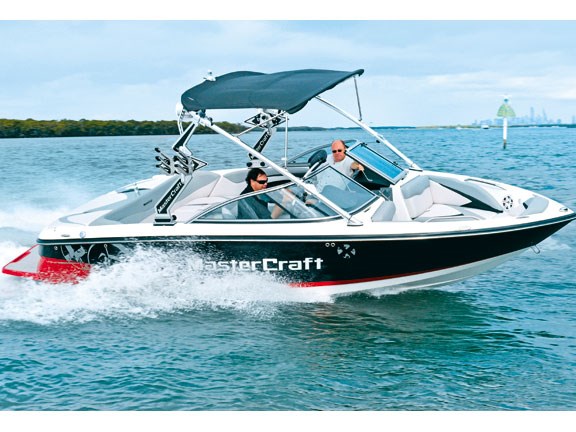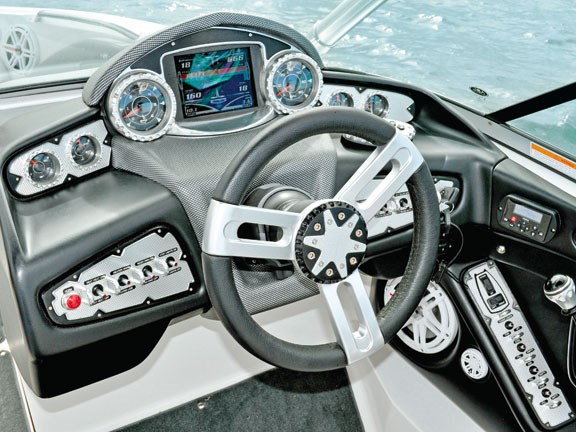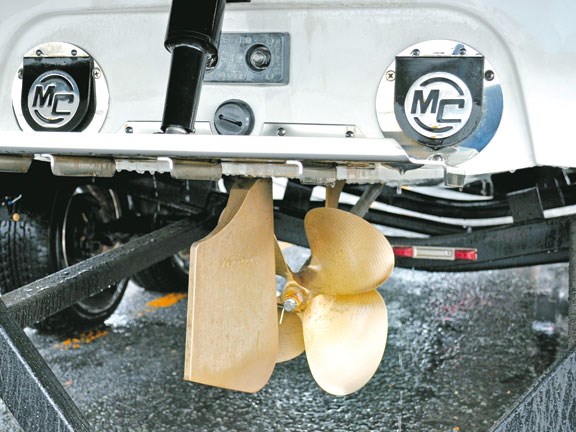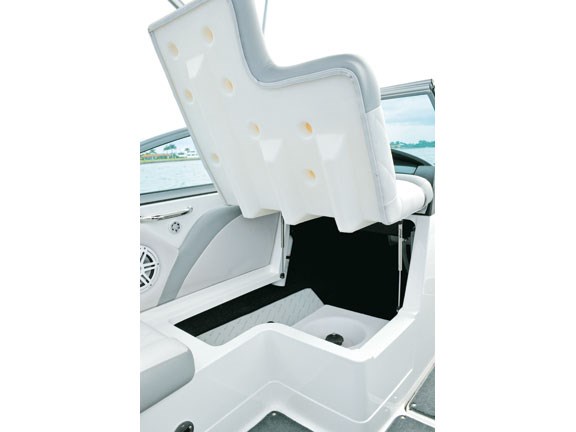 MasterCraft's latest watersports missile is a waterskiing, wakeboarding and "Big Fun Factor" machine
Capacity for 14
Great coxwain's setup
BIG instrument functions
Powerful engine
Smooth, quiet and economical
The MasterCraft X-15 boasts 2.54m of beam, plenty of room to seat three families with their gear, and maximum bling.
Motor and controls
The X-15 is fitted with MasterCraft's MCX, its most powerful 5.7lt/350hp saltwater series engine, and an Indmar V-drive. The MCX is derived from GM's classic Vortec 5700, featuring Indmar's custom high-performance, multi-port fuel-injection intake manifold with longer, more efficient runners, producing stronger bottom-to-mid-range torque.
The MCX also has a closed cooling system and a certified Four Star Super Ultra-Low Emission rating. At the helm, hydraulic-steering, combined with Indmar's electronic throttle and cruise system, makes driving this baby so sweet.
Performance
When it comes to skiing you need plenty of grunt out of the hole to get your riders up, plus a reasonable top speed. With a four-blade, OJ 14.25 x 14.5in prop, this boat had all the torque necessary, but was still smooth and quiet all the way to 5150rpm and 67kmh. Hovering around the 3000rpm mark produced an ideal 35kmh, and is economical to boot.
Cranking it into turns, the hull handling was responsive and tight at high speeds on the rudder system, as well as smooth and soft within the flat waterways of the canals. Running back on the outside was a bit of a different story, because we had a nice 25-knot south-easter to smash into. The ride comfort changed accordingly and was a tad on the bumpy side when sticking to cruise speed.
Winding it up to far higher speeds improved the ride and kept us on top of the chop rather than dipping into it. Even so, it stayed quite dry.
You could possibly improve it a touch by filling the ballast tanks to create more weight. The X-15 has a triple-ballast system – port, starboard and centre – filled with the flick of a switch and monitored via the BIG (Boat Instrumentation Gauge).
Collectively, the ballasts and optional surf tab can be set to create the perfect wakes for standard skiing, wakeboarding, or even the new wake surfing. Once you have your speeds and wake set you log into the BIG system so that next time you're on the water there's no time wasted in setting up.
Layout
There is a spacious layout to seat 14 people, and no matter where you position yourself in this boat, you'll be comfortable. In the stern the boarding platform is huge, low to the water, far from the prop, and presumably very easy to get on and off. There's a rear skipole-hook and step platform, and on top of that, access to a rear-mount stereo remote.
There's a fully padded stern-top and dual-storage compartments either side of the interior, with the centre-mount MCX V8 purring quietly beneath. There's also another midrange ski-pole.
The lounge begins behind the helm and wraps back around to the passenger side-console, with fashionable upholstery.
Both port and starboard seating have recessed cupholders, gear storage compartments, a pull-out icebox, inner grabrails, and pop-up cleats on the rear gunwales.
The captain's office was definitely the most "bling" part of this boat. It comprised an adjustable swivel seat and a dash setup that made me feel as if I was in a rally car. I liked the adjustable sports-steering wheel, the dual-switch panels on either side, and heater switches ready to go.
The dash incorporated full analogue gauges on either side of the interactive BIG system, which runs a set of page options ranging from standard operating through to personalised rider ballast and tab settings, working off another remote.
On the side is the slick control box/armrest, incorporating a tab setting and ballast switch panel, stereo remote, USB docking port and stereo speakers, and all with the protection of a full wraparound, lightly-tinted screen. Above the screen is a wide-angle rearview mirror, so you can keep an eye on skiers. On the passenger side is a large glovebox, with the Clarion stereo system inside.
Above the console is a wakeboard tower consisting of dual-swivel boardracks with a bimini cover, rear-facing audio speakers, and a tower skipole. Access to the bow is through a hinged door and screen, which can be left open or closed. It's another area with seats aplenty, more storage below, grabrails, its own audio speakers, and cupholders.
If you wanted to, you could mount a few rodholders and grab a day's fishing. The carpets unclip so you could leave them out and not worry about the mess, and the water-level boarding platform would be a great place to gaff a fish.
In the end
The MasterCraft X-15 is one of those boats primarily built to perform for the skier, with additional high-tech looks and a precise finish.
See MasterCraft boats for sale.
Specifications
Material GRP composites
Length 6.6m
Beam 2.54m
Weight 1625kg
Deadrise 7° (transom); 20° (midships)
Draft 0.67m
Fuel 170L
Storage 3.28m³
Max hp 350
Engine make/model MasterCraft MCX
Type V8 V-drive
Displacement 5.7L
Fuel system MPFI
Keep up to date with news from Trade-A-boat or like us on Facebook!