Jeanneau Merry Fisher 645
---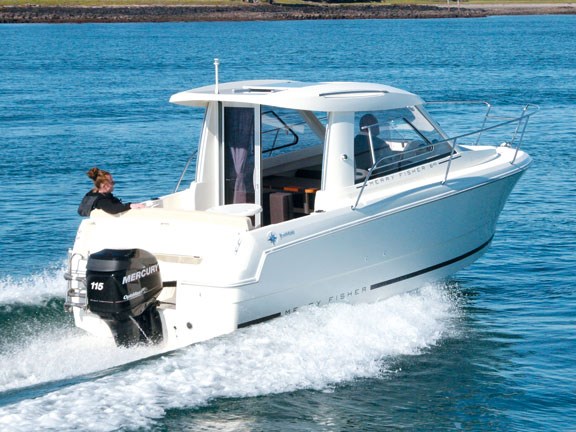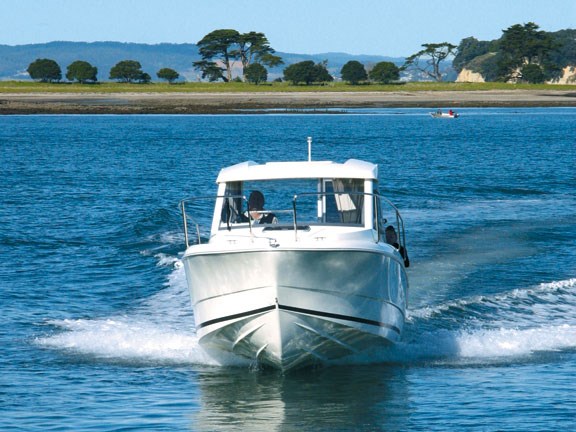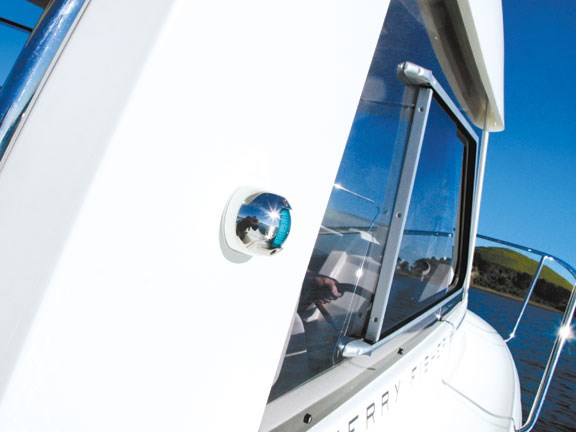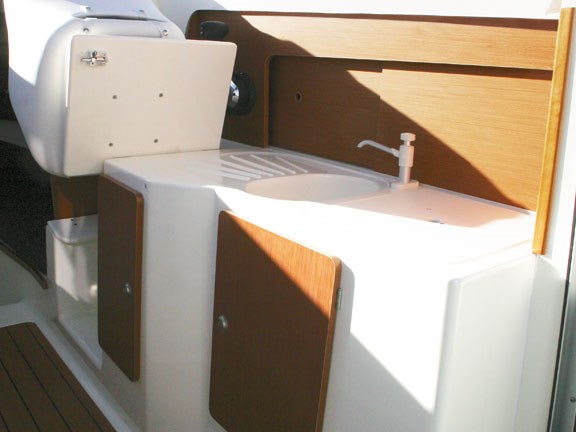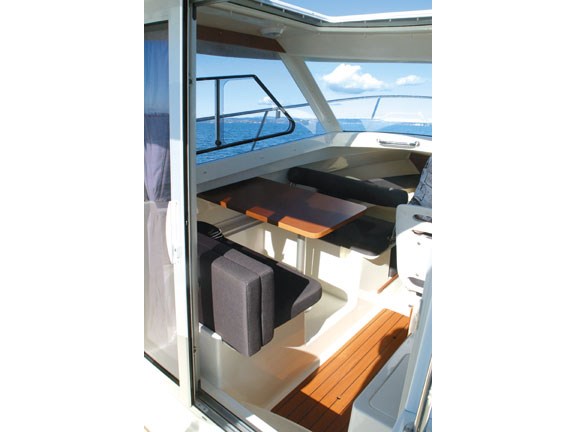 As the name suggests, the Merry Fisher, from French production boat builder Jeanneau, is a little different…
Very spacious interior
Stylish yet practical layout
Predictable performance
Trailer boat convenience with cruising comfort
With a maximum recommended 115hp outboard rating, Merry Fisher is more about cruising comfort than it is about high-speed hi jinx. There is nothing from a design perspective to suggest a few extra horses will cause any undue stress. In fact, the New Zealand importer, Breeze Marine, recommends a 135hp outboard as an all-round better option.
The name Merry Fisher tends to imply the boat is pitched towards recreational fishing, but in factory trim there's little in the way of fittings to support this premise. All you get are two recessed rod holders in the cockpit side combings and the combings are narrower and higher than we're used to. So what is it that Merry Fisher brings to the table?
The short answer is finesse. It's overwhelming feature is the way the Jeanneau design team has applied its big boat design philosophy and scaled it down to achieve something quite remarkable.
At a shade under 22-feet the Merry Fisher 645 has huge internal volume and imparts a sense of space, style and sophistication and internal design attributes that make it as practical as it is aesthetic.
The boat has high topsides and hard top, allowing Jeanneau to provide a raised pilothouse dinette to maximise the panoramic 360-degree views around the boat.
Sun worshipper
In the case of the Merry Fisher the Jeanneau design team has compromised on cockpit size, seating and stowage to maximise internal hard top volume.
A double-hinged transom board provides cockpit seating for two or three. The transom board can be removed, or alternatively opened out and slotted into cockpit combing cleats to provide a double sun bed complete with fitted vinyl squabs.
Cockpit stowage is limited to a central hinged underfloor locker, which is reasonably large and deep but shares space with the boat's battery boxes and battery switches, plastic fuel tank and premix oil reservoir. It is well designed, with deep drainage channels channeling runoff through the cockpit's self-draining transom scuppers.
Access on and off the boat is via a semi transom cutaway on the port side of the outboard pod fitted with a stainless steel hand rail and fold-down boarding ladder.
To starboard is a deep recessed locker with hinged lid, which could be plumbed with a 12V pump to provide a live bait tank.
Jeanneau provides a small plastic pedestal table that locates into a recess in the underfloor locker. Jeanneau's one-piece moulded cockpit lining makes cleaning up a breeze.
The interior
Integration between the cockpit and saloon is seamless. The rear anodised aluminium saloon door glides to port and locks securely, and is shielded overhead by the hard top, which extends halfway across the cockpit.
To starboard is a small galley equipped with a single-burner LPG hob, small circular sink, manual water pump and plastic bench top. The galley cabinet cupboard accommodates the plastic water supply with additional storage provided by sliding lockers.
The teak and holly saloon floor provides a large storage well fitted with twin access hatches.
Opposite to port is the raised saloon table with opposing settees providing seating for four. The forward seat is fitted with an upholstered stainless steel bolster that pivots forward and aft. By removing the aluminium pedestal the saloon table can be lowered onto cleats to provide a comfortable double berth. Space is further enhanced by laying flat the stainless bolster.
Jeanneau has created the illusion of space by forgoing the central bulkhead between the saloon and forward cabin. The only compromise is a narrow helm station fascia and reduced mounting options for instruments and navigation aids.
The helm
In standard factory trim the boat is light on extras but is equipped with a small steering compass, single wiper, interior and exterior lighting, navigation lights, 12V accessory switch and a bilge blower.
The forward cabin features a standard V-berth and ply-backed centre squabs to form a generous second double berth. Upholstered parcel shelves, Lewmar deck hatch and teak cabin trim are standard items.
Additional dry stowage is provided under the V berths and the forward bulkhead is completely sealed from the anchor locker. Jeanneau's clever use of space extends to a cavity built in under the forward saloon seat to increase legroom on the cabin port side.
The Merry Fisher 645's forward cabin foot well will accommodate a cassette or chemical toilet separated off by a courtesy curtain.
On deck
The Merry Fisher's starboard deck is wider than its port deck, though the visual difference is barely discernable. The hard top has a wing-like quality with flat angled edges incorporating recessed stainless steel handrails and a futuristic windscreen eyebrow design.
While perhaps a bit light on frills, solid thru-bolted deck hardware and supporting aluminium backers support high-stress areas.
A deep self-draining anchor locker with a secure lid with moulded lip accommodates the anchor shank and anchor fairlead.
Owners could opt for either a horizontal deck-mounted winch or a vertical capstan built into the anchor locker itself.
Cool runnings
The vessel doesn't purport to be an offshore ocean thoroughbred but she's no wilting flower either.
The boat is constructed using Jeanneau's "prisma process" injection moulding technique which Jeanneau says increases laminate rigidity and strength while reducing weight.
The quality and finish of deck, cabin and internal mouldings is first-class. The hull to deck join is capped in an aluminium and rubber rubbing strake to limit impact damage from coming alongside.
The boat's fine entry and pronounced topside flare delivers a dry ride but it would be reasonable to expect the boat to steer by the bow in short, steep conditions. The hydraulic steering, however, is firm and precise and the boat tracks well and holds on firmly in aggressive cornering.
Standard Merry Fisher spec does not run to trim tabs and given the boat's high topside height and hard top you'll want to pay attention to trim in a fresh breeze.
Jeanneau's Merry Fisher has a solid fiberglass stub keel to aid directional stability and reduce leeway – a useful sacrificial appendage in the event of groundings.
The hull has a wide and slightly upturned chine rail and a twin strake design for improved planning efficiency.
Fitted with a 115hp two-stroke Mercury Optimax, the Merry Fisher performs well enough and tops out at a click over 28 knots and at 1125kg the boat is reasonably light and lifts to the plane at an economical 10 knots.
Handling and performance is predictable if not scintillating, but keep in mind that the Merry Fisher has been designed as an economical cruiser. What you give up in straight line performance is more than compensated for in comfort and year-round usability.
With two generous double berths, a stylish and practical layout, superb natural light, uninterrupted views, and a lock-up cabin, the Merry Fisher is the ideal package for the cruising couple.
Specifications
Length overall 6.70m
Beam 2.54m
Weight 1125kg
Fuel 136L (underfloor)
Rec max hp 115
 

Keep up to date with news from Trade-A-boat or like us on Facebook!