Takacat
---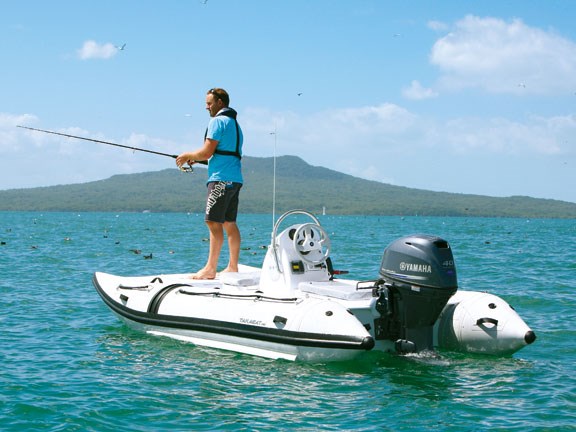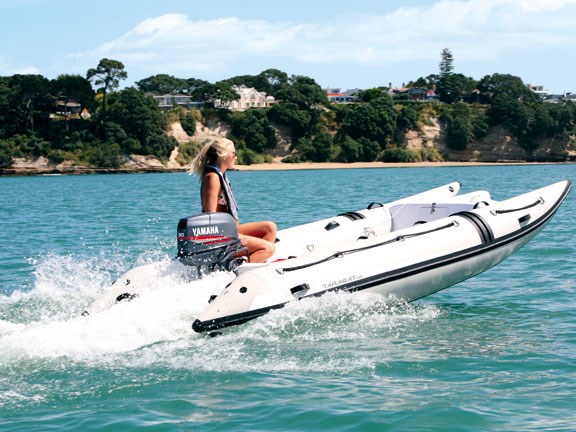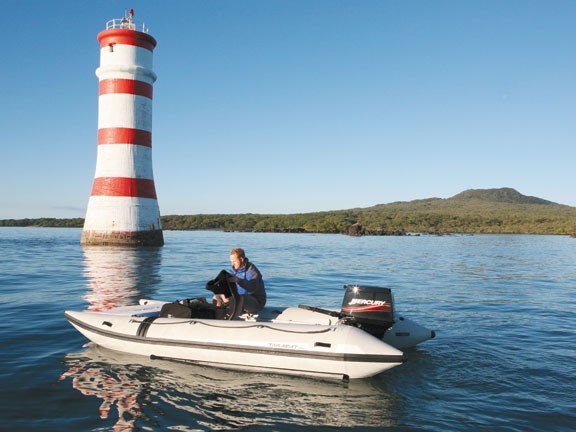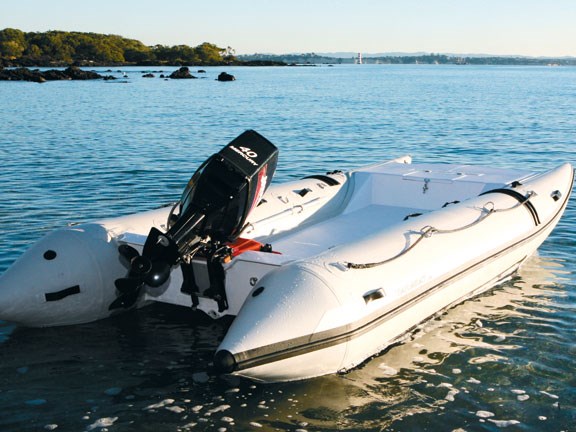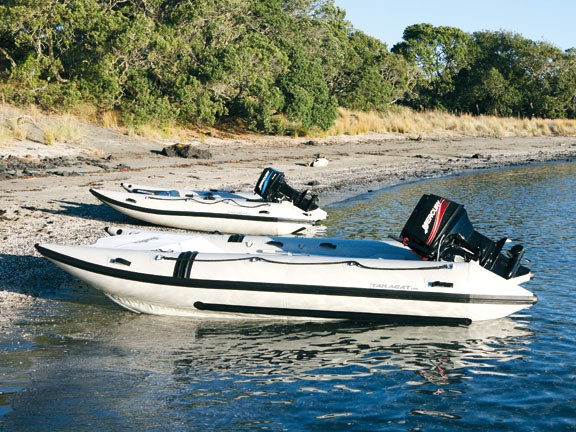 Original Kiwi thinking, grit and determination is paying off for a young Auckland designer taking on the world with his innovative Takacat range of rigid inflatable catamarans
Versatile range
Stable on the water
Good load capacity
Single, two and four-seater configurations
Hard-wearing and durable
Born from the simple premise that there is nothing quite as much fun as messing around in small boats, Auckland entrepreneur Greg Snowden appears to be gaining traction with his innovative inflatable catamaran, the Takacat.
His foray into inflatable boats began in the backyard of his North Shore home. Snowden knocked together a 3m inflatable catamaran with the essential Takacat ingredients – two inflatable hulls joined together with a solid fibreglass floor and raised bow.
"It was as heavy as hell," says Snowden, "and a far cry from the practical, stylish inflatable I'd pictured. But it was innovative and it performed much as I thought it would, providing excellent stability and an exhilarating, fun ride."
Snowden then looked for a manufacturer, but the costs involved were prohibitive. So, Snowden took his concept to China where, he says, inflatable boat manufacturers were more realistic in their expectations and better geared to accommodate his design ideas.
He says his first production cat was a crossover between the Freedom and Explorer, which form two of Takacat's three model ranges that have evolved since.
"I initially brought two boats back from China to gauge interest in the concept. These were quite similar to the racing Thundercat and performed well but the consensus was that they were overbuilt and too heavy for the tender market."
Design and engineering changes delivered the weight savings Snowden was seeking and in 2007 he took the plunge and established Air Yachts Ltd and imported his first run of the flagship Freedom range.
Takacat Freedom
The Takacat Freedom series incorporates Snowden's unique ballast system designed to improve the cat's stability when at rest by flooding waterline chambers glued to the underside of the inflatable pontoons.
The idea, he says, is that the chambers fill when the cat is at rest and drain again once it is moving. This creates enough stability to allow passengers to move around the boat without any fear of capsize.
"The Freedom has been designed as a general-purpose boat to meet a wide range of activities including fishing, diving and water sports. To meet these needs it has to be stable. The flooding chambers achieve this yet add no additional weight. They also reduce the cat's leeway or drift when stationary. "
The Takacat Freedom, available in 3.9m, 4.2m, 4.5m and 4.8m options, also features what Snowden describes as a secondary "wave-piercing" inflatable under-tube attached to the main pontoons.
These 150mm diameter tubes promote better hydrodynamic lift for easier planning and less wetted surface area when the cat is planing. It also reduces the boat's wake.
"Rather than pushing through water, the cat slices through it and is effectively supported on a cushion of air trapped under the fibreglass floor. This makes for a very soft ride and excellent directional stability even in difficult conditions."
Takacat Explorer
The Freedom and Explorer range are built on Takacat's solid fibreglass floor, transom, and raised bow sections, and include a built-in fibreglass anchor locker.
The fibreglass hull creates the strength and rigidity to support the large 550mm twin inflatable tubes and delivers all the attributes of a conventional rigid inflatable boat with all-round better stability.
Snowden says they key remaining difference between the Freedom and Explorer is the secondary underwater pontoon.
"The Explorer is more conventional in that it has a standard pontoon which makes it more suitable for beach launching and shallow water applications because of its reduced draft."
Both the Freedom and Explorer have between four and six separate air chambers in each pontoon depending on model size with the 4.5m and 4.8m models each rated for five passengers and a maximum 50hp outboard.
"One of the advantages of the Takacat is its ability to carry larger four-stroke outboards delivering the kind of grunt needed to tow skiers and biscuits. Generally speaking the larger models perform very well with 30 to 40hp and will easily attain 25 to 30 knots."
Takacat has developed a range of moulded console options providing a variety of seating arrangements including single, two and four-seat configuration.
The Freedom and Explorer range is offered in both PVC (polyurethane) and Hypalon (Neoprene).
Takacat Lite
The Takacat Lite series is aimed squarely at the competitive tender market.
Snowden says the key attributes of Takacat design are retained in the Lite series, which is available in 2.8m, 3.0m and 3.2m options.
He says the Lite PVC series derive their rigidity from an aero-deck inflatable floor and fabric-covered plywood transom and are extremely manageable at 35kg, 38kg and 41kg respectively.
"The beauty with the Lite series is they can be rolled up and stowed on the deck of even quite small boats yet offer the same stability and usability of the larger Freedom and Explorer models.
"They're well behaved and track well under tow and are rated for between 9hp and 15hp, which lends them to a wide range of activities when you get to where you're going. They're also a sweet little rower."
Keep up to date with news from Trade-A-boat or like us on Facebook!