Assault 575C
---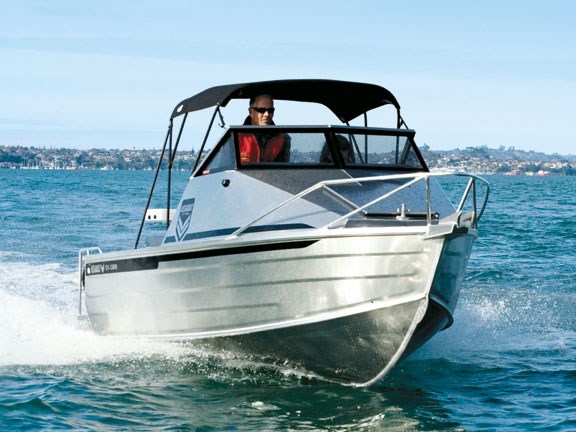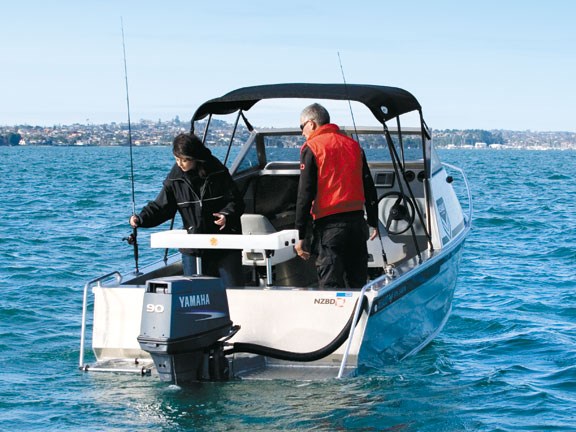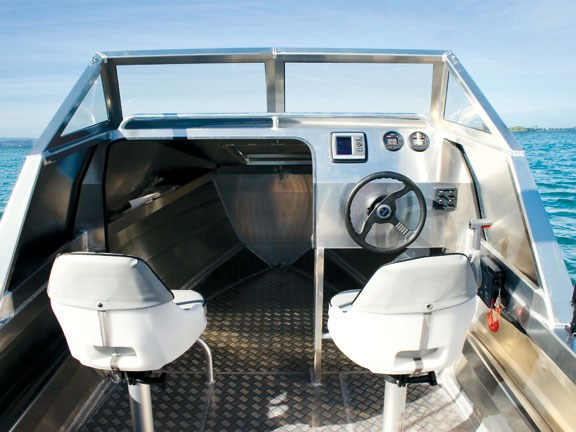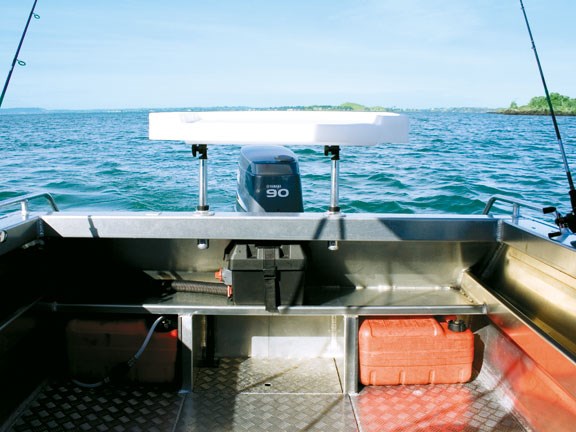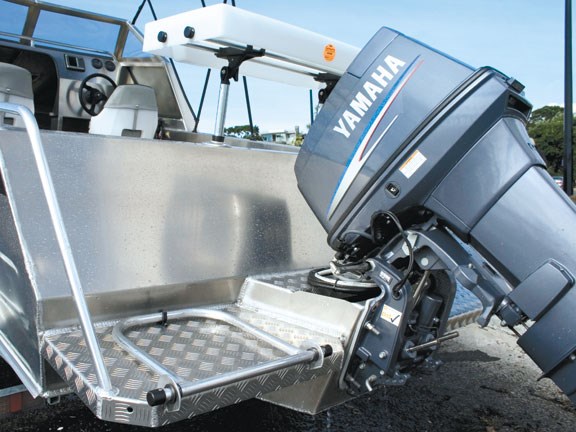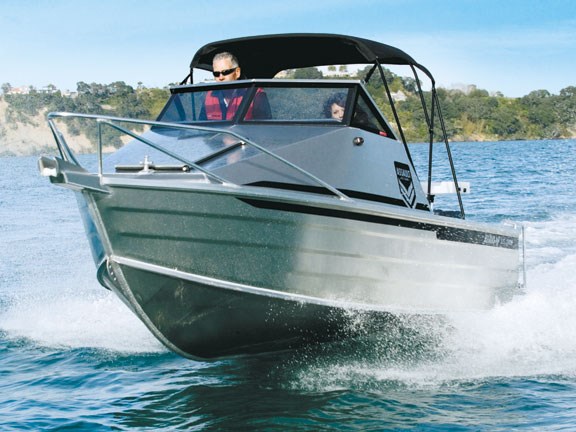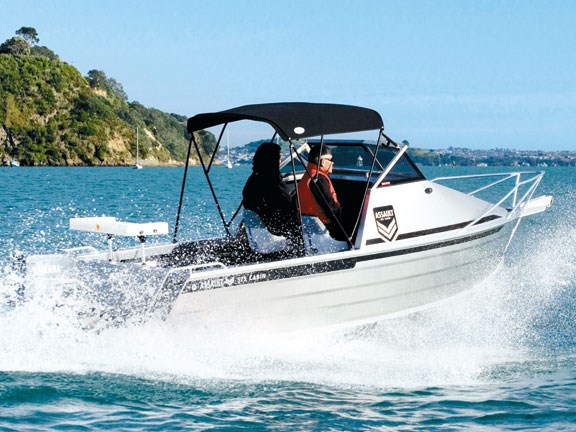 The spacious Assault 575C is a "bloke's boat" that is sturdy, well constructed, and drives smooth
Uncluttered cockpit
No fuss, easy-clean finish
Plenty of storage and platform space for swimmers
Good sized bait board and lots of working space
Well priced
Often the best tool for the job is not the shiniest, the most expensive, or the most technologically advanced in the shed – it's the one that has been built specifically for the task at hand. The Assault 575C is a boat that has been built with a purpose in mind.
At the boat ramp
On close inspection, this boat is surprisingly appealing. Yes, it is presented in bare aluminium, but the black decals look the part. The lines are strong and the black bimini is just enough of an extra to step the boat up into another class. The welds are a good standard but in places they could have been buffed off more thoroughly.
Internals
The Assault 575C is pretty basic but that is not necessarily a bad thing. With a lack of frills comes an abundance of space.
The bow storage is quite large and will hold a surprising amount of gear.
No complaints about the console either. All the important stuff is there or has been allowed for. The Garmin GPS Map 451s combo unit does an adequate job and would be easy to upgrade if a larger screen is desired. Yamaha's digital gauges look great and add a touch of quality.
The two standard fixed pedestal seats are comfortable and I was pleased to find ample standing room in front of them. There is a hand-hold running across the dash.
The floor is industrial tread-plate and personally I would invest in some blue-tube floor matting as a minor concession to comfort.
The cockpit itself is relatively spacious and very workable, with plenty of parcel shelves that double as bracing, adding rigidity to the construction. I really liked the large under-floor storage locker, which could double as a fish hold, although care would need to be taken to keep the bilge pump clear of scales if used in this manner.
There is a good sized bait board on the transom with a couple of storage containers for spare hooks and sinkers, two beverage holders, and an excellent knife holder/drainage recess.
The test boat has twin tote tanks nicely stowed in the transom.
There is plenty of space for divers and swimmers on the stern platform, and there is a boarding ladder.
If I have one real criticism of the cockpit it is its lack of rod holders – there are only two. A fisho should probably consider optioning a rocket launcher.
Performance
The test boat is matched with a 90hp two-stroke Yamaha, however there is an option to upgrade to the 100hp Yamaha four-stroke, which I feel would put this whole package into a different league. Regardless, either engine will deliver plenty of punch with a hull weight of only 420kg.
I jumped behind the wheel and threw the hammer down. Even with three adults on board the little boat just took off and I was soon easing back the revs. Pushing in to a chop the Assault felt surprisingly sturdy with no significant flex in the hull.
All-in-all the ride on this fairly light and economical boat was remarkably soft and predictable. Pushing straight into the chop we stayed very dry with little in the way of bounce. Running down sea at speed was similarly true and consistent.
It was also very pleasant to note how well the vessel tracked when running diagonally to the sea. This is a good test of a hull's design and the worst ones tend to lose their predictability on that tack but the Assault 575C continued to run fairly true.
Putting the vessel through some tight turns under power, the helm was very sensitive. I was impressed with its smooth tracking through quite tight turns and felt in control at all times.
Back at the ramp
As you would expect the Assault 575C is very easy to handle in a tight space and light enough to be comfortably manhandled if necessary by almost anyone. This really is a "no fuss" boat to put a trailer, and with a little preparation could easily be handled by one person.
Fit for purpose
From my point of view the primary audience for the Assault 575C is the classic Kiwi fisherman/diver who wants a solid, economical vessel that does not cost the earth to own, and can be adequately looked after with a waterblaster at the end of the day. It needs to be of sound construction, with plenty of room for one or two mates.
With that in mind I believe the Assault 575C ticks most of those boxes. The test boat is available at $33,500, representing great value for a new boat with this much room. Its no-nonsense construction is not the prettiest, but the boat is sound and fairly rigid. And if you add the three airtight buoyancy chambers and the new Yamaha outboard with three-year warranty, then you have a hull that will get you home when the weather turns sour.
There is plenty of space and little in the way of clutter so fishing three will be no problem.
Tradeaboat says…
The Assault 575C is a boat built for Kiwis. It's an ideal little after-work fishing vessel that is more than capable of taking on much longer excursions. No-fuss boating with a three-year warranty. Hard to beat.
Specifications
LOA 5.6m
Beam 2.0m
Hull weight 420kg (approx)
Engine 90hp Yamaha two-stroke
Three-year warranty
Priced from $33,500
Keep up to date with news from Trade-A-boat or like us on Facebook!