Blue Fix
---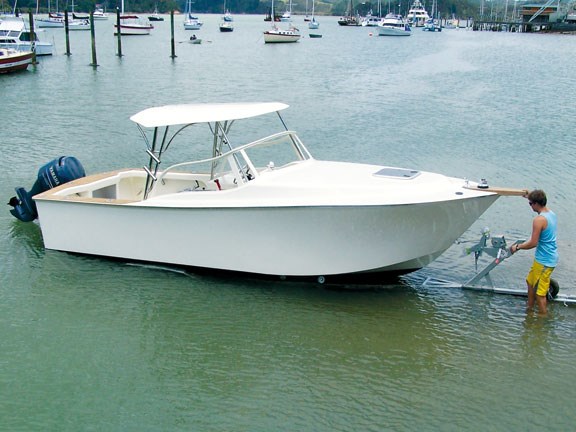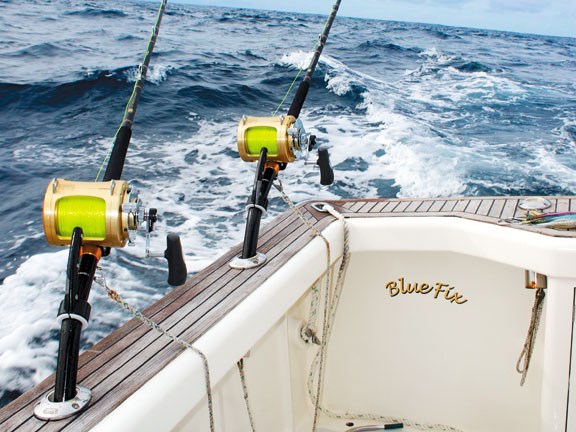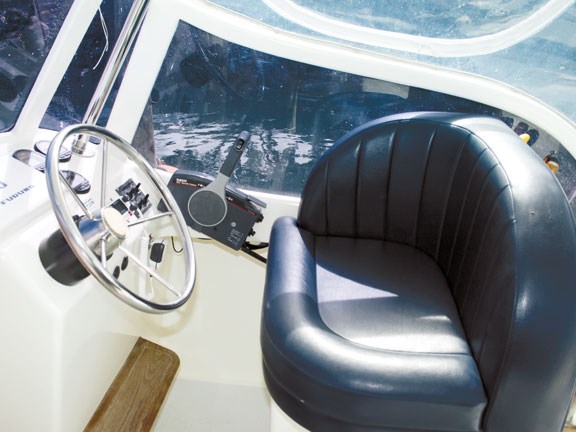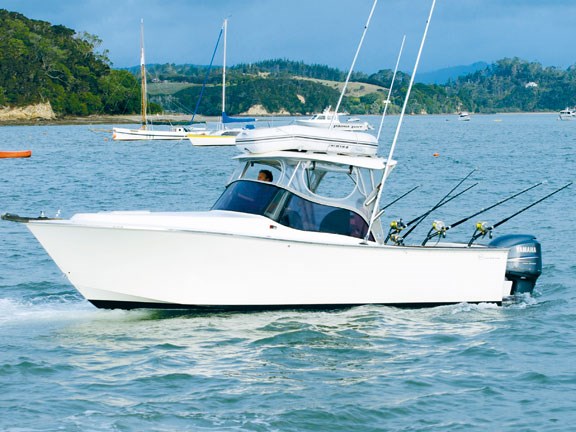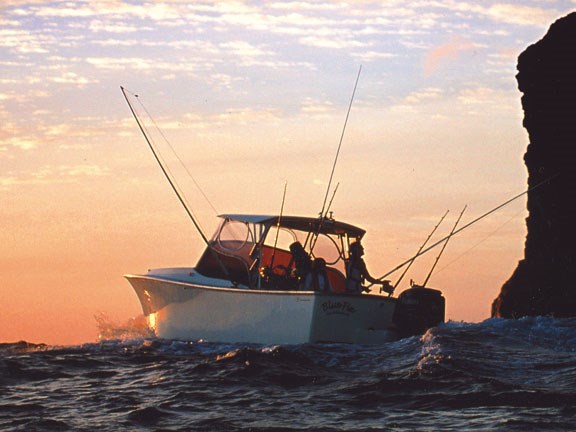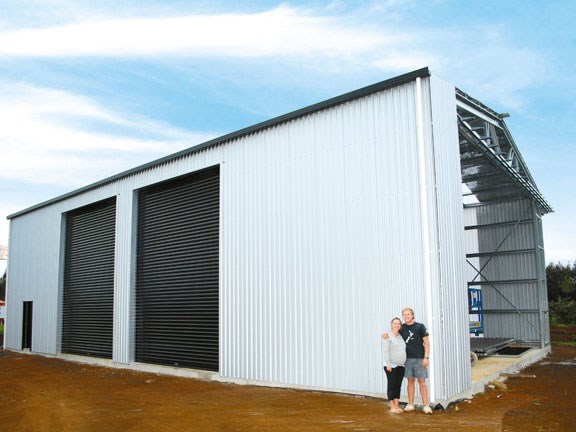 Many of my well respected former colleagues regard the Blue Fix as one of the most outstanding trailerable fishing boats around, so, as a fisherman, I was keen to get out there and see for myself...
Brad Rowe and his wife Charlotte, are putting the finishing touches to Bluefix Marine's new shed. I met Brad and his father John for a day of marlin fishing off Cape Brett.
The Blue Fix was built when Brad was just 17 and is now five years old. In that time she has earned an enviable reputable as a fish-catching machine, winning numerous awards.
Truly a fisherman's cockpit
Leaning against the gunnels, rod in hand, it took a moment to notice how comfortable I felt. Unlike most trailer boats, the Blue Fix's gunnels have been raised to 900mm and the side walls are set to a near vertical angle, allowing the covering boards to overhang the cockpit. This is a feature normally found in a gamefishing launch of 40ft or more. The purpose of the design is to allow crewmen to get their feet hard into the corners with their knees locked safely under gunnels when wiring gamefish.
Soon the large underfloor bait tank was adequately stocked. I am a big fan of underfloor bait tanks, as it is often possible to feed them directly from the sea when at rest or when off the plane, only utilising an electrical pump when travelling at speed.
The Blue Fix has twin tackle preparation stations located to port and starboard of the cockpit facing aft. Finished in varnished timber, they were showing their age and may have aged better in teak, but with the cutting surface finished in star board this is a much more hardwearing option than the standard fiberglass and gel coat bait station most boats have.
Brad has designed the rigging stations so there is a place for everything, which makes life easy – particularly in more trying sea conditions. Two live pitch baits were rigged and fed into the aft tuna tubes ready for quick deployment when we raised our quarry. Four 37kg bent butt outfits were set up and safety lined into place. They looked great sitting in heavy duty stainless rod holders set into the wide teak covering boards.
A final look around the cockpit found it to be clutter free with a place for everything. Large scuppers drained into the bilge, which was cleared periodically by a float switch-driven pump. Brad has plans to make his next cockpit self-draining.
Spare rod holders are set at an angle on the roof stays. These are to take the game rods when you are hooked up. Nicely finished side shelves adorn the cockpit sidings for smaller bits and pieces and all the larger equipment is stored under the floor in one of three fairly extensive lockers.
A stainless "Cyril Jordon" gamechair is of hard-wearing quality, and there was plenty of clearance around the chair.
Rugged conditions
Heading towards Cape Brett we encountered some pretty significant swells and quite a confused chop. Travelling at speed, the boat handled the conditions with ease and even when we did get some air, the landing was soft without any of the bone-jarring you would expect in a boat this size.
The flared bow directed most of the water away nicely and any water that did sweep over the bow was kept from the cabin by the front screen and clears.
After 20 minutes we were clear of the current affected zone of the peninsular and into more settled seas. The conditions were still reasonably willing with a two to three-metre swell running but the Blue Fix sat nicely in the water and setting a lure pattern was no struggle. Later in the day we switched to livebaits and drifted. Remarkably, with the engine switched off we glided gently down sea at around 1.5 knots, stern to the swell – perfect.
Driving position
While the console and the general helm set-up are good, it is was the seating I was most impressed with. They are very comfortable when facing forward; however they are almost as comfortable when you are turned to watch the fishing gear and there is no need to adjust the seat.
Manoeuvrabilty
In reverse the boat tracked well and more or less went exactly where I pointed it. As is always the case with any single-screw vessel, it responded better in the direction that favoured the prop rotation.
At full noise in reverse we shipped virtually no water with no cavitation. This is a direct benefit of the high transom and the small swim platform.
As you would expect the boat also turns on a dime so I am confident this vessel, with a skilled driver, would answer almost any question asked of it by an angry gamefish. I find that outboards are always a compromise when manoeuvring with a fish at close quarters, but there are few options that adequately deal with that problem on a trailerboat.
The verdict
Overall it is my opinion that the Blue Fix goes a long way towards answering the questions a seasoned gamefisherman would ask of a boat. The cockpit, which is the business end of any fishing boat, is one of the best I have seen on a boat of this size.
As with any first attempt there are plenty of small improvements that could be made, such as rod holder positioning and the addition of a self-draining cockpit. And, like all good designers, Brad is constantly thinking about how to do improve the next version of this boat. But more importantly, he has the skills to deliver.
Specifications
LOA 7.2m (excluding motor)
Beam 2.55
Fuel capacity 400L
Engine 225 Yamaha four-stroke
Approx weight on trailer 2400kg
Top speed 38 knots
Keep up to date with news from Trade-A-boat or like us on Facebook!