Rayglass Legend 2800
---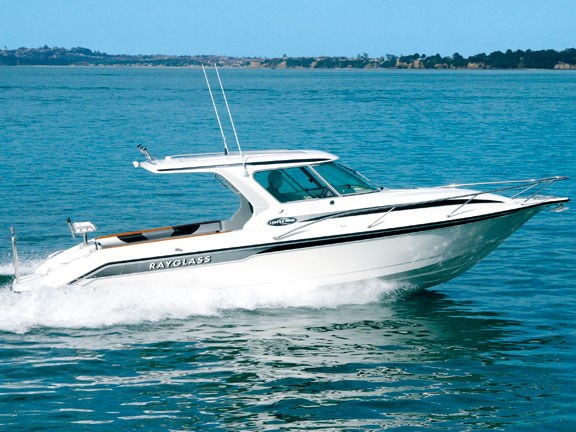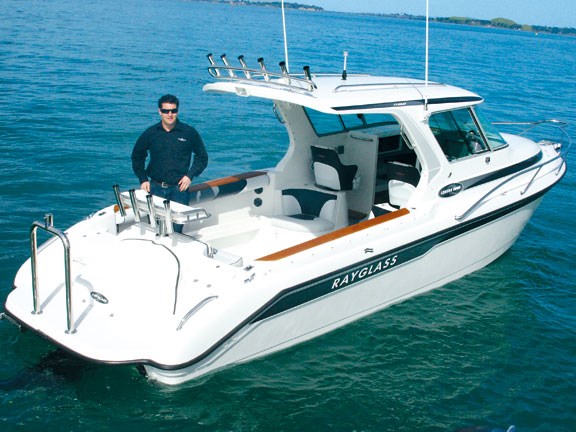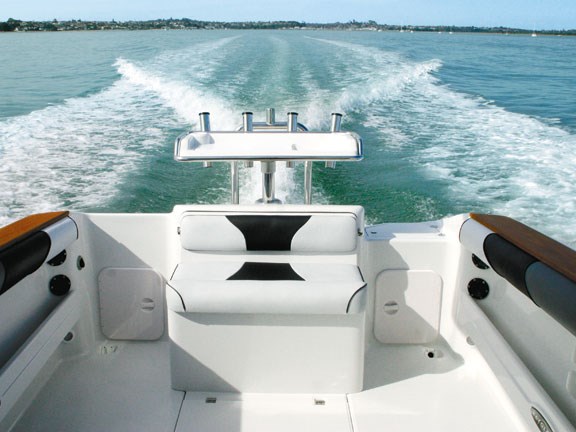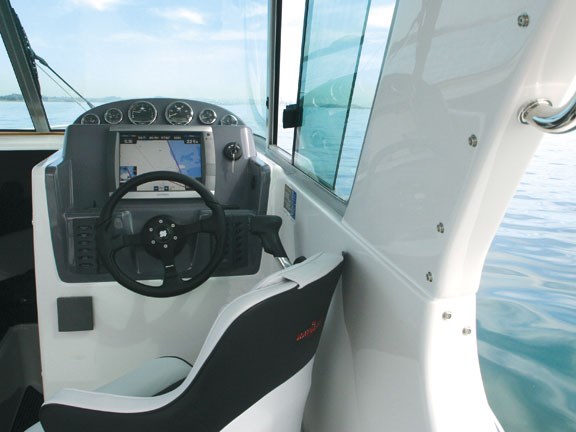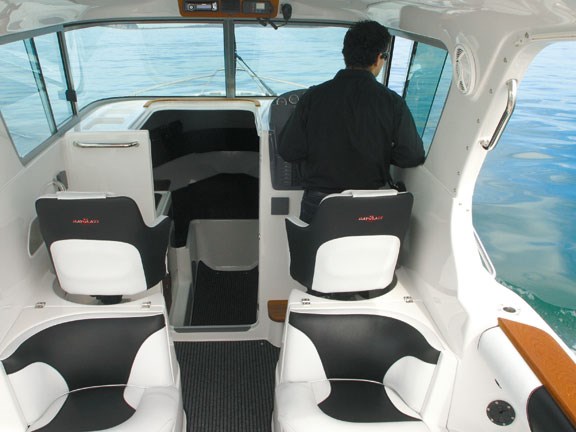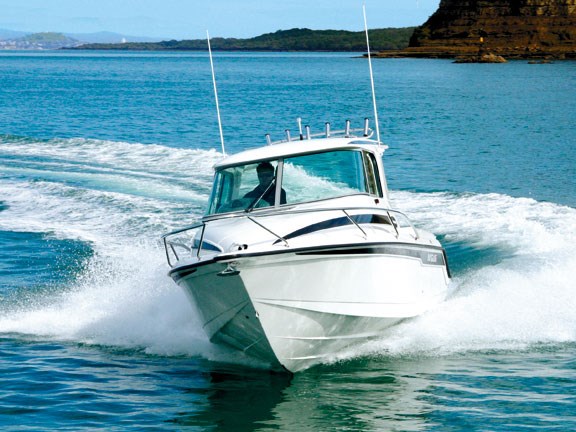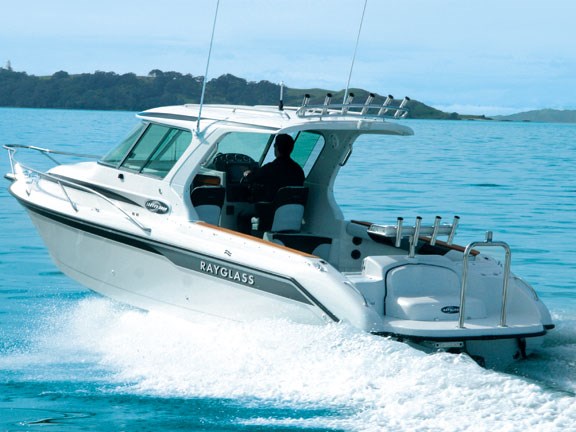 The flagship of the Rayglass Legend trailer boat range, the Legend 2800 is the stable's most awarded boat, reflecting a level of comfort rivalling that of a small launch
Full length berths and comfortable sitting headroom
Compact and practical galley
The inboard engine greatly increases the usabililty of the transom
The entry is slightly finer than in previous models
Excellent attention to detail
In 2007 Rayglass redesigned its 850 and launched it as the Legend 2800. The changes reflected a preference for the fuel economy and quiet operation of new-generation four-stroke outboard engines and, increasingly, diesel inboard engines lauded for their efficiency, reliability and longevity.
Improving on what's already very good
Rayglass increased the beam from 2.45m to 2.48m and extended the cabin by 300mm. The helm station was also moved aft to create full length berths below.
The 2800 also received a slightly finer entry at the bow and increased buoyancy aft.
Going further
The cockpit floor has been raised to accommodate larger 400-litre capacity fuel tanks and a bigger 110-litre water tank.
Cockpit space has retained its generous proportions due to the clever redesign of the transom and inboard engine box. Raising the cockpit floor also allowed for an increase in under-floor storage and increased capacity for two 260-litre moulded plastic fish bins.
Other changes include a remodelled dash to facilitate larger navigation screens, and an extended "cruiser" hardtop providing better all-weather protection.
Why upgrade?
So, what does the Legend 2800 bring to the table for the owner of a Rayglass 2500 looking to reinvest? The answer is comfort.
The boat has increased ability to cater for longer periods on the water, with a fully enclosed head, full length berths, comfortable sitting headroom and a galley with built-in fridge and two-burner hob.
On the trailer
But, at 28 feet overall and weighing 3120kg (approximately), the Legend 2800 is a formidable size for a trailer boat and certainly not for the faint of heart.
It can be stress free, as Rayglass Boats general manager, Dave Larsen, demonstrated, launching and retrieving the 2800 single-handed without getting a toe wet.
I, however, would be a trembling wreck towing this amount of hardware through urban streets. These days of course many owners choose to dry stack their boats, which would solve the problem.
Sweet dreams
The V berth converts into a double with an in-fill squab that locates onto timber cleats fastened to the bunk fronts. And the headroom is great.
The galley with 65-litre stainless steel fridge, sink, hot and cold water and two-burner hob is adequate, especially with the stainless steel pedestal for the BBQ mounted aft on the boarding transom.
Storage is a feature of the 2800 with galley draws, under bench cupboard, overhead crockery rack and large parcel shelves either side of the cabin with supplementary dry storage under the bunks.
The cabin is light and airy with an overhead hatch and wide cutaway in the main cabin bulkhead. Additional cabin privacy can be achieved by opening the toilet door to close off the cabin, but a roller blind or curtain would be an easy option.
The single moulded helm station in gunmetal grey reduces windscreen glare. A minor moulding modification caters for a big 12-inch navigation screen.
Both the driver and passenger seats swivel on their bases. The rear-facing queen seats hinge up and forward providing storage options. This is further enhanced with side pockets on both the driver and passenger sides and full length cockpit parcel shelves.
Complete cockpit
Anglers will appreciate the upholstered cockpit combing bolsters and toe kick that allows you to work the full girth of the boat and the relatively wide port step-thru to the extended boarding platform.
In standard trim your Rayglass 2800 Legend is fitted with a live bait tank and a hot and cold shower. The bait board slots securely into a solid stainless steel holder and drains overboard.
Like all Rayglass boats the 2800 is pumped full of endurathane closed-cell foam making it virtually unsinkable. This serves the secondary function of providing additional rigidity and sound deadening between structural and inner mouldings. The 2800 is built and certified to survey standards.
Quantum leap
Built to order, the owner of this particular 2800 Legend specified a new Quantum Series Cummins MerCruiser High Output 4.2-litre (350 horsepower) six-cylinder turbo-charged diesel bolted to a Bravo Three stern leg spinning a Duoprop propeller.
The QSD4 engine features a gear-driven camshaft and patented "tunnel" crack case. The ECM is also Smart Craft enabled delivering more effective system monitoring and control options.
While you wouldn't expect the same blistering hole shot you'd get from outboard drives, there was nothing sluggish about the diesel, the turbo spooling up smoothly and coming on strong as the revs increased.
Like most diesel installations, the Cummins Mercruiser had sweet spots throughout the rev range where engine noise and vibration settled down nicely as the boat propelled through the 40kph threshold.
Throttle response was precise and the hydraulic steering was positive, firm and predictable.
The only negative in a long list of positives was a tendency for the duoprop to break out and cavitate during aggressive cornering, but this is of little significance. All up the 2800 is a very smart package that packs a lot of punch for what could be described as a genteel cruiser.
Keep up to date with news from Trade-A-boat or like us on Facebook!