Extreme 610 Game King
---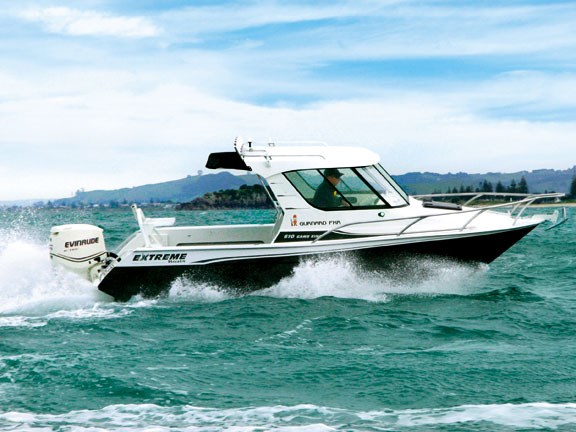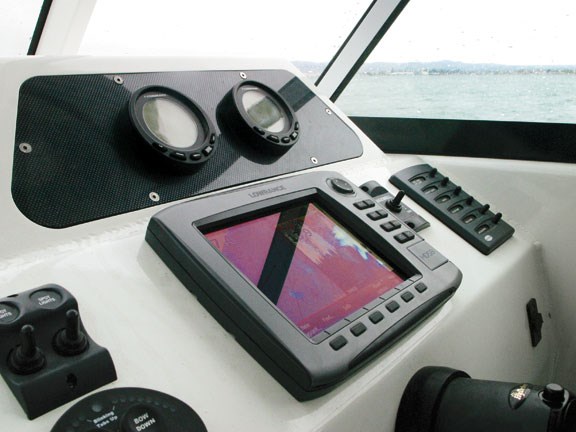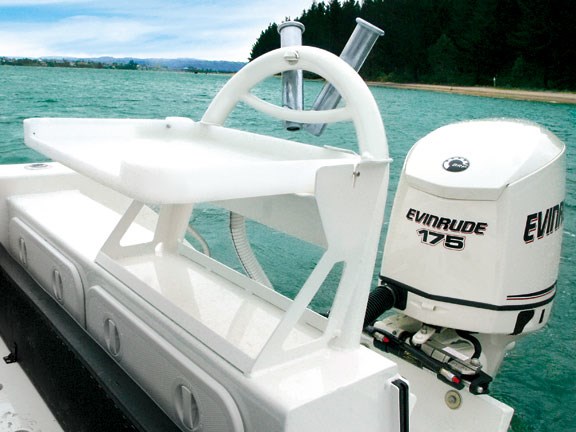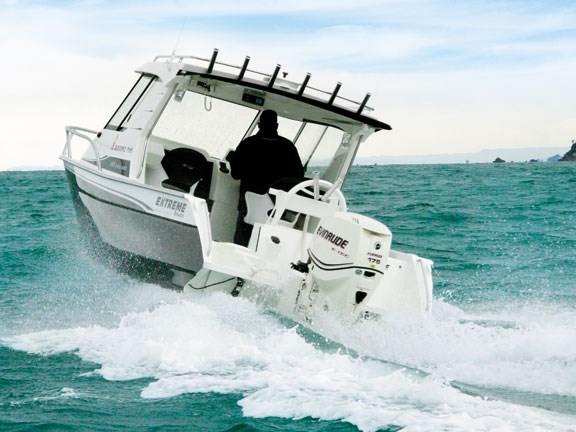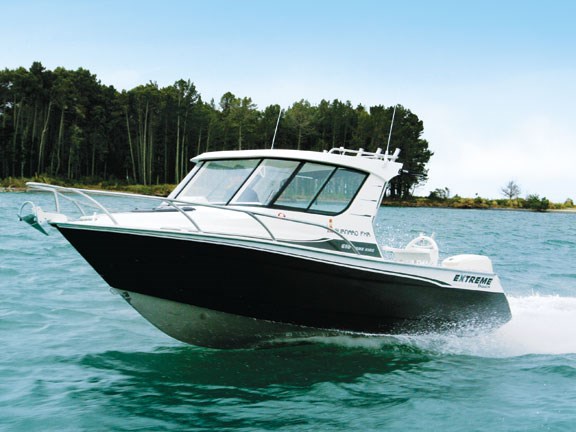 Testing a boat on a rough day is a risk, but the 610 performed well above expectations and should be considered by any serious buyer in the market for a vessel in this class
Outstanding performance in rough weather
Soft riding
Practical layout
Softened look with addition of curved windows and aft end
Capable fisher
Whakatane's Extreme Boats has been focusing on where it can add value to its existing line-up, resulting in a number of subtle design changes.
Two of the first models to go through the upgrade process are the Extreme Game King 570 and 610 Hard Top models.
The first change, says Extreme Boats sales manager Bernie McCann, is to soften the look of the boat, and this has been achieved by introducing more curvature to the aft end.
A more significant upgrade is the hulls' raised topside sheer and additional 220mm of beam within the cockpit footprint. This has also delivered more flare to the bow and allowed Extreme Boats to flatten the top edge of the cockpit gunwale.
These changes, says McCann, give the boat a softer ride by increasing the angle of attack at the bow and lengthening the run aft slightly, thus increasing the hull's propensity to slice rather than muscle through a short chop.
Other changes include an alloy glove box on the passenger side, a re-formed helm-station dash with carbon fibre insert and an increased 32mm tig-welded aluminium bow rail. The cabin side windows have been removed, and the deck hatch is its own alloy hatch design with bubble-top polycarbonate lid.
Extreme 610 Hard Top
Buyers tend to use the 610 for a variety of pursuits, from fishing to skiing, boarding and diving.
"The 610 is certainly a capable boat and offers anglers the same uncluttered cockpit layout optimised for fishing, with practical under-floor storage, optional live bait tank, ample rod holders, rocket launcher and wash-down facility as our larger boats," McCann says.
"The fact it is easily driven by smaller outboard options and therefore a cheaper proposition for all-round family boating is a key strength. It is built tough and to CPC and MSA survey requirements so there's no reason the 610 won't foot it with bigger boats."
Exterior
The Extreme 610 Game King has been designed with a long, fine entry and a variable deadrise culminating at 20 degrees at the transom. She has a wide, turned down chine rail that measures 130mm at the transom and narrows to 80mm amidships before tapering off at the stem.
There are no planing strakes or external keel bar, but a self-flooding keel cavity welded to the hull provides protection for beach launching. With a beam of 2.45m, the 610 is wider than similar-sized trailer boats, aiding stability at rest.
Built on a V-shaped jig, hull construction is conventional and solid, with a matrix of full-length box stringers and fully welded frames creating three large under-floor buoyancy chambers, each pressure tested before the cockpit sole goes down.
The 610 is built tough with a 4mm checker plate cockpit floor, 5mm stringers and frames, 5mm bottom plate, 5mm transom and 4mm cabin sides and deck. All metal work is from marine-grade 5083 aluminium plate.
The hardtop is built around 6mm toughened glass centre pains, polycarbonate corner sections and single-skin aluminium construction, with a fully-welded aft rocket launcher and provision for a cockpit bimini cover.
Cockpit
The Game King cockpit is a wide, open platform with little to get in the way of your fishing. There are two under-floor storage bins that can drain into the keel sump.
The redesigned gunwales are at thigh height and internally fitted with double parcel shelves for rod storage. These are raised about 100mm off the cockpit sole, providing valuable tow kick. A pair of welded alloy rod holders each side are supplemented by the overhead rocker launcher. There is provision for a tow post and ski ring.
The portofino stern is fitted with a drop-in aluminium board that is retained in cleverly designed slides fitted under the transom when not being used. A 25-litre live bait tank is plumbed in under the step-through with an option for a salt water wash-down pump.
In standard trim, seating is basic with a pair of single roto-moulded plastic seats set on an angled cantilevered aluminium plinth, providing storage for a single dive bottle each side. The seats swivel but have no height adjustment. The passenger side is equipped with double open parcel shelves and supplemented with a further two sealed lockers. An optional three-quarter aft bench seat can be hinged down or completely removed.
The helm fascia is basic but functional, with a plastic wheel and aluminium dash appropriately sized for today's larger navigation screens. The 610 Game King show boat was fitted with a new multi-function Lowrance HDS 8 display with graphic engine management display via Evinrude I-Commander instruments mounted in the dash. Other electronics included a Maxwell anchor winch, Lectrotab automatic trim tabs, Uniden VHF radio and Fusion stereo.
Cuddy cabin
Cabin design is conventional, with a V-berth arrangement and twin in-fill squabs to form a reasonably wide berth but with insufficient leg room to be considered a genuine proposition for overnighting. The cabin is lined and equipped with double parcel shelves, overhead access hatch, and a front bulkhead hatch.
While tidy, the cabin windows have gone and there are no internal lights.
Performance
Fitted with a new Evinrude E-TEC 175hp outboard (at the extreme end of recommended horsepower range for the boat), the 610 Game King dished up insane performance. A 135hp option would still deliver 35 knots-plus.
A 30-knot southerly fighting an incoming tide made for a lumpy ride, but nothing fazed the 610.
Boat handling was admirable given the marginal conditions, and cornering through the chop was precise, sure-footed and just plain fun with so many horses to call on. No protest from the prop in aerated water.
The 610's hard top offers good visibility, head room and security – if not being a bit short of hand-hold support on the passenger side.
Summary
The Extreme 610 is yet another very capable boat from a multi-award winning manufacturer. Without argument this is a boat that should be carefully considered by any serious buyer in the market for a vessel in this class.
See a range of Extreme boats for sale.
Specifications
Length overall 6.18m
Beam 2.45m
Deadrise (transom) 20 degrees
Fuel capacity 130 litres
Recommended hp 115-150
Weight on trailer 1550kg (approx)
Engine Evinrude 175hp E-TEC
Trailer Optional EBL single/tandem axle braked
Keep up to date with news from Trade-A-boat or like us on Facebook!