Assault 890
---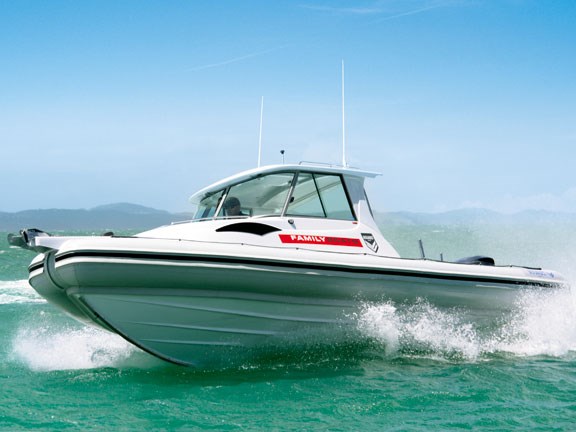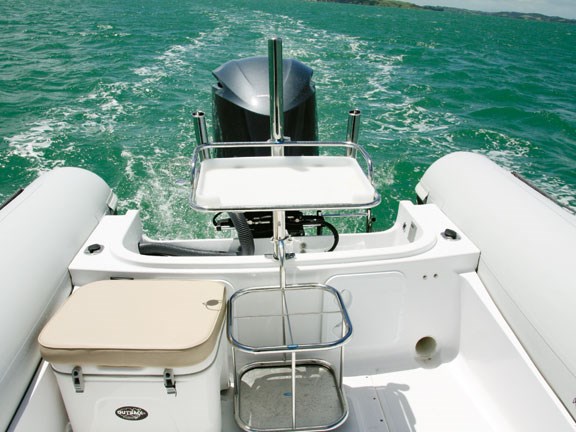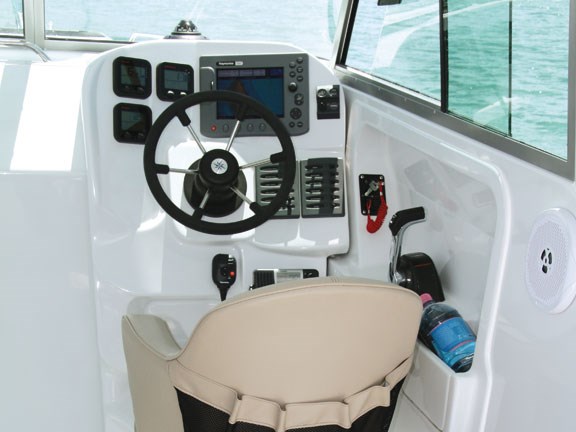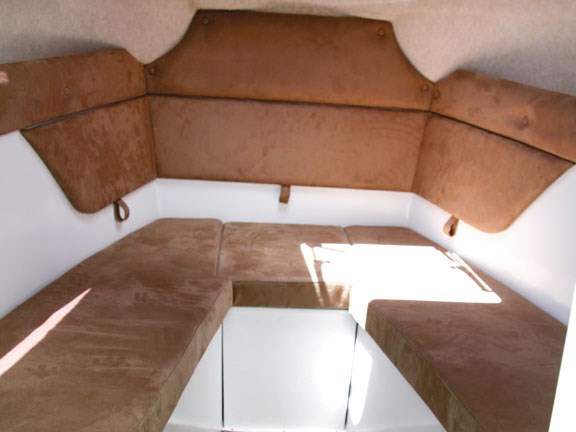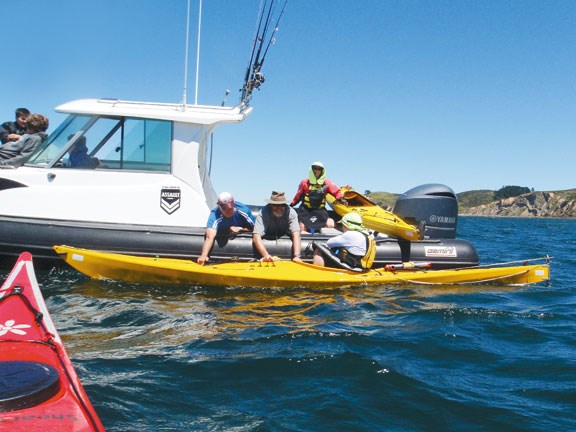 The Assault 890 can handle some pretty extreme conditions. We put it to the test…
Roomy forward cabin
Durable
Superb rough water handling
Oversized scuppers, chilly bins and dive tank rack
Construction
The boat is based on a Gemini Waverunner military-spec hull imported from South Africa. The hull is constructed from balsa-cored fibreglass laminate, producing a light but stiff final product. A grid of internal bulkheads is mechanically fasted to the hull and laminated in place. An aluminium keel section provides abrasion resistance and more strength. The deck is then bonded to the hull and glassed to the bulkheads, producing a massively strong unit.
A 250-litre stainless steel under-floor fuel tank is fitted before the topsides are installed. Up to 17 different mouldings are available, depending on the cabin and seating configuration chosen.
The final stage of the build is the fitting of the Hypalon tubes. The Hypalon is heavy duty, with double taped seams and an extra heavy duty "shark fin" rubbing strake. The tubes provide superior shock absorption, dynamic stability, and positive buoyancy.
Our test boat had the Yamaha F300 5.3-litre V8 four-stroke installed, although the hull is rated for between 200 and 350hp. A twin-motor configuration is also possible.
Internals
The huge forward cabin with twin bunks will swallow plenty of gear, and there is provision for fitting a toilet under the centre section. A sliding door enables the cabin to be closed and locked.
Under the open hardtop are two sets of king-and-queen vinyl upholstered seats, with the queen seats swinging up to reveal a sealed storage compartment, big enough to hold dive cylinders and heaps of gear. There are plenty of grab-handles around the cockpit.
The rear cockpit is set up for minimal maintenance, with an anti-slip tread moulded into the fibreglass floor. The boat is self-draining through scuppers in each corner. A large livebait tank is plumbed into the floor and a bilge pump takes care of any water that gets into the bilge area.
Two Icey Tek chillybins with squabs fixed to the lids provided storage for bait and food as well as further seating for guests. An oversize baitboard mounts in the transom. There is a port side step-through to the teak boarding platform and fold-down ladder.
On the water
We headed to Whangaparoa across a swell of just under a metre and were astonished at how stable the boat was. We easily cruised at a fuel-efficient speed of around 25 knots, and the pontoons seemed to just soak up the swell coming from the stern quarter.
Ina sheltered area behind we did a quick speed test, with almost 40 knots coming up on the clock. Of course, the big V8 is very thirsty at this speed, and we found that somewhere between 20 and 30 knots was the most economical.
Rougher still
We soon hit swells of over two metres and winds of 30 knots. Heading directly into the swell we had a couple of wave crests break over the bow, yet we were completely snug and secure in the cabin. Thanks to the huge buoyancy of the pontoons we never buried the bow under water, even when sliding down the back of a wave directly into the next one.
Heading directly into the swell, we had to slow down to around nine knots for comfort. However, by angling at around 60 degrees to the swell, we were able to power up to around 15 to 18 knots, and despite rolling from side to side we made excellent progress.
This boat is legally trailerable, although at 2.9m beam there are certain restrictions regarding towing at night.
Overall
This is a good boat for any serious fisherman who wants to be able to get out there in almost any conditions, and would be perfect for west-coast bar crossings. It is also a superb family boat, safe and stable enough to satisfy even non-boating members of the family. It is comforting to know that the boat can handle extreme conditions, and it is clear why coastguards all around the world favour this style of vessel.
Specifications
Construction RIB with fibreglass inner and Hypalon tubes
LOA 8.9m
Beam 2.9m
Deadrise 30 degrees at transom
Fuel capacity 250 litres
Engine Yamaha 300hp V8 5.3-litre four-stroke
Trailer Voyager Tandem braked trailer
Towing weight 2450kg

Keep up to date with news from Trade-A-boat or like us on Facebook!