Jeanneau 57
---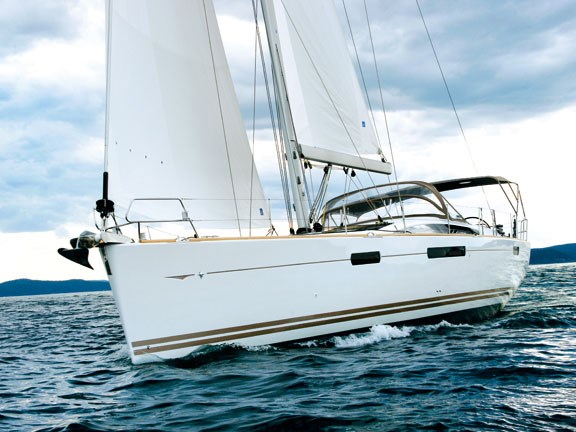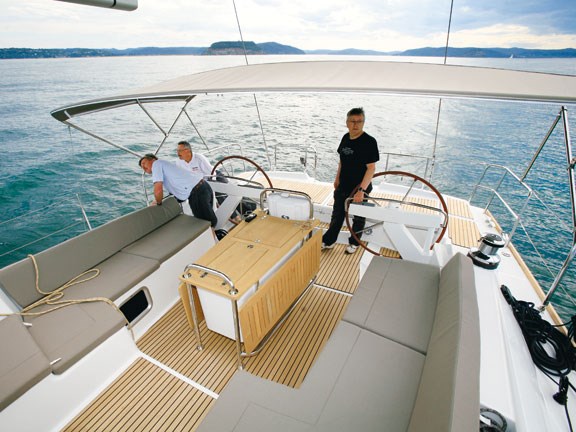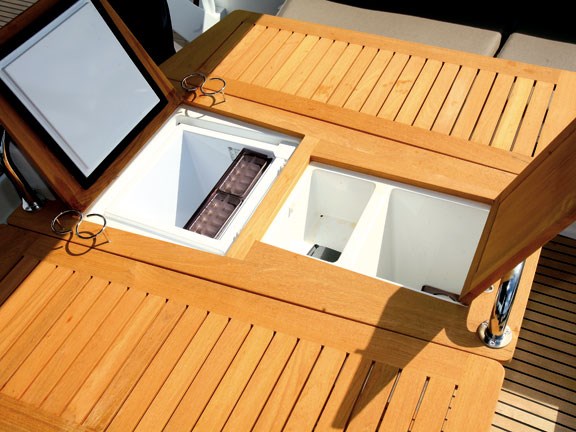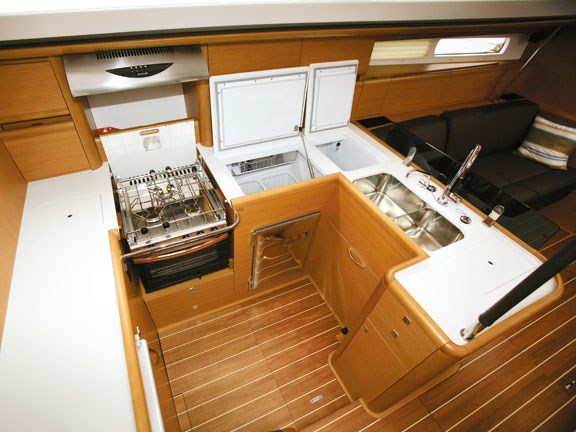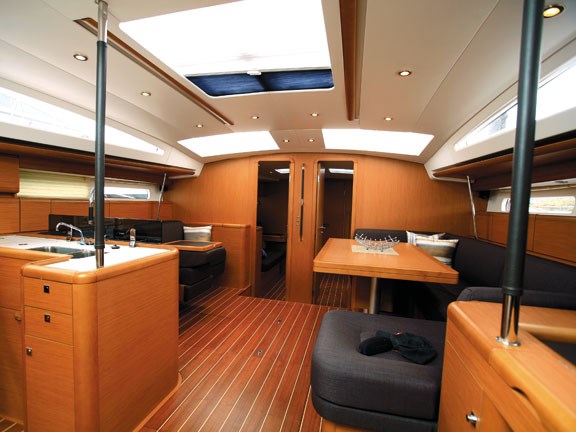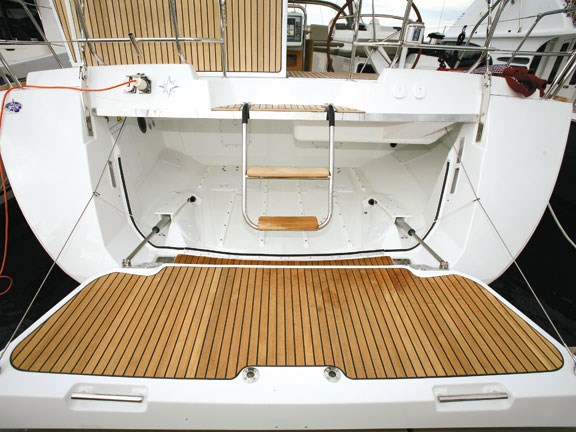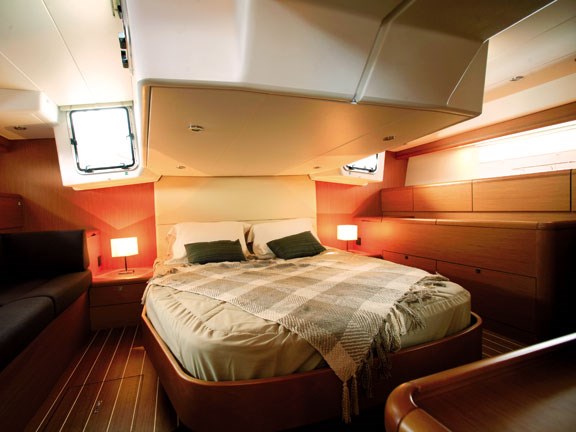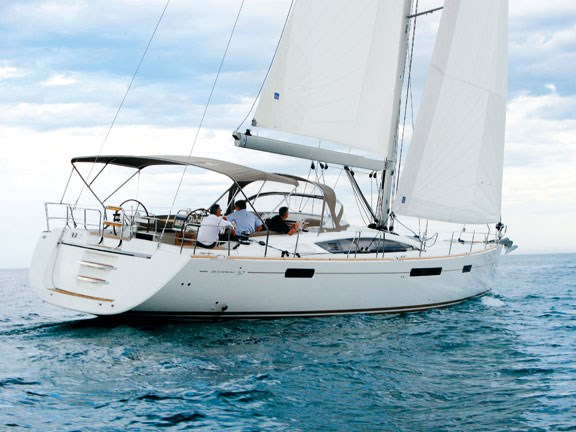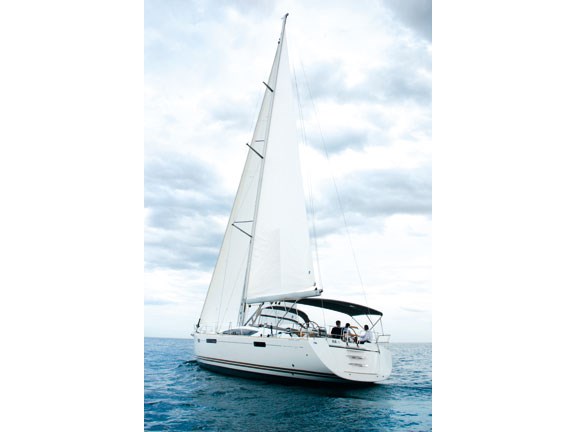 A fast, luxurious cruising yacht, the Jeanneau 57 is easy for two crew to handle, and its generous accommodation and lounging space make it an ideal entertainment yacht
Accommodation and entertaining space is huge
Transom drops to reveal swim platform and garage
Noise and vibration levels good
Excellent feel to steering system
Rope-free cockpit
The Jeanneau 57 is a true luxury home afloat.
When you step aboard the immediate impressions are of space and luxury. The huge steering, crewing and lounging zone occupies one-third of the boat's length and averages two-thirds of its beam, providing a lot of elbowroom. The boat is certified for 16 day-trippers, each with a comfy seat.
Cockpit ergonomics have been carefully considered, with large rope bins between the halyard and sheet jammers and the forward winches. German-layout mainsheet winches are located near the helmsperson and the sheet tails flake in front of twin steering pedestals. A boom is sheeted ahead of the companionway and set too high to smack an unwary head.
The test boat had four optional powered winches that took all the effort out of making, handling and shortening sail.
A drop-side cockpit table with integrated sink and icebox (optionally refrigerated) can seat eight or serve food. She was also fitted with optional bimini and dodger.
Home afloat
Companionway access is via a clamshell hatch. The clear acrylic door panels slide simultaneously into cabin-top recesses, resulting in unobstructed stairway access.
The teak-faced cabin sole is raised above the level of the cabin floors, preserving generous headroom. This raised saloon floor allows plenty of bilge volume for the optional generator, fuel and water tanks, as well as ample storage space.
We checked out the optional generator and air-con system and found noise and vibration levels better than most in this class.
A U-shaped galley would do a small apartment proud and boasts a fridge with bench top and front access, a top-loading freezer, three burner, gimballed stove with oven, range hood, optional dishwasher and microwave.
Opposite the galley is a comprehensive chart table with electrical and electronic nerve centre. A Brandt washing machine can hide under the seat.
The cabins can be specified in four different layouts. Pure luxury level is a twin-stateroom design, with island beds and en suites fore and aft, and the size of these cabins can be gauged by the ability of each to be fitted out as four-single-bunk or double and twin layouts. Clip-in divider panels can convert an open four-berth front cabin to two twins or a double and two twins, with each cabin having its own head.
In all layouts there's a forward single bunk or V-berth that's designed for crew accommodation. Single bunk versions have an integral head and V-berth ones use a fore-cabin head, which can be locked from the inside. Alternative access to the crew quarters is through the forward hatch.
Eight can sleep in comfort in the Jeanneau Sun Odyssey 57 and 10 wouldn't be pinched. In post-party mode, two more could doss down on the settee bunks and six could "rough it" on the cockpit cushions.
The only slightly sour note below decks was the Jeanneau habit of moulding-in alternative bulkhead flanges in the deck-hull joint area. This looks out of place at the luxury end of the market.
Built to cruise
Jeanneau's Sun Odyssey 57 was penned by Philippe Briand with concentration on speedy waterline length and weight amidships. The hull is monolithic FRP, handlaid with an osmosis barrier coating and externally bonded hull ports. The deck is balsa-cored laminate with plywood reinforcement in high-load areas and there's a teak gunwale rail from stem to stern.
A cast iron keel is fitted, with a shallow-draft option available.
The keel-stepped, triple-spreader, Dyform-wire-rigged Sparcraft mast is fitted with in-mast furling as standard and a 135-per cent, furling genoa is provided. A twin-roller stem fitting is designed with an asymmetric spinnaker fitting and a conventional spinnaker pole can be ordered.
On the water
The test boat's optional bowthruster made light work of fine tuning our departure from a tight berth. Ample power from the VW Marine five-cylinder engine pushed the big boat to 9kts very smartly. This engine performance was unobtrusive, because the multi-cylinder diesel's vibration and noise levels were car-like.
The chain and sprocket steering system had excellent feel, with light helm pressure and no tendency to wander off course.
Making sail was a doddle, thanks to optional powered halyard and sheet winches, and the boat settled into a 45-degree beat, registering an impressive 6.5kts in only 8 to 10kts of breeze. The tri-radial-cut headsail and furling main seemed well designed for a cruising vocation, giving the boat useful windward power at less than racing angles, without compromising ease of shortening and stowing.
A shakedown crew had taken the boat out the day before and had recorded 8.4kts at the same sailing angle, in 16 to 20kts. With sheets eased to a tight reach the Jeanneau Sun Odyssey 57 had managed 9.4kts and 10.4kts on a beam reach in puffs up to 22kts.
The Jeanneau polar diagram has the boat doing slightly better than these figures, with a more shapely slab-reefed main and rail-sitting crew.
The verdict
Space, space, space: that's the rationale behind the Jeanneau Sun Odyssey 57. The hull and interior designers have combined their talents to produce an integrated package that's at home as a status symbol, a luxury cruising yacht or a corporate statement.
Specifications
Engine make/model Volkswagen Marine TDI 140-5
Type Diesel
Rated hp 140hp
Prop Shaft drive w/ three-blade folding propeller
Mainsail 58m2 furling (optional 75m2 fully battened)
Headsail 88m2
Spinnaker 220m2
Asymmetric 202m2
Material FRP hulls and decks – balsa resin composite deck and monolithic hull
Type Keelboat
Length overall 17.78m
Hull length 17.28m
Waterline length 15.35m
Beam 5m
Draft 2.5m; 2.1m (optional)
Weight 20,600kg; 27,130kg (max displacement)
Ballast 6100kg; 6500kg (shallow draft keel)
Berths Various combinations from two staterooms to one stateroom, with singles and doubles up to eight capacity; all with single or double forward crew berths.
Fuel 435L
Water 930L
Keep up to date with news from Trade-A-boat or like us on Facebook!