Surtees 4.7 Workmate
---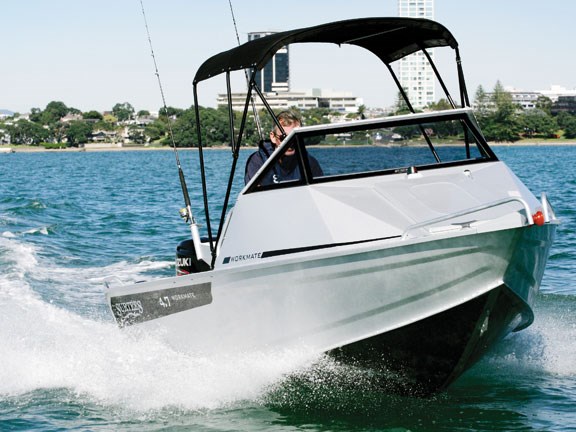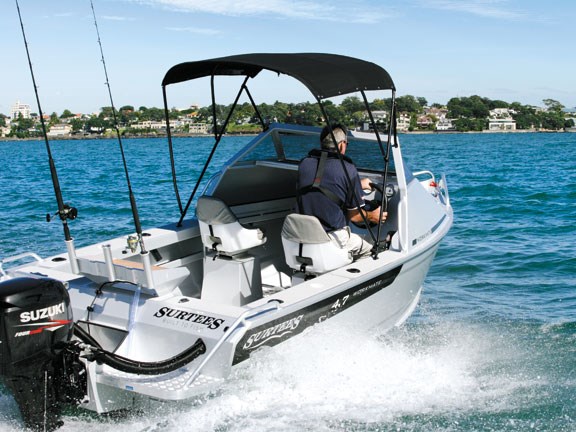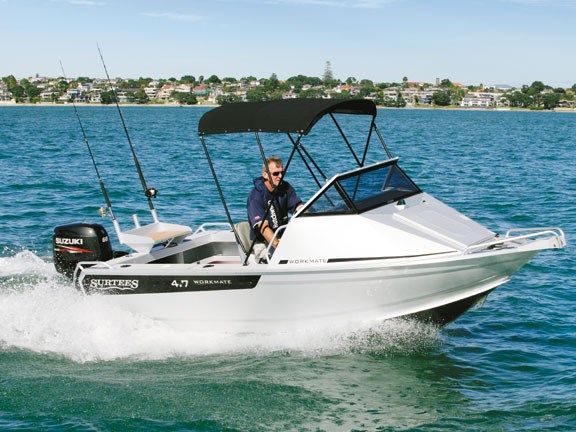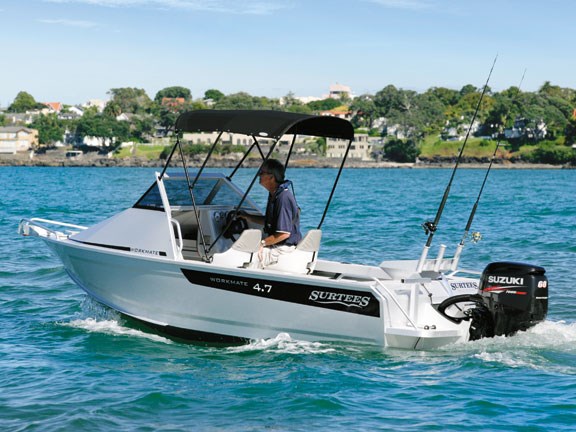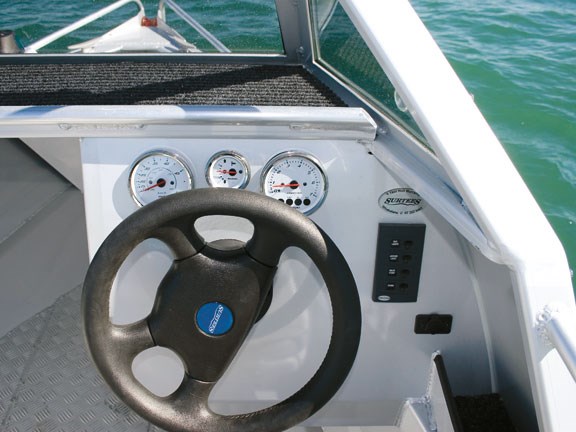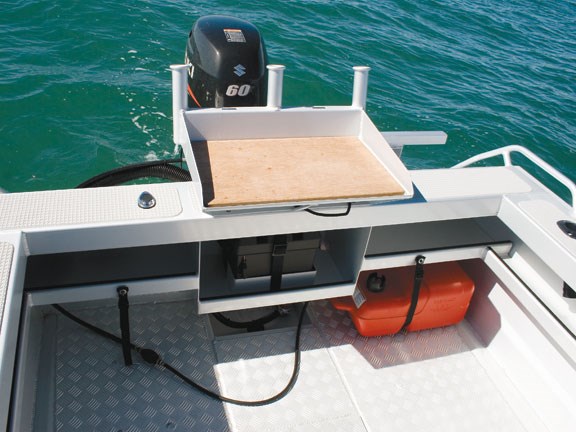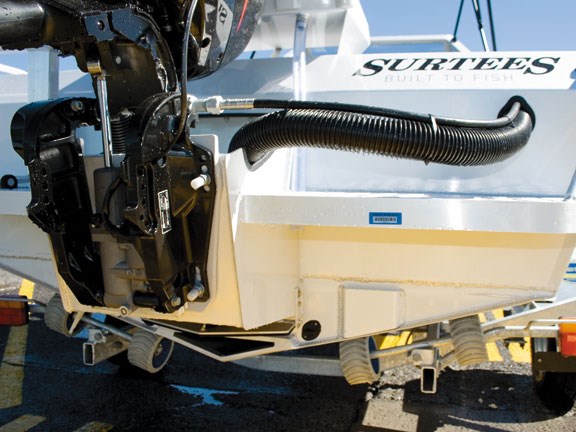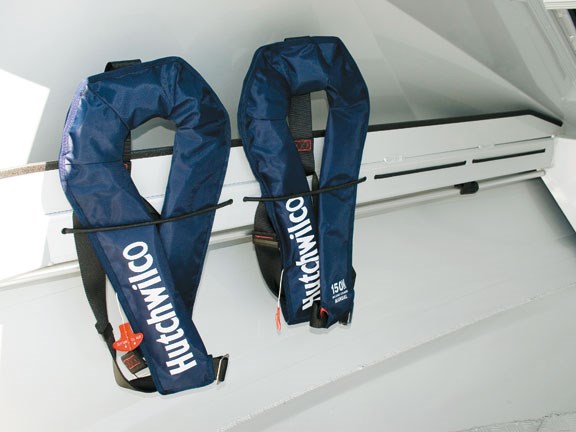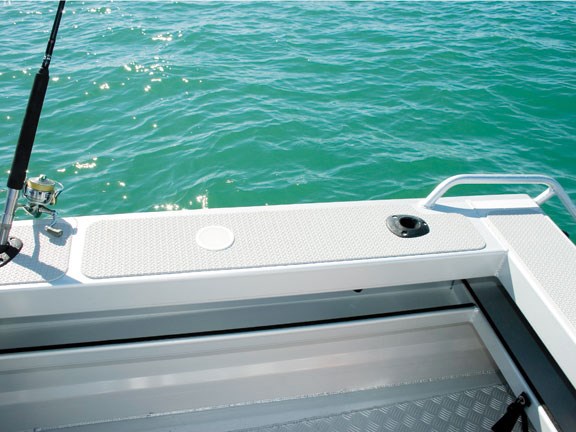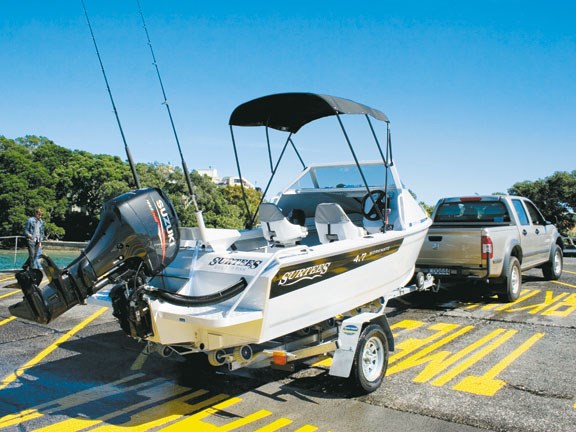 Feeling guilty contemplating a new boat in the midst of a lacklustre economy and rising fuel costs? You may feel better opting for the smallest Surtees – the tough, surprisingly spacious, 4.7m Workmate…
Light and fuel-efficient
Basic yet appealing fishing platform
Superior stability thanks to 2m beam and flooding chamber
Great performance in tight turns and plenty of grunt
Easy to tow and launch
Introduced in 2008 as a little sister to Surtees' popular 5.5m Workmate, the 4.7m has quickly become a favourite among those keen to keep boating a simple, inexpensive exercise.
Light, fuel-efficient, simple to tow, painless launching and retrieving, indestructible - these are all top-of-the-list for boaties who favour the "ease-of-use" approach to fishing. And why not? Its alloy hull might not win first prizes in a beauty contest, but it's a sturdy little runabout that will take you fuss-free to your favourite fishing holes along the coast.
It's designed for an outboard rated between 30hp and 70hp, so depending on how frugal you'd like to be, the 4.7m Workmate should be a happy solution to affordable yet effective boating.
Our test boat was supplied by Takapuna's Family Boats, which equipped it with a 60hp four-stroke Suzuki - smooth and ultra quiet, with enough zip. This package (including the bimini top) retails for around $35,000.
Weighing in at only 350kg, it's an easily-driven hull and would perform satisfactorily with a 40hp power plant. Considering that the fuel lives in a 20-litre tote tank, a smaller engine may be a more prudent, cost-effective strategy to guarantee you can fish all day long.
Compared with earlier versions, the 2011 model's benefitted from a few upgrades. The main one is the conversion of the engine pod area into a sealed, buoyancy chamber.
Another is the introduction of sliders on the pedestal seats, allowing you to easily adjust the seat to suit your frame. Footrests welded to the floor provide good security when leaning against the seat.
Stability and safety
For a 4.7m boat, the Workmate is fairly beamy (2m). In itself that translates into impressive stability, but like all Surtees vessels the 4.7m also benefits from a flooding keel - a feature that adds additional peace-of-mind in a boat this size. And it's equipped with a shut-off flap - ensuring that the water (280 litres) stays in the keel while you need it. The improved stability is immediately apparent when moving around the cockpit.
The boat's fitted with a number of sensible, safety oriented design features. There's a glut of non-slip surfaces around the gunwales, for example, and tread-plate used for the cockpit sole and boarding platform provides solid footing. Tending to the anchor entails standing in the foredeck hatch, but it's a pretty large one. Anchor and rode live in a deep, separate locker.
Handholds are strategically placed, and I particularly liked the bungy cord retainers for the life-jackets on the cabin parcel shelves.
Another excellent safety feature is the LED "status" light on the battery.
Built to fish
Even though the 4.7m could be described as an ideal, general-purpose runabout, Surtees brands it with the same "Built to Fish" slogan the rest of its line-up carries. And it is indeed an appealing fishing platform, even if a basic, no-frills one.
There are plenty of rod holders (seven in total - two per gunwale, and three on the bait board). A shallow storage bin in the centre of the cockpit's floor is adequate for accessories, tackle and bait. Standard parcel shelves along either side of the cockpit offer plenty of storage, and there's an additional shelf over the tote tank.
The bait board is generously proportioned, but I would opt for a more resilient material for the board itself. This model's was plywood and will surely delaminate before long.
Understandable in a boat this size, the boat has modest dash, just big enough for the three Suzuki instruments (tach, speed and amp meter) and a bank of four rocker switches (nav lights, anchor light, bilge pump and a spare). There is also a 12-volt accessory outlet.
But it does have a decent, carpeted dashboard shelf, and there's enough room to mount a small fishfinder just above the wheel. The boat comes with a ready-to-go transducer mounting at the stern.
The 4.7m has a generous cockpit, easy to move around, and thanks to the beam and the flooding keel, one that remains stable and secure. The bimini is an optional extra, and folds up in a trice.
If you're keen on pre-dawn/after-sundown fishing, the boat's equipped with navigation lights and an anchor light. The latter is well-stowed, out of the way, just under the port parcel shelf in the cabin, and is deployed in seconds in a purpose-designed, 12-volt mounting on the stern.
Performance
With the 60hp Suzuki there's no shortage of grunt and the little Workmate fairly streaks along over the waves. You could get by with a lot less horsepower. The 4.7m features a strong deep-V hull (trailing to a 15o deadrise).
That combination promotes excellent tracking and sure-footedness - she's a great performer in tight turns. The 600mm freeboard, along with spray chines that effectively deflect the water, does a good job of keeping the vessel dry.
To my mind the 4.7m Workmate is all about simplicity. Simple to use, simple to maintain, easy to enjoy - a welcome addition to any family. No frills, but no awkward demands either. This sturdy little runabout that will get you to fishing holes along the coast fuss-free.
In summary the Surtees 4.7 Workmate is a light, fuel-efficient, little battler that is simple to tow and painless to launch. On top of that it is close to indestructible under normal circumstances - these are all high priorities for boaties who favour the "ease-of-use" approach to fishing.
See the Surtees 4.7 Workmate for sale.
Specifications
LOA 4.7m Beam 2.0m Weight 350kg Fuel 20 litres (tote tank) Water ballast 280 litres Rec hp 30-70 Price as reviewed $35,000
Keep up to date with news from Trade-A-boat or like us on Facebook!