Hunter 50cc
---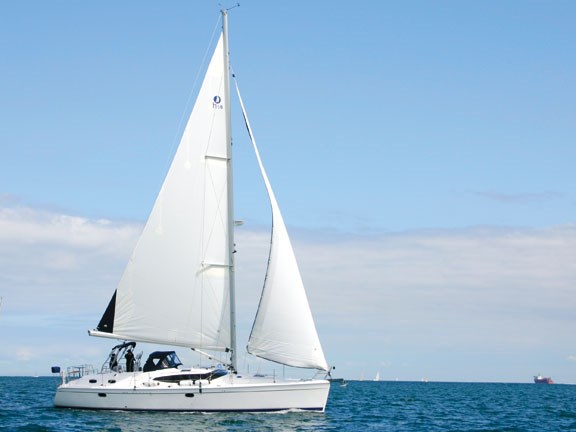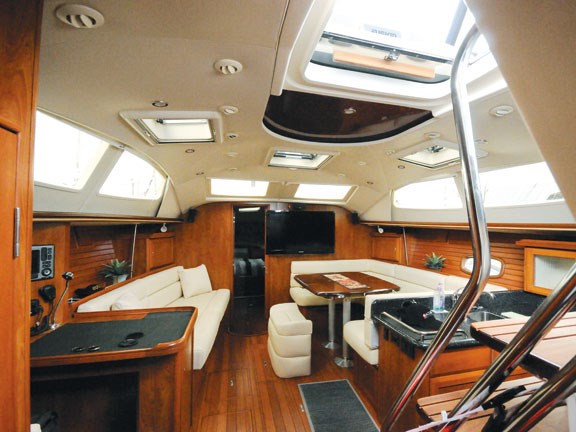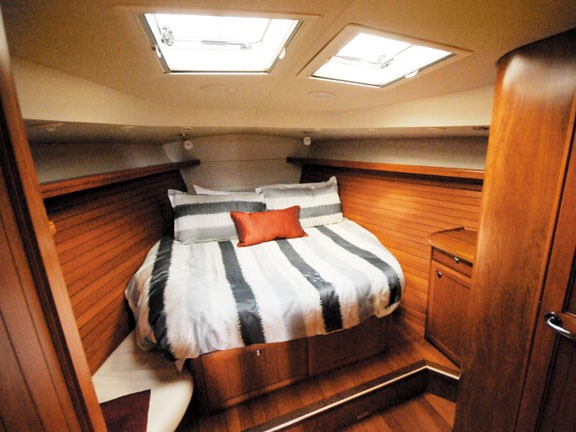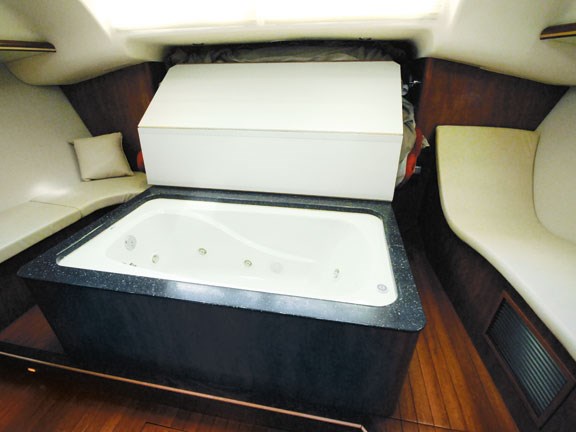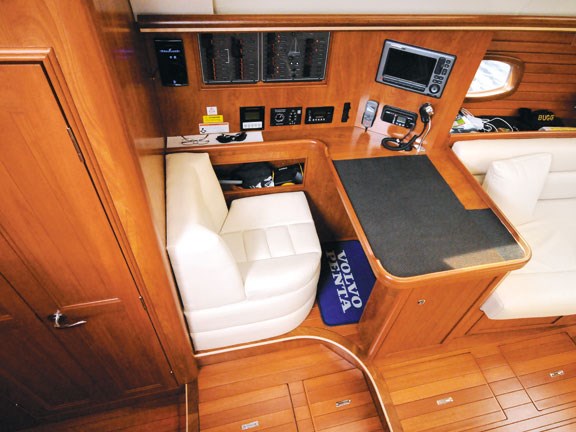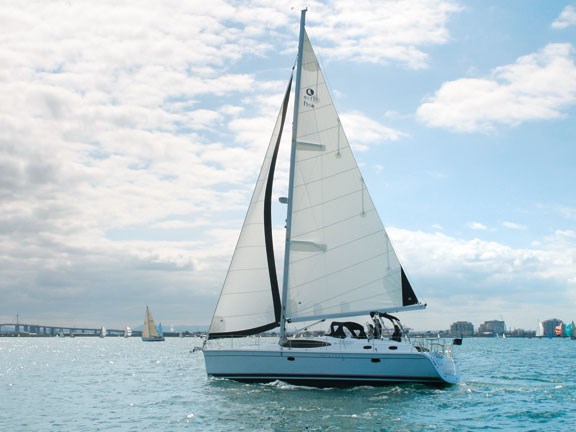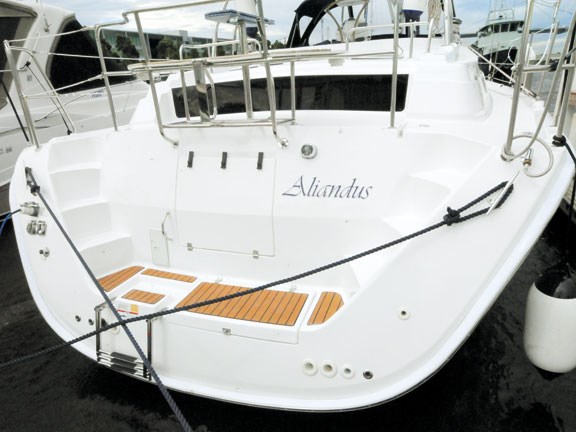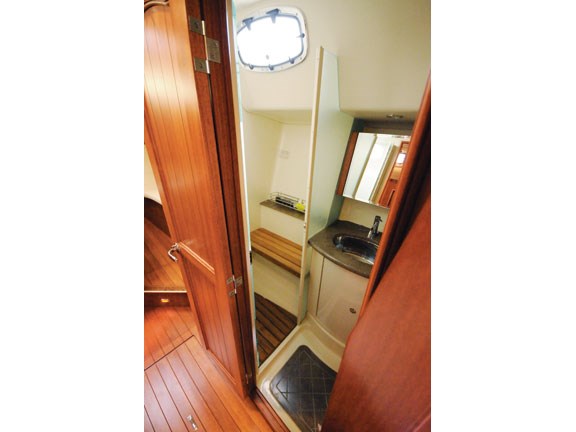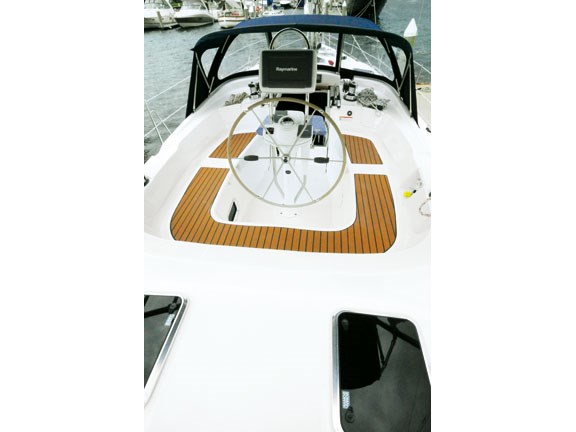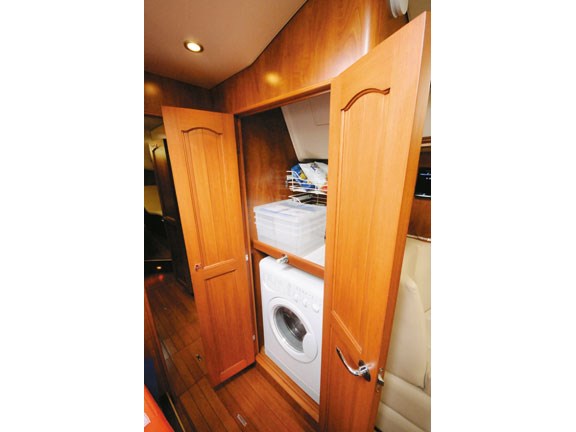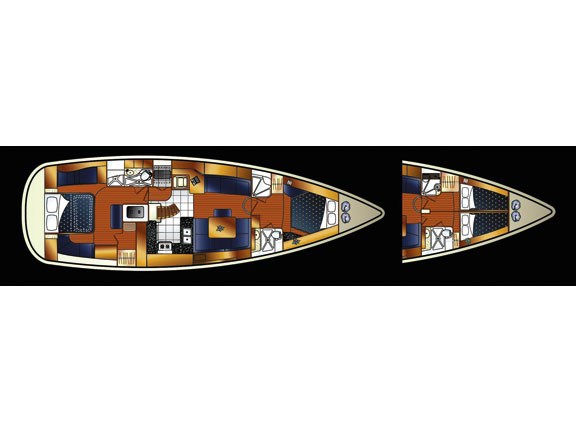 Forget the kitchen sink; this new flagship Hunter 50CC has a spa bath in the owner's suite. We jump in to test the water…
Ideal for entertaining
Easy to handle
Powerful auxiliary engine
Excellent fit and finish
The Hunter 49 and 50 are built around a common hull, with identical deep and shoal draft keel options and the same rig. The differences are in the deck design and below.
Hunter has restyled its boats and fitted harmonious glass shapes that integrate well. In the new 50CC model, the central cockpit sits atop a pilothouse that boasts a tapered "eyebrow" glass area. Cabin and hull ports on the 50CC echo the elliptical theme.
The 50CC is still recognisably a Hunter; marked by a gunwale rubbing strip that curves down the transom and the company's trademark B&R rig.
The stock mast measures 19.3m from the waterline, but there's an optional tall stick that adds 1.5m. Also standard on the 50CC is a 95 percent self-tacking jib, but a modest-overlap jib can be ordered.
Robust build
Construction is state-of-the-art, with Hunter hulls and decks built using a combination of solid FRP and Baltek and plywood sandwich materials. The hull below the waterline is monolithic FRP; above the waterline it's end-grain balsa sandwich. The forward section of the hull, from the keel sump to the stem, is reinforced with a Kevlar layer.
Hunter's deck gelcoat is Maxguard, which is said to be more flexible than most finishes and also highly UV-resistant, while the interior gelcoat is MicroBan, incorporating an anti-bacterial agent. The outer hull skin is Ashland AME-5000 modified epoxy, for maximum osmosis resistance.
Chainplates are attached to the outside of the hull by bolts and a belt of reinforcement runs around the hull from chainplate to chainplate. Deck walking areas are plywood sandwich laminate and Coremat reinforced FRP is used for vertical surfaces, with aluminium plates embedded in the laminate at deck hardware attachments.
The rudder stock is solid stainless steel bar, in concert with an isolation transformer to address any corrosion issues. Steering is by rod drag link from a central wheel that can optionally fold.
Winged keel
The 50CC can be ordered with a shoal draft 1.68m keel or a 2.13m deep-draft keel. Both keels have high antimony lead bulbs, cast around stainless steel frames, with integral threaded rods.
Our evaluation boat was fitted with the deep-draft keel in the interests of maximum righting moment with a ballast weight saving – the shallow keel tips the scales at 5670kg, while the deep one is 580kg lighter.
The 50CC has a raised saloon floor that doesn't compromise headroom, but increases the below-sole storage space, in concert with deep bilges. Access to under-floor plumbing, wiring and fittings is excellent.
At home at sea
The centre cockpit 50CC is available in two or three-cabin versions. Both 50CC layouts cry "luxury" and incorporate moulded in air-conditioning ducting.
The three-cabin layout has two double vee-berths forward, with a portside shower room and a starboard head shared by the forward cabin occupants. The two-cabin version sees the twin vee-berths replaced by an island double bed and more generous shelf and wardrobe space.
Spa bath
The aft cabin on both versions has generous proportions. An island bed is flanked by a settee and a recliner lounge, and there's space for a walk-in wardrobe and a large-screen telly. However, the crowning jewel is an optional spa under the bed!
Opposite the walk-in wardrobe is a head with separate shower area and between them is a central module that houses the engine, with the optional generator mounted above it.
Wide access panels allow easy entry to the mechanicals. Just aft of the saloon bulkhead is a cupboard that hides a washer/dryer.
The luxurious theme extends to the saloon, which is lit by an ample glass area and LED cabin top and floor lighting. Roof hatches hinge longitudinally, providing ventilation when the boat is berthed across-breeze.
As on most modern boats, the nav station has shrunk in size and functions as the boat's electrical nerve centre, with swing-out circuit-breaker panels easily accessed.
The galley has Corian bench tops fitted with stainless steel handrails, which double as fiddles. Hunter's crockery drying cupboard features, of course.
The saloon has ample lounging and eating space for a crowd of people.
A spacious centre cockpit is supplemented by aft perches, including an "admiral's seat" at the aft rail, and twin staircases set into the transom. Stepped-height bimini and spray dodger combine to shade the helmsperson and cockpit dwellers.
Under sail
Aliandus is owned by the Greer family. Acknowledging his lack of sailing experience, Ian Greer chose the 50CC for its ease of handling and powerful auxiliary engine. His aim to reduce the cost of cruising Port Phillip Bay in southern Victoria, Australia, has been well met by the 50CC because he has found wandering under wind power very pleasant.
Simplifying the sailing job are in-mast furling and power halyard and sheet winches. An in-mast Selden roller furling offers easy reefing and dousing, but vertical battens and a straightish leech don't provide maximum efficiency.
However, Aliandus does have a mildly overlapping headsail that compensates to some extent on and off the wind. Tacking isn't difficult, especially with final tensioning done by a powered sheet winch.
The 50CC's mainsail traveller mounts atop Hunter's patented TravelerArch, which consists of paired heavy-wall stainless steel tubes that form a targa-top over the cockpit. On the 50CC the arch angles forward; on the aft-cockpit 49 it angles aft. The traveller car operates via lines led down the arch tubes to cam cleats. The endless mainsheet can be worked from the helmsman's position using the port sheet winch, or from the powered halyard winch behind the spray dodger.
Swept-back spreaders didn't cause as much restriction to square-running as we expected and we could fly the jib wing-a-wing, without the need for a pole, because the sail dimensions and the wide sheeting base made the jib self-setting for square running.
Hunter's mainsheet design and a pair of rope bins behind the spray dodger eliminate sheets and halyards from the cockpit floor. In conjunction with the optional autopilot it's possible for one person to operate the engine, make and shorten sail, tack, gybe and steer the boat. However, buyers looking for a dual-purpose cruising/twilight racing big Hunters would probably do better with a 49 than the heavier 50CC.
The verdict
As a dedicated cruising and entertaining yacht the Hunter 50CC should suit many buyers. Fit and finish is excellent and the deep-bilge design provides much more storage space than can be found in flat-bottomed yachts. A couple could easily live aboard this yacht for extended periods without feeling claustrophobic.
Specifications
Engine make/type Yanmar/diesel shaft drive
Rated hp 75 (110 optional)
Prop Fixed three-blade (folding optional)
Material FRP monolithic and balsa sandwich hull and plywood sandwich deck
Type Monohull
Length overall 15.21m
Hull length 14.58m
Waterline length 13.36m
Beam 4.47m
Draft 2.13m (1.68m optional)
Weight 16,175kg
Berths Two or three doubles
Fuel 613L (867L optional)
Water 734L
Holding tank 197L
Water heater 148L
Sail area 114.1m2 (total w/mast-furling vertical battened main); asymmetric spinnaker optional
Keep up to date with news from Trade-A-boat or like us on Facebook!