Hanse 445
---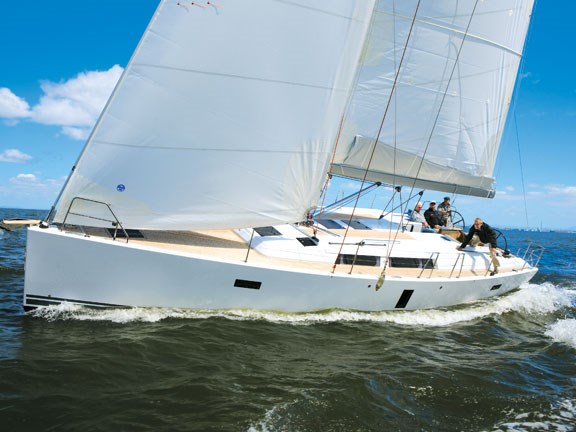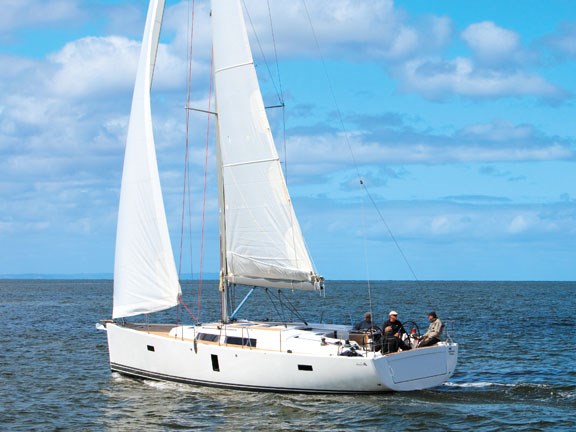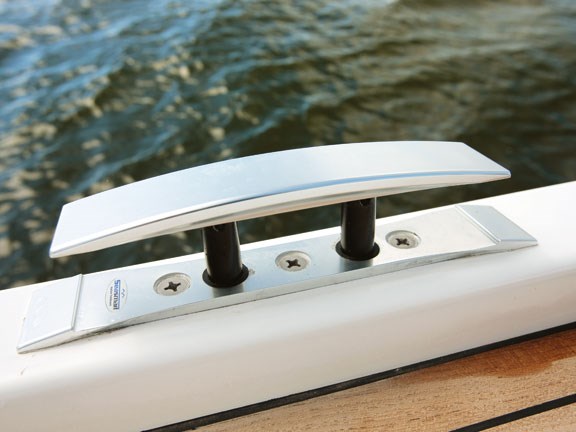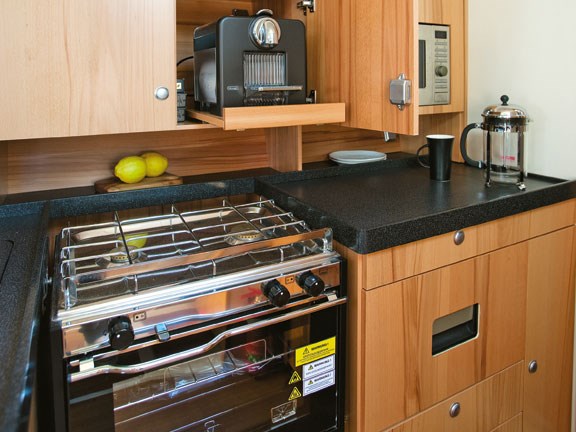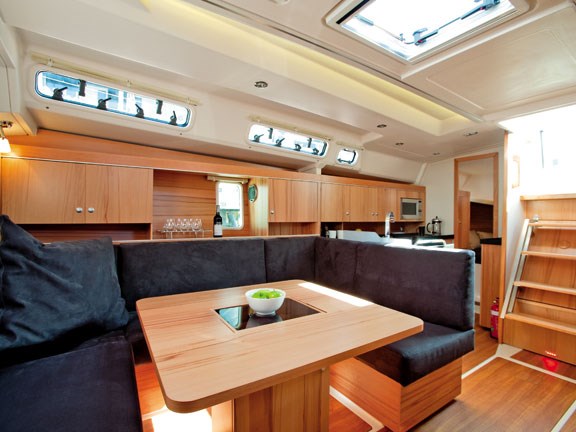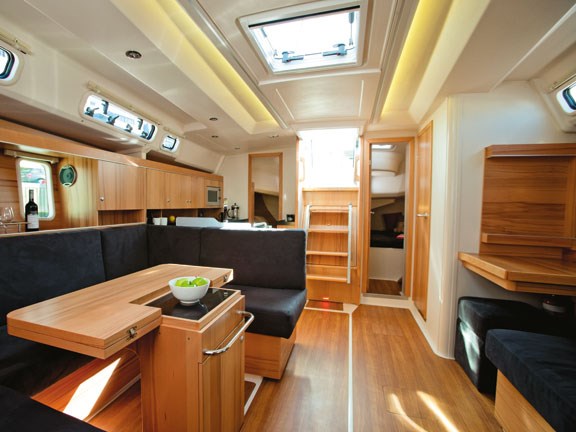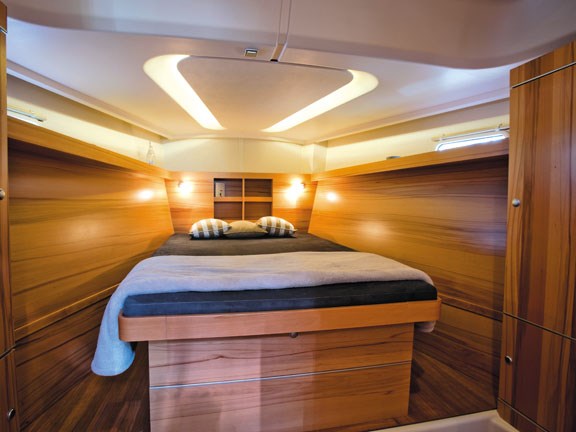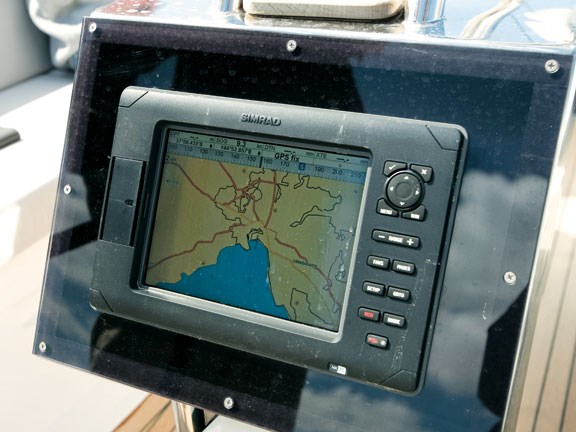 The Hanse 445 heralds a new era for the German yacht builder. Trade A Boat discovers why the new 5 Series is all the rage.
Economic sail and boat control layout
Apartment-like interior
Good performance
Easy to handle
Excellent value for money
The new Hanse 445 isn't just a floating house: the sailing package is true dual-purpose.
A new standard
The Hanse 445 comes with a Cruise Pack, Comfort Pack and Navigation Pack all included in the base-boat price.
The 445 has an amazing sail-away inventory, highlighted by a pair of powered halyard winches that takes the hard work out of sail handling. Being a Hanse, it sports a self-tacking headsail. Also standard is a fully battened mainsail, with Spectra halyard and ball bearing cars fitted to an external track on a tapered-section mast. There are twin wheels with coaming perches or flip-up wooden seats for the helmsperson.
The 445 sports a full instrumentation pack including an autopilot and chartplotter, with dual-station wind, log and depth readouts. Meanwhile, there are fitted cockpit cushions, and teak-faced drop-down swim platform and teak-topped cockpit seats and sole. At the pointy end are a remote-control, electric anchor winch fitted with 60m of stainless steel chain and an anchor, while in the capacious forward locker are fenders, mooring lines and boat hook. Port and starboard rail gates and pop-up mooring cleats are also standard.
Below decks are a VHF radio, a 1600W inverter/charger, two 150amp/h AGM house batteries and a fire extinguisher. Interior blinds and flyscreens are also fitted.
In addition, the deck layout has some labour-saving features. The mainsheet runs through two cabin-top blocks rather than a traveller and leads aft, where there's low-effort winch control. Sheet and running rigging clutches have been moved away from their customary cabin-top location to the cockpit coamings, putting all controls close to the helmsperson. This move eliminates the difficulty of operating clutches under a spray dodger and allows rigging adjustment without crew blocking the companionway. For single-handed sailing the 445's control location is a blessing, but club racers may find the layout somewhat cramped, even with the optional pair of sheet winches in place.
A quirk with clutch positioning is that the sheets and halyards emerge from their slots in the coach-house roof and run in shallow troughs along each coaming to the clutch banks, where it's easy to stand on the lines when moving around the boat. Early deck drawings and a prototype mock-up show the troughs covered by non-slip FRP panels, but they weren't fitted to this production boat.
Saloon life
A home-like white-wall white-ceiling effect is generated by the use of FRP modular panels that are joined in situ. The white accent is carried through to the cabin sole in the form of FRP ribs that separate individual floor panels. The effect is light and airy, but it's possible these ribs will show marking from foot traffic.
Square-edged cupboards, doors and drawers in mahogany or beech and the saloon cushions echo household furniture shapes and textures, so landlubbers will feel no shock. Twin vertical hull ports reinforce the home-like feel of the saloon.
The centrepiece in the saloon is a table that's mounted on a wine-storage plinth, with a unique fold-over ability to double in area. This complex piece of furniture showed a few uneven joints, but its functionality was superb.
The test boat was a three-cabin model, with a huge forward cabin boasting an island bed and separate head and shower rooms, with ample cupboard, wardrobe and shelf space. An electric-flush loo was standard.
A four-cabin version retains the separate shower and head layout, but squeezes two double vee-berths up forward. Both layout types have twin double beds in aft cabins, sharing a large day head with glass-shielded shower module.
A well-equipped galley abuts the dinette and features moulded stone-composite bench tops with integrated fiddles, double-bowl sink and top/front-opening 130L fridge/freezer. A twin-burner gas stove with oven swings in gimbals and is supplemented by a microwave and pull-out coffee-maker.
On the water
The breeze was a fickle eight to 12kts, providing a good opportunity to check out its light-weather behaviour.
The Judel/Vrolijk team certainly has done its best to provide maximum waterline length in this boat and the sleek lines take full advantage of that generous dimension. The Volvo Penta D2-55 purred away happily as we motored out of the habour. I was very impressed with the speed of the boat under power and did a very short WOT run to check out its peak: would you believe 10.1kts on the GPS! That's slippery.
The Hanse 445 proved just as ready to romp under sail, reaching away at 7kts-plus in the light air and six-plus hard on the wind. Having powered winches and clutches close to the helming positions worked ideally for single-handed sail control in cruise mode. For cruising activities, the two standard powered winches can do all the rope-handling tasks, but for genoa work optional tracks and cars and two-sheet winches are a necessity.
The verdict
Tough times in the global yacht market have created a new deal for yacht buyers. There's much more kit in the Hanse 445 than you'd expect for pricing that begins at AU$350K. Although targeted at cruising folk, the Hanse 445 should provide respectable club-racing performance.
A sleek profile, modern cabin appointments and distinctive hull ports make the Hanse 445 stand out from the crowd. Uncomplicated, low-effort handling combined with an easily driven hull make cruising easy, while club racing performance options should produce good results.
For more information contact the New Zealand agent Tony Newmarch Marine Brokers, 7 Adelphi Place, Albany, ph 09 413 9465, email tony@boatsforsalenz.com or visit www.boatsforsalenz.com.
See Hanse boats for sale.
Specifications
Material Foam-cored laminate hull and balsa-cored laminate deck w/isophthalic gelcoat and vinylester first layer
Type Keelboat
Length overall 13.52m
Waterline length 12.2m
Beam 4.38m
Draft 2.25m (standard); 1.82m (optional)
Mast height 17.52m
Weight 11,00kg
Ballast 3500kg
Berths Three and four double-cabin layouts
Fuel 220L
Water 450L
Mainsail 55.73m²
Jib 40.63m²
Genoa 45.81m²
Gennaker 150.65m²
Engine make/model Volvo d2-55 (optional d2-75 turbo)
Type Saildrive
Rated hp/kW 53/39; 75/53 (optional)
Keep up to date with news from Trade-A-boat or like us on Facebook!