Bayliner 215 Bowrider Sport
---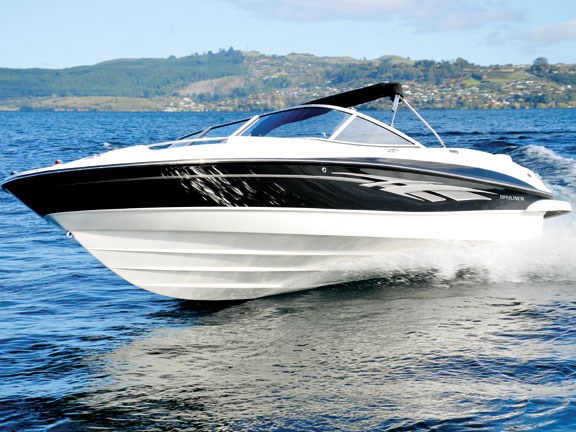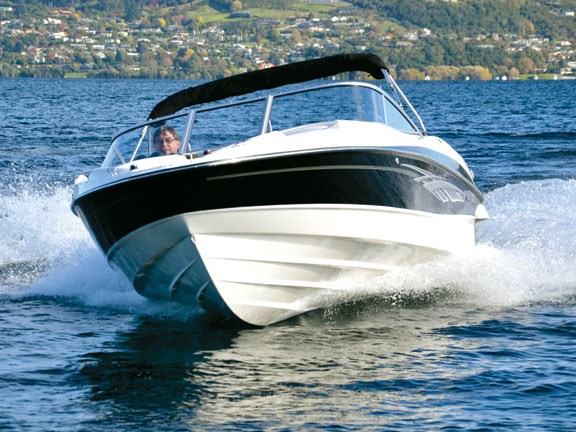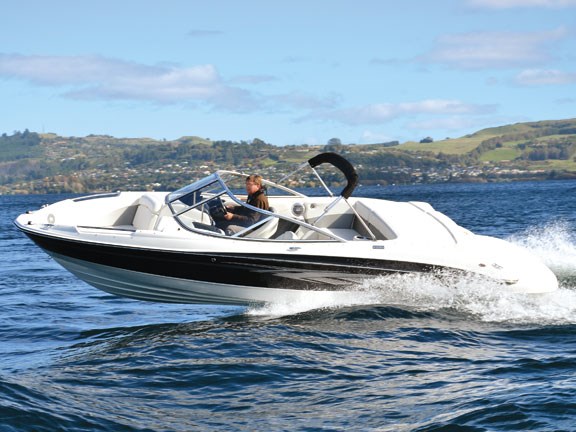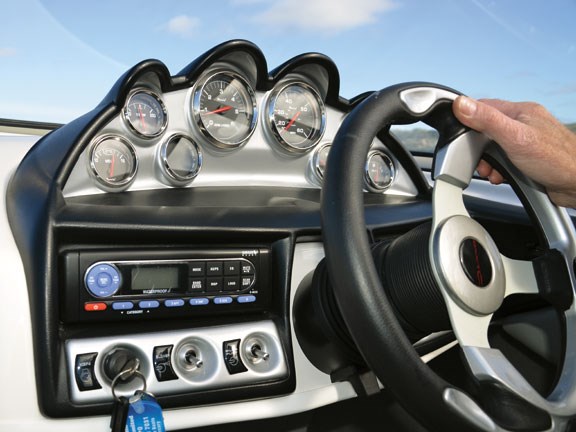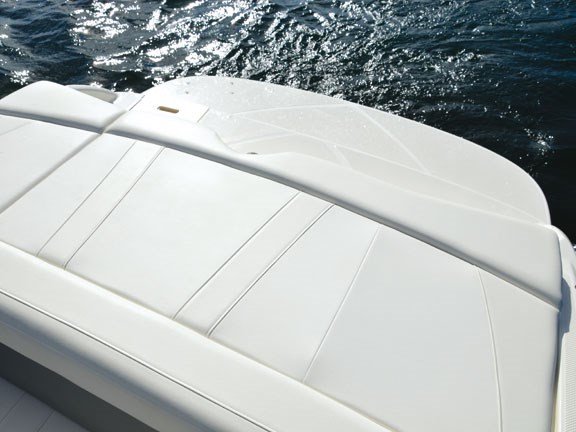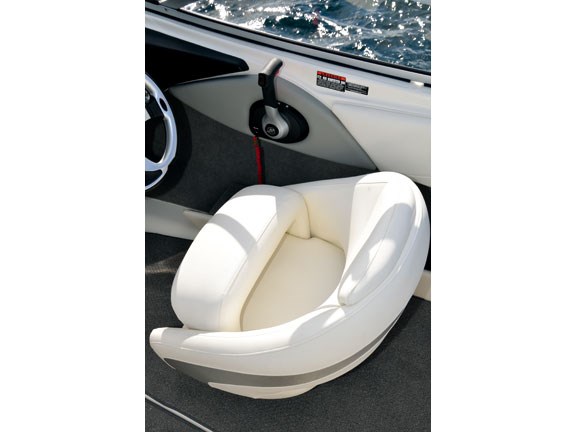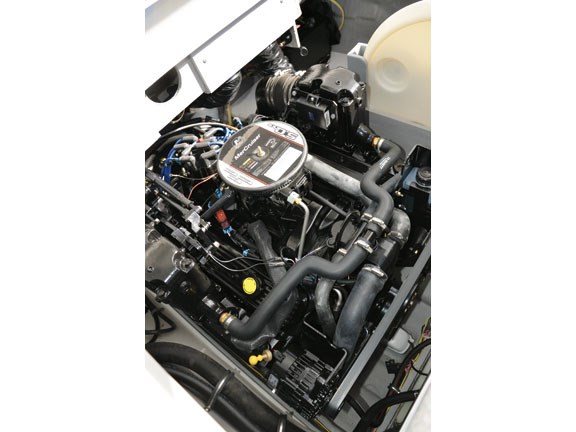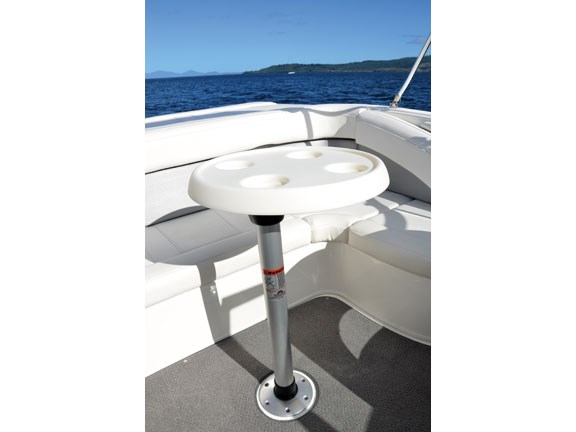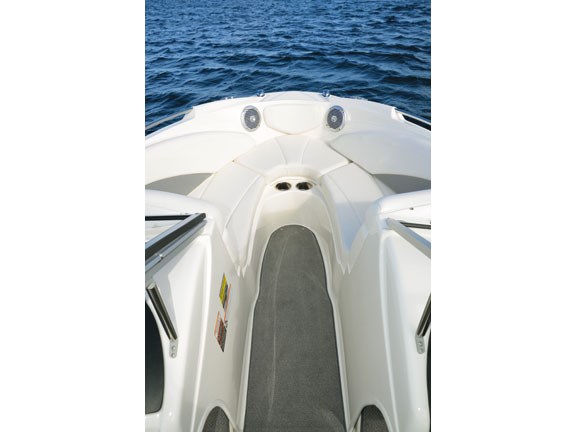 Sleek, spacious and sumptuous, Bayliner's new 215 Bowrider is optimised for watersports, fun and comfort
Broad spectrum appeal suitable for the whole family
Soft ride, with easy and low-speed planning
Enough space for a party of nine
Ultra-quiet V8 with loads of grunt
Beautiful finish with quality fittings
You have to hand it to the Americans – they do things in style. Bayliners are the epitome of boating grace and comfort. Finely crafted vessels designed for easy use, maximum time on the water and minimum maintenance.
These beautifully engineered boats are spacious with loads of clever features, and they deliver great performance. Not for nothing is the marque one of the top sellers in America's recreational boat market.
They're also very popular with New Zealand's lake boating community, where the focus is a shift from fishing to family. If you're a die-hard fishing fanatic, don't read any further. This is not a boat to tarnish with rusty fish hooks, rotting bait and snapper corpses.
Choose your weapon
The 215's available in two layouts – Standard and Sport – and this one, provided by Taupo's Lakeland Marine, is the latter. Sport models feature twin swivelling bucket seats and a full-width L-shaped settee in the stern, butted up against a large sun bed/lounger immediately aft.
Standard models have an extra rear-facing seat behind the passenger's throne, and the stern settee's divided into two seats by the engine box (and there is no aft sunbed).
The 215's a fairly beamy vessel (2.49m), and it carries the beam quite far forward. That helps promote a soft, dry ride, but it also makes for a very roomy cockpit. Bayliner says she's designed for nine, utilising the U-shaped settee in the bow.
There are numerous drink holders and they're positioned in logical places. The cockpit table's within easy reach for all, and when not in use, it's quickly disassembled and stowed in a purpose-designed receptacle in the engine compartment.
Plush padding disguises a generous assortment of storage lockers – particularly in the bowrider section. And, by adding an infill squab, the entire bow area becomes another large sunbed.
Driving the 215 is a bit like being in an Italian sports car. The bucket seat's complemented by a racy steering wheel and dash. The hot styling's very functional though – the dash presents standard engine health data via analogue gauges (fuel, temp, revs, speed, volts, oil pressure and stern leg trim). And thanks to the gauges' anti-glare technology, the info's easy to read at a glance. There's also a "spare" gauge, so you could easily add a digital depth sounder.
Nestling just below is a waterproof Sirius radio/MP3 player, connected to four waterproof Jensen speakers – two in the cockpit and two in the bow – and it sounds GREAT.
Watersports
The 215's hull shape is particularly suited to skiing, wakeboarding and towing water toys – thanks to Bayliner's trademark "sequential lift" hull design. Clever geometry and hydrodynamic smarts get the boat up on the plane very quickly and at a relatively low speed.
Using deep, inverted strakes, which help to "trap" air under the hull, the sequential hull provides extra lift during slower speeds to keep the bow from rising too much, and also reduces drag and water resistance. That not only means lower planing speeds – great for beginner skiers/wakeboarders – but also better fuel-efficiency.
Skiers and wakeboarders (and scuba divers) will also enjoy the boat's extended swim platform – plenty of space to kit yourself up. I like the discreet, fold-up stainless steel ladder nestling just under the swim platform.
Skis, wakeboards, ropes and PFDs (or dive tanks and wet suits) can all be stowed in the boat's cavernous in-floor cockpit locker. Bayliner also offers an upgrade option for the 215 – a wakeboard tower.
The Sunbrella Bimini will be much appreciated on blistering days.
Performance
The 215 is powered by a petrol-fired five-litre 220hp MerCruiser V8 coupled to an Alpha One stern-leg. There's definitely no shortage of grunt – but the really impressive thing about this powerplant is how genteelly and quietly it delivers the horses.
The MerCruiser's song is a muted burble thanks primarily to its sealed engine compartment, but also because of the low-maintenance, wall-to-wall carpet that helps to absorb any sound/vibrations. And because it's a sealed engine compartment, the transom's equipped with very cool chrome ducting to help the V8 breathe. A functional but stylish design.
Delivery of smooth, quiet power is enhanced by a soft-riding hull that gets up on to the plane quickly and at low speed, and complemented by the flawless, feather-light power steering.
The generous beam and flared bow – together with all those strakes – do a good job of dispersing spray. Despite cruising through a sizeable chop in 20-25knot winds on Lake Taupo, our windscreen remained spatter-free and the boat completely dry.
The stern-leg uses a three-blade 21" prop. Hang on, push the throttle to the stop and you'll streak to a top speed of around 53mph (4800rpm).
Once you've purged the speed demons, ease back to a cruise speed of 30mph (3000rpm). There's no fuel meter on the vessel, so you'll have to accept Bayliner's word that the Mercruiser sips 11.4 US gallons/hour at cruise speed (about 43L/h). She carries a built-in 140L fuel tank.
Day-to-day engine monitoring and maintenance is simple – the rear seat hinges up, providing roomy access for checking water, oil and belts. The expansive areas of creamy vinyl look superb and I'd be a little nervous about dirt and mud. But Lakeland Marine sales manager Graeme Frederick assures me the boat's designed for no-fuss cleaning. Even the carpets – a tough grade of wear-and-dirt resistant – are easily unclipped for a thorough cleaning.
This boat should appeal to a broad range of boaties – barring those with a hyper-active hunter-gatherer fishing gene. She's family friendly and will meet a wide array of recreational needs, and as a bonus she's an easy boat to handle – perfect for beginners.
See Bayliner Bowrider boats for sale.
Specifications
LOA 6.25m
Beam 2.49m
Engine 220hp, five-litre MerCruiser with Alpha One stern leg
Deadrise 20 degrees
Weight 1287kg
Fuel 140 litres
Price as tested $70,000
Keep up to date with news from Trade-A-boat or like us on Facebook!