Mustang 32
---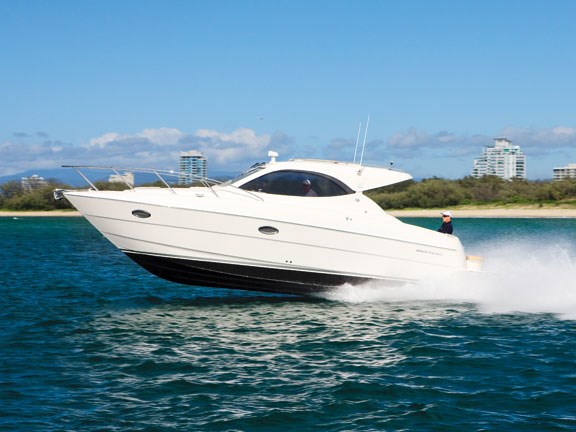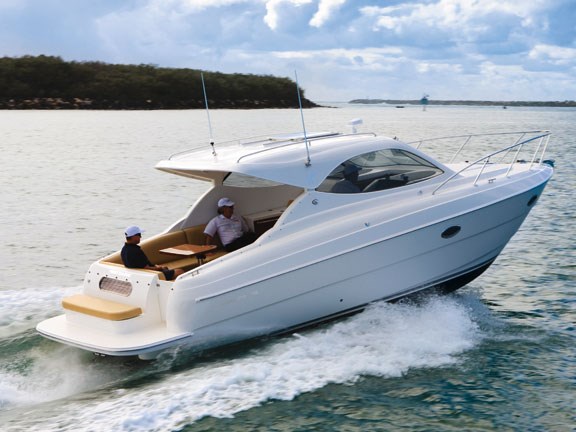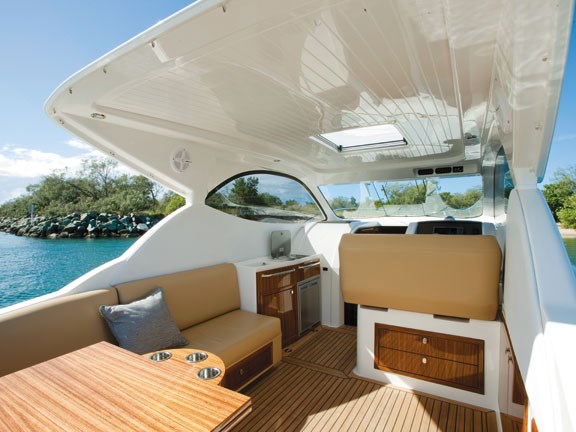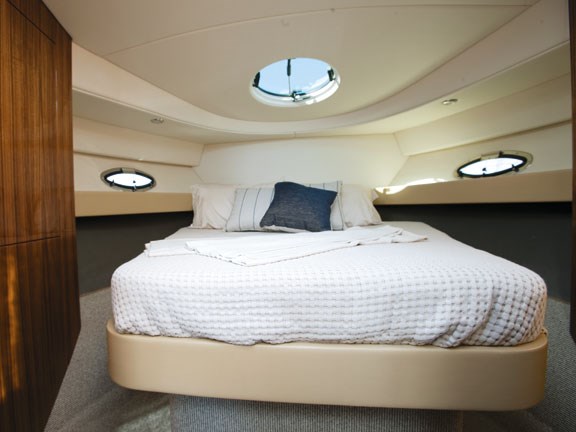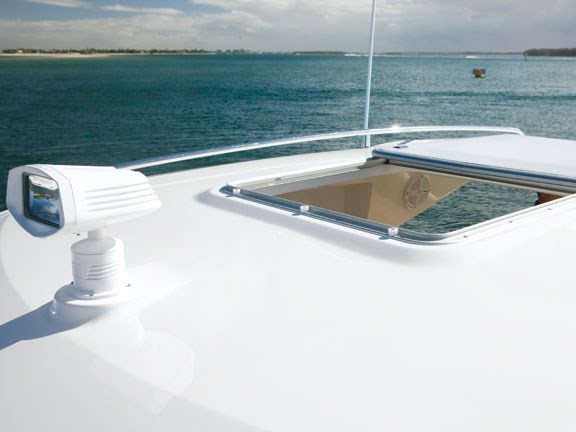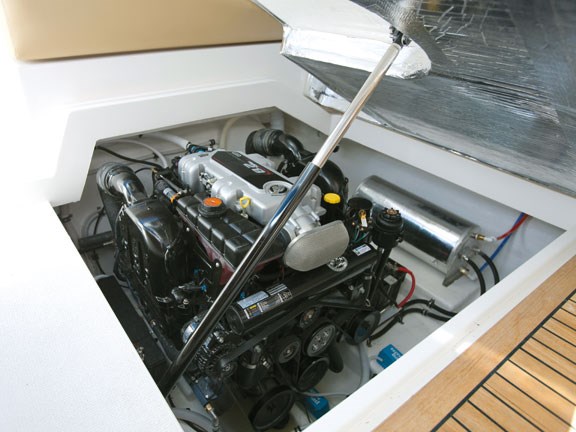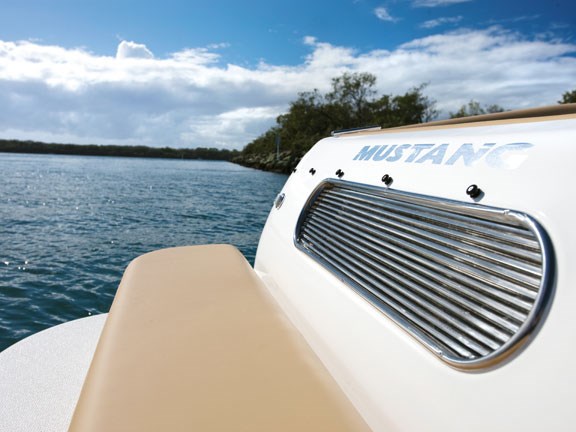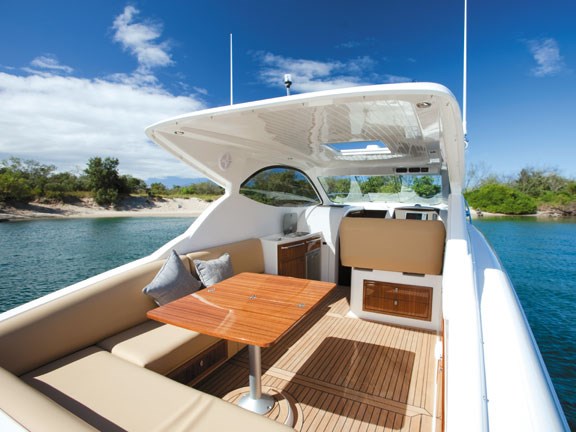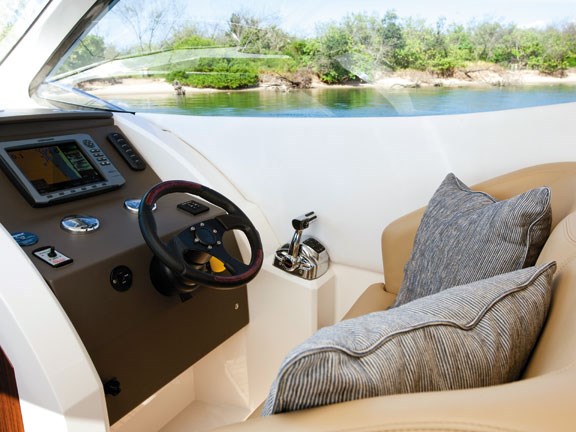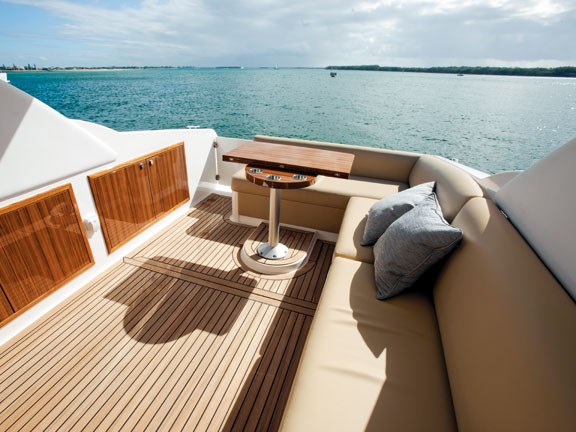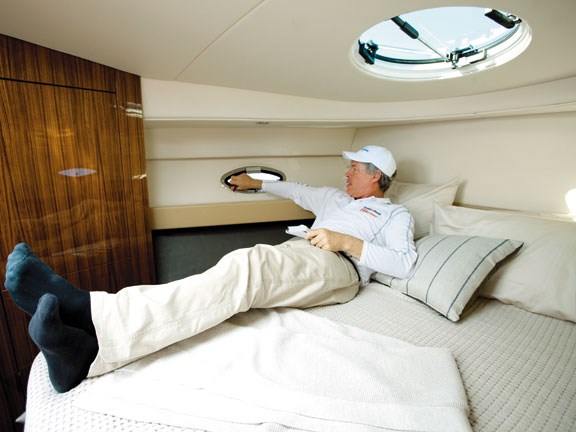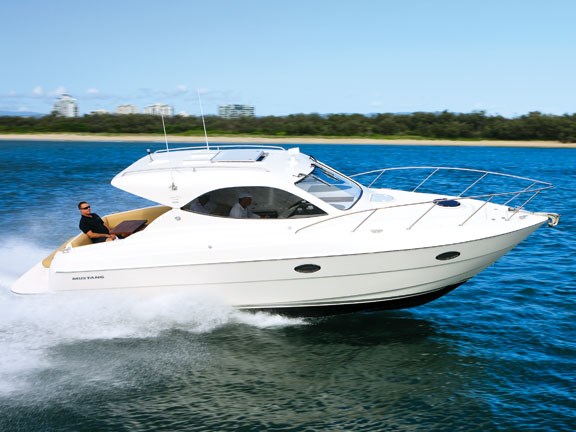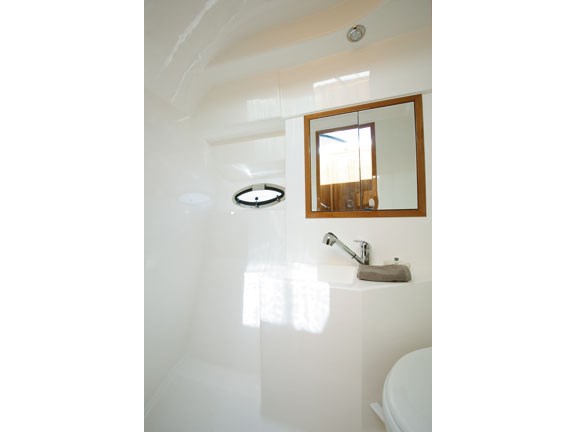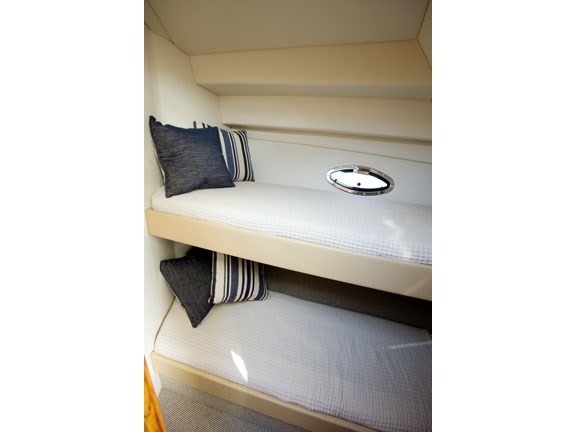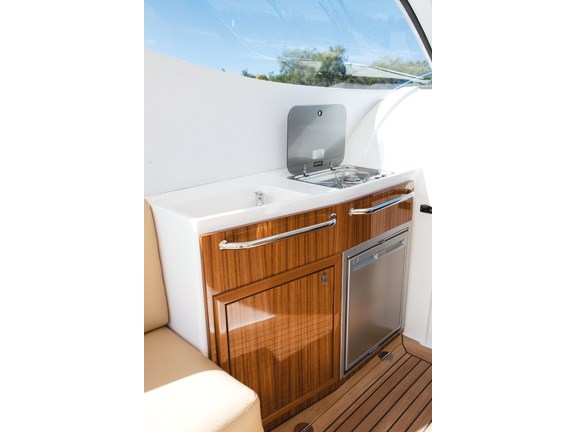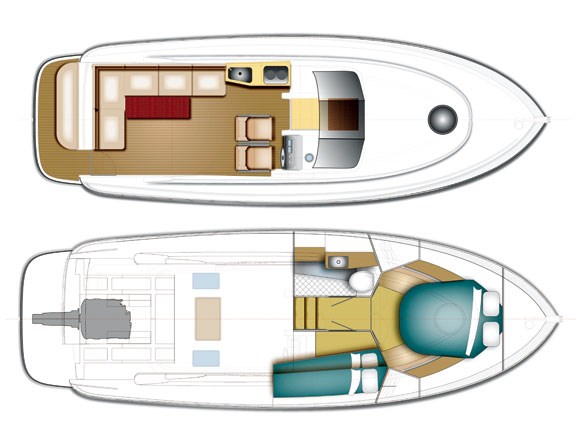 The first new Mustang under Bill Barry-Cotter's command has pedigree. Trade A Boat gets in the saddle…
Huge amount of boat for your buck
Unbeatable layout with leg room, storage and seating
Hardtop for all-weather boating
Terrific accommodation plan
Nifty performance without a whiff of petrol fumes
A great introductory family-boating package
Rather than build a Mustang sportscruiser as we once knew them, Barry-Cotter went back to the drawing board to create what this writer considers one of the smartest small boats to hit the water in decades. Entry level price for the Mustang 32 is AU$220,000 (ex-factory) with single 320hp MerCruiser 8.2L MAG petrol inboard on a Bravo III sterndrive. The boat sleeps four, has a separate bathroom and gas-powered galley. For a 32-footer with a 31ft 9in hull length, you get a huge amount of living space.
New hull and engineering
While it was used as a rough guide for the Mustang 32, the pre-existing Mustang 28 hull had too much rocker. This was removed and the hull was modified. It now performs really well, noise levels are in keeping with most sterndrive-powered sportscruisers (38 to 40dbi), and the boat seems extraordinarily dry.
Below the floor is a boat built to big-boat standards. You will be impressed by the fuel system with alloy tank, heat-exchanger and accumulator tank, which provides hot water more than 12 hours after you have shut-down the engine, and the 120L of water for a long weekend.
The engineering items are located almost amidships and are accessible through a floor hatch. Fishing rods stored in racks, tubs of water toys, a barbecue, a roll-up tender and folding chairs will all fit under-floor.
Meanwhile, the single MerCruiser 8.2 MAG and engineroom bilge are assessable at the push of a button that raises the aft cockpit floor.
We couldn't discern any fumes during our trials and the central transom engine vent and usual underwater through-hub exhaust seem to work well. The boat is equipped with a carbon monoxide monitor and alarm, as well as a gas alarm and shut-off.
Sum of the parts
In base guise you get just about everything you need to go boating on the Mustang 32. Even teak decks are included on the vast cockpit sole.
Some might consider the sidedecks to the foredeck kind of tight, but with cabin-top rails and toerails we think they put the emphasis back where you want it, on interior space. There's also non-skid, robust above-deck cleats, while the boat's 3.175m beam helps with stability.
With a Quick windlass as standard you can anchor without needing to leave the helm. Pick down, you will gravitate back to the L-shaped lounge tracing the cockpit. With a couple of loose chairs and an after-market Euro awning attached to the hardtop, you could do six for lunch around the folding teak table in the shade. The lounge is long enough to use as a daybed.
For fishing and other watersports, the moulded swim platform is welcome. There's a low-slung moulded lounge that could do with a grabrail. Its base hides the 4.5kg gas bottle and an area that would double as icebox storage. We'd add a stainless U-bar to the swim platform, not just as a hand-hold, but for mounting a gas barbie and fish-cutting board with rod holders.
The galley up under the hardtop allows cooking in any weather while enjoying views. There's a two-burner gas stove, 12V fridge with freezer tray below, a sink with hot and cold water and a storage cupboard.
Behind the skipper's bench seat is a whole nest of storage cabinets and various drawers, with sub-lounge storage opposite. Storage is a strong point on this big little boat.
Drinkholders, downlights, speakers for the sound system and a simple dash complete the above-deck layout.
The matt-grey dash should help with reflection in the windscreen; there was a red night light as well, while the boat comes with a Shorepower connection for its 25-amp battery charger. The alternator on the 8.2 MAG is high-output at 65amps. Charging issues solved.
Sleeping aboard
The stateroom in the bow has an island berth that's big enough to stretch out on, a couple of impressive teak-fronted hanging lockers and opening portlights along with the obligatory escape hatch.
The second cabin has bunks perfect for the kiddies. We'd order our Mustang 32 without the cabin door so as to create even more space. The stateroom has a small bi-fold door, but there is no companionway door, so this isn't a lock-up boat.
Full marks for the one big non-skid bathroom space with pull-out hot/cold shower and the electric freshwater Vacuflush loo. Headroom is a highpoint and natural ventilation comes via a portlight that might be best frosted.
Performance and handling
While there is a diesel option for those who don't want petrol power, the base 380hp MerCruiser 8.2 MAG DTS with Bravo Three isn't to be sneezed at. Propeller fine-tuning was still needed, as the boat hit its rev limiter too easily, but with the 20in pitch we pulled 37kts as we anticipated.
Big-block V8s get kind of thirsty at top revs from 4800 to 5000rpm. It's in the low-load cruising range from 3000 to 4000rpm that things make far more sense. At 4000rpm and 30kts, consumption is 71L/h. At just 3300rpm and 27kts, you're using just 50L/h. Now that's eco-cruising.
With a new 21 or 22in prop to come, top speed might gain a knot. So the above is just indicative data. The Bravo III sterndrive with counter-rotating propeller offers plenty of torque for shifting the boat to plane with, say, an aft-seated crew, or even towing the tykes on tubes, while also affording low-speed steerage in reverse. That said, we'd tick the box for optional bowthruster on this boat.
The steering is power-assisted, and with the DTS gearshift and sportswheel it's simple cruising. Views are clear in all directions. Wipers are provided.
The verdict
Put it all together and you have a cost-effective family cruiser that can probably satisfy 75 percent of boaties' requirements. As we said at the outset, pricing and quality aren't mutually exclusive. The Mustang 32 is evidence of that.
For more information contact the New Zealand distributor, Orams Marine.
See a range of Mustang boats for sale.
Specifications
Material Solid moulded fibreglass hull and deck
Type Hard-chine monohull
Length overall 9.85m
Hull length (ISO) 9.67m
Beam 3.175m
Draft 1.05m
Weight 4800kg
Berths 4 (+ 2 on deck)
Fuel 600L
Water 120L
Holding tank 45L
Engine make/model MerCruiser 8.2 MAG
Type Big-block V8 multipoint- and sequential-injected petrol engine
Rated hp 380 at 4400 to 4800rpm (max)
Displacement 8.2L
Weight Approx 490kg
Gearbox ratio 2:1
Props Duoprop
Keep up to date with news from Trade-A-boat or like us on Facebook!