Riviera 53 Flybridge test
---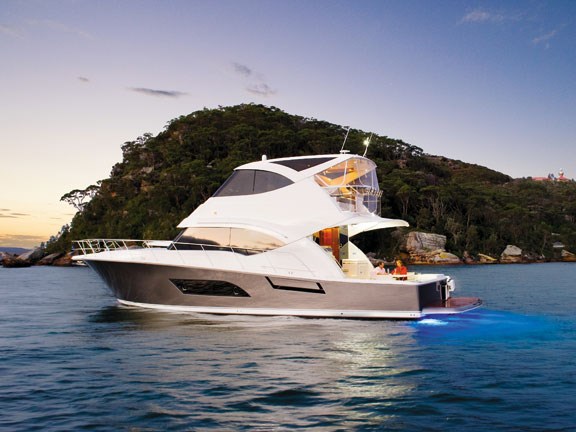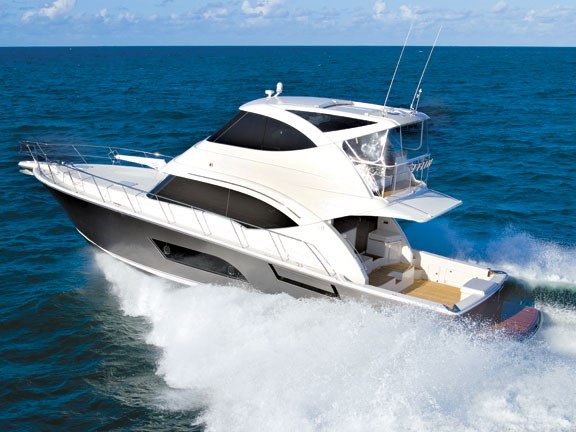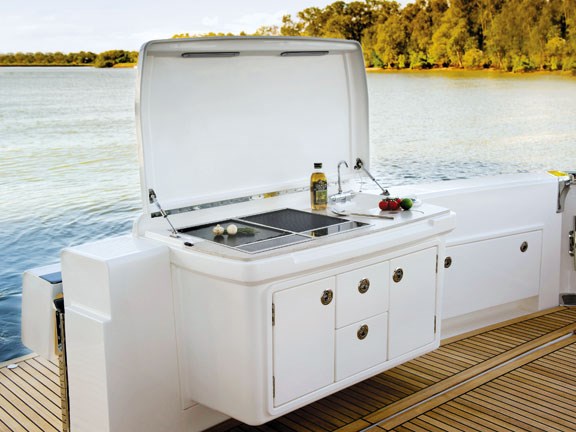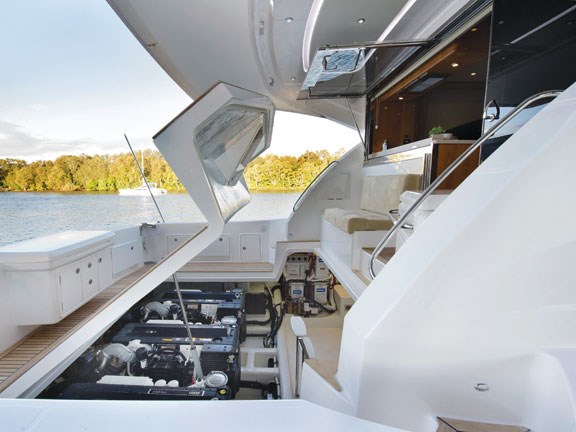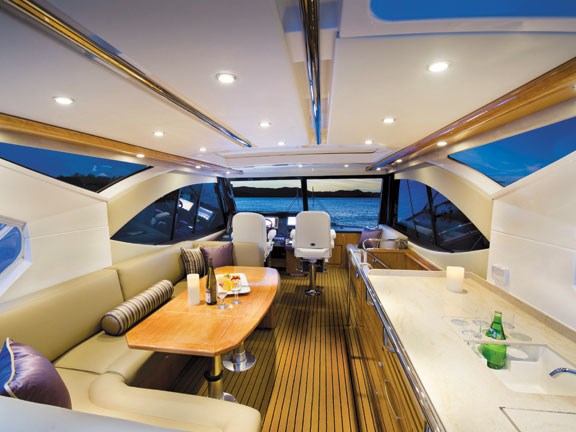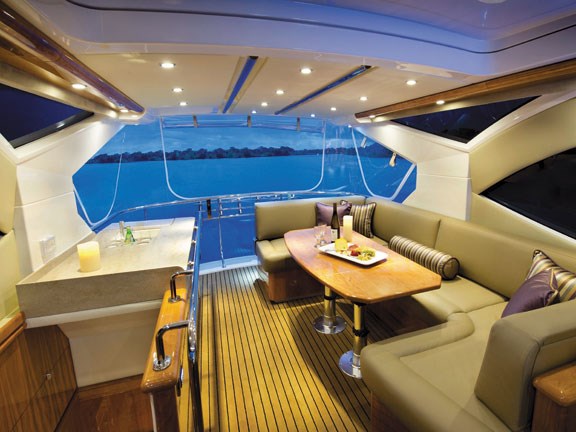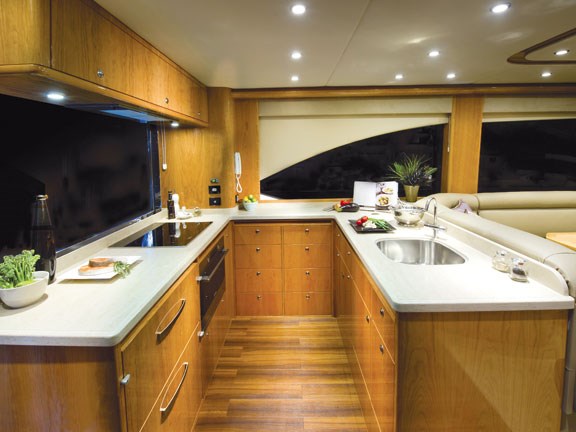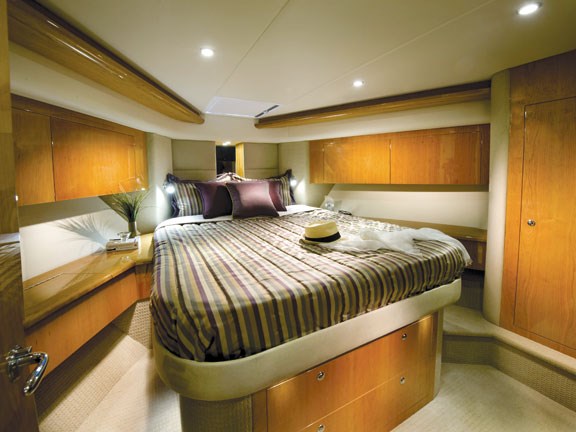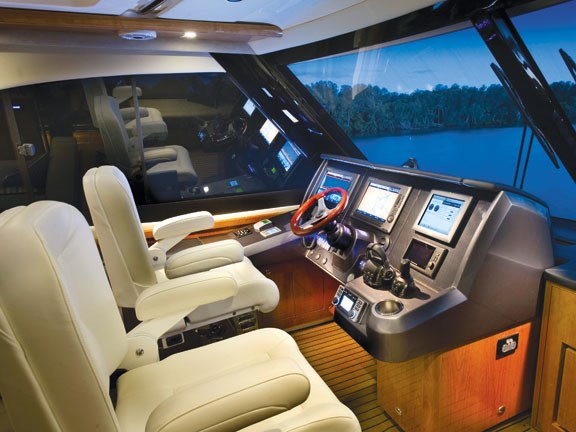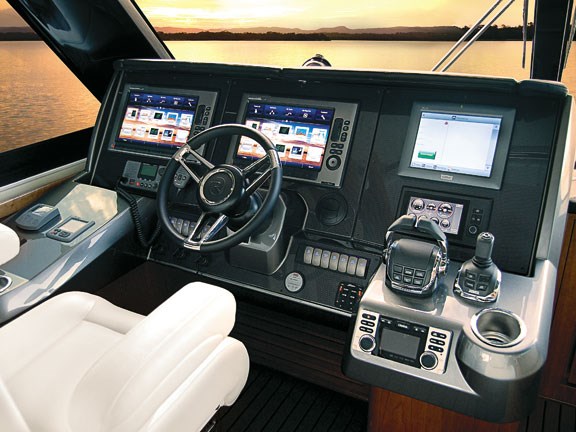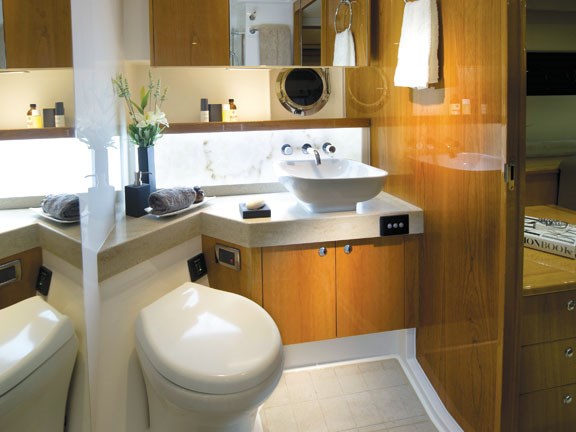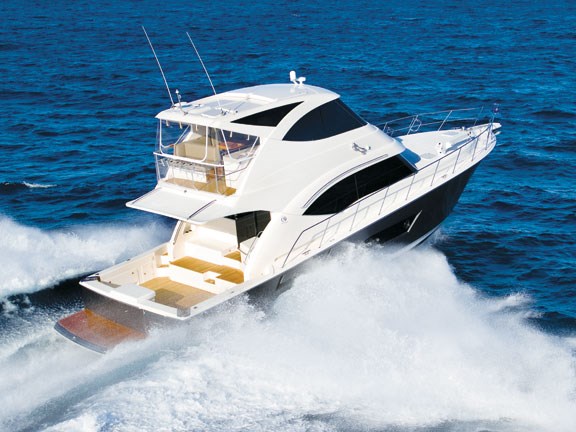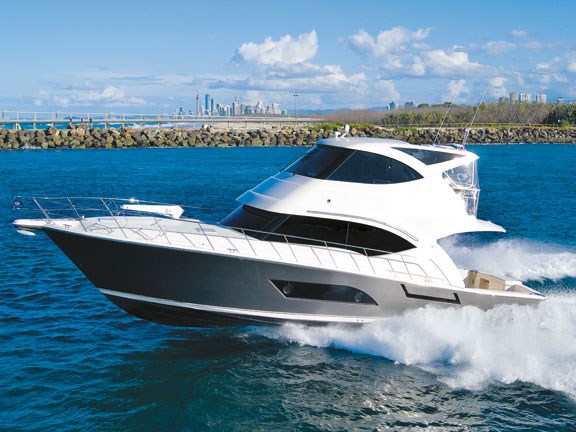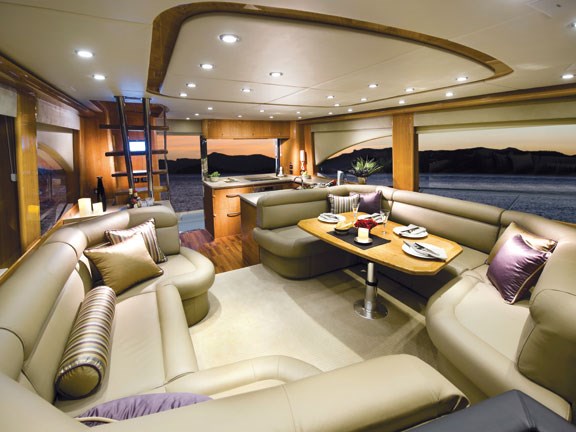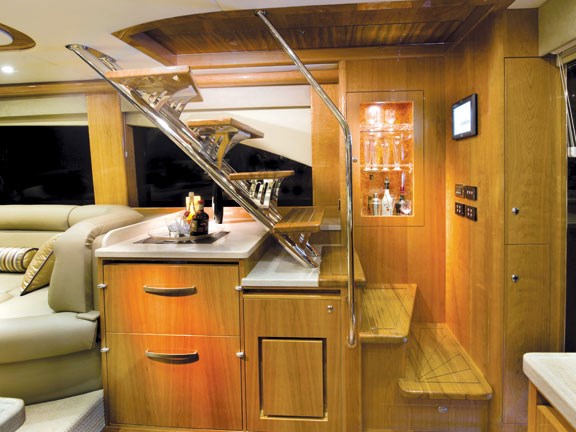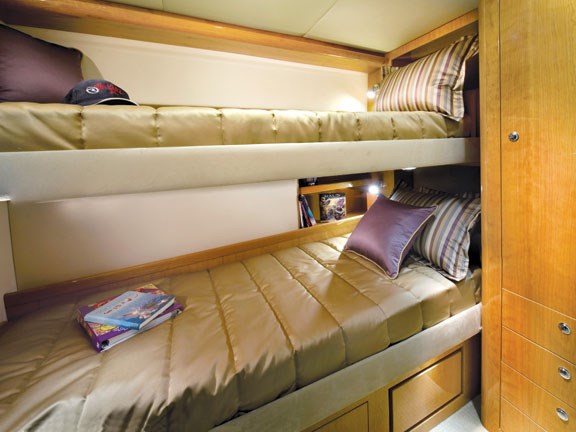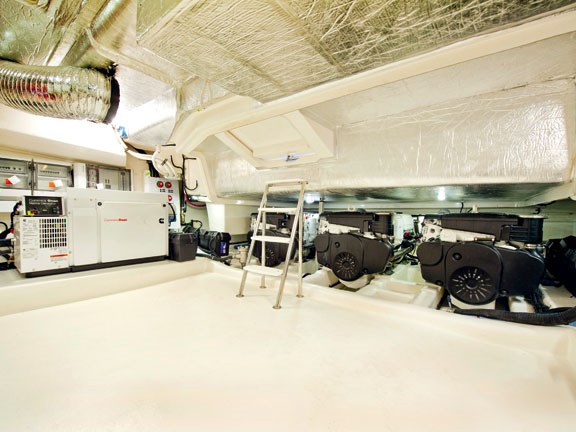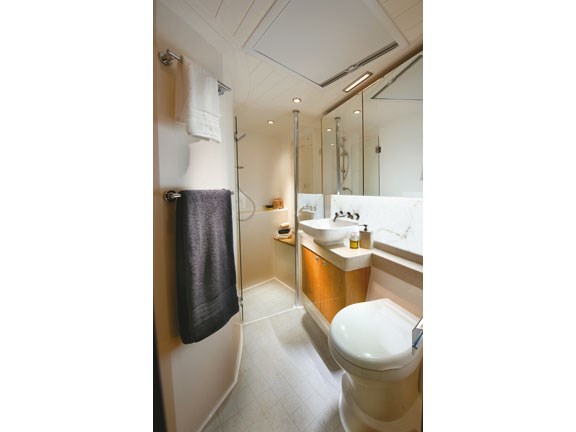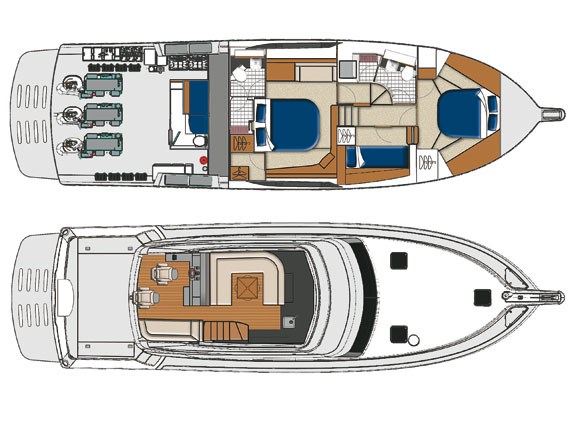 Fifteen years ago Riviera flybridge boats changed the way we viewed lifestyle boating. In 2011 it is doing it again…
Huge volume and great use of space
Well-suited to a broad boating lifestyle
Ground-breaking noise dampering and fuel efficiency
Central aft galley for entertaining
Elegant full beam master stateroom
The Riviera 53 Flybridge with IPS is a true acknowledgement of the class' crossover credentials and has been designed to excel in that position.
The winning formula starts in the saloon. In what I believe to be a first for Riviera, the galley has been moved aft to the rear bulkhead. Being further aft and slightly more central makes for a more stable location to prepare food, and, in conjunction with the large, fully-opening hopper window, the galley becomes the hub of entertainment.
Looking forward from the galley and you're presented with two luxuriously upholstered C-shaped settees surrounding a drop down table. There is comfortable seating for 10 passengers who will enjoy the 50" pop-up TV.
The galley and saloon feel spacious – partly because it is (the pod installations allow for better utilization of the vessels beam) – and partly due to a few clever tricks that are hard to detect at a glance.
The forward companionway is centrally located (rather than offset to one side as is the norm). It's also slightly wider than usual. The front windscreen has been formed from two rather than three pieces of curved glass, and the viewer's perspective (relative to the bottom of the surrounding windows) is higher both sitting and standing. The combined effect is superbly airy and welcome news for those that may suffer from motion sickness.
Moving forward into the accommodation area there is the usual, beautifully-appointed forward stateroom and its ensuite which doubles as the day head. The crew-come-kid's cabin features twin single berths and plenty of storage.
A second set of stairs leads back aft and down under the saloon floor where the engine room should be. But instead we find ourselves in a breath-taking master stateroom – a full beam parlour with king-sized bed, two seat couch, separate walk-in wardrobe and full service ensuite.
Under the hood
The engine room (located under the cockpit floor) can be accessed in two ways. Day-to-day access is via a standard hatch-and-ladder system in the saloon entry, but the real access for servicing is thanks to a set of hydraulic rams which lift the entire cockpit floor. You'd think that with three 435hp Volvo IPS drives there wouldn't be much room for anything else. Nothing could be further from the truth.
Even with a 17.5kVA Onan generator, multiple air-conditioning units and a watermaker, service access is good and there is room for another optional crew cabin. This boat did not have one but I've seen it on the plans. Instead this boat had a huge open storage and workshop area.
For a bit more bite at the prop you could opt for a twin IPS 900 installation powered by a pair of 700hp Volvos or even twin IPS 1200s powered by a couple of 900hp Volvos. Alternatively, the vessel can also be fitted with the IPS' main competition in the form of the ZF4000 pod system, with either MTU or Caterpillar engines.
Cockpit aesthetics
Riviera's design team has covered all the bases nicely. The huge two-burner barbeque is as easy to clean as it is to use, and the raised settee is the perfect spot to while away a day's gamefishing in comfort.
The huge underseat freezer means you have no need to break the holiday with a trip to the shops.
I particularly liked the way so many features have been designed "family safe". A good example is the robust open access bollards in the stern corners.
From a hard-core fisherman's point of view there is no bait-tank or tuna-tubes but they can be retrofitted, and from a purely leisure boat perspective the stern garage in the Sport Yacht model is hard to beat.
The view from the bridge is pretty appealing, and it provides seating for at least 10 people. It's well-appointed with every mod con you could feasibly request (icemaker, fully-adjustable seating and full width electric sunroof).
The 53 comes in two helm options: forward and aft. As a keen fisherman I would favour the aft layout, but I can see why the more cruising-orientated clients would prefer a forward helm station. If the forward option is chosen an aft docking station is provided for via a single joystick control (that's all you need with a pod drive setup).
Taking charge of this vessel's helm truly is child's play. The vessel's movement and aspect in relation to the dock is controlled with a push or a twist of the joystick. It is actually quite difficult to get the vessel into any trouble and the delivery of horsepower is carefully managed by the computer. Once clear of the dock and in open water the helmsman foregoes the joystick in favour of a more conventional steering wheel and twin lever system.
The test boat for the day was set up with a dazzling array of the very latest from Raymarine and excellent C-Zone system.
Performance
There is no arguing that the Riviera 53 IPS boasts very impressive performance in terms of speed, but what really got more attention was just how quiet and fuel efficient it is. At 24 knots we were only recording 43 decibels on the bridge and even at close to wide open throttle (more than 30 knots) we still had only 45 decibels. To put that into perspective, a normal conversation usually produces around 60 decibels. Even at "full noise" you can almost drown out the engine noise just chatting.
The fuel efficiency is nothing to sniff at either. The rough figures I worked out had us burning 11 litres per hour at 8.5 knots. The closest rival of a vessel in this class I've ever driven used 18 litres per hour at the same speed. Admittedly, these rough calculations may require some calibration but the message is clear. This boat breaks new ground in terms of fuel efficiency.
No matter how you look at it she's lovely to drive. Quiet, responsive and beautifully smooth on the open water, and around the dock she's a perfect lady – pretty hard to fault in my book.
See a range of Riviera boats for sale.
Specifications
LOA 18.2m
Beam 5.13m
Maximum Draft 1.25m
Dry Weight (approx) 22,300 kg
Fuel Capacity 3,500 litres
Water Capacity 740 litres
Holding Tank Capacity 273 litres
Sleeping Capacity 6-8 persons
Standard Engine Volvo IPS 3 x 435hp (320kW)
Keep up to date with news from Trade-A-boat or like us on Facebook!