Yamaha Technology
---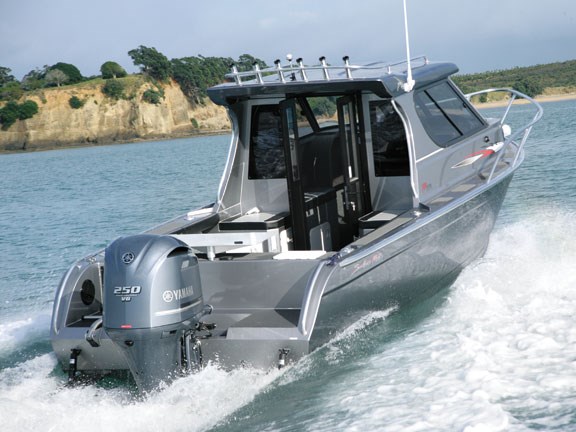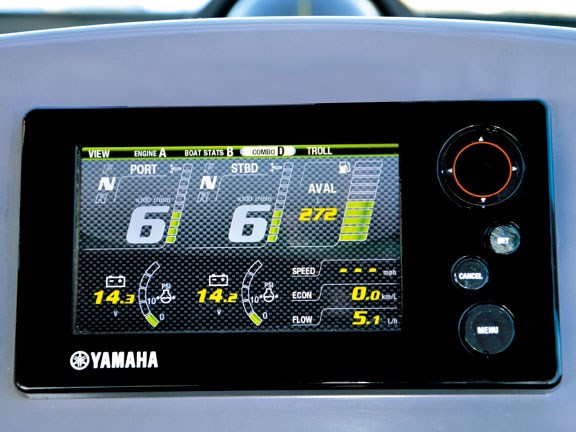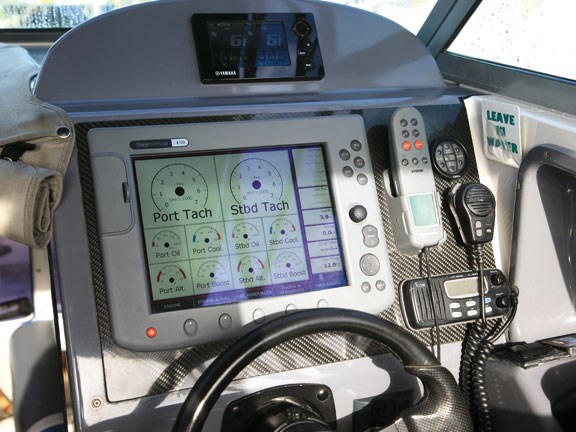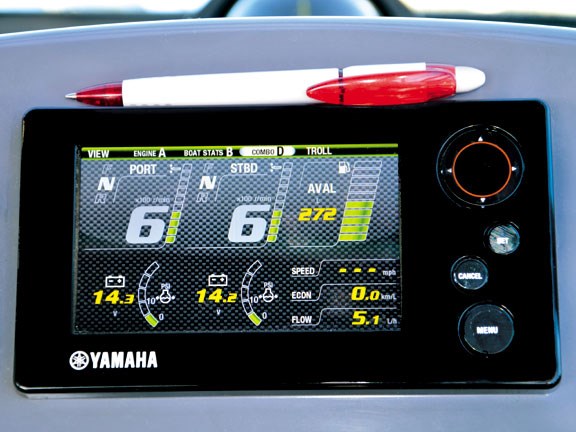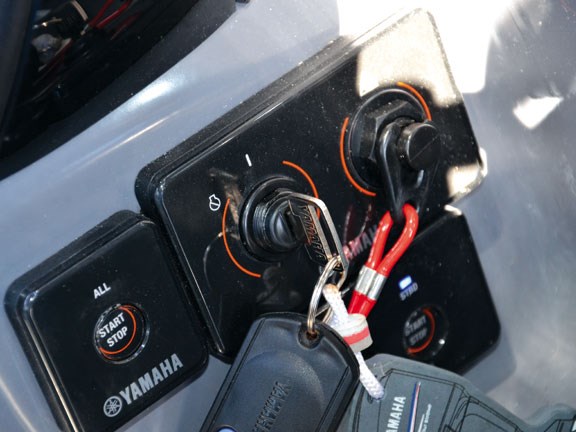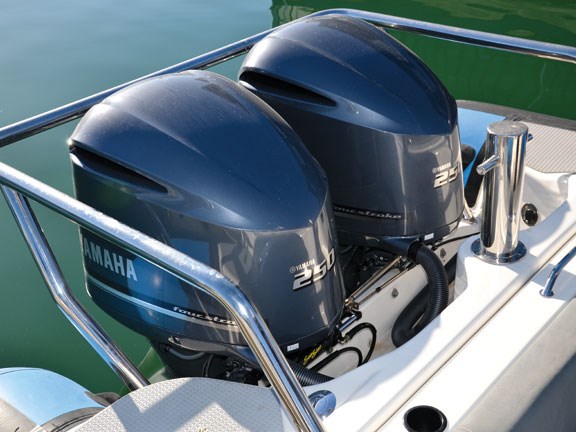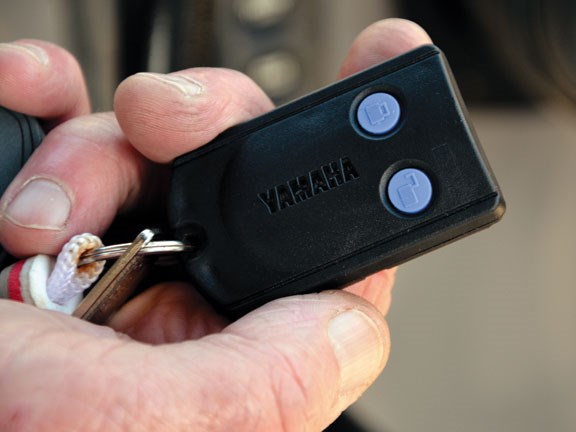 Yamaha released its new-generation V6 outboards late last year, and while these high-performance beasts are things of beauty in their own right, it's the sophistication of their digital smarts that's got tongues wagging. Particularly the new 6Y9 LCD screen...
New engines are lighter, more fuel efficient and quiet
LCD screen shows a massive amount of engine info at a glance
Can be configured for up to three engines
New electronic engine controls are smooth and precise
Built in rev synchroniser
Anti-theft immobilizer system
Wearing standard Yamaha livery, the new V6 engines (F225F, F250D and F300B) don't look significantly different from their predecessors. But a keen eye will pick up the new cowl design and the small change to the physical dimensions. The new engines are 90mm deeper (front to back – 958mm vs 868mm) and 60mm taller (1890mm vs 1830mm for the X:25" model). Width remains the same – 634mm.
Yamaha's design team has shaved some 5% off the old engines' weight. A remarkable achievement given the new engines now boast a displacement of 4169cc – 817cc more than their older sisters (3352cc).
That comes from larger pistons and a longer stroke. The new engines use the same block, but it's been rebored and now feature a "square" displacement – bore and stroke are both 96mm. The older engines have smaller pistons and a shorter stroke (94mm x 80.5mm). Compression ratio's boosted from 9.9:1 to 10.3:1.
Reboring for larger pistons means thinner cylinder walls, and that's only possible because the cylinders are now "plasma-infused" – a process that hardens their surfaces with an arcane mix of chromium, nickel, manganese, carbon, iron and other materials, offering superior durability and thermal efficiency.
Despite all this technical mumbo-jumbo, the new engines don't offer any more horsepower (they still achieve their maximum 225, 250 and 300hp @ 5500 rpm). But they do offer flatter torque curves, and that translates into better fuel economy, sharper acceleration and better performance across the rev range. This is best illustrated in the new engines' higher gear ratio (1.75:1) allowing them to turn similar-sized propellers faster. Earlier F250s have a 2:1 gear ratio.
Like their predecessors, the new engines are equipped with Yamaha's advanced features such as a long intake manifold, in-bank exhaust, an ECM-controlled fuel injection system and Variable Camshaft Timing.
The bottom line? They're superb, super-quiet pieces of engineering. But to take full advantage of their sophistication you really need to tap into the digital smarts they offer – the electronic control systems and the high-resolution, multi-function, colour 6Y9 screen. Especially if you're thinking about commissioning a new, twin-rig (triple-rig?) fishing fantasy – one that sports twin (triple?) helm stations.
I sampled the new engines and technology on a 9m Protector RIB equipped with a pair of the new F250Ds and fitted with the full digital control package, including the 6Y9 screen. For me, being able to monitor both engines' performance on one screen makes the 6Y9 the package's most appealing item.
So what is it?
A flat, compact LCD screen (98 x 177.5mm) – and it's a replacement (optional) for the separate 6Y8 digital gauges used with the earlier-generation Yamaha outboards. In a twin rig installation, you need four 6Y8 gauges – twin tachos, one for fuel monitoring and a speedo. That assembly begins to crowd the available space on the dash, and tends to limit the size of the chartplotter/fishfinder you're able to squeeze alongside the gauges.
 
The 6Y9 takes a giant leap to address this problem by offering all the standard information (and much more) on a single, modestly-sized unit. Even better, it can be configured for up to three engines, and its crisp, clear details are absorbed at a glance, even in bright sunlight.
With menu and "joystick" buttons it's intuitive and easy to set up to your preferences. Information on offer for each engine includes revs, temperature, oil pressure and amps. Details about each engine's rate of fuel consumption make efficiency monitoring a breeze.
Want more? There's trim angle, gear indicator (neutral, forward and reverse), remaining fuel, trip meter, engine hours, clock, engine rev synchronization, maintenance schedule, alarms and fault codes. Link the system to a transducer and you can monitor sea temperature and depth. As NMEA 2000-compliant technology it can be interfaced with compatible GPS equipment, giving you ground speed, boat water speed and distance travelled.
All information is reflected in a "digital" format, but you can configure the data as "analogue" gauges. Ditto if your prefer imperial to metric. And you have plenty of choice when it comes to colours, background, backlight settings and brightness.
The value of the screen is particularly underscored with twin- or triple-helm installations – especially if the alternative is an analogue set-up. Apart from the expense of fitting additional, separate gauges at each station, there's the hassle of feeding a complex wiring harness around the vessel. By contrast, the additional 6Y9 screen is simply hitched to the Local Area Network's twisted-pair cable.
The RRP (inc GST) for a 6Y8 digital gauge kit (three separate units) is $1989.33. The 6Y9 alternative retails at $2594.08.
It should be noted that buyers of these new engines are not compelled to buy the new digital package. You have a choice of three Yamaha systems: the previous generation digital network system (using the 6Y8 gauges), the old school analogue gauges, or this new deal (Digital Network System II).
System II is only available on the three new engines, as well as the F300A and F350A V8s.
Fly-by-wire
Complementing the screen are new electronic engine controls (switch panels and throttle/gear shifts) offering a little more convenience and flexibility than the current digital technology. Again, the new kit will be particularly appealing to those considering a new twin or triple (or even quadruple) rig.
The new system offers significant installation benefits to boat builders. Eliminating cumbersome cables and complex harnesses, boats can be rigged quickly and easily.
Anyone who's used electronic controls appreciates that they're virtually maintenance-free – there's no chance of gear-shift or throttle cables binding from corrosion or lack of grease. Instead, you quickly learn to relish the smooth, positive clunk-free shifting and precise throttle response, especially at low revs.
The new control box now incorporates a new ECU and that allows a multitude of convenience features – including the ability to adjust throttle "friction levels" to suit your preferences. 
 
That ECU will also please owners with multi-engine vessels who struggle with synchronising revs. The ECU has a built-in synchronizer, so you don't have to bump one throttle lever to match the other. In fact, if the throttles are within five degrees of each other, they will sync automatically.
It's a benefit taken a step further when you select trolling mode. The engines can be fine-tuned in small rpm increments to set and maintain the optimum trolling speed. Operator can adjust the trolling engine speed in steps of 50 rpm between 600 and 900 rpm.
In a triple-engine application, all three engines can be controlled using only two throttle levers. The center outboard follows one of the outside engines in normal operating conditions. When the need for low-speed maneuvering arises, like in docking or loading the boat on the trailer, the centre engine can be turned off or switched to idle.
An appealing feature is the single switch panel for starting/stopping multiple engines. Rather than two individual start buttons, the new system allows you to start/stop both engines with one button and one key.
Yamaha's electronic shifting is renowned for its silky, clunk-free performance, but the new Shift Dampener System (SDS) launched with the new engines advances this feature to a new level. It's thanks to a new prop hub assembly (using a new rubber compound around the bush) and a new shoulder washer – and the good news is it can be retrofitted to Yamaha outboards.
Thief-proof
One of the coolest features of the new engines (and it's an optional extra) is Y-COP – an ultra-secure locking/anti-theft immobilizer system. It's activated with a press of a button, and relies on the unbreakable computer code in each engine's ECM. So even if an engine is stolen off your vessel's transom, it would remain inoperable. Yamaha has created stickers for the new engines, warning scum-bags to save themselves the trouble.
Keep up to date with news from Trade-A-boat or like us on Facebook!