Boston Whaler 255 Conquest
---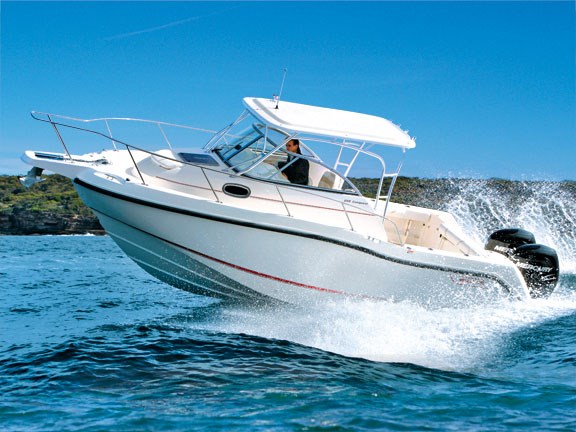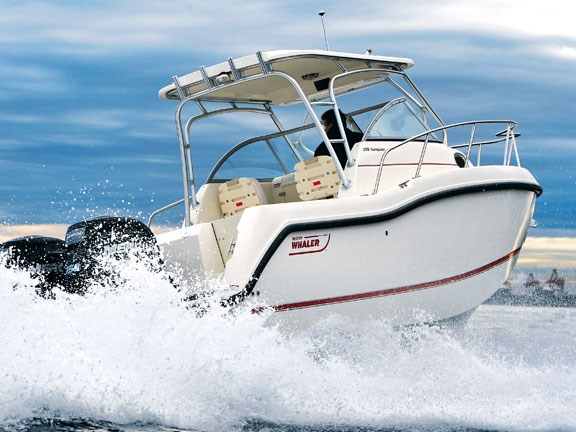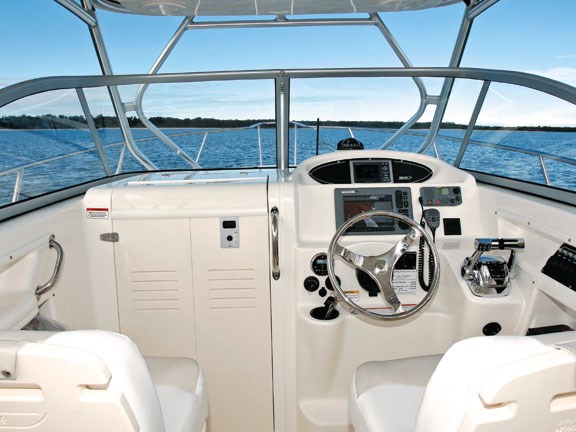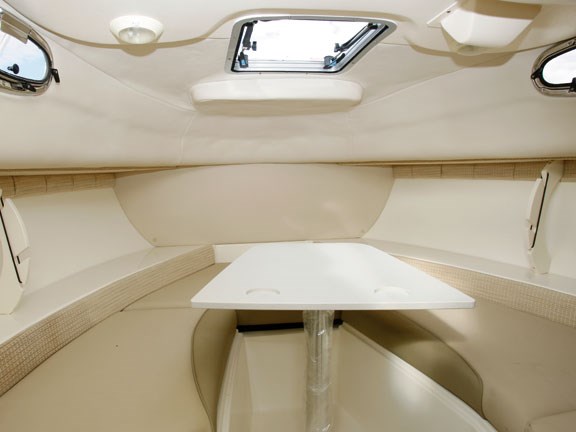 Imagine yourself on Deal or No Deal and they ask how you'd spend the $200K. The missus is in the audience and she wants to go to Venice and see the canals – "It's so romantic," she says dreamily. Well, if he gets to ask me, forget Venice, I want a Boston Whaler (sorry, wife).
Richard Fisher didn't invent boats, but in 1956, he and legendary designer C Raymond Hunt got together and made their first unsinkable 4m Whaler. The pair had taken the then innovative fibreglass material and filled it with polyurethane foam to make an incredibly strong and durable boat. Company advertising for the revolutionary design at the time showed Fisher cutting the hull in half with a crosscut saw, then towing both sections to shore.
Since those days, the term "Unsinkable Legend" became synonymous with the Boston Whaler name. The brand retains a loyal following among recreational boaters and emergency services round the world, and the original 13ft designs have grown into a range of boats from 3.4m to more than 11m.
Up and at it
The 255 Conquest is one of a range of cabin boats built for serious offshore work that includes plenty of space and comfort below for cruising. It'll appeal to dedicated fishermen wishing to get to the hunting ground and back with speed and safety, as well as to families who want to overnight in distant anchorages.
As the photos hereabouts suggest, the 255 Conquest is a fair lump of a boat that gives you a feeling of space and substance as you step aboard. The high, wide and raised deck, as well as the imposing windscreen and hardtop, add to a grand presence on the water, particularly when you realise it's rated for 14 people.
Settle into the driver's seat and the view forward is panoramic, from the raised deck through the four-piece Taylor Made glass windscreen. On the dash is a Raymarine widescreen combination plotter/sounder and an array of Mercury SmartCraft gauges. A VHF radio and remote stereo round it out.
The Mercury digital throttle and shift is connected to twin Verado 150hp supercharged four-strokes. Hydraulic steering is hooked-up via a stainless steel tilt-adjustable wheel, and recessed panels house 11 switches that operate various systems. The driver's side gets two of those all-important cup holders and the passenger gets another.
The fully-adjustable driver and passenger seats are fitted on moulded-glass storage lockers, each with twin tackle drawers. The driver has a recessed footwell, the passenger a folding version, as well as two well-placed grab rails. The optional clears are fitted to a sail track, making removal easy and giving a good weather seal. With the substantial hardtop and clears in place, the cabin area can be fully enclosed for extreme weather.
Access forward is via a step-up to the raised sidedecks and made safe courtesy of good handholds and siderails. There's a huge anchorwell and substantial bowsprit, the electric anchor winch controlled from the helm. A padded seat with room for two is forward on the cabin roof.
Six below
Cabin entry is through a port-side folding door in the helm bulkhead, and below, the accommodation is big enough for six to sit on the vee-berth around a removable table. With table stowed and an infill in place, there's plenty of room for a couple to sleep.
Nearby is a sink and Porta Potti hooked up to a holding tank with macerator.
The cabin is light and airy, with screened port lights each side and opening hatches overhead. All mouldings and upholstery have a good finish and well-placed padding. Rod racks are recessed on the cabin sides and there's additional rod storage underneath in the vee-berth moulding.
Performance and handling
We opened up the twin Mercury rig in flat water for a top speed of 40.5kts with motors trimmed out. They felt like they would be happy to stay there all day, but the swell and chop slowed us back to 27kts.
The Boston Whaler 255 Conquest was fitted with trim tabs, but the individual trim settings on the motors took care of any need to steady the boat. The digital Mercury controls were light and easy to use.
Over waves, the boat landed without any fuss. However, there was a bit of resistance from the hull on landing, but it was solid and stable, with no rattles or creaks – the boat felt stiff and safe. Fast turns, even in the chop and swell, were taken at speed in predictable style. There was no cavitation or slipping either and the hull bites in without undue lean angles.
The two Mercury Verado outboards were quiet enough to allow normal conversations right through the rev range, and even at full speed all wind was deflected, although at some rev rates there was a little resonance from the hull as the motors settled in.
At rest, the boat was stable and even at slow troll speeds – you could wander around at will. The driving position is great for taller skippers but it might be a little difficult to see from a standing position for those shorter drivers. There was no problem sitting on the raised bolster seat, though.
Homeward bound, we settled into a happy cruise speed around 4000rpm at 19.3kts, the motors using 88litres per hour. We hit the throttles at this rev rate and the boat lurched forward as the superchargers hit their stride. At 5000rpm we saw nearly 32.4kts, and even then there was still plenty of acceleration.
Overall, the 255 Conquest continues the Boston Whaler legend. While we now see a bigger range of this style of American boat arriving in this side of the world, the company still produces craft that set a benchmark for others to meet.
For more information contact Sports Marine, ph 03 741 3202, or contact Boston Whaler, visit whaler.com.
WE LIKED
Super build-quality and workmanship Very big and spacious boat Stable and seaworthy hull Excellent stability at rest
WE DIDN'T LIKE
A 2.76m beam means towing permits Driving position not ideal for height-challenged skippers It ain't cheap!
Specifications
BOSTON WHALER 255 CONQUEST
Type: Deep-vee monohull Material: Fibreglass Length: 8.2m Beam: 2.76m Draft: 0.4m Weight: 2222kg (hull) Deadrise: 20° People (day): 14 Fuel: 461lL Water: 45L Recommended max hp: 450 Recommended min hp: 225 Engine make/model: 2 x Mercury Verado Type: Supercharged 4-cylinder electronic outboard Displacement: 1732cc (each) Weight: 231kg (each) Prop: Mercury Enertia 17in-pitch
Price as tested AUS $222,712
For sea trial data read the article in the magazine, issue 214 April 2012.
Keep up to date with news from Trade-A-boat or like us on Facebook!