Fyran 560 Horizon
---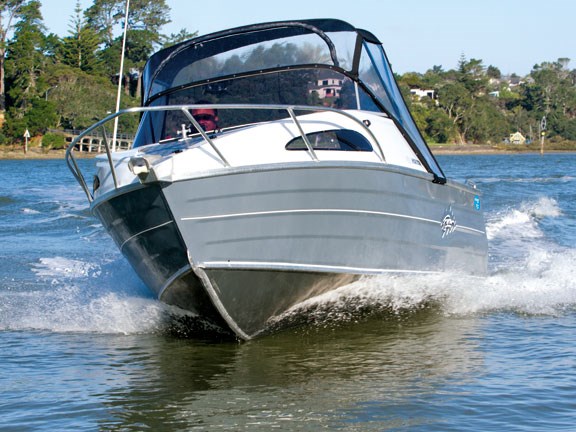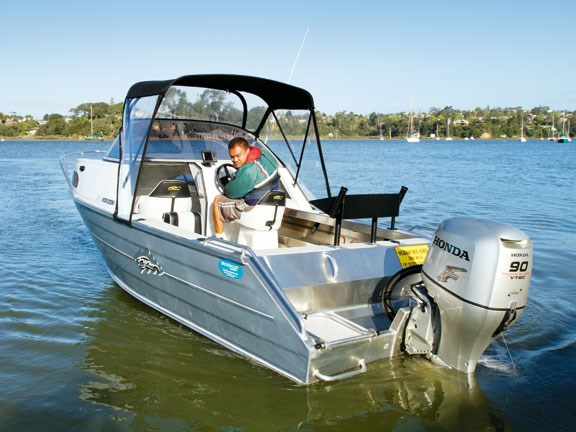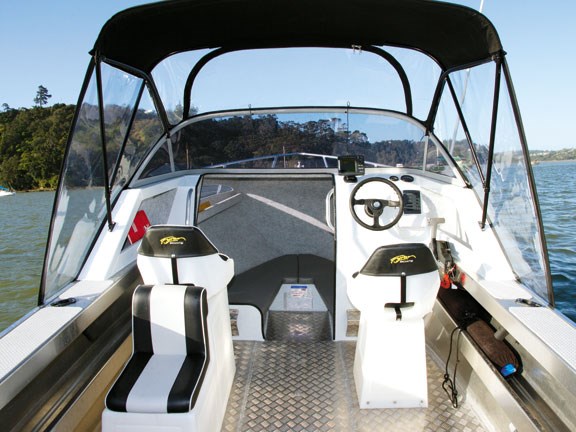 Knocking on the door of almost 60 years producing aluminium boats for Kiwi fishos, chances are if you've been fishing in a mate's "tinnie" over the years, it was probably a Fyran…
Weather conditions:
Windspeed        25-35 knots S
Sea state           Moderate/rough
The Fyran range is diverse from the simple 8 foot "tinnie" through to the 7.6 metre 760 Pursuit GT with its stylish fibreglass hardtop. Fyran's new model, the 560 Horizon is based on the successful 500 Rebel, and while it shares the same beam, the 560 Horizon has a longer waterline length. This additional length has been put to good use in the form of a larger forward cabin and cockpit, which at 2.8 square metres is said to be 40% larger than its competitor's 5.5 metre models. While I can't vouch for the correctness of this statement, I can say that I was impressed with the fishing space available for a boat of this - a size.
Built tough
All Fyran hulls are proudly New Zealand-made at its manufacturing facility in Auckland. The company states that it places "an emphasis on serious safety and strength", and when Fyran say "serious safety", they do mean serious, as this 560 Horizon is CPC-rated as "unsinkable". To prove its point, Fyran offers a five-year structural hull warranty.
The aluminium components are cut on a CNC router to ensure a precise fit, and the components are then welded using the latest technology, which is not only highly accurate but also friendlier to the environment as well. The welds are then left un-ground, and while it's not the most aesthetically pleasing option, it does mean they retain maximum strength.
A fully-welded chine extrusion creates additional strength and rigidity, while also providing extra lift and spray deflection. The addition of a fully-welded keel bar adds further strength and enables the boat to be run up on the beach with minimum wear and tear. The cabin top has been raised to provide extra headroom in the cabin, and is nicely finished in white while the sides are adorned in complimentary grey and finished off with yellow Fyran graphics.
On-board
The cabin is surprisingly comfy, fully lined with 1.5m bunks. These don't afford room for an adult to overnight, but they do provide space for the kids to crash out after a healthy dose of sea air. Storage is also available underneath the squabs with further space above on the side parcel shelves.
Easy anchoring has been facilitated with a large aluminium front hatch, affording plenty of space for even the more full-bodied bloke to deploy the pick. The bollard and fairlead are fully welded and look as if they're bulletproof too. In fact, I pity any boat that accidentally has a run in with this front end.
A tread-plate cover and latch keep the anchor neatly locked inside the large, self-draining anchor well when not in use, and a large, contoured aluminium bow rail provides additional security, as well as complementing the attractive exterior appearance.
The uncluttered cockpit layout emphasises easy clean-up, and there is plenty of useable fishing space to be put to good use. The pedestal helm and king/queen passenger seats are comfortable with storage below. However, the bare plastic seat bases rather cheapen the otherwise good finish, but they will be easy to clean and could be carpeted. Both the driver and passenger get a lined side pocket, tread-plate foot rests and grab rails.
Hunting and gathering
If fishing's your game, then the 560 Horizon has plenty of potential, and with the addition of a rocket launcher (and a few extra rod holders) it could be transformed into a serious fishing machine. The optional bait station is functional, exceptionally sturdy and self-draining to boot, while a cleverly-positioned, removable anchor light enables baiting up under the cover of darkness.
The gunwales are of good quality non-skid for safe boarding, at the perfect height for sitting or fighting a trophy fish. Full-length side parcel shelves provide lengthy rod storage but lack any lining to prevent reels and the like from rattling around. There is another huge shelf across the transom to stow tackle boxes, with the battery neatly stowed in the centre, off the floor and out of the way.
Tote tanks tuck neatly underneath, and while we only needed one 23-litre tank for the test, twin 45-litre tanks would fit easily for added range. Cleaning up after even the bloodiest fishing trip should be a breeze with the cockpit's bare aluminium and plastic surfaces. The optional, fully-welded tread-plate floor drains into a bilge well at the rear, where a bilge pump is fitted as standard.
If you prefer to catch your dinner with your bare hands, there is an underfloor bin capable of taking two dive tanks, and a cleverly designed boarding ladder – facilitated by double transom grab rails – will get you back on board with minimum effort.
A thorough workout
I met Brokerage Marine's mechanic, Percy, at their Westpark base, and we hooked the boat up for the brief ride to the sheltered boat ramp. Perhaps the lack of trailers in the car park on such a sunny evening, or the wind warning that was in force, should have deterred us from venturing out, but we were in a strong boat with all the required safety equipment and it was a good opportunity to give it a genuine test.
Upon leaving the sheltered confines of Westpark Marina, it became apparent just how stiff the breeze was, with the chop quickly building to over a metre high. The original plan was to collect a photo boat at Auckland's Viaduct, but this was shortly shelved and we had to come up with a plan B pretty quickly to get a few photos before the sun disappeared.
It was my turn at the helm, so I spun the boat around and we headed back up the harbour in search of some shelter.
Taking it gently at first, I soon realised this hull could handle a lot more, so with a nudge of the throttle, I managed to maintain a relatively comfortable 19 knots with the 90hp Honda four-stroke quietly ticking over at 3500rpm. This engine is at the top of the recommended horsepower range for this hull, and, given the conditions, the smooth, responsive power combined with the low planing speed of the hull, made negotiating the fairly vigorous sea quite easy.
The need to button off is rare, and even when I managed to bury the bow into the back of a wave, there was no tendency to veer off course. We took a few green ones over the bow, sending water up the windscreen, but the bimini top and clears did a nice job of keeping us dry and visibility remained good through the treated acrylic windscreen.
Once back at the yard, and with the sun getting low, we unloaded the boat and checked the fuel used: a very frugal 10 litres for approximately 15 nautical miles travelled in very choppy conditions – pretty impressive.
The rig was supplied on a Road King single-axle, multi-roller trailer that makes launching and retrieving a doddle.
The verdict
Tough, capable and roomy, the Fyran 560 Horizon suits all those who like boating to be safe and hassle free, with easy clean-up and low maintenance – indeed, it ticks all the right boxes. And there's no need to run for cover at the first sign of a few white caps, as this boat handles itself very well.
For more information contact Gary Stephenson at Brokerage Marine, ph 09 417 0240
WE LIKED…
Good visibility at the helm
Roomy cockpit
Comfy kid-friendly cabin
Stable, safe and tough
WE DON'T LIKE…
Carpet finishing could be improved in some areas
Bare plastic seat bases
Hatch leaked during wash-down

Visit www.tradeaboat.co.nz and type "Fyran" into the search bar to view this and other Fyran models for sale. While there, visit our "reviews" section where you will find previous Fyran tests.
Keep up to date with news from Trade-A-boat or like us on Facebook!