Haines Hunter SP725
---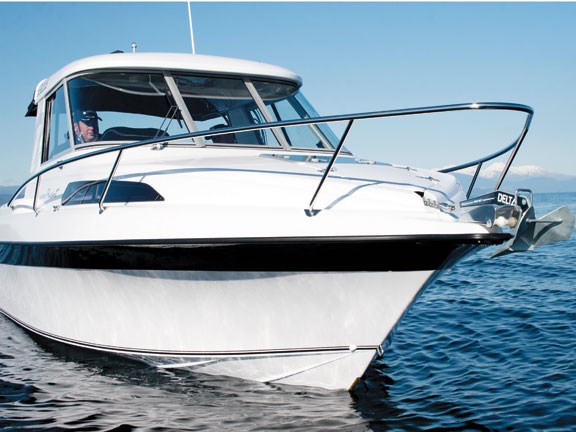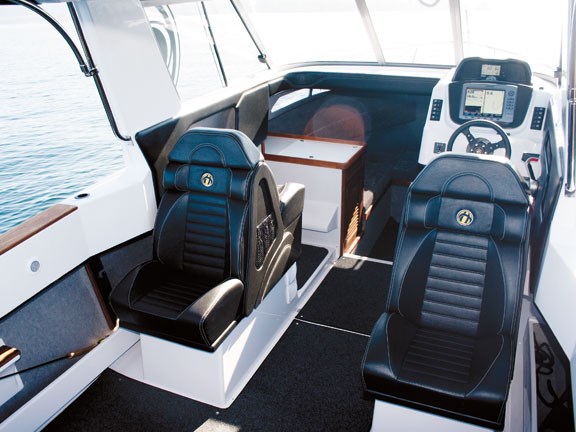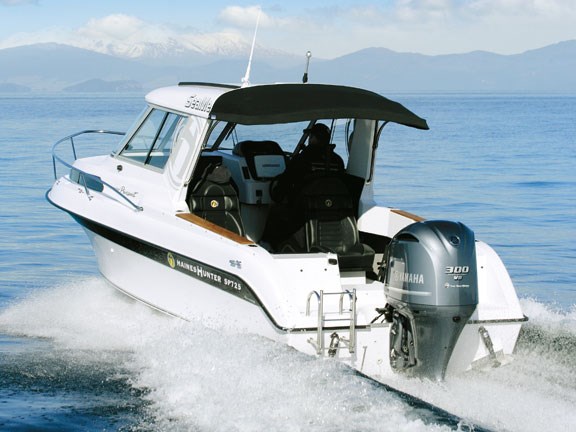 What doesn't kill you makes you stronger…
Weather Conditions:
Average Windspeed     Less than 5 knots
Sea state                       Calm
Observers of the 2011 Hutchwilco Boat Show could be forgiven for thinking the event was the Haines Hunter/Lionel Sands show. Lionel Sands – owner, director and driving force behind the Sea Craft Miller Moyes/Haines Hunter brand – was honoured with induction into the New Zealand marine industry's "Hall of Fame", while his newly launched Haines Hunter SP725 took the prize for "Overall Winner" in the Boat of the Show category.
Nobody should be surprised by Sands' Hall of Fame recognition – he is arguably the industry's most recognisable character. That's not to say he seeks out the spotlight, far from it: Lionel Sands is a humble man who speaks in considered tones, and his contributions usually cut straight to the heart of the matter.
Neither should we be surprised that the newly released Haines Hunter SP725 beat all-comers to take the much-coveted "Overall Winner" prize. Haines Hunter has been one of the "big three" manufacturers of superb fibreglass boats in New Zealand for as long as I can remember.
But let's put this double gong into perspective…
In 2010, a devastating fire destroyed much of the Haines Hunter factory, including the company's 700 and 720 hulls. These two hulls were the cornerstones of the company's success, representing around 40 percent of Haines Hunter's total sales, and, without taking anything away from the smaller hulls in the range, they put substance in the company's tag-line: "the secret's in the ride".
I tested the 700 a year ago and loved it, comparing the vessel to a large family sedan – powerful, sure-footed, and confident. Less than a year later, Sands has battled through adversity to not only get his business up and running again, but also to replace the very impressive 700 and 720 models with the competition-beating 725.
Down to business
It was good to be back in Taupo testing the boat frequently dubbed The Phoenix. I arrived at the yard of leading Haines Hunter dealer Trev Terry Marine early on a Monday morning to find principal dealer Brock Terry and his team preening this new beauty for her day in the spotlight. On a day as perfect as this, the photography was great, although it was clear we weren't going to see any conditions that would challenge the stable's reputation for class-leading sea-keeping.
Essentially, the underwater profile of the 725 has changed very little from its predecessor. At 7.25m, the waterline length is slightly longer than both the former models, but the deadrise is unchanged at 21 degrees. It is slightly heavier than the 700 (approximately 100kgs) but with extra horsepower available from the new generation Yamaha outboard, that should equate into an even better ride.
Brock was happy to report that the Haines Hunter SP725 we were testing had already been sold, and the new owner had kindly allowed us access to it for a day, prior to its delivery. The SeaMe was presented on a quality DMV trailer and had an awesome, new generation, 300 horsepower Yamaha V6 bolted on the back. It was a pretty sweet looking package towed behind Trev Terry Marine's new Holden Colorado.
Externally, there are very few changes to note. The cabin top looks slightly higher, but that could be an optical illusion induced by the tidy black canvas cover overhanging the cockpit area. She is unashamedly a Haines Hunter.
Inside, the changes are subtle but significant, and mostly tailored to broaden the versatile and family-friendly qualities of the boat. Haines Hunter, as a company, is well aware that a potential owner's enthusiasm normally stretches as far as the controller of the purse strings, and if she isn't happy, no accumulation of brownie points at home is going to get this deal across the line.
And what does she care about?  Pretty straightforward really: comfort, cleanliness and, most importantly, safety.
Comfortable
From a comfort point of view, Sands and his team have pretty much hit a home run for a vessel in this class. Already known for the quality of its seating, Haines Hunter has lifted the bar even higher in the SP725. Leather bucket seats (that would not look out of place in an Aston Martin) sport a slightly more refined shape than in the predecessor, and although the earlier boat was certainly spacious enough, the 725 is even more so, thanks to its increased internal beam.
With more space comes more room for a extra creature comforts. There is the fully-enclosed head-come-wet locker on one side of the forward cabin. The bunks forward are full length, as you would expect, and, with the in-fill in place, would be comfortable and cosy when shared by two.
Those planning a few extended excursions will appreciate the quality, stainless, two-burner stove top and compact dinette, ensuring a hot brew or even a warm meal is only a few minutes away. Optioning in the 12-volt fridge and freezer (housed under the rear facing seats) would be money well spent, and will go a long way towards keeping the financial controller happy.
Clean
In my book, there is no need for a well set-up boat to smell like a fishmongers, even during the hottest bite. The internal layout of the SP725 provides a good example of fishing space that has very little obstructions to clean around. I would suggest optioning in the saltwater wash-down facility as it will be the single best investment you can make to keep things seemly when the fish are on.
A wash-down sink in the top of the transom looks to be a standard feature, but the pressurised freshwater system does need to be requested and would be a wise choice to reduce the amount of saltwater that makes it into the forward cabin, thus greatly helping to maintain a spotless, mildew-free front cabin.
Our test boat for the day also had button-down carpets on every floor surface. These are great for when you are out cruising or picnicking, but I have never found them that easy to keep clean and odour free when fishing, so it may pay to remove at least the aft one if a good haul of fish is anticipated.
Safe
This final, essential requirement will help to loosen the purse strings. Safety is mostly taken care of by the long recognised Haines Hunter build quality and the under-floor buoyancy. Indeed, all Haines Hunter boats are CPC rated, meaning they adhere to the New Zealand boating industry and Coastguard-audited standard of compliance. If that's not good enough, tell her about the boat's five-year structural warranty, and that should get you across the line.
Fishing and diving
Haines Hunter boats have quite a following around the country – particularly here on the Central Plateau – as the trailer-boat of preference for those who are keen to get among the action. Much of the set-up in the SP725 will ensure loyal fans have no reason to look elsewhere.
Keen anglers will also be happy: the live-well is a generous size and the aft seats fold down to become pads across the transom. Large kill bins live under these seats and can be slid out of the way under the transom to keep the cockpit floor clear of tripping obstacles. High-quality rod holders are nice addition and look to be capable of big game fishing, should the owner be keen to try his luck. A folding rocket launcher and extra rod racks can be optioned in to ensure there is safe storage for more extensive arsenals. Divers will also find very little in the SP725's set-up to complain about.
It's worth mentioning that the cockpit is very nicely finished, with gleaming gelcoat and generous lashings of teak, so a cautious approach to swinging heavy steel tanks around is advised. Under-floor storage provides the perfect place to store most fishing and diving gear when not in use, and the generous Portofino transom and quality boarding ladder make entering and exiting the water easy enough for most. I would imagine the twin rear-mounted seats will make the ideal place to plonk one's behind while gearing up in clumsy clobber.
Before customising the set-up, have a good talk to Brock Terry. Optional extras can include game poles, and I know from experience that Terry's team are capable of doing almost anything, so specialist additions – like downriggers and tuna tubes – would be no problem.
On the water
Perfect conditions were never going to provide any sort of a fair test for a hull like this. That aside, I found her to be a pleasure to drive and it is hard not to smile when you have 300-horsepower at your fingertips. Much like its predecessor, the 700, the 725 is both surprisingly responsive yet very sure-footed: drive it into a turn as hard as you like and nothing unexpected will happen. The best description I could think of was the one I used last time: the SP725 drives very much like a large family car. There is power at hand, if you need it, but you don't need to be Ayrton Senna to keep it under control – quite exhilarating and very safe.
The verdict
Without deviating too far from what made its predecessor so successful (the basic set-up and the ride), the Haines Hunter SP725 lifts the bar all-round. More spacious and more comfortable with more power, its extra weight should provide an even better ride – although we couldn't test it on the day. It's a very hard boat to fault, and, for that reason alone, it probably deserves the accolades it's been getting.
I guess the ultimate testament to this boat is that the man who owns the company has one himself.

Many thanks to Brock Terry and the team at Trev Terry Marine in Taupo for their help on the test day. Big thanks also to Brett Cameron from Central Plateau Fishing for his advice on the region.
For more information, contact Brock Terry at Trev Terry Marine, ph 07 378 7779, email admin@trevterrymarine.co.nz
WE LIKED…
Responsive but predictable when driving hard
Very comfortable helm station and general seating
Head-turning good looks
Versatile configuration
WE DIDN'T LIKE…
I honestly found this boat very hard to fault
Visit www.tradeaboat.co.nz and type "Haines Hunter" into the search bar to view this and other Haines Hunter models for sale.
Keep up to date with news from Trade-A-boat or like us on Facebook!