MasterCraft X-35
---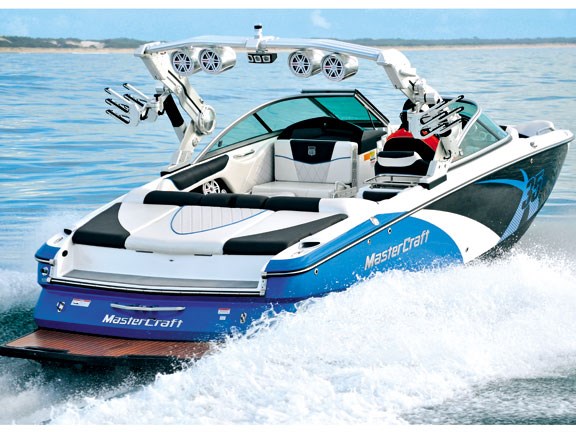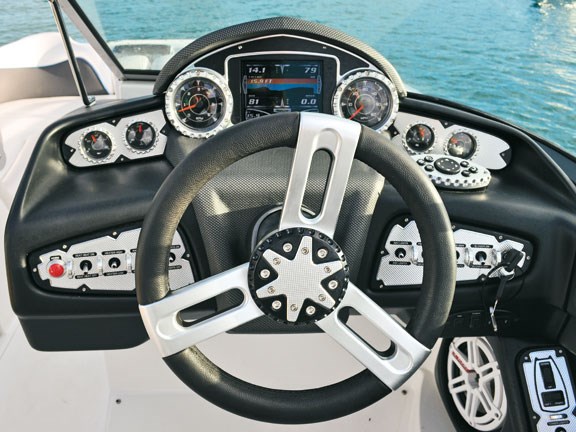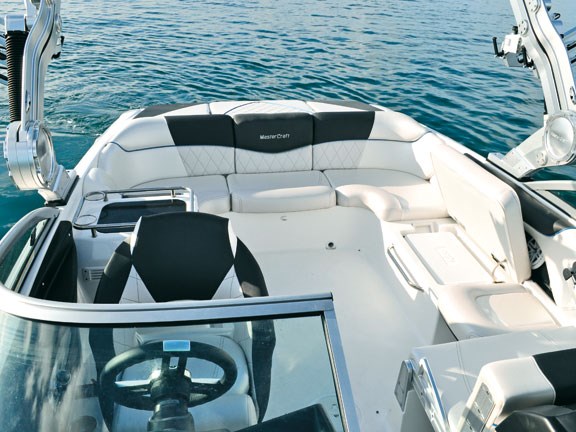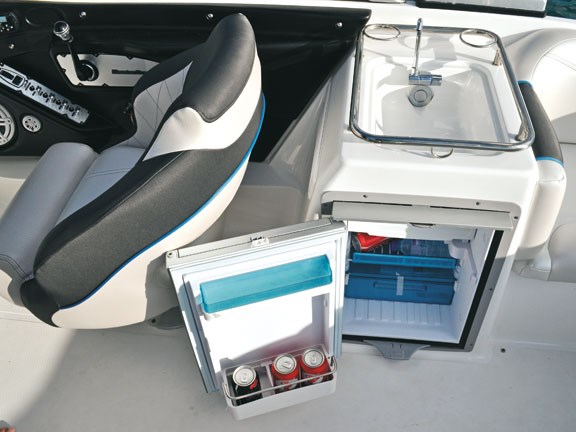 The MasterCraft X-35 is a sexy, high-tech, supe- styler with more bling than sense…
WEATHER CONDITIONS
Wind speed   None
Sea state    1.5m swell
Where do you start when it comes to the new MasterCraft X-35? Well, straight off the bat, it's a boat that's packed full of style and bling, lots of bling.
MasterCraft boats come from the US and have been available in New Zealand for some time now. They are the typical, no-nonsense mean-machines you'd expect from the Yanks and the X-35 is no exception, compromising nothing to achieve its overall finish, quality of build and, of course, performance.
Yes, MasterCraft boats do carry those price tags that raise the left eyebrow. Indeed, you'd be looking at a cool $TBA to get into bed with the X-35. But before you go creaming yourself over the price, you have to remember this is not your standard two-bob-ninety-nine waterski boat. These boats are seriously classy and have been innovatively designed to suit avid and professional wakeboarders and waterskiers alike.
However, before going any further, I should mention that there was something of a twist to this test: namely, that this boat wasn't tested in its "usual" environment. For obvious reasons, when we put a boat through its paces we ensure that it takes place in the environment most suited to the craft: small tinnies obviously don't go out to the outer sea-mounts. However, this test was a little different…In need of a camera boat to shoot another vessel (a big Boston Whaler heading offshore) and since conditions were just short of perfect, we decided to use the X-35. These salty offshore conditions would definitely not be the typical playground of a MasterCraft X-35, so it was surely going to be an interesting test.
Ultimate performance
As tested, the MasterCraft X-35 sported a whopping 6.2-litre V8 Ilmor motor. Ilmor Engineering designs serious racing powerplants and has had a number of wins in NASCAR and IndyCar racing. In short, the X-35 had one bad-boy of a donk under the hood that had no quibbles shunting a heavy load or pulling wakeboarders and waterskiers.
Putting the X-35 through its paces, I noticed the motor was pretty quiet while still retaining a nice crackle that would turn heads. Out of the hole, it was gutsy but smooth – exactly what you need to get boarders and skiers out of the water quickly and comfortably. From there on, the X-35 bolted up to a fair top speed of 34.5 knots (64kph) at 5500rpm at WOT. Sure it's not a lightning-fast top end, but this boat wasn't designed for racing.
As mentioned, the test was in an offshore environment where boats like the X-35 aren't normally seen. However, it has a self-draining wet deck, so if you did happen to take one over the snout, it would drain away pretty quickly.
Built as solid as a rock and weighing in at a healthy 2227kg, the hull also has a unique shape, whereby the deep-V flares out to large shoulders that run all the way through to the stern. These shoulders add to the stability and do a good job of deflecting the spray downwards.
These combined factors saw the X-35 work exceptionally well offshore, where it delivered a superbly soft, dry ride, something I definitely didn't expect out in the swell. Back in the flat waters of the seaway, the ride was just as good and I could throw it into some tight turns at speed. Overall, the handling was exceptionally good, feeling smooth to drive and very safe on the water.
Bring your mates
As is standard of MasterCraft boats, the X-35 came loaded with features packaged inside one hell of a layout. The stern has a large, non-skid transom step/boarding platform with loads of space for wakeboarders and their gear. Seating consists of a spacious wrap-around lounge in the stern, a passenger seat adjacent to the skipper (which is fully reversible and flips over in an instant for rear viewing), the captain's comfy, adjustable wrap-around seat and pickle-fork bow seating up front.
From the stern through to the bow, all the seating is ultra-comfortable and spacious, with all the usual storage compartments beneath. All seating materials now have a new pleated carbon-fibre look in an assortment of colour choices.
This boat is rated for 16 occupants, something that is typical of wakeboats from the US. Hang on a moment… can it really seat 16? At 23-foot (7m) long, 2.6m wide and with plenty of open space and seating, it sure can.
Fine features
The X-35 has a number of awesome features. On this "blinged-up" model, they include a fantastic retractable wakeboard tower that can be lowered at the flick of a switch for towing and garaging. Wakeboard racks are also on a swivel system, allowing them to be swivelled into the boat for towing and storage.
The command centre has a distinctive dash that features a "BIG" (boat instrument gauge) display and servo electromechanical gauges. With an impressive array of analogue gauges and a technical digital system, you can program this BIG system to suit many different riders. Each rider can set-up their desired speed and wake. This is then stored in the memory and is accessible at any time, thereby eliminating the hassle of establishing your wake each time you're on the water.
Another new feature on the X-35 is the surf-tab system: a set of trim tabs used to help set-up the perfect surf wake. Electronically-assisted ballasts are filled and tabs are used to lower one side, thus creating a larger and sharper wake just off the stern similar to that of a small wave of about a metre or so. You can then free-surf off the boat without a ski-line.
Other great features include the built-in fridge and sink and the cooler box, so food and drinks are always fresh and ice-cold.
These are just some of the X-35's features and there are many more on offer, although too many to mention. It's one of those boats you really need to see for yourself and, if you can get a ride on or behind one, it will blow your mind.
The wrap
Wakeboarding and waterskiing behind any boat that has sufficient power to pull you out of the water is always nice, but to do it in style – behind the MasterCraft X-35 – is so much better. Although it has an undeniably hefty price, the cliché "you get what you pay for" most certainly applies, and with the X-35, you get a boat that's superbly designed and finished. Dedicated to the avid and professional wakeboarder and waterskier, it is also well suited to cruising with family and friends. And with more than enough bling and gadgets to please the most avid of technophiles, these babies are well worth a look, particularly if classy cruising is right up your alley – you'll certainly be the envy of everyone on the water.

Manufactured by MasterCraft Boat Company, Tennessee, United States.
We liked...
Luxurious finish and design
Superb ride and handling
Awesome surf-tab system
Incredible features and options list
We didn't like...
Price is fairly heavy
Wide beam means some towing restrictions
Visit www.tradeaboat.co.nz and type "Mastercraft" into the search bar to view this and other MasterCraft models for sale. While there, visit our "reviews" section where you will find previous MasterCraft tests.
Keep up to date with news from Trade-A-boat or like us on Facebook!