Osprey 650HT
---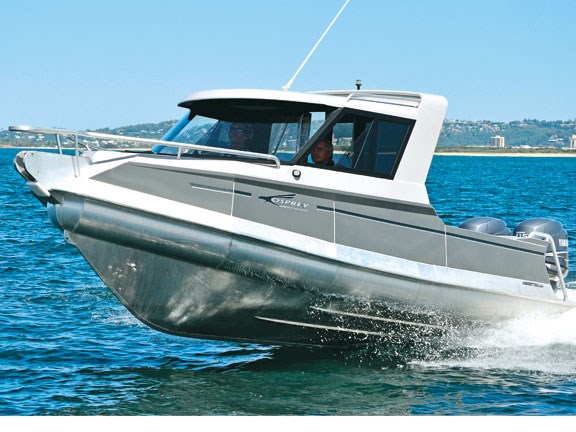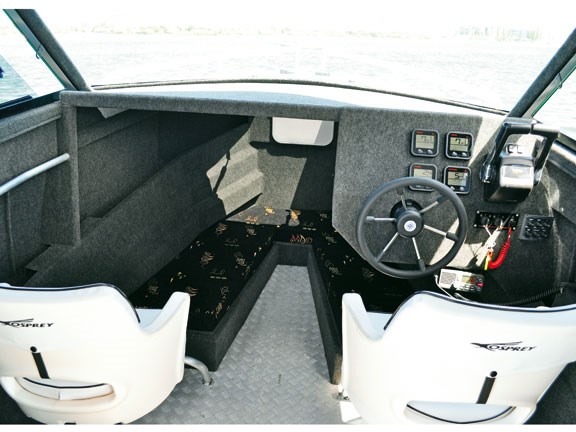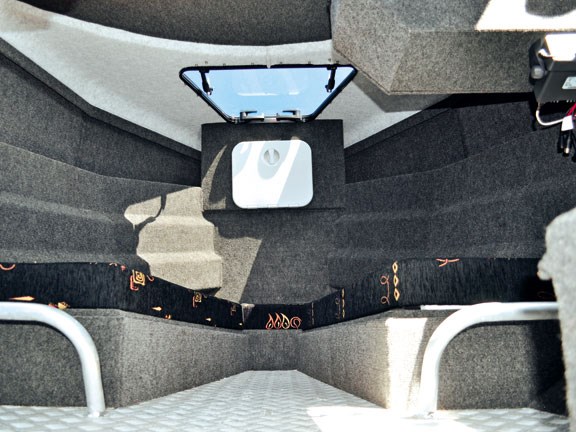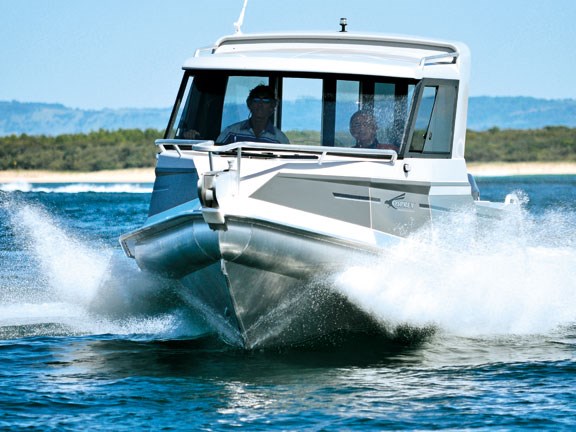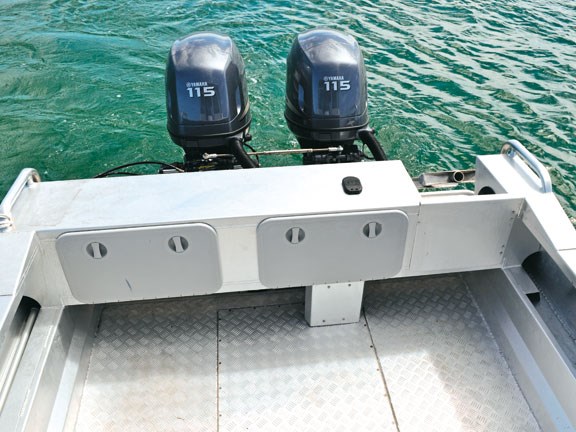 Got a need for speed in the rough? The Osprey 650HT is built to deliver…
Weather conditions
Wind speed    5-8kts
Sea state        Slight with moderate swell
You've got to hand it to the mainlanders: they sure know how to build tough boats. And given the heavy seas and harsh conditions that regularly batter parts of their coast, it's not surprising. We tested the Osprey 850 and 565HTs in September and were impressed enough to line-up another from this Nelson-based yard.
The new Osprey 650HT is the latest in a long line of heavy-duty, hard-core pontoon-based rigs to be released on our shores. Its modern, military lines may not be to everyone's taste, but the look does grow on you and I have to say that the more I see of this style of boat, the more I like it.
Before we press on, I should mention that this boat wasn't ever intended as a test boat. A stock-standard craft devoid of any bells or whistles, it was originally meant to be used purely as a camera boat to assist with another Trade A Boat test. However, after spending some time on-board, it was deemed to be worthy of a test in its own right.
Rock solid
A heavy-duty construction is appealing on any boat; the end result may not be the prettiest thing on the water, but it generally means the boat's build is exposed, so you can see exactly what's on offer.
The 650HT has a heavy-duty, marine-grade alloy-plate hull married to its outer pontoons. The pontoon configuration isn't just a cosmetic gimmick; it adds strength and buoyancy to the hull while also boosting performance, aiding stability and creating lift.
The pontoons have several air-tight chambers separated by baffles. The extra buoyancy they afford means the boat can carry a larger load, and if you're unlucky enough to suffer a puncture, only one chamber will flood – a big safety feature, in my opinion.
The rest of the boat's construction is on the money too: decent welds can be found throughout; nothing rattles; and the finish is neat. However, it's that hull and its pontoons that provide the bulk of the Osprey's strength; it's clear this boat has been built to last, handling heavy going.
Fast 'n' furious
A 6.5m boat fitted with twin Yamaha 115hp four-strokes definitely means business: knock the twin hammers down and you literally fly out of the water onto the plane. Now, that's all well and good in a straight line, but what about those bar crossings when turning hard and fast is a necessity? Well, the motors on this Osprey were set-up well in this respect, and there were no issues when cranking the hull into full-lock turns, both out of the hole and at speed.
When testing offshore boats, outright speed is a priority. Indeed, there's nothing worse than someone going for Mach 1 on a boat that isn't built to handle it. However, far from being smashed all over the place, the Osprey can handle above-average offshore speeds while you sit in comfort behind the helm.
The 23° deep-V hull cuts through the chop with ease, maintaining a soft ride throughout. When powering in and out of swells, there is no sign of ploughing or broaching regardless of the extra weight of the full cabin. Meanwhile, the hull reacts nicely to trim, so keeping the bow up presents no problems.
Excellent stability both underway and at rest is another welcome trait of boats of this ilk, and I put that down to the pontoons. Typically, a heavier deadrise means you lose a bit on stability, but the pontoon design negates this. Adding stability, strength and safety, the pontoons also create lift and deflect the spray, delivering a dry ride and creating extra buoyancy at rest. The stability at lower speeds, from idle through to a fast troll, is really good; with the twin motor set-up, you can maintain constant tracks.
Overall, the 650HT ticks all of my boxes as far as performance and comfort at sea is concerned.
Commercial style
The enclosed cab is very well suited to colder and rougher coastal climates, conditions that even occur up north for much of the year – we might have the heat up here, but it still gets pretty chilly in winter. Another bonus is that the cab can be locked, making your gear a harder target for opportunists.
The cab section has a sliding door that could do with an anchoring point to keep it open. On the inside, it's open and spacious with a massive full screen and sliding windows on the sides. There's not much chance of your vision being blocked, but on the bad offshore days you would probably need a set of wipers to keep it clean. Ventilation is handled by dual sliding windows plus an opening hatch up front in the cabin, although personally I'd be looking into putting something into the cab's roof for extra air flow, rather than travelling with that hatch open.
The 650HT has an open-plan cabin with bunk, fully enclosed with rear doors. There's good access to the anchor-well and electronics, and it's carpeted throughout, with a bunk that's long enough to stretch out on.
Other features include the console/dash that has plenty of space for widescreen electronics and controls; and dual-pedestal seats for the skipper and passenger, with a ton of space behind for extra passenger seating and storage.
Bow access is via the side-pontoon foot rail or through the cabin hatch. However, due to the design I don't think many people would spend much time up there, but the addition of a non-slip surface on top wouldn't go astray. The grab rail also needs to run the full length of the hardtop as it's a bit of a stretch to the next holding point, which is the bow rail.
Fishing office
Out the back there's plenty of fishing space. The first thing to catch my eye here was the low gunwales, a result of the raised wet-deck. They may make it easier for commercial operators to haul in fish or pots, but recreational boaters would definitely appreciate something higher. If it bothers you, a simple solution is to go back to the standard deck, which gives you higher gunwales.
I also noticed there's no non-slip material on the gunwales, something that is not a concern until you have to step or walk on them. Again, an easy solution is to simply stick some on. Further to that, the bottom sections of the side pockets in the gunwales stick out at a bit of an angle. This could cause discomfort over a long day's fishing, so some type of toehold would be handy.
The transom has raised compartments for batteries, filters and plumbing and enough space for livewells and bait boards, as well as a transom door that leads to the wide boarding platform.
The wrap
As far as the layout is concerned, the small niggles are just that – small – and for each there's a simple solution. Like many of today's plate-boats, Ospreys are customised to suit the client and this is a big plus over standard moulded set-ups – this was a base boat, so I couldn't expect it to have everything on-board.
The Osprey's performance and handling alone blew me away; longer distances and rougher conditions wouldn't be a problem, and I'd love to sample one of these boats set-up to suit the serious fisherman. Choosing between the previously tested 565HT and the 650HT is no easy task, but at the end of the day, I reckon a fully-packaged 650HT would do it for me thanks to its longer deck and ability to handle long-range trips with ease.
For information contact Osprey Boats, ph 03 548 7887.
WE LIKE
Superb stability at rest
Overall neat and sturdy construction
Spacious, enclosed lock-up cab
Impressive high-speed ride when offshore
Full-length foot rail/guard around pontoons
WE DIDN'T LIKE
Extra-low gunwales due to self-draining wet deck (could also do with some form of toeholds)
Lack of non-slip surfaces on gunwales and bow
Grab rail needs to run around the front of the hardtop roof

Visit www.tradeaboat.co.nz and type "Osprey" into the search bar to view this and other Osprey models for sale.

Keep up to date with news from Trade-A-boat or like us on Facebook!