Ramco Fishmaster HT
---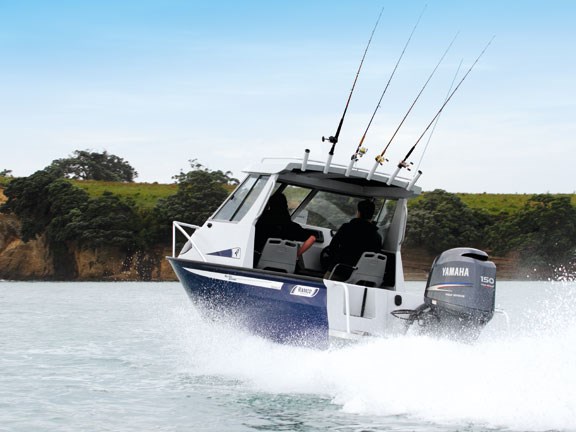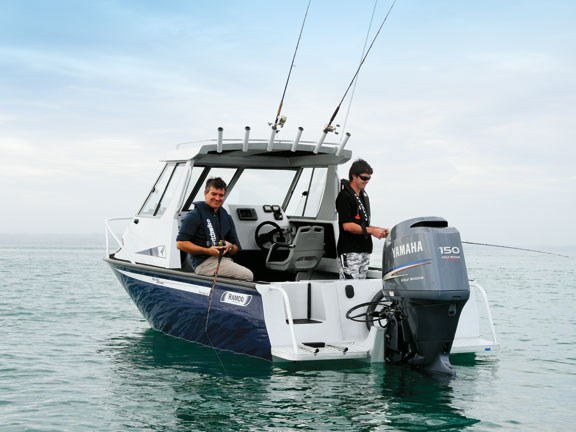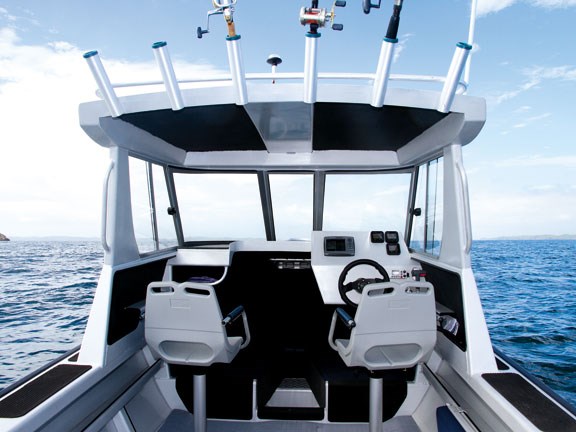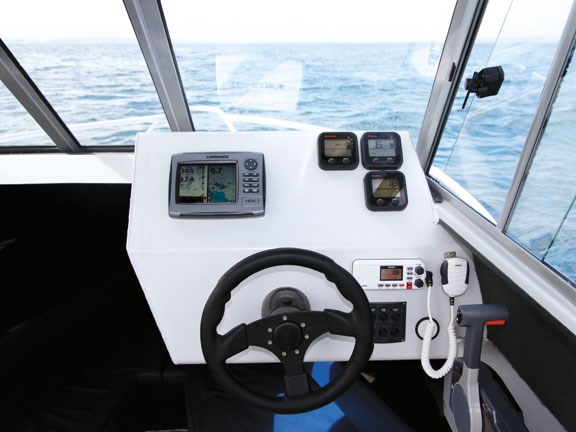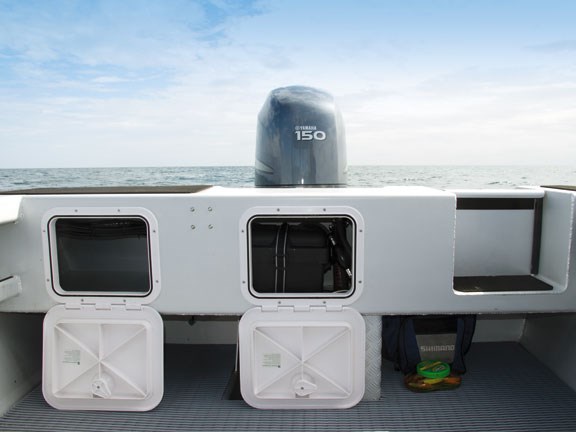 In case you haven't heard, Ramco's back and its revamped line-up looks better than ever. The question is will sharp looks translate into good performance…

Weather conditions:
Wind speed    10 knots NW
Sea state         Slight

Since 1985, the Ram's head has been a symbol for tough, uncompromising boats built to fulfil the needs of Kiwi hunter-gatherers. Now based in Rangiora under the ownership of Gary Tomes, Ramco Boats has been relaunched with a fresh new range from the design board of aluminium guru Scott Robson. As the existing owner of custom boat manufacturer Kwikkraft New Zealand, Tomes is no stranger to handcrafting aluminium into striking, well-finished boats.

Ramco's new range consists of ten models, from 4 to 8.3 metres in length. Quality and safety are top priorities for this manufacturer, and each and every boat is individually hand built to ensure a top-class finish is achieved.

Head turner

The life of a boat tester is not always a glamorous one, and a persistent run of bad weather meant a 4am start was required to take advantage of a tiny weather window. Jeff aka "the Ed" and I met Kevin at Kev and Ian's Marine.
At a time when most people would still be tucked up in bed, Kev was dutifully polishing the windows – a sign of a top bloke who's prepared to go the extra mile for his customers. Even to our bleary early morning eyes, this was one good looking boat, with great lines and a superb finish. And our yawns soon turned to excitement at being handed the keys to take her for a spin.

Now, it would be rude to test a model named Fishmaster without actually going for a fish, so once at the ramp we loaded her up with all the essentials: rods; tackle boxes; a chilly bin; net; gear bags; notebooks; and bulky camera cases. I was impressed at how this boat had a secure place for our abundance of equipment while leaving the cockpit floor completely clear.

Up front, the fully-lined forward cabin is comfortable and provides easy access for gear storage. There is good headroom while seated, but the bunks don't afford enough legroom for anyone over six feet to fully stretch out.  Storage is available under the squabs and a recessed bin is capable of securing a decent sized chilly bin. Fitting further electronics should be straightforward with a hatch allowing good access to the back of the dash.
There shouldn't be any complaints from the crew with excellent access to the anchor through the good quality front hatch. The anchor itself is neatly secured beneath a lockable cover, and if your crew are of the "hard to please variety" a capstan can be optioned in.

With hunter gatherer in mind

Rod storage is well taken care of, with four in the gunnels and a further six overhead on the rocket launchers. The options list is long and distinguished, and if you were to add in the livewell, wash down pump and one of the bait board options, you'd have a capable and versatile fishing machine.
The sleek Nyalic-coated hardtop achieves a good balance between providing adequate protection from the elements while still allowing plenty of room to cast a lure. Wide gunnels are at a comfortable height for thigh support or to use as seats, and the addition of "Surf Grip" non-skid makes sure they're gentle on one's hindquarters.
Access to the tread plate duckboards is free and easy through the transom walk-through. A boarding ladder and full-length grab handles should ensure getting back aboard is also trouble-free. The majority of the underfloor area is used for sealed buoyancy, with a good-sized underfloor bin forward that looks capable of holding a couple of dive tanks. Tube floor matting in these areas should keep banging and clanging of dive gear to a minimum.

At the helm

The adjustable pedestal seats allow the driving position to be tailor-made, and with the addition of some upholstery they'd be very comfortable too. Visibility is good, with a slight intrusion from the centre beams, and sliding side windows ensure fresh air is in good supply. The spacious dash is well set-up with the Lowrance HDS7 and Yamaha digital gauges providing a wealth of information at your fingertips.
Headroom under the hardtop is good, but at 185cm tall I found the bulkhead above the windscreen encroached on my personal space when standing at the wheel.

Countdown to launch

Ramco's philosophy is to build "the best hunter-gatherer tool on the water", so with that in mind, we headed off out wide to find the work-ups. As luck (and a tight time frame) would have it, this day was the first time in weeks that the gannets were having a day off, but we were impressed with the boats performance on this extended run.
This run out wide was done in the company of a much more fancied and considerably more expensive photo boat, and we easily kept pace by virtue of the grunty 150 Yamaha four-stroke on the back. The protection of the hardtop and the smooth riding hull disguised how fast we were actually going, and it was only the fact that we were getting airborne with more regularity that prompted a glance at the speedo – reading 60kph! Being fairly light, this boat has a tendency to get airborne at this speed (as to be expected), but it poses no problem as the landings are soft and well behaved.

With hydraulic steering fitted tight turns required no more than fingertip control and providing the motor was trimmed down, prop ventilation was minimal. The down turned chines provided excellent grip and spray deflection which ensured the windscreen stayed nice and dry, although the conditions weren't exactly testing.
Attention to trim is required to get the best performance out of this hull, and with a little tweaking and a slight following sea on the way home, I managed to get 43 knots (80kph) out of her before she started gracefully chine walking. Kev attained an insane 85kph on a rougher day and feels this rig would still go well with only 115hp on the back – I tend to agree. If you don't feel the need for speed, a reduction in horsepower to the recommended 130hp should represent economical boating indeed.

Our test boat was fitted with a 120-litre fuel tank, but all future Fishmasters will have extra fuel capacity to 180 litres as standard. This will come at the expense of a smaller underfloor locker, but the increased weight and range should make this good all-rounder even better.
This rig was supplied on a single-axle, multi-roller alloy trailer complete with override brakes. At around 1250kg, it was a breeze to tow to and from the ramp with a Holden Rodeo, and launching and retrieving was a simple drive-on/drive-off affair. The trailer itself is a work of art and is a true credit to the workmanship of the Ramco team.

The last word

There's no denying that this is a great looking boat, and with 150 horses on the back, its performance is nothing short of exhilarating. The smooth ride, excellent weather protection, good stability, ample storage and practical layout combine to achieve a truly versatile and capable adventure platform.

Ramco's Fishmaster HT is proof that good looks and practicality need not be mutually exclusive.

For more information contact Kev at Kev and Ian's Marine, ph 09 267 4999.

WE LIKED
Soft, stable and predictable ride
Good quality finish and plenty of options available
Plenty of non-skid and tube floor matting for added comfort and safety
Blistering performance with 150hp on the back

WE DIDN'T LIKE
Hardtop bulkhead could cause a headache for taller blokes
Helm seats are a tad bare

Keep up to date with news from Trade-A-boat or like us on Facebook!