See-doo PWC's
---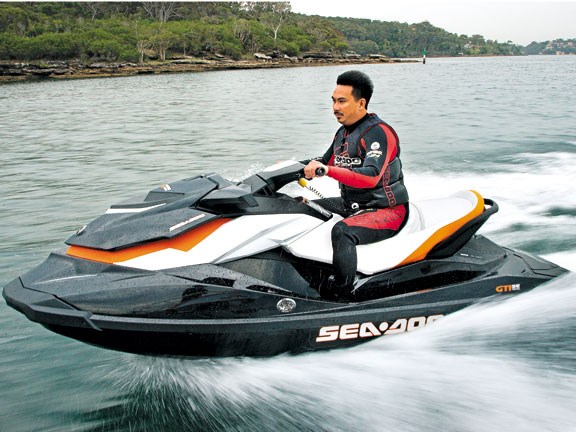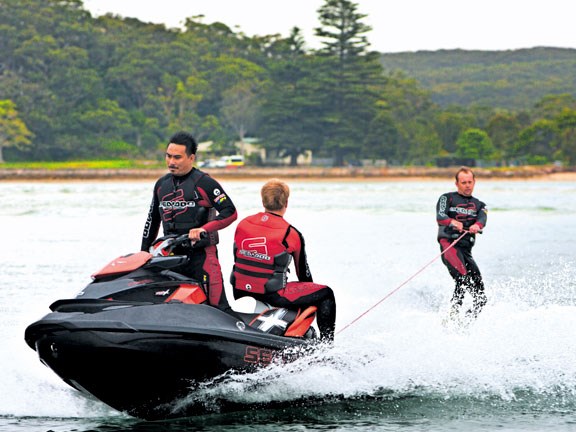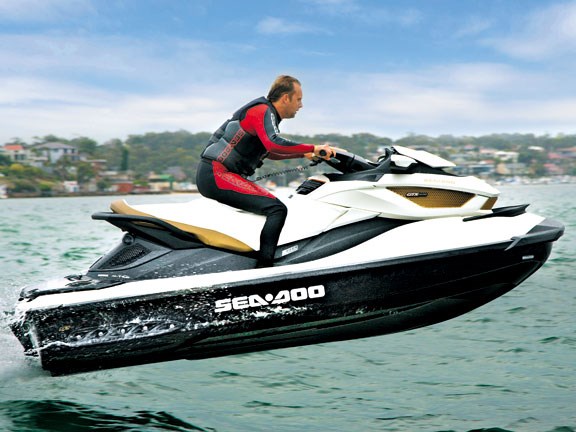 A motorcycle fanatic takes to the water…
Looking at our PWC buyers' guide in this issue, it's immediately apparent that watercraft enthusiasts are spoiled for choice. Over the past few years, PWC designers and manufacturers have exercised their talent for ingenuity so we now have craft that are faster, quieter, sleeker and buzzing with technology.
PWCs can't be described as inexpensive, but they certainly offer a lot for the money. As indicated in previous issues, a $20,000 PWC is a worthy and far more affordable choice for most families than an $80,000 family boat. Indeed, you can cruise on a PWC, pretend you're some sort of stunt hero and pull kids along on a biscuit, ski or wake – they're certainly not one-trick ponies.
 
Yamaha and See-Doo have the largest PWC ranges by a long shot, with the latter providing 12 models to choose from. At first glance, the thought of anyone designing so much variation into one basic platform is impressive, and for that we can thank the microchip. The latest digital technology helps manufacturers build controlled capability into every machine: some Sea-Doos will zap from 0 to 80 in 2.9 seconds while introducing a list of performance add-ons you never expected to see in what is, technically speaking, a tiny boat.
The so-called "driving centre" – ie the dashboard – on these craft is a digitally-driven mine of information, with details on everything the craft is doing or likely to be doing in the near future. Various controls allow you to switch between different performance settings from the handlebars: activate the brake, reverse, ECO mode, ski mode, cruise control, and so on and so forth – it's a fingertip fandango.
Another reason manufacturers can build so much grunt into such a small package is with the clever use of small capacity, high performance engines, or in this case, just one engine. All Sea-Doo watercraft are powered by Rotax's 1494cc, 1503 4-TEC engine, tuned to produce between 130 and 260hp. This strategy has advantages in both engineering and the much sought-after economy of scale. Kawasaki also does the same thing with an engine of almost identical capacity, albeit in a much smaller model range.
Thanks to numerous models being produced, Sea-Doo, in particular, are able to target specific buyers, from entry-level greenhorns looking for a machine that's exciting yet easy to use, all the way to hard-core racers who disdain anything if it lacks stupendous horsepower.
The range is divided into distinct classes: for Sea-Doo, they are Recreational (or entry-level); Performance; Luxury Performance (more add-ons); and Tow Sport. Entry-level machines don't cost as much, have less "fruit" and don't go as fast, though they could hardly be described as slow.
If we're talking acronyms and "fruit", this RXT three-seater has the lot: iBR, iTC, CLSC, and all within an S3 hull, the only stepped hull on a PWC (as far as I know). The RXT-X aS 260 RS – Sea-Doo is infatuated with compound acronyms – is the company's "go-to" model when you want your eyeballs pressed to the back of your skull. And until the launch of the company's 2012 range, this is as good as it gets.
Weight, 436kg; horsepower, 260 – that says it all.
Well, almost. This RXT gets a compact new Fox shock for its adjustable suspensions system. This unique feature separates the rider from the hull by about six inches, and therefore from much of the rough water turbulence encountered on a windy day.
Some time ago, Sea-Doo also introduced off-throttle assisted steering and has since augmented it with iBR. Possibly the most effective safety device any manufacturer has ever put on a PWC, iBR is a function that allows brakes and reverse to be used simultaneously. It makes docking and low speed manoeuvring much easier on a machine that is, by nature, very difficult to steer on a low throttle setting.
The advantages gained by being able to brake on the water and fine-tune low speed manoeuvring would almost justify a separate brochure. The really good thing about iBR is that inexperienced riders won't panic when they have to bring a ski into the beach or get one close to a trailer for docking on a boat ramp. And all this is controlled with a single lever on the left-hand side of the bars. To activate the brake/reverse function you simply take your hand off the throttle lever and squeeze the brake lever. The more you squeeze it the harder the ski brakes and reverses. It really is the ultimate combination for getting the ski where you want it to be.    
However, the acronyms don't stop there. This RXT also has iTC – intelligent throttle control – ensuring the engine will start only when in neutral so you and your loved ones won't accidentally be fired into an unyielding object when Pappa Bear hits the start button. The wonderful microchip within the iTC system also means that Sea-Doo can offer different engine performance levels, for example "Touring", "Sport" and a learner mode, although this is not unique to the manufacturer.
Yet another interesting feature, and one derived from trailer boats, is VTS – variable trim system – allowing you to trim the machine so it either turns sharply or more slowly. An RXT-X in tight-turning mode with iTC set to "Sport" is a hellcat worth riding. I spent some time experimenting with the iTC settings and was impressed at their lively influence on the ski's performance.
Sea-Doo describes the GTX Limited iS as "the ultimate in comfort and convenience", but it feels a lot more than merely convenient when giving it a handful.
The GTX has everything Sea-Doo can throw at a PWC: that marvellous braking system; reverse; the VTS trim system; seating for three; adjustable suspension; a "driving centre" with clock, altimeter, and gauges watching how you use cruise; and much more. Its unique features include a custom cover; depthfinder; retractable mooring lines; low speed assisted steering; and a safety kit; plus as much horsepower as the average family man can eat on any given Sunday.
However, despite its apparent size, the GTX is no more physical to ride than any other Sea-Doo model. With the same hull dimensions as the RXT sports models, you can expect the same sort of agile manoeuvrability and gob-stopping turning ability when the power is turned on. The supercharged and intercooled version of Rotax's 1503 XHO four-stroke engine is to thank for all that – a driving force if ever there was one.
Visit www.tradeaboat.co.nz and type "See-Doo" into the search bar to view this and other See-Doo models for sale. While there, take the opportunity to visit our "reviews" section where you'll find previous See-Doo tests.

Keep up to date with news from Trade-A-boat or like us on Facebook!