Senator Boats RC 540
---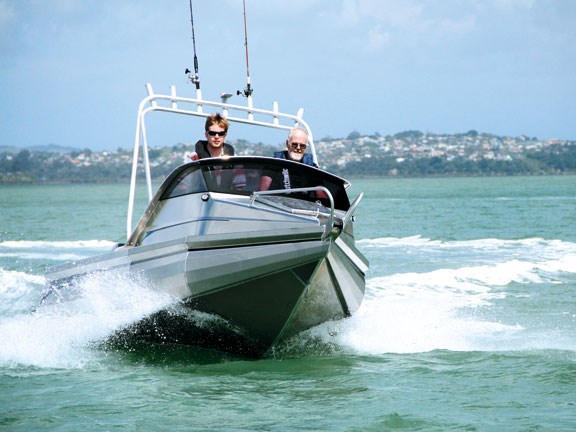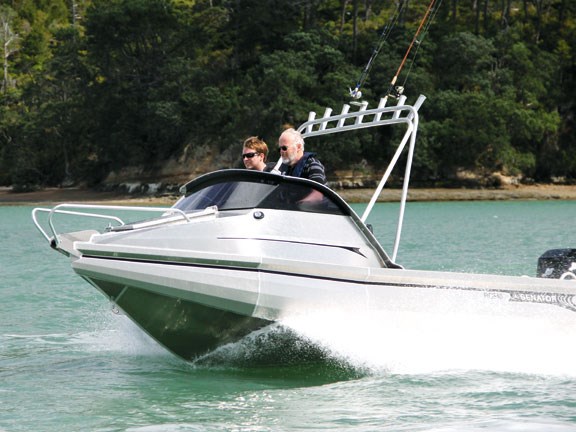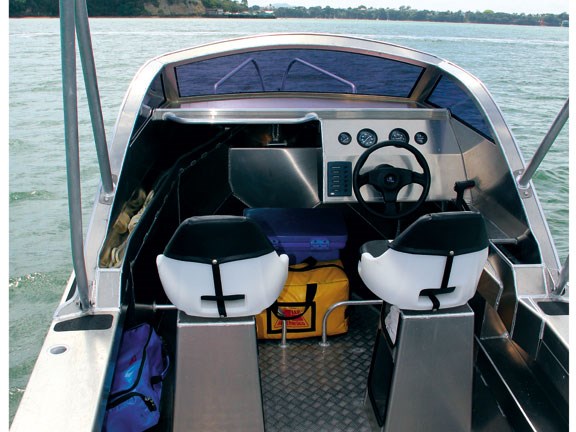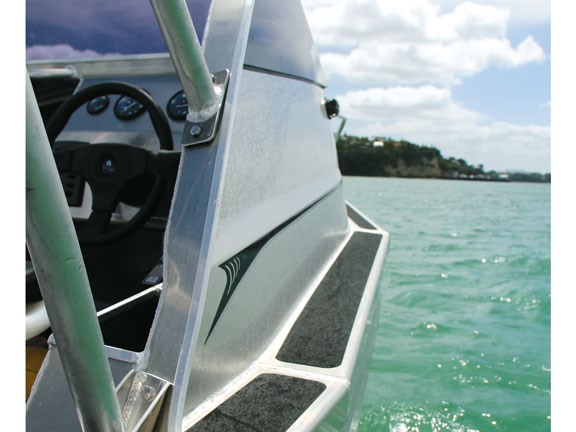 There is something refreshing about a trailer boat manufacturer that doesn't blur the line by fitting out boats in such a way that buyers are blinded by the glare of bolt-on-"bling"…
Weather conditions Wind speed 15 knots northwest Sea state Moderate
As buyers, we should be more concerned about the structural integrity, engineering quality and safety of trailer boats, and indeed their intended primary purpose rather than focusing on the quality of the upholstery or the size of the GPS.
One manufacturer that doesn't guild the lily is Napier-based Senator Boats, founded by Wayne McKinley, a boat building business that has been built on the premise of delivering simple yet functional boats at a cost-effective price.
Senator Boats RC 540 pontoon cuddy is a case in point: a basic yet robust day boat with a manufacturing emphasis on safety and strength, pitched squarely at the recreational angler who has little interest in picnic cruising or design aesthetics. The RC 540 is essentially a work boat and this is reflected in its factory fit-out which is minimal and clearly harks to its primary purpose as an affordable, no-frills fishing platform that will get you out and back safely, albeit with little in the way of creature comforts.
The company's manufacturing base has grown significantly since launching production in 1994, and its RC and RH range of pontoon boats is now supplemented with its Typhoon series of conventional, aluminium plate hard top designs launched about three years ago. The RC-series ranges from the entry-level RC 440 through to the RC 560 and it is essentially the boat that launched Senator Boats into the market and on which it has built its reputation. While the company's design sophistication and manufacturing continues to evolve and is clearly reflected in its larger boats, McKinley and his team have not needlessly medaled with the RC-series and it continues to be a Senator staple.
McKinley says that since its launch the RC 540 has been Senator's biggest seller in the RC pontoon series, with more than 600 units sold and little sign of waning demand with back orders to fill. "The RC 540 hit a sweet spot in the market because it's big enough to venture safely off the coast yet small and light enough to launch off the beach. You don't need a large tow wagon and you can park it up at home without taking out the clothes line. "Its sealed pontoon construction and hull provides masses of reserve buoyancy and makes for a virtually unsinkable boat, which has a lot of appeal for many owners that use their boats for tending cray pots and long lines in some fairly remote and inhospitable places. "We don't promote the 540 as an offshore boat but, foot-for-foot, its sealed construction and robust build makes it a capable performer and arguably a lot safer than similarly sized conventional plate hull designs."
Construction
A large component of Senator RC pontoon boats' styling comes from the folded 3mm plating used to build the pontoons. The pontoons, tapering markedly from midships to the bow, give the boat sheer and a raised bow profile. This, in turn, provides for the RC's relatively fine entry which effectively reduces pounding and pontoon slap when working the boat to weather.
Below the pontoons, the RC 540 packs extra buoyancy in under its 4mm treadplate cockpit floor and creates the hull's fourth sealed chamber which is fully welded and pressure tested before leaving the factory floor. Underfloor, the RC scantlings feature full-length stringers and internal keel bar for additional strength and rigidity, while all the internal and external plating is seam welded for maximum weld penetration and build-up. Senator Boats chooses not to grind back exterior welds for improved aesthetics: "We don't because it reduces the strength of welds and has a potential to create pin holes in the weld that could compromise the seal and create a potential for corrosion to get a stranglehold. It's also means more time on the tools and additional manufacturing cost. The RC-series has always been about value for money and we're conscious of this."
McKinley says building value into his boats does not suggest the use of cheaper raw materials or construction short cuts: "Not at all," he says. "Unlike some manufacturers, we've avoided the temptation to import cheaper lower-grade aluminum from China and continue to rely on our European suppliers because the quality is better. We're here for the long haul and our boats reflect this." He adds that Senator Boats has recently commissioned new plant, including an automated router for cutting aluminium plate and Solid Works CAD design software.
"This will help drive efficiencies in the manufacturing process but also allow us to introduce some significant design enhancements across the Senator Boats range and now we're very close to releasing a range of updated models. "The changes are subtle but have generally allowed us to increase the internal cockpit beam and thus increase cockpit volume. The RC series is no exception and they'll arguably have the biggest internal volume in their class," McKinley comments.
Topsides
The RC 540 has a conventional Portofino stern with split treadplate aluminium boarding platform that is wide and strong enough to be a real asset for divers while providing a useful swim platform.
It is well equipped with a T-shaped fold-down aluminium ladder on the port side, with supporting aluminium hand rails to help get you up and over the transom safely in a chop. The transom has a single parcel shelf on the inboard side for starter battery cables and a box cut-away for the centrally-mounted battery, which is supported by a plinth welded to the cockpit floor. This allows a plastic battery box to be used, providing cover protection for the battery leads and posts. It's a simple arrangement but it works and keeps the battery proper off the cockpit sole and firmly secured.
The cockpit is largely bare with the exception a single full-length aluminium shelf built into each side, and twin aluminium pedestals supporting single swivel plastic seats with stowage within. The starboard side helm fascia extends to midships and provides only minimal real estate for engine gauges and recessed switch panel. There is limited dash space, tucked in behind the acrylic windscreen, for smaller instruments.
A port side cutaway in the primary bulkhead provides reasonable reach into the small cuddy cabin to get to the large aluminium deck hatch, but there are no comfort facilities nor is there any room for them. A segregated open-top anchor locker gobbles up most of the forward-V area leaving limited space for dry storage; this is a day boat and its layout reflects this. The forward screen provides reasonable seated protection from wind and spray but is mounted at a height that effectively requires you stand at the helm, something that will almost certainly necessitate fitting the optional bimini extension if you want all-weather protection.
The cockpit combings are wide enough to provide a comfortable seat but they're below thigh height when standing so care will be required when fishing or travelling in a seaway. Standard features include four welded rod holders, anchor fairlead and bow roller, split aluminium bow rail and non-skid rubber matting on the cockpit combings and small side decks.
Drive time
Set-up and supplied by Auckland Marine Ltd (ph 09 579 7981), the RC 540 supplied for review was fitted with Mercury's ELTPO 90hp two-stroke outboard, which falls midway between the recommended 75 to 115 horsepower range. While not blisteringly quick, the little 90 is more than adequate and pushed the 540 along comfortably at 20 to 25 knots in a moderate seaway. The 540's relatively fine entry for a pontoon boat served up a dry and reasonably soft ride, in keeping with its length on the water.
Handling is crisp and sure-footed and the boat trims out nicely and tracks remarkably well, although the mechanical steering was altogether a bit too stiff for my liking.
The verdict
The RC 540 is a boat that will inspire confidence and is no doubt built to take the knocks. However, limited seating and usable space in the cuddy could make it a bit challenging as an all-purpose family boat, but this is not its target market.
If you're in the market for a dedicated no-frills mid-size fishing boat that offers robust construction, excellent inherent design safety and value for money, then the RC540 is definitely worthy of closer inspection. For more information contact Senator Boats, ph 0800 736 286.
WE LIKED Solid construction Four independent sealed chambers Clutter-free cockpit Solid transom platform Stress-free towing
WE DIDN'T LIKE Height of windscreen Cuddy cabin design
Keep up to date with news from Trade-A-boat or like us on Facebook!