Stabi As She Goes
---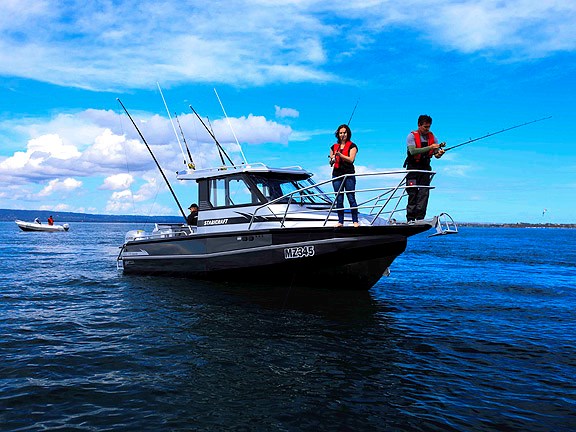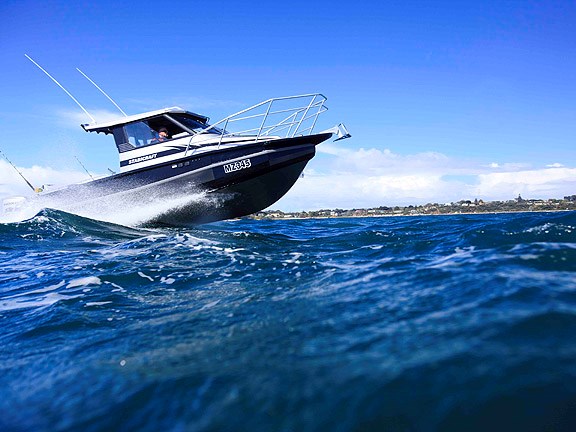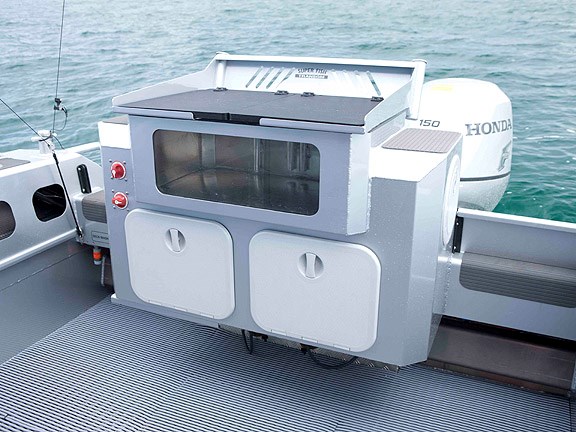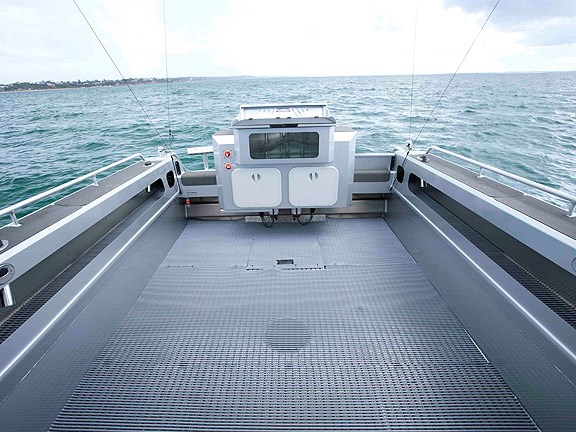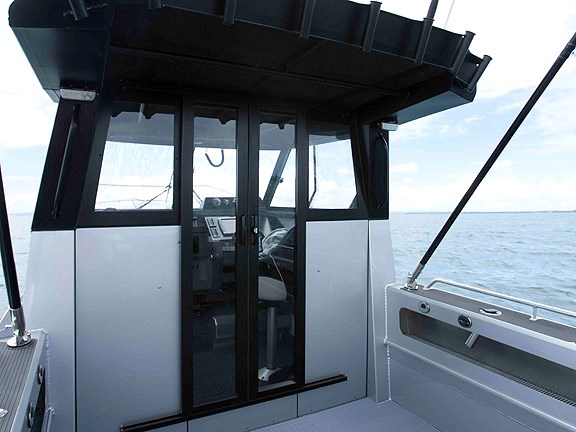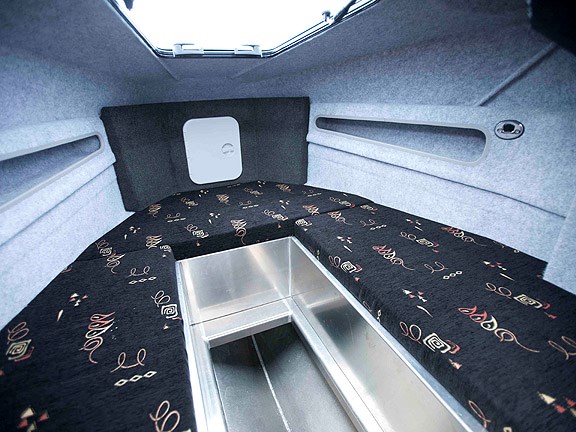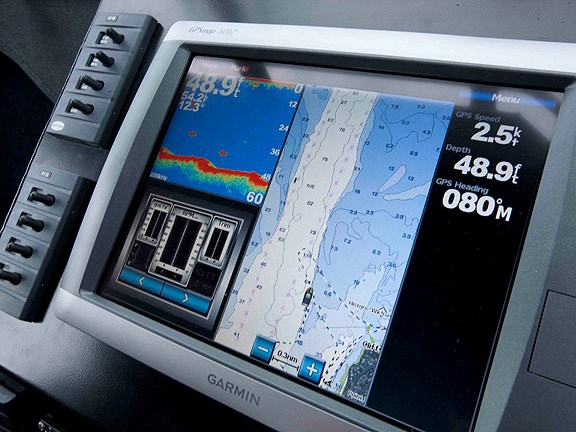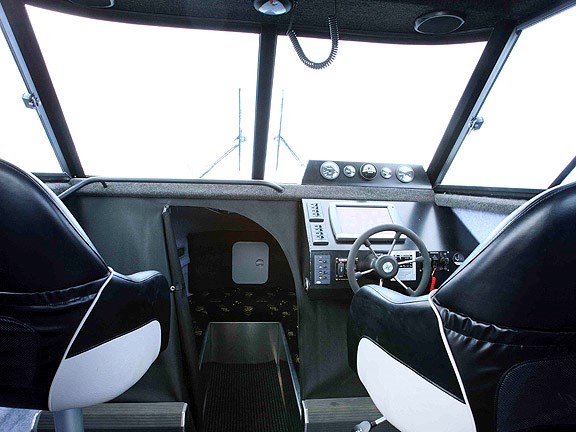 The Stabicraft 2570 Supercab was built with one thing in mind: go fishing and get back safely in conditions that would see other boats reach for a fresh pair of undies.
Any serious seafarer will tell you that their choice of boat is all about function, ride, strength and, ultimately, safety. And if that's the case, Stabi's latest offering sure ticks all the boxes.
The new 2570 supersedes the 759, thereby making an appealing boat even better. Our test boat had been transformed into a veritable offshore weapon by merging the dynamic power of twin 150hp Hondas with enormous range from two 250-litre fuel tanks.
Offshore weapon
The new 2570 has a huge bow platform with a bowrail that wouldn't look out of place on an Iroquois-class destroyer — it's massive! I like it simply because I tend to be a bit of a loner on a long fishing trip. When you're up on a big secure bow, you're in a world all of your own, while the crew battles it out in the cockpit. The big bowrail encapsulates the large forward platform, making it a very useable area rather than just the useless pointy bit. Its construction is strong, but I noticed that it appears to suffer from some flexibility issues, making me wonder if it will fall victim to that dreaded aluminium disease: fatigue. Time will tell, but for now, as I said, I like it.
The new extended Supercab looks great, and works even better. Its roof actually extends almost a metre from the rear cabin bulkhead to protect those in the cockpit from harsh elements. There is a rocket launcher on top and plenty of room to store a lifeboat, buoys or watersports toys, and I believe a few tuna towers have been built for game fishos. The walkway around the cabin structure is a little narrow, but there are grab rails everywhere you look, so venturing forward is quite safe. There is also non-slip, rubberised matting on all of the walkways, including the coaming edges.
Messing with the best

The test boat featured an optional and fully-enclosed wheelhouse complete with strong sliding rear doors. It's amazing how secure you feel in a strong wheelhouse, and its protection was especially welcome in the winds we encountered on our test day.
Stabicraft offers a number of optional layouts for the 2570 — the one we tested is aimed at sport fishermen heading out on big day trips. There is also a Supercab version featuring an extended cabin, as well as a Matt Watson Signature version.
The Stabicraft designers must have done plenty of overtime on the ergonomics on all their models. For example, the visibility through the big safety glass windows is terrific, although if you're a bit vertically challenged you may prefer to leave the optional dashboard extension off. However, it isn't really needed, what with the big dashboard space provided, particularly with the modern, integrated instruments. Our demo boat had a Garmin 5012 12in colour-sounder, GPS, plotter and full NMEA link to all engine displays. I can't speak highly enough of these terrific electronics; while there are many great options on today's market, in my mind Garmin has the simplest menu systems for us technically-challenged old seadogs who would rather be driving the boat than arguing with the sonar and navigation.
Back in the cabin, I opened the big sliding side-windows for ventilation and hit the wiper washers to remove the salt spray from the screen. The twin binnacle controls were affixed to a large mounting box with storage underneath, and its flat surface was just the place for sunglasses, mobile phones, and all the other gadgets we carry around with us these days. Even so, the helm is quite simplistic, although it's also practical, comfortable and ergonomically friendly with a smooth, carpeted finish. Then there's the bolster-style helm and passenger shell seats, which are large and thickly upholstered. They are mounted on soft rider pedestals with swivel and slide adjustment. I was impressed with the clear vision and comfortable passenger seat. Here, the footsteps on the rear of the vee-berth allow you to brace yourself against the inevitable bang that any boat will experience in difficult chop.
For added privacy, a canvas cabin divider can be fitted to the big, comfortable vee-berth. The entire berth is lined to match the rest of the cabin interior and there is side pocket storage on either side. There's also a tonne of storage under the berths, as well as a recess under the cabin floor that's big enough to store diving gear, a raft or even a separate water bladder.
While Stabicraft supplies a Porta-Potti as standard, our test boat was destined for an aftermarket toilet and holding tank. There is also service access to the standard 'Stressfree Mini' winch from a 'So Pac' style hatch in the forward bulkhead.
Fishability

The roof has three grab rails suited for the tall passengers. Standing in the centre position I found the overhead handles were fantastic in the rough. There's also an overhead console for communication equipment. The huge cockpit is a hard-core workstation with enormous deck room. Ok, so there aren't any toeholds because of the flotation chambers — get over it — but it's got everything else including high freeboard, big, wide coamings and a self-draining floor. Use the boat once and you'll never consider the lack of toeholds a problem again. Or, better still, ask your dealer to get a couple of toeholds welded in from the factory. Yes, it's that simple.
Our test boat had a tubular flooring mat which I thought was a nice touch for added comfort, especially when that summer sun heats the big, flat checked aluminium floor like a barbeque plate. Huge, full-length side pockets will keep all your nick-knacks secured, and there are full-length side rails and stainless rod holders (although why these guys don't use aluminium rod holders is beyond me). Under the floor is a big wetbox. Fuel is either the standard 360-litre tank or optional 500-litre. If it were my boat, I'd opt for a pair of rear quarter-seats behind the cabin bulkhead so I could sit down while watching my rods.
Stabicraft's 'Superfish Transom' is a statement in fishable design. It can only be called a large 'workstation' that combines a big bait board with a huge live-bait tank and enclosed storage for plenty of batteries, pumps, oil bottles and switch gear. The battery isolators are conveniently mounted on the front face of the Superfish workstation and there's a big, clear insert to keep a good eye on your livies. Again, if it were my boat, I'd like to see the fuel filters moved from under the workstation, as I could imagine them getting kicked or tail-swiped by a gummy or similar. There is a small doorway to the transom on both sides of the boat making boarding access very easy.
Commercial pedigree

Even though the twin 150hp Hondas are fitted to a full-length pod, they are still quite easy to fish around. Any diver would be a big fan of the transom platform access, especially with a fin-friendly ladder thrown in for boarding. However, I did note again that extra fold-down seating in the cockpit would be favourable for diving preparation – "easily done," says Mr Stabicraft.
The Stabicraft definitely retains many of its commercial features: strong bollards; big bowrail; 6mm hull with 4mm sides; compartmentalised and pressure-tested flotation pontoons; and a no-nonsense approach. Even so, the whole family can enjoy this boat. There are no rough edges, the exposed welds show masterful craftsmanship, and the interior is fully lined and quite attractive. As mentioned previously, Stabicraft has worked hard on getting the ergonomics right for all applications, be they commercial or recreational. Even the paint finish is good and Stabicraft seem to have spent quite some time with their design gurus coming up with some effects and decals.
On the move in the washing machine that was the chop left behind by the previous evening's bad weather, the Stabicraft showed its surefootedness in difficult conditions. The ride is generally very good but you do get a few unhappy endings in the slop. That said, a quick look at the speed shows just how fast you can travel in this battlewagon, even in quite difficult conditions. It travels surprisingly quickly and you can cover plenty of water at a fuel efficient and comfortable travelling speed of 26kts (48kmh) at 4200rpm. The 22-degree deadrise hull pops out of the hole quite nicely with little bow rise, and it will travel through the really nasty offshore stuff at around 16kts (about 30kmh) at 3200rpm. Its boxy shoulders will cause some bangs and crashes but that's a fair compromise for its safety and buoyancy.
The favoured Solas 18-inch stainless propellers hadn't arrived in time for our test. Instead, a pair of 17-inch Enertias on the day were red-lining the engines at a very quick 40kts (74kph) at 6100rpm. This big machine really can fly, especially with the added acceleration and thrust that is most noticeable with the 'BLAST' feature of the Hondas. I estimate that the package could break the old 50mph (80kph) barrier at approximately 6000rpm with the bigger diameter props.
Verdict

An old mate of mine once explained how to tell your true friends from your acquaintances: basically, he said, your friends are the ones you can depend on in a life-threatening crisis. The Stabicraft 2570 Supercab Sport may not ride like a Jaguar, but I'd choose it as a big, strong, trusted friend in any sea.\
The test boat was supplied by M Y Marine, Vic, Australia. For more information, ph +61 3 5987 0900 or visit www.mymarine.com.au.
WE LIKED
Big working layout
5-star safety
Comfy ergonomics
WE DIDN'T LIKE
Rides harder than other Stabicraft models
No cockpit seating (optional)
Fuel filters/ lines exposed at deck level
Specifications
Stabicraft 2570 Supercab
Material Aluminium (6mm hull; 4mm sides)
Type Deep-vee enclosed hardtop
Length 7.86m
Beam 2.49m
Weight 2900kg
Deadrise 22°
People 9
Fuel 360L (500L optional)
Engine make/model 2 x Honda BF 150
Type DOHC, in-line 4-cylinder 4-stroke
Weight 220kg
Displacement 2354cc
Recommended hp 225
Maximum hp 300
Keep up to date with news from Trade-A-boat or like us on Facebook!