Stabicraft 1750 Frontier
---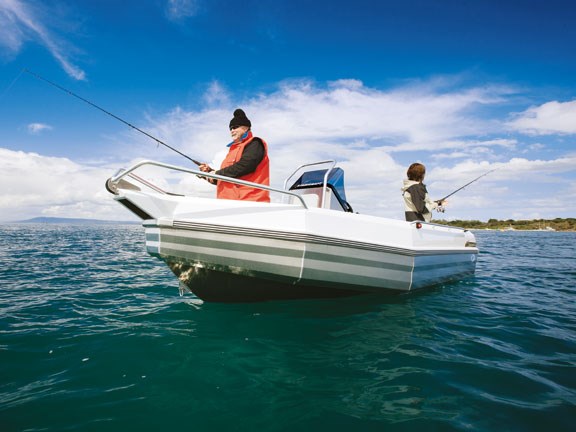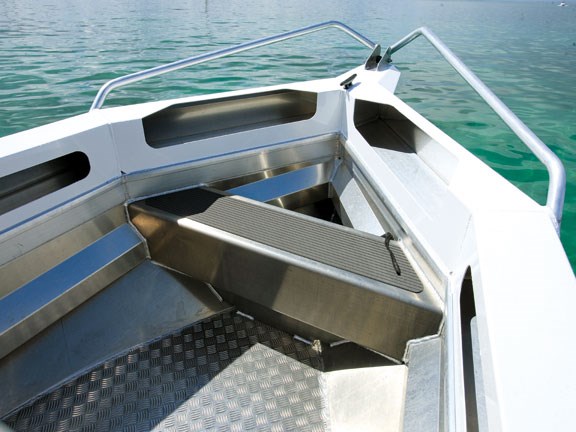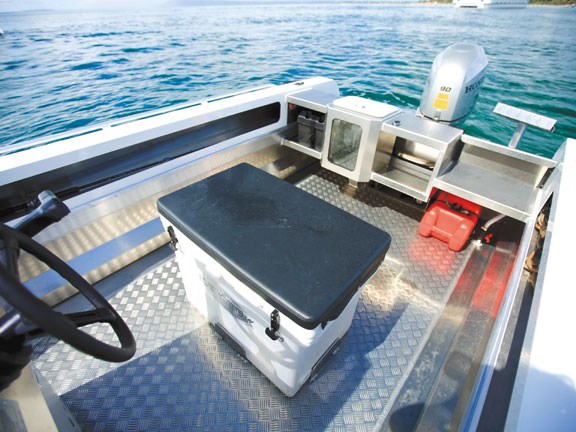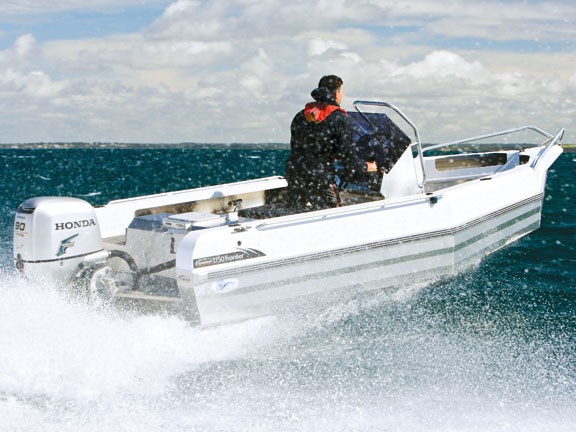 What makes the perfect fishing boat?
Stabicraft Marine is having a barnstorming run across the Tasman. Readers of last month's edition will be aware that the company's superb 2150 just cleaned up at the second annual Australia's Greatest Boat competition. Of course, we at Trade A Boat already knew that the machine was a fine fishing weapon as it was judged our "Boat of the Decade" in February. Most readers will also be aware the company has been building great, general, workhorse boats from its factory in Invercargill, since its inception in 1987. However, the company has not necessarily been famous for building serious fishing boats. That's not to say that Stabi's haven't gone fishing in the past – they most certainly have, and with good success. But the company didn't seem to put much emphasis on that sector.
So what's changed? I suspect it has a lot to do with Stabicraft's successful relationship with TV fishing guru Matt Watson. He has long recognised that the hull has superb sea handling and inherent stability, and was prepared to put his money where his mouth is and own one.
I think it's fair to say that Matt knows a thing or two about what makes a good fishing platform, and, without wanting to put words in his mouth, this is what I think he would say:
1) It has to get you and your gear to the bite and home again in one piece 2) It has to be able handle the unexpected and not sink 3) It has to be stable platform 4) It must have adequate working space 5) It must have space to put all the "fruit".
Now, points 1 to 3 have long been characteristic of Stabicraft hulls, point four is easy enough to work around (once you have an expert on hand to explain exactly what that entails), but point 5 is probably the most intriguing.
Whereas many boat builders strive to build a fishing boat that is all things to all people, Stabicraft have learned that fishermen have as many different views on the topic as there are fish in the sea. Instead, the company has focused on developing a few various configurations on the fishing platform theme: a blue water machine like the Supercab, an inshore day boat like the Fisher range, and a specialist in the form of the 1750 Frontier.
But that is about as far as the company goes, leaving the rest as a "blank canvas" on which the new owner can fill in the details as they see fit. Many of the important basics are available as standard, or can be optioned in, but customised touches are left in the hands of the customers – experienced fishers are likely to have quite specific ideas.
I, for one, like this approach. I have been on a large number of "self-proclaimed" perfect fishing boats and have found flaws in all of them. It may not be fair to call them "flaws", but many years of fishing have left me with set ideas on how some things should be done, in order to suit my own particular thoughts on the topic.
And that brings us to the Stabicraft 1750 Frontier presented today. This hull, coming straight off the factory floor, is most certainly a fishing boat, but in no way is it ready to go fishing. It does have a good sized live-bait tank and plenty of side storage for rods and other "essential" fishing equipment, but, as stated, the rest of the set-up has been left to the happy new owner to customise as they see fit.
So how does it stack up as a platform against the five basic requirements as above?
1) Will it get you to and from the bite in reasonable conditions?: With an overall length of only 5.25m and an open configuration, the 1750 Frontier should have been out of its comfort zone in the conditions we faced today. At times, the wind against tide conditions produced potholes more than a 1.5 m deep. However, we were able to run reasonably comfortably at around 20kts straight into the sea. We did button off into the larger waves to protect ourselves more than the boat, and we didn't get wet. Running with the sea slightly off the bow was even more comfortable, but it did throw some spray across the boat, as would be expected on any open vessel. Running beam-on and down the sea allowed us to trim the vessel for more speed and we had no trouble maintaining 25 plus knots.
With adequate fuel on-board (we only had a 250-litre tote tank), I am happy to say we can tick box one.
2) Will it handle the unexpected?:
Stabicraft boats are renowned for their safety. The quality of construction is industry-leading and the product consistency is a hallmark of the brand. As a boat reviewer, I have a great deal of respect for these boats: once called "ugly ducklings" because of all the angles on the hulls, you will not break a Stabicraft – with those angles comes strength.
On top of the robust construction are independently sealed pontoons, raised battery boxes, more than 1500 litres of reserve buoyancy and a bilge pump as standard, plus the option of duckbill self-bailers, so we can safely say that the 1750 Frontier is prepared for the unexpected.
3) Stability: This is another area in which Stabicraft boats are virtually unrivalled. The first hulls out of the shed at the company's birth were purpose built for commercial paua divers, who required stability above all else. The 1750 Frontier is no different, with excellent stability laterally as well as longitudinally.
4) Space to swing a rod: Centre console configurations are all about specialist fishing techniques. Good ones are ideal platforms for soft bait or casted lure fishing, mechanical jigging, and, at the extreme end of the spectrum, saltwater fly fishing. This hull is as good as it gets in that regard: there are no overhead obstructions, and it couldn't be easier to walk around and aim a precise cast as the deck is completely clear of tripping and entangling impediments.
5) Space for the "fruit": As mentioned a few times, this hull is presented straight off the factory floor and needs a good deal of customisation to be ready for serious action.
I think most buyers would opt for one of the new, ultra-widescreen, marine navigation machines, and there is plenty of room on the dash for such a quality unit. While there are good sized side pockets for rod storage and a few rod holders, I would want to add more, along with an overhead rocket launcher to cope with my personal arsenal. There is plenty of gunwale space to go as crazy as you like, adding nice additional extras like downrigger attachments and outrigger bases.
Draw your own conclusions about where this leaves the Stabicraft 1750 Frontier in the fishing platform stakes, but it ticks plenty of boxes for me.
The Stabicraft 1750 Frontier on the water
Later in the day and in calm conditions, the 90hp four-stroke Honda, which is at the maximum end of the recommended power range for this hull, delivered more than 35kts at WOT. With two passengers on-board, the engine has almost too much power and could easily throw you off your feet. It is worth mentioning that, unlike many centre console hulls that are often just standard boats with the cabin cut off, this boat has been designed solely as a centre console fishing platform. The driving position has been moved forward to redistribute the weight and reduce porpoising (often an issue with modified CC hulls). Porpoising is one reason that new owners should resist the urge to bolt larger engines than recommended to the transom of any centre console hull, as you are likely to face a reduction in overall performance.
From a driver's point of view, I found the Frontier to be fairly exhilarating once I got used to the helm configuration. The acceleration and turning abilities are impressive, and you do need to hang on.
"Hanging on" raises a few issues if you are standing as there is not much to brace yourself against. A necessary handle runs across the top of the helm station close to eye level, but, to be honest, this whole area needs a little tweaking in order to be perfect.
A 105-litre Icey Tek fish bin doubles as a seat for two. I like the idea of this seat and it makes good functional use of the limited space available. However, it does need strapping down as I often tipped it backwards with my leg when bracing hard in the corners.
The verdict
I like this boat, and, with a few tweaks, would happily own it. As a platform, it's perfect for my more specialised taste in fishing styles. I know I could go fairly crazy fitting out this "blank canvas" with all the toys my heart desires, and, with that in mind, the bare hull is priced accordingly. Its on-the-water performance is likely to be close to class-leading, and you will never break it. So, all-in-all, the Stabicraft 1750 Frontier gets a confident tick from me.
For more information on the Stabicraft 1750 Frontier, contact Stabicraft Marine, ph 0800 478 224
WE LIKED Open invitation to tailor the boat as you see fit Stability at rest and at speed is class-leading Bullet-proof construction
WE DIDN'T LIKE Console set-up needs a few tweaks
Visit www.tradeaboat.co.nz and type "Stabicraft" into the search bar to view this and other Stabicraft models for sale.
Keep up to date with news from Trade-A-boat or like us on Facebook!