Boat test: Foveaux Custom 9m
---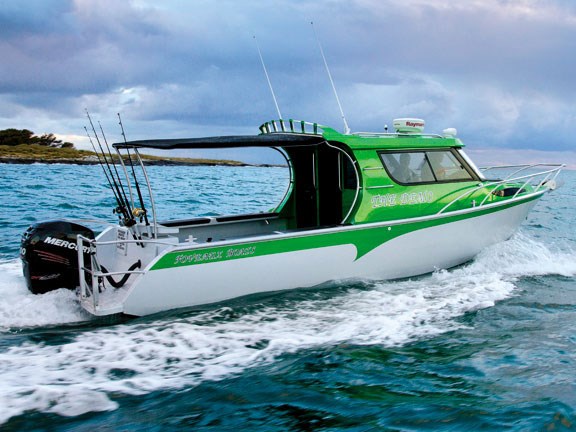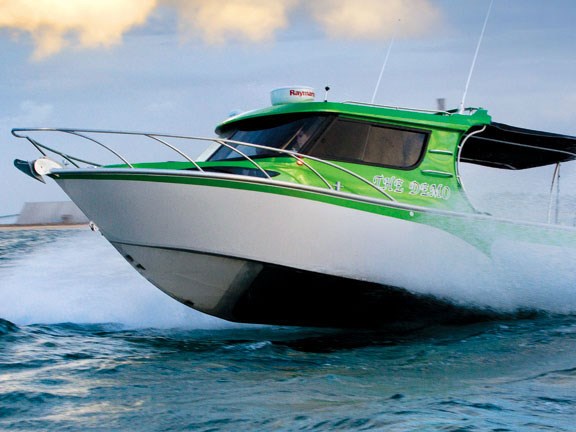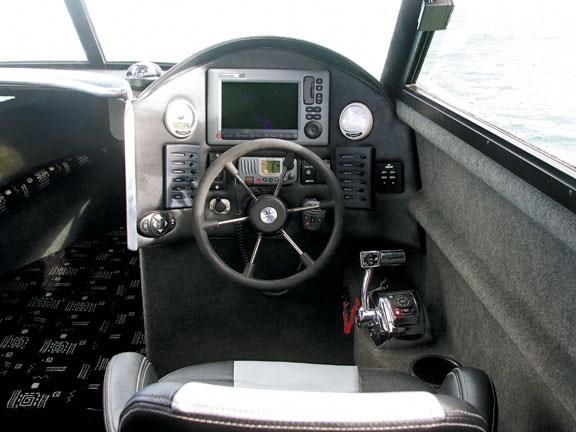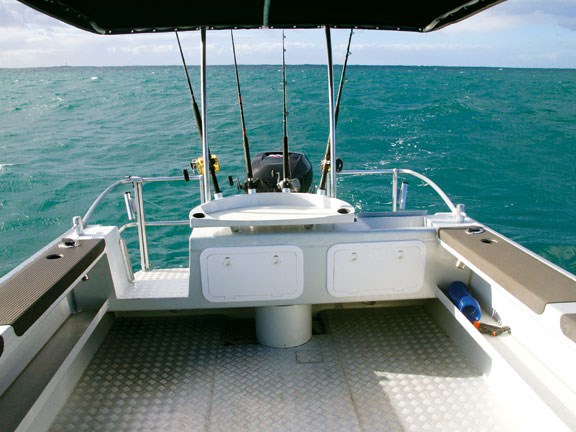 There's something new brewing in the Deep South. Matthew Jones headed to Bluff to check out Foveaux Boat's brand-spanking-new Custom 9m demonstrator, aptly named "The Demo"
Weather conditions: 20-30 knots W
Sea state: Morderate - rough
They breed 'em tough in Bluff - they have to or they won't survive the harsh conditions, and the same goes for their boats. You don't have to live there, or have even been there, to know how treacherous Foveaux Strait can be - the news headlines are tragic and all too frequent. I admit to being both excited and just a little bit nervous when I got asked to venture to "Land's End" to take a demonstrator from a brand-new boat building company for a test spin in the notorious waters of Foveaux Strait. And with a turbulent patch of water at the entrance to Bluff Harbour - named "Hell's Gate" - and treacherous rocks, with names like "The Widowmaker," I had good reason to be. But I was confidently assured she was built for Bluff and Bluff conditions. Indeed, Foveaux Boats' advert read, "No-obligation sea trial welcome. Rougher days preferred!" So I eagerly packed my bags and headed South.
Who is Foveaux Boats? Foveaux Boats is a new division of the Port Maintenance Group. However, it's fair to say it's been around for a while, with over 40 years' experience in the marine and engineering industries. The team is a versatile bunch, specialising in fabrication, marine engineering, repairs, surveys, salvage, wharf construction, container repairs and, as if that's not enough, they also fix oil rigs. Workshop manager Che Watt convinced managing director John Roderique to open up the cheque book and put Watt's boat building and aluminium fabrication skills to good use. The nod was given in September, aluminium specialist Jason Elvines from Pro Kit Industries was engaged to draw the plans and after a bit of toing and froing to get the look and feel just right, The Demo went into construction in early October. Watt is something of a one-man boat building machine and once the CNC- cut pieces arrived in Bluff, it only took him a couple of months in the shed to construct and fit-out Foveaux Boats' maiden demonstrator, with the champagne bottle smashed just in time for Christmas.
Fisher, diver, weekender Watt's goal was to produce a tough yet sleek-looking trailer boat that could be used for both pleasure and commercial boating ventures. He's certainly ticked the boxes, and where I think this boat really excels is in it's capabilities as a serious year-round diving platform. The cockpit area has ample room to cater for half a dozen bubble blowers, with plenty of underfloor storage to stow the tanks. Access over the side is excellent from either the nice wide gunnels or the generous dive ladder built into the Portofino duckboard railing. With 350 litres of go-juice under the floor, the plentiful hunting grounds of Stewart Island are well within reach for a weekend away - what could be better than climbing on board after a successful dive, having a nice hot shower and then chucking a couple of crays on the barbecue with a cold one in hand? Once the wetsuits are off, the menu can be further enhanced with some fresh fillets, aided by the huge bait board and no less than 17 rod holders! The full-length canvas awning provides excellent protection from the elements but the trade-off is that access to the rocket launcher is impeded and casting room is impacted. In the Deep South, shelter from the elements takes precedence and you'd be hard pressed to find anyone with one of those wimpy little soft-bait rods down these parts anyway. The tread-plate cockpit floor has been raised to provide additional buoyancy, and while it's easy to clean, it's a little lacking in the comfort department. Watt is planning to add tube floor matting to their second boat, with Tek Dek synthetic teak as an option, too.
Family time A true sign of a versatile boat is one that's rugged enough to handle the punishment of taking the lads fishing, while remaining comfortable enough to take the family away for some quality time as well. This boat bridges the gap well. While there are only four berths available on the demonstrator, Watt has plans to almost double the number in Fouveaux's next vessel. It's family-friendly with both the cabin and cockpit areas able to be securely closed off. The separate toilet and shower provides some personal space and privacy, which mum is sure to find appealing. Whipping up a quick feed can be done on the gas hob or barbecue, which mounts on the bait board out the back. Watt got to enjoy the fruits of his labour taking his wife and one-year-old son on a thorough test run through Cromwell, Wanaka, Queenstown and Te Anau lakes over the Christmas break. With its "Green Envy" and Nyalic paint job, sleek menacing lines and one hell of an outboard bolted to the back, I'm told The Demo drew attention wherever she went.
One hell of a good ride Conditions on the test day weren't quite what I was expecting, given the good forecast when the flights were booked. The computer screen told me to expect a brilliant sunny day and 10-15 knots from the West, but the real world dished up 20 knots, gusting 30, with the odd squall and a few hailstones for good measure! To the guy with the camera and a return ticket booked that evening, it's the stuff heart attacks are made of, but to Watt it was the perfect opportunity to showcase The Demo's capabilities. Figuring I may as well make the most of the conditions, I asked Watt whether he was adverse to demolishing a few of the swells rolling through Foveaux Strait and, in true southern style, my request was met with a smile and the reply, "Yep, that'll be good as". After witnessing many a wave come off second best to her fine entry and rock solid construction, I was eager to have a play for myself - and I wasn't disappointed. Sitting comfortably in the helm seat, with one hand on the throttle, the other on the wheel and 300 supercharged horses waiting to be unleashed never gets boring. The Mercury 300hp Pro outboard quietly went about its business and had power to burn, launching nine metres of boat out of the hole remarkably quickly. The Smartcraft DTS throttle system was ultra smooth and responsive, which made controlling all that power an enjoyable and rewarding experience. With the change in tide, Hell's Gate was beginning to fire up, presenting the perfect opportunity to test the ride. This boat really is built tough and charging through Hell and back with 1-2m of swell and wind against tide slop at WOT was quite comfortable, with absolutely no moans or groans from the unyielding hull. The visibility through the large treated glass windows was excellent and any spray we took over the windscreen simply beaded off. An unfortunate warranty issue with the outboard trim unit meant I couldn't unleash the boat's full potential, which was a shame. Watt tells me he managed 37 knots out of her before the trim unit pulled a sickie. Included in the price is a great looking twin-axle trailer, complete with cab-assisted electric brakes. At just under three-tonne on the trailer, you will need a suitable towing vehicle but you'll be rewarded with access to all the best spots around. After returning from giving The Demo a thorough workout, the owner of the B&B I was staying in (with a great view of the harbour) commented that someone " … was really going for it in that green boat out there today, it looked like a lot of fun," to which I replied with a grin, "It sure was!"
The final word Built for Bluff and the harsh conditions that frequent the south coast, The Demo answers its design brief very well. There's no mistaking that this is a serious boat: serious construction, serious power and serious capabilities. Foveaux Boats are masters of aluminium engineering and are happy to custom build your dream boat from seven metres upwards. I'm looking forward to seeing the second Foveaux Boat roll out of the shed, and if the planned modifications are anything to go by, number two should be a good number, too.
For more information on the Foveaux Boats Custom 9m contact Che (pronounced "Shay") at Foveaux Boats, ph 03 212 7674 or mobile 027 225 8274.
SPECIFICATIONS FOVEAUX BOATS CUSTOM 9M
Designer Jason Elvines
LOA 9.0m
Beam 2.6m
Material Marine grade aluminium
Thicknesses 6mm hull, 4mm sides and 3-4mm hardtop
Hull weight 1450kg (approx)
Towing weight 2880kg (approx)
Deadrise 18o
Engine Mercury 300hp Pro four-stroke
Fuel capacity 350L
Water capacity 120L
Priced from $200,000 plus GST ($230,000 including) approx
Price as reviewed $240,000 plus GST ($276,000 including) approx
WE LIKE - The private, separate toilet and shower - Comfortable family-friendly accommodation - Wave-smashing performance with a soft and predictable ride - Great looking and functional helm set-up
WE DON'T LIKE - The line between the polished aluminium keel and the Nyalic coating could be more refined
Keep up to date with news from Trade-A-boat or like us on Facebook!