Tournament 1900
---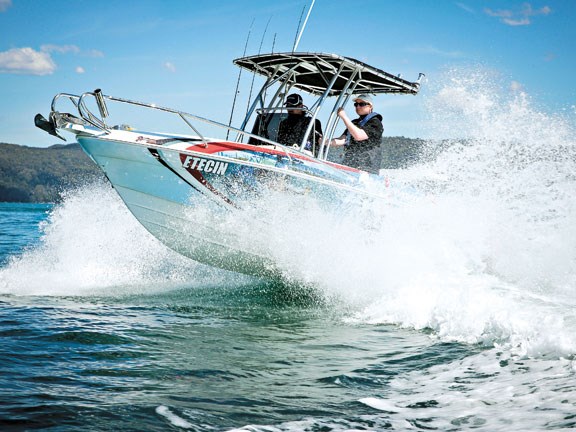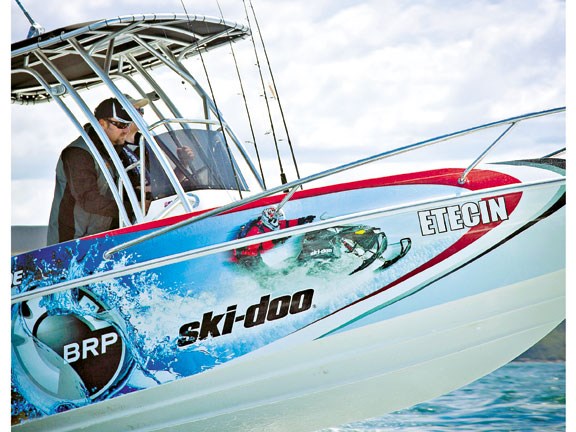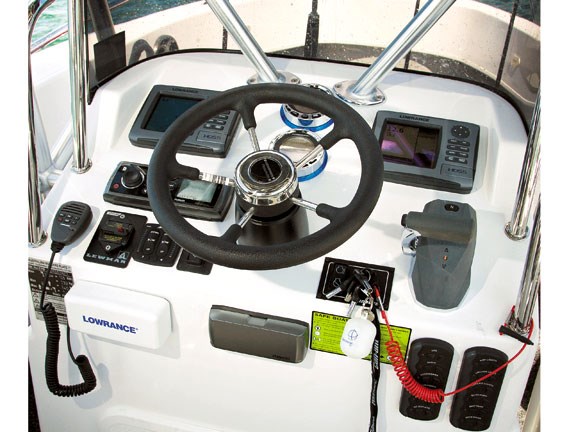 Fibreglass centre consoles have been making a comeback in recent years, and according to Kevin Smith, this example – a Tournament 1900 – is one particularly worthy and value-packed option.
WEATHER CONDITIONS
Wind 8-20kts northerly
Sea 1-2m swells
I've always been a huge fan of centre consoles and I've owned a few in my time; it's quite a common format in my native South Africa, due mainly to their fine surf-launching capabilities.
When I came down under on a holiday in 2007, I was amazed by the lack of centre consoles here. From that point on, a metaphoric light bulb blinked on above my head, and some years later I relocated here, bringing a centre console out with me – I intended to capitalise on what I perceived to be a gap in the local market.
The boat with which I hoped to plug that gap was in fact rather similar to the Tournament 1900 on test here, but as I soon discovered, my first foray into the Aussie boat market would prove fruitless.
Besides the market being in the grip of the global financial crisis, potential buyers were concerned with the quality and warranty backup on imported products and they were loyal to their local brands. I learned some valuable lessons with that brief venture, and needless to say, I won't be doing it again in a hurry!
The Tournament 1900 centre console isn't new; in fact, I first became acquainted with this model after its release in late 2009. BRP, the firm behind brands such as Sea-Doo and Evinrude, held its annual dealer and press conference at Tangalooma Resort on Moreton Island, Queensland. There, it had an assortment of Tournaments on offer for testing, each fitted with new Evinrude E-TECs, and over a few days I got to know the 1900 centre console quite well.
This time around, the only difference was the fact that our test boat was fitted with a powerhouse of a 150hp E-TEC, and it came dripping with accessories and high-grade electronics. You name it, this boat had it: twin Lowrance HDS-5 sounders and GPS, trim tabs, a decent sound system, an awesome custom alloy T-top, a windlass anchor system and more.
So does a centre console have the edge over boats with cabins or forward consoles? Well, as is the case with any boat format, there are pros and cons. Centre consoles, in particular the larger ones, are generally a niche product; in my opinion, they're ideally suited to serious fishos who require plenty of fishable space. Put simply, a centre console's open bow allows you to fish more comfortably when you have extra people on board, and gives you 360 degrees of fish-fighting space.
Other centre console benefits include their ability to handle short chop and their inherently dry ride. Remember, these boats don't have the protection of a nice, big cabin with a screen and clears, so a soft, dry ride is essential if long distances in rough waters are on the agenda.
Down to business
While the Tournament 1900 centre console I tested back in 2009 was fitted with a 115hp E-TEC, the subject of this test was fitted with the standard maximum rating of 150hp. With that sort of power on the back,
this fairly light monohull meant serious business.
The outboard featured Evinrude's I-Control fly-by-wire system, which is ultra-smooth to operate and very responsive. In fact, it's so responsive it takes a little time to acclimatise; with these controls you can knock the donk down to WOT very easily. A hydraulic steering system had also been employed, something of a necessity for a powerful engine like this.
Dual I-Command gauges were fitted, and the engine was fully integrated with the Lowrance HDS-5s through NMEA.
Handling and ride
With the gutsy E-TEC on the back, there was no hesitation when it was time to get up and go. A tap on the fly-by-wire controls rocketed the boat onto the plane in an instant, seeing it leap out of the hole. This kind of power demands respect – make sure any passengers are holding on tight, or they'll be on their backsides before they know it.
The 1900 centre console planes with little effort, and once you're in calm water you can tap right off to around 3100rpm at a speed of 14.7kts (27.2kph). Tap the throttle up and the boat surges forward – you'll be flying in no time. I recorded 27kts (50.0kph) at 4100rpm (a really comfortable cruise speed), 35kts (64.8kph) at 5000rpm and 36.4kts (67.4kph) at 5450rpm.
Although that last figure constitutes serious business, to be honest I expected a little bit more out of the 150hp E-TEC at the top end. Judging by these figures, I think a slight adjustment to the engine height would pull the revs up and add a little to the top end. Having said that, this motor was set up slightly lower to eliminate cavitation, which is the way I would prefer it. Huge top-end power is not a priority of mine anyway.
As for the ride, the 1900's hull handles that big E-TEC without a worry. Stability is excellent and it's a dry ride: the chine design effectively deflects spray down and away from the boat – a dry skipper is a happy skipper!
The Tournament took the offshore swell, chop and 15-20kts wind of Pittwater in its stride. These waters are a great proving ground for any boat, especially when there's a south-easterly blowing. Around the heads, swell comes from all directions, and combined with tidal movement and the wind it can get pretty nasty. At lower speeds, between 14-18kts (25.9-33.3kph), the 1900 hull rode superbly – this is a really nice speed to maintain in rough conditions.
Slightly higher speeds in the rough were also no problem, although you'll get bumped around a bit if you don't work the throttles effectively between the swells. It's the old compromise: having a reasonable ride with better stability or a super-soft ride with less stability. Personally, I like good stability offshore and I don't mind losing a bit on the speed side if need be. Indeed, earlier on in the day, with conditions still relatively calm offshore, I had the boat sitting comfortably at 25-30kts (46.3-55.6kph) in all directions to the swell.
I'd certainly be happy to take the Tournament 1900 centre console some distance offshore and I wouldn't be too concerned if the conditions deteriorated – the hull can handle it. You can also bash this hull into some serious turns at speed and it holds firm on the water without sliding or grabbing on the outer chines.
Generally speaking, this hull offers impressive performance and is a great match for the varied conditions we experience in Australasian waters.
Fishability
Centre consoles generally have a heap of extra space compared to forward consoles and cabin boats, and that's true of this 1900. Our test boat featured a rear boarding platform, livewell, deck wash, bait board, rod holders and a full rear lounge, the latter folding up to reveal access to the batteries and plumbing below.
The gunwales are at a comfortable height, with side pockets and toeholds in the stern. On this model, the side pockets also have optional, lockable gunwale storage compartments – a nice added feature. The gunwales are also wide enough to accommodate rod racks.
The deck area has a clip-in carpet which was pleasant underfoot and easy to remove for washing.
Up in the bow there's a stepped section that serves as the main casting deck, as well as some hatch stowage, an anchor well (with windlass) and stainless bowrail. It's fairly simple as far as layout is concerned, but that's exactly what centre-consoles are all about: uncluttered, open fishable space.
The boat has a wide double-seat you can sit and drive from, or stand and lean against. The backrest also pulls out to open up the extra rod holders behind it.
The console definitely catches the eye as it bristles with all manner of electronics, in this instance: twin Lowrance HDS-5s; dual I-Command gauges; a Fusion CD/stereo system; Bennet tabs; Lewmar windlass anchor system controls; Lowrance VHF radio; dual-switch panels; and LED lighting; all protected by a very sleek aluminium T-top and full screen.
This Tournament 1900 had been set up perfectly for the type of fishing I enjoy, and it just shows how well a simple centre console can be configured to make your life on the water that much better.
Verdict
I really enjoy the sense of freedom you get with a centre console: they're great for fishing and can also be adapted to suit other applications, such as watersports or (with a few drop-in seats) family days on the water. And, at 5.8m, this boat is still quite manageable and reasonably easy to tow.
This is definitely one of the few Australian centre consoles that ticks most boxes. It represents good value, especially when you compare it to some of the imports available at nearly double the price.
Superb performance, nice ride, good finish, tough looks – it's a winner.

For more information contact Tournament Pleasure Boats, ph + 61 7 3807 6999.



WE LIKED
Very cool electronics package
Awesome performance and handling
Excellent stability
360° of fishability

WE DIDN'T LIKE
Not the greatest family boat, although some mods would change that
I'd like better permanent rod racks in the gunwales
More angle to the dash would make it easier to read the instruments
Keep up to date with news from Trade-A-boat or like us on Facebook!