Bring on the weekend
---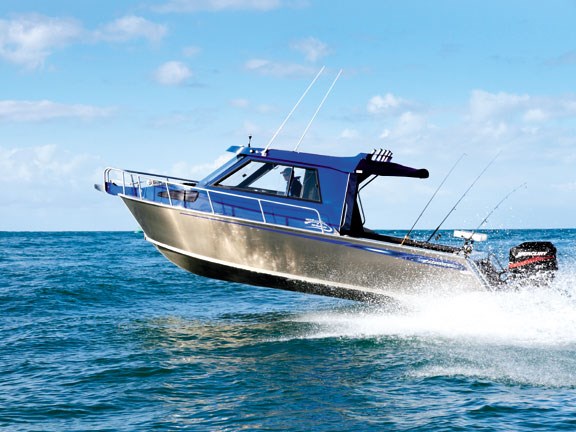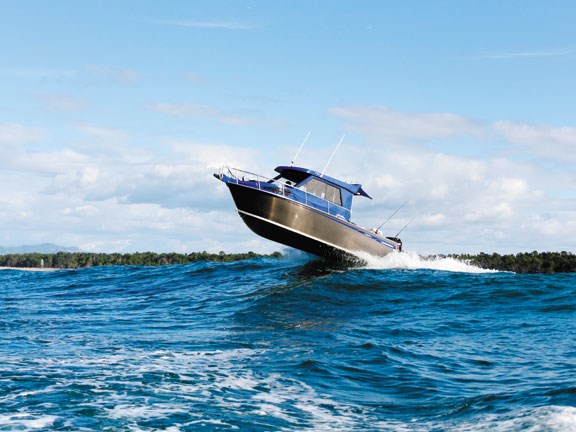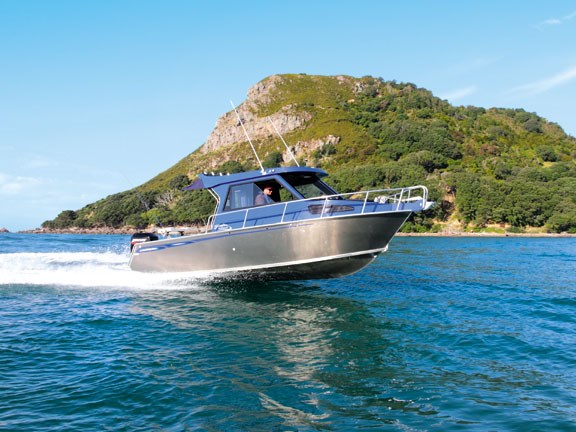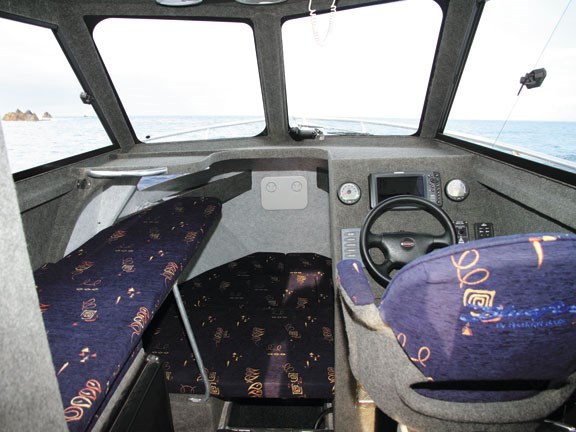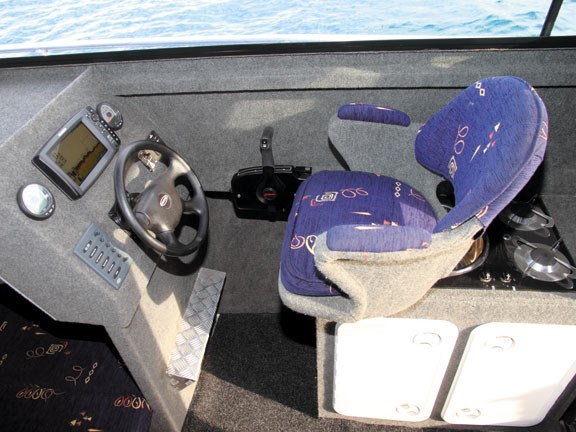 The weekends are never long enough, so squeezing the most out of them goes without saying. Matthew Jones heads to Mt Maunganui to check out the Bluefin 769 Weekender – a boat designed with weekend maximisation in mind.
The family that plays together stays together, and that motto definitely rings true at Sportcraft Boats. The business was founded in 1987 by former New Zealand Offshore title winner Spencer Black, who designed and built his first boat some 60 years ago at and age when most young men are more interested in other pursuits. Black has a wealth of experience which only time on the water can buy, and can still be found for a yarn at the company's Morrinsville branch.
Black's son and managing director, Jamie, oversees the Mt Maunganui branch and deems himself very fortunate to have grown up in a boating family. While the marine industry has seen more than its fair share of hard times over the last couple of years, he still enjoys the fact that their business allows other families the chance to enjoy the boating lifestyle through the companies focus on affordable and usable designs.
Sportcraft Boats initially began as a boat dealership, selling another well known brand of aluminium boats until supply became an issue which prompted a move into manufacturing. They started with their own Scorpion brand, which they designed themselves, and later purchased the Bluefin range, which they've now almost completely redesigned based on customer feedback and their own on-the-water experience.
The Black family are keen fishermen, water skiers and divers themselves so they know what works and what doesn't. "It's one thing to design boats, but you've still got to put them in the water and see how they go," adds Black.
Happy wife, happy life While most blokes are quite content to relieve themselves over the side for all to see, this doesn't wash so well with the ladies – neither do foul odours while trying to sleep.
Black explains the inspiration behind the design: "The 769 Weekender evolved out of our existing Bluefin 769 design. My wife didn't want to sleep over the toilet, so when we'd go out she would take the chemical toilet out of the front and put it out the back at night. That got us thinking that we should design one with a separate toilet and shower, without sacrificing too much space."
To keep the wife really happy, they've also included a sink, gas cooker and hot and cold running water.
"It works really well, as you can keep the cabin as your living area and the cockpit for fishing and making a mess," explains Black.
The separate toilet/shower cubicle features a handy sliding window to allow fresh air in and steam to escape. In keeping with the design brief, space is fairly tight, and at 6'1 I had just enough knee space to sit with the door closed, although an internal handle would be useful. Our test boat only had a 40-litre fresh water tank fitted and Sportcraft Boats will be including at least 100-litre underfloor tanks on all future 769 Weekenders.
The gas califont (featuring adjustable temperature) is neatly hidden within a compartment in the cockpit to allow easy access when needed.
For the blokes There's quite a bit of space for the blokes to make as much mess as they want in pursuit of dinner, with almost 4m2 of cockpit area available. The floor is easy-to-clean tread plate and, with the addition of a salt water pump or even a good old fashioned bucket and brush, it won't take long to clean up to keep the ladies happy.
A canvas bimini top slides out to cover around two-thirds of the cockpit area while still allowing plenty of casting space at the back. This retracts into the roof recess when not required to store up to five rods in the rocket launcher above.
A rod rack can be included in the shower which would double as a washdown, but check with the wife first before optioning in that feature. Storage for the rest of the arsenal can be found in the lengthy parcel shelves which are nicely lined. A rear-facing spotlight provides options for night fishing or entertaining.
Wide thigh-high gunnels provide a solid seat when fishing and some rubber non-skid will increase both the backside comfort levels and overall safety factor.
A huge live-bait tank is included in the walk-through transom to keep the kingfish candy nice and fresh. For the dead baits, a good-sized bait board is attached via a couple of rod holder mounts. This can be removed or pivoted forward to allow access to the fuel filler cap below, the location of which allows both fuelling at the wharf or petrol station.
The boarding platform is of a decent size, being designed specifically to cater for divers. Getting back on board with dinner should be easy thanks to the lengthy boarding ladder, twin handholds and walk-through transom. The hunter-gatherers can then enjoy a quick hot shower while the crays are brought to the boil on the twin gas hobs. A gas fridge is also included to ensure the days catch can be washed down with an appropriately chilled beverage.
The battery switches, oil reservoir, fuel primer and twin batteries are all easily accessed, hidden behind compartment doors in the transom.
Kitchen sink included Moving forward into the cabin to port, a gas fridge is neatly tucked beneath a child-sized bed. This also folds down into a forward facing seat, or it can be left up to seat three. To starboard the helm seat lifts forward to give unrestricted access to the twin burner gas hob and sink. The large windows slide easily and can be opened at either end. A large V-berth in the bow will sleep two adults plus a child, with shallow storage available below due to the sealed buoyancy.
The cabin door size is quite cosy, with the bottom raised to discourage water from entering the cabin, and those with long legs will also need to remember to duck upon entering. It latches back securely and is lockable to keep your possessions safe while out exploring.
There's space to stow an inflatable or a couple of sunbathers on the roof and nice wide sides to walk around, although optioning in some non-skid would be advisable to prevent an unplanned swim.
Locked and loaded It was a sunny Friday afternoon when I met Jamie Black and the Sportcraft crew at Mt Maunganui. He had kindly supplied the Scorpion 610 Hardtop as our photo boat, along with a couple of male models/photo-boat drivers – see next month's issue for the verdict on how that one went. We eased the boats off the trailers at the ramp before heading out past 'The Mount' into open water.
The Mercury 200 EFI felt a good match for the hull and had plenty of torque getting her up on the plane quickly. Gull-wing hull designs can have a noticeable planning transition when eased up slowly and like to be driven fast. We made the 6nm run out to our fishing spot at Karewa Island comfortably at 29mph (25 knots), with a one-metre-plus easterly swell from the front quarter.
Vision at the helm is excellent, and the abundance of large safety glass allows plenty of light and scenic views to flood in. All the controls are within comfortable reach and electronics are easy on the eyes. However, they weren't all hooked up on our test boat, ruling out recording any RPM or fuel usage figures. There is more room available on the dash than you'll ever need and fresh air is forthcoming through the large sliding side windows.
With the sun setting, just enough snapper in the bin for a feed and a front approaching, we flicked the automatic anchor into life and headed for shore. A stiffening breeze had turned glassy swells into whisked-up white-capped versions, which presented an opportunity to test how she went in a following sea – quite good actually.
The return trip was once again made at 29mph (25 knots), and while there was the occasional bang returning to the drink due to our throttle heavy pace, overall the ride was quite soft, with absolutely no give from the solid hull. The optional wiper and Lenco trim tabs were handy additions, allowing good vision and a dead-level attitude to be maintained whatever the wind and swell angle.
While the Weekender configuration is only about one year old, the hull itself is well-proven, having been around for about five years. Heading up calmer waters along the inside of Matakana Island for the go-fast test, we recorded a top speed of 45 mph (39 knots). Thanks to the gull-wing hull and the closed cabin door, this felt super smooth, exhilarating and relaxing all at the same time. So relaxing, in fact, that Jamie casually turned the wheel and did a U-turn at WOT! Although this isn't something I'd recommend trying at home, in credit to the hull design, there was no slip whatsoever and the speed only dropped to 37mph (32 knots) throughout the tightest part of the turn, before quickly recovering for the speedy return trip!
Sportcraft Boats manufactures its own range of Sportline trailers, allowing you to visit a different part of the coastline each weekend. Our test rig was supplied on a multi-roller, twin-axle, braked trailer with submersible LED lights, which we easily towed to and from the ramp in a Ford Falcon station wagon.
The last word The Bluefin 769 Weekender's configuration lends itself nicely to enjoying plenty of time out with a young family, without having to make a jump in boat size and subsequent expense. Sure, space is tight in places but, overall, a good balance has been maintained and, with its excellent, quality paint job, the boat is pleasing on the eye – that should help to sway the wife's opinion. The only problem is the weekends are never long enough.
For more information contact Sportcraft Boats, ph 07 928 7193 or visit sportcraftboats.co.nz
SPECIFICATIONS BLUEFIN 769 WEEKENDER Designer Sportcraft Boats LOA 7.69m Beam 2.50m Material 5083 marine-grade aluminium Hull bottom 5mm Hull sides 4mm Hull weight 1420kg Towing weight 1940kg Deadrise 17o Transom height 25" Engine Mercury 200hp EFI outboard Maximum hp 300 Fuel capacity 200L Water capacity 40L (increasing to 100L) Price as reviewed $101,500
WE LIKE Private, separate toilet and shower with sliding window Roomy, easy clean cockpit Comfortable accommodation Wide gunnels and side walk-around Empowering helm set-up, with plenty of vision
WE DIDN'T LIKE Cabin door height could cause a headache for taller blokes No handle on inside of toilet door makes closing from the inside tricky Water capacity a bit light (to increase to 100 litre tank on future boats) No non-skid on gunnels or walk-around (options)
Keep up to date with news from Trade-A-boat or like us on Facebook!