Fi-Glass Warrior
---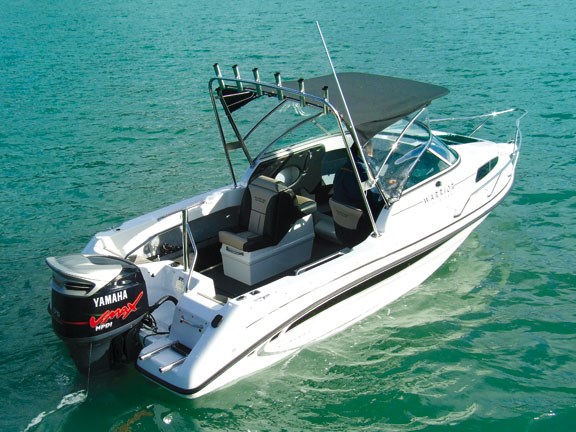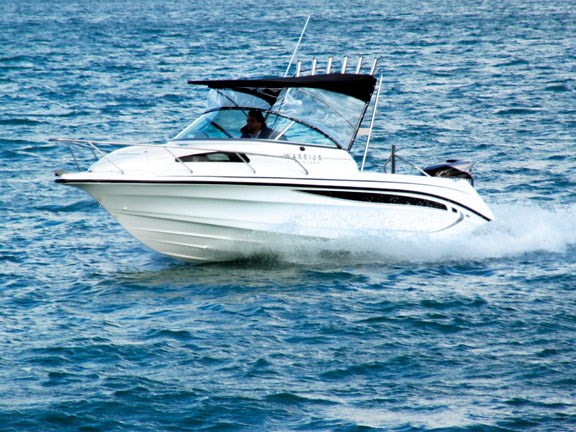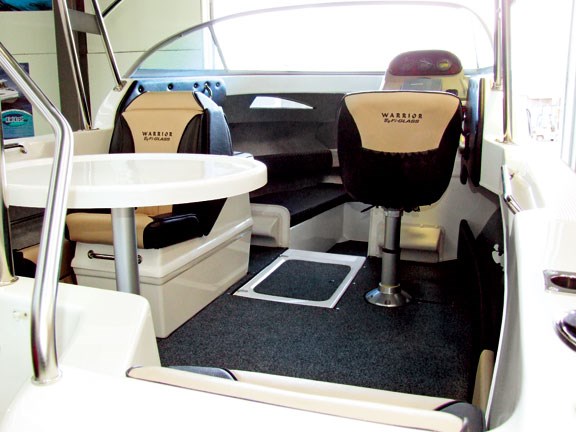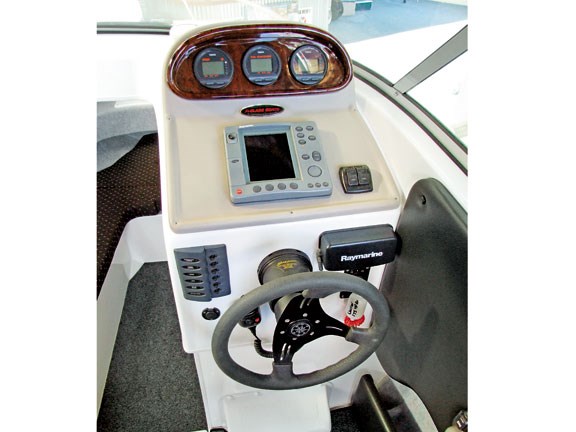 The Fi-Glass Warrior has certainly stood the test of time, proving itself as quite the dependable trailer-boat over the years. We take a look at a golden oldie that can still prove its mettle in today's market…
Fi-Glass builds a range of trailerable powerboats designed and built to give years of trouble-free service, while maximising enjoyment of the boating experience.
At 6.4m in overall length, the Fi-Glass Warrior is still a top model in the range and has evolved to bear little resemblance to the immensely popular "Warrior" that anchored the Fi-Glass products range during the 70s, 80s and 90s.
Construction and design
Released in 1998, the Warrior combines contemporary styling cues with an efficient deep vee, and a longitudinally variable deadrise hull design, ideally suited to outboard or stern-drive propulsion systems (to 225hp). Wide, turned down chines, combined with planing strakes, provide lift and a dry ride at speed, in addition to stability at rest. A fine entry for'd (??) cuts through wind chop and allows the boat to accelerate quickly to plane without excessive bow lift.
Developments in GRP manufacturing processes and materials have enabled Fi-Glass to incorporate a "no-wood" construction method in its boats. The use of reinforcements such as Divinicell (in place of plywood), full-GRP stringers and bearers (in place of timber), plus the use of closed-cell foam-filled hulls for strength and added buoyancy, have resulted in "non-rot" characteristics, as well as more efficient production processes. They also and allow the company to offer a six-year limited structural warranty on its hulls.
All Fi-Glass boats are manufactured and fitted out to New Zealand Boat Building Standards – ie they are CPC compliant.
Layout
The foredeck of the Fi-Glass Warrior can be accessed by the walk-around side-decks and there are strong stainless steel bow rails either side. However, it's much easier and safer to make use of the large acrylic hatch in the forecabin roof and the integrated step in the front bulkhead to access the anchor locker.
The locker itself is deep and self-draining and is protected by a cowling that opens back against the port bow rail. A stainless steel bollard combines with the integrated GRP bowsprit and stainless fairlead to make anchoring duties fuss-free.
Vee berths are provided in the forecabin, which could convert to a double with an in-fill squab, but the bases are sealed for buoyancy so there is no provision for storage beneath them. However, the backrests form deep and wide parcel trays along each side of the cabin.
 
Upholstery has historically been completed in-house, finished in durable fabrics. The cabin sides and roof are fully lined, and while the hatch and side-light windows provide ample natural light by day, a 12-volt electric light is fitted for overnighting purposes. A lined, removable panel on the back of the helm station provides access to the electrics and steering for maintenance.
The absence of a full bulkhead to port opens up the space between the forecabin and the cockpit. The high, curved one-piece acrylic windscreen provides excellent protection from wind and spray, and the optional stainless steel-framed bimini cover can be supplemented with PVC clears to enclose the for'd cockpit space for comfort in inclement weather. A six-rod rocket launcher is also incorporated into the bimini frame, while a GRP hardtop is another optional extra.
The starboard helm is nicely laid out, with three Yamaha digital gauges monitoring engine speed, boat speed, fuel usage, trim, etc, mounted atop in a woodgrained fascia. Flush-mounted above the helm is a Raymarine L760 plotter/sounder, flanked by electric actuation for the trim tabs.
A Raymarine VHF radio is also flush-mounted and a six-gang switch cluster controls the bilge pumps, lighting, etc. Our test boat was also fitted with a Sea Star hydraulic steering system, and the helm seat is a single pedestal type, adjustable for'd/aft and for height.
To port, a king/queen arrangement tilts forward to expose a cavernous dry storage area beneath. Access to the central underfloor storage locker is via a hatch in the cockpit sole between the seats. The stainless steel fuel tank, 140 litres in capacity, is centrally mounted under the cockpit sole, aft of the locker, and this can be upgraded to 200 litres, if required.
UV-resistant carpets can be quickly removed to expose a non-slip gelcoat cockpit sole, which is easy to wash and clean after fishing activities.
Generous rod/gaff storage comes in the form of racks, with shelf space beneath along each side of the cockpit.
Centrally located in the aft section of the cockpit is a removable GRP table, and removable seat squabs in each corner aft allow standing room against the coamings when fishing, while a domed vinyl cover protects batteries located centrally under the engine well.
A strong triangulated stainless steel ski pole sits ahead of the engine, while the Portofino-styled transom includes boarding platforms either side of the engine. A stainless steel folding boarding ladder and grab rail are located on the starboard side; other stainless steel grab rails are ergonomically located along the inside of each cockpit coaming, along with a rod holder each side aft.
Performance and handling
Lyttelton Harbour was still feeling the effects of a moderate southwesterly blow when we launched the Warrior for our on water trial. Although the sea state was not particularly rough, there was a short wind chop. The wind was cold and the occasional shower of rain hung around the summits of the port hills that ring the harbour.
The Yamaha V MAX 175hp (high-pressure direct-injection, two stroke) engine fitted to the transom of Griff's Warrior burst quickly to life, and once the winch rope and safety chain shackles were undone, the boat slipped easily from the Fi-Glass-manufactured multi-roller trailer.
In deference of the average weather conditions, the team at Fi-Glass had elected to fit the PVC clears around the bimini and along the top edge of the windscreen. This provides a snug haven for anyone trying to shelter from the elements.
The flat chines and planing strakes do a good job in keeping windblown spray down and away from the boat. The fine entry cut through the chop like a hot knife through butter, and the Warrior delivers a ride that's every bit as smooth and dry as expected.
She only requires minimal applications of tab to optimise the ride, with the main benefit being able to stabilise a deep-vee monohull's tendency to heel in strong side winds.
The Warrior displays tenacious grip and cavitation can only be induced under severe provocation. The boat is rated for a maximum of 225hp but performs very well with 150hp, so the 175 V MAX was a nice compromise, offering satisfying mid-range punch and plenty of grunt off the mark for towing waterskiers and/or water toys.
The wrap up
Although you would hardly call the Warrior an entry-level boat – she is too well specified for that – it would make an ideal first boat for a family to get into the boating lifestyle, especially as, at 1600kg towing weight, it does not necessarily require a large 4WD to tow it.
Built to a high standard to ensure hassle-free boating for years to come, it is large enough to provide space for family, friends and gear, and easily handled with has no nasty habits or vices.
For more information contact Mr Boats, ph 03 384 3199.
SPECIFICATIONS
Fi-Glass Warrior
LOA - 6.4m
LOH - 6.1m
Beam - 2.3m
Deadrise - Variable, 22o at transom
Engine - Yamaha V MAX, 175hp, HPDI, V6, 2-stroke
Max hp - 225
Trailer - Galvanised steel frame, tandem axle, multi-roller
Towing weight - 1600kg
Price (used 2007 model) $53-54,000

Keep up to date with news from Trade-A-boat or like us on Facebook!