Sportscraft Scorpion 610 HT
---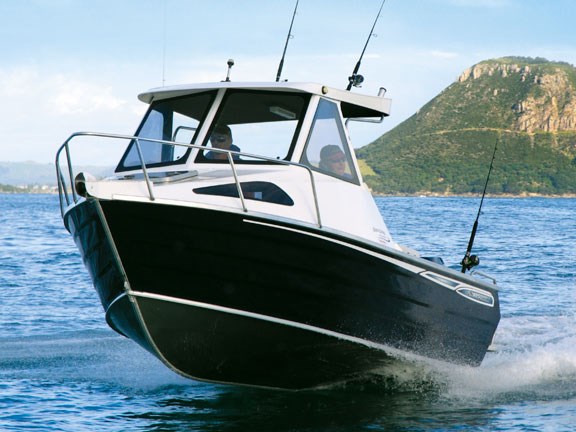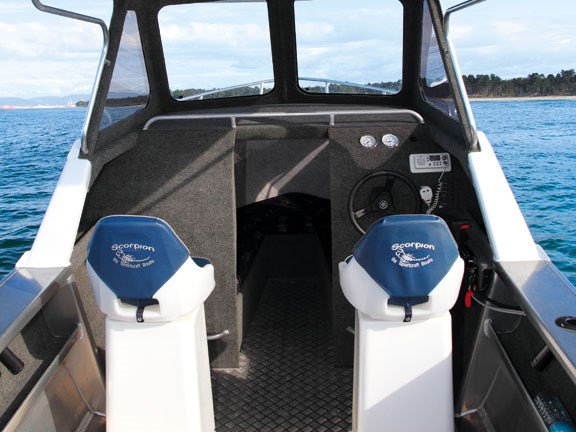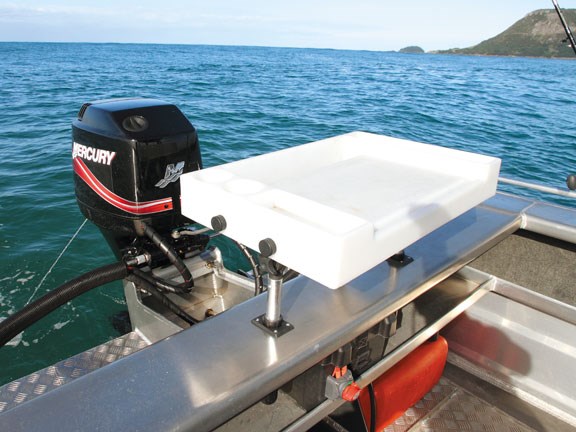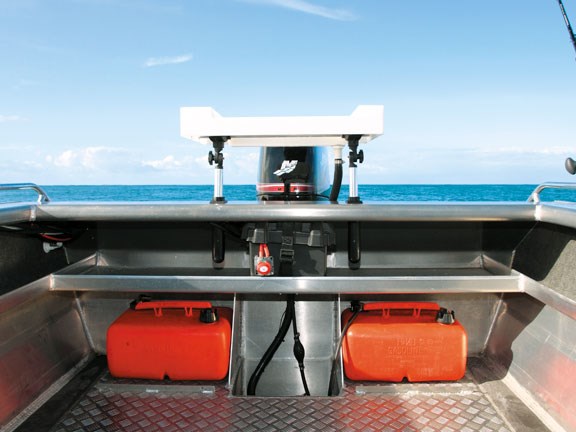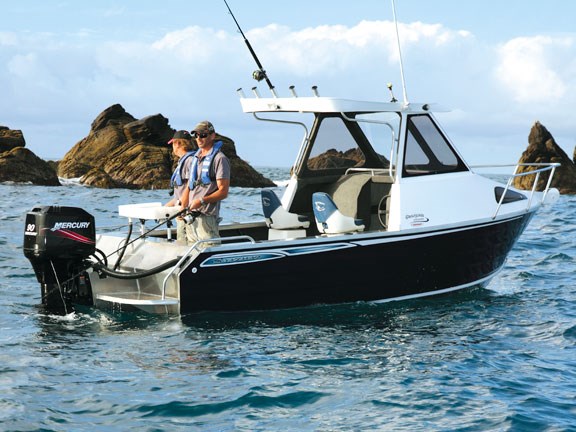 Matthew Jones checks out a versatile and affordable all-rounder in the Scorpion 610 HT from Sportscraft Boats.
Sportcraft Boats first opened its doors when fluorescent clothing and bad hairstyles were all the rage. Now, some 23 years on, the hair and clothing have thankfully changed for the better, but one thing remains the same: Sportcraft Boats is still producing usable, affordable designs that enable more kiwi families to make the most of the stunning coastline that we've been blessed with.
There is no middle man when it comes to dealing with Sportcraft Boats either; the company has left him out of the equation to keep their boats as affordable as possible by manufacturing and selling their own extensive range of aluminium designs. All bases are covered with Sportcraft: from small dinghies through to 10m commercially used hardtops and everything else in between.
More for less
As we move into the cooler months the protection that a hardtop provides certainly becomes much more appealing especially if, like me, you need your fishing fix to stay sane. Sportcraft Boats wanted to make year-round fishing as accessible as possible to the average Joe, so set about adding a hardtop to their popular, affordable and well-refined Scorpion 610 hull.
Managing director Jamie Black explains the philosophy behind the design: "We've taken our proven 6.1m Scorpion hull, which we've continually tweaked over the years to make even better, and added a full width hardtop to give you more room in the cabin. The hardtop sides have been brought forward to reduce the weight and windage so the hardtop doesn't weigh the boat down or cause it to flop around. We've retained the 1.9m berths with good headroom in the cabin so even taller people can sit or lie down without smacking their head, and it's actually got more room in there than some of our bigger hardtops, which our long legged customers really like.
"It's also nice and wide giving it good stability and there's ample room in the back for fishing. It would have to be the best value buying hardtop on the market. It's basically a good all-round boat for doing a bit of everything with, allowing you to expand you're boating opportunities while still remaining easy to tow," adds Black.
Versatility plus
While the Scorpion 610 Hardtop lends itself more towards a capable all-round fishing platform, if you don't want to call it a day, the full length berths with storage beneath would allow a comfortable night's sleep for a couple of good mates. Entry through the cabin door could be a bit of a squeeze for larger blokes but once inside it offers a cosy, fully-lined bungalow, which could be completely enclosed with a canvas door if required.
Further inclement weather protection can be optioned in as well: "Clears can be fitted to the hardtop sides and we've also had a few customers add a road cover with a couple of zips running down the back which gives you a fully enclosed cockpit," explains Black.
The interior is fully lined in all the right places and the Sportcraft team have done an excellent job of both the carpet and overall finish. Handrails are exactly where required and both the driver and passenger get footrests as well. Access to the anchor is through the good quality front hatch which allows easy access to the self-draining anchor well, although, the aluminium edges on the anchor well were a bit sharp for my liking.
To keep the clean up time to a minimum, and the enjoyment factor at maximum, the floor is quick-clean tread plate, which drains into a bilge well (complete with a bilge pump) at the rear. It's completely sealed providing under floor buoyancy but the side panels are bare aluminium and some non-skid should be optioned in for safety and comfort.
Earlier versions came fitted with a 90-litre underfloor tank, but as there's enough room under the transom, two 45 litre tote tanks are the cheaper, lower maintenance option for extended range. If you're on a serious mission extra tote tanks can be stored under the squabs in the front cabin.
The battery is securely raised up on the rear parcel shelf with additional storage available on either side, the battery switch is fully waterproof and an optional rear cover is available.
The positioning of the swivelling pedestal seats has been carefully thought out for maximum versatility: "The short hardtop and position of the helm seats allow you to comfortably sit and fish out the sides with enough cockpit space to easily fish four people, which makes it more usable from a family point of view," explains Black.
The gunnels are at thigh height to keep any little ones safe and provide additional seating for anglers. Optioning in some non-skid would increase both the comfort and safety factor. The gunnels feature four rod holders with five more available in the rocket launcher above. Dawn raids on big winter moochers can be done in comfort thanks to the hardtop, full navigation lights, interior light and rear facing spotlight. The bait board is of a good size and there's also plenty of cockpit space available for a large ice-box to keep the resulting fillets in prime condition.
Over the back, the twin tread plate duckboards, a boarding ladder and ample handholds should make taking a dip a hassle-free experience as well.
Fish o'clock
I made the trip down to the laid back shores of Mt Maunganui on a sunny Friday afternoon where the Sportcraft team were eagerly prepping the Scorpion 610 Hardtop for duty. I've always found Jamie Black and his team a pleasure to deal with and they kindly provided a very comfortable photo boat for the occasion - the Bluefin 769 Weekender (read the review here).
After a quick stop at the local tackle store to stock up on bait and ice we glided the boats of their trailers before heading out to Karewa Island to try our luck – which wasn't all that flash, but at least we didn't come home empty handed. A 1m swell running outside The Mount provided a good launch pad to test the ride – which was very well-mannered and quite impressive indeed. The solid hull passed its test with flying colours with WOT (33 knots) achieved in both directions. This boat was responsive and reassuring to helm and it didn't take long at all to feel at ease.
The gull-wing hull design can take a bit of a nudge to get on the plane, which the 90hp Mercury two-stroke did easily with two people on board. While these engines can run a little rough at low revs they quickly redeem themselves when given plenty of throttle. One hundred and fifteen horsepower may be a better option if you're going to load her up with dive tanks or burly blokes and Sportcraft will happily fit the best Mercury option to suit customer requirements.
Due to the tall hardtop and large safety-glass front windows, visibility at the helm was excellent, both seated or standing, with plenty of headroom. The addition of some window treatment would make this even better. To provide the customer with maximum choice our test boat only had minimal gauges fitted but there's space for a full set with enough room left to flush mount a five inch panel, and truckloads of additional space on top of the dash to go crazy if your budget allows.
Sportcraft Boats is an expert in all things aluminium and manufactures its own range of multi-roller Sportline trailers complete with submersible LED lights. At just under one tonne, she's easily towed and brakes can be optioned in if required.
The last word
The Scorpion 610 Hardtop is an impressive package at an impressive price. Its design gives you all the benefits of a hardtop while minimising the drawbacks of increased windage, weight and expense. And all within a 6.1m boat which is easily driven with 90hp on the back. But let's not forget the price: $44,000 for a true turnkey package, including a quality paint job, VHF and basic fish finder – pretty impressive indeed.
For more information contact Jamie at Sportcraft Boats, ph 07 928-7193, visit sportcraftboats.co.nz or email jamieblack@sportcraftboats.co.nz.
SPECIFICATIONS
SCORPION 610 HARDTOP
Designer: Sportcraft Boats LOA: 6.10m Beam: 2.30m Material: 5083 marine-grade aluminium Hull bottom: 5mm Hull sides: 3mm Towing weight: 960kg Deadrise: 17o Transom height: 20-inch Engine as tested: Mercury 90hp ELPTO two-stroke Max hp: 125 Fuel capacity: 2 x 45L tote tanks Price as reviewed: $44,000
Keep up to date with news from Trade-A-boat or like us on Facebook!