Stabicraft 1850 Fisher
---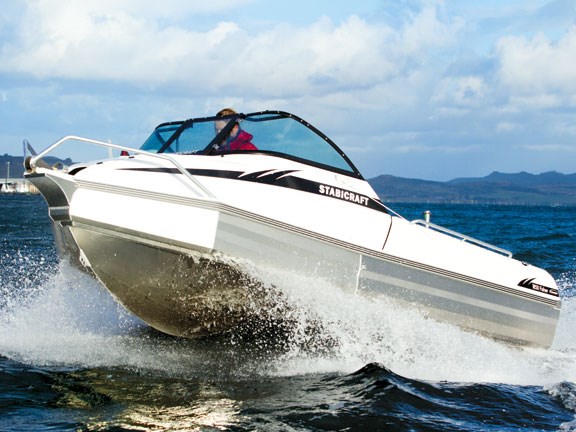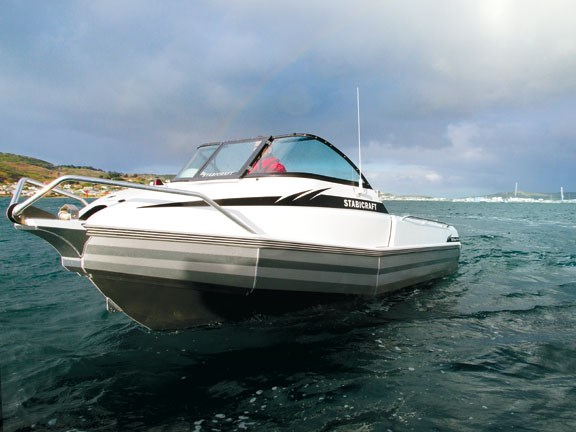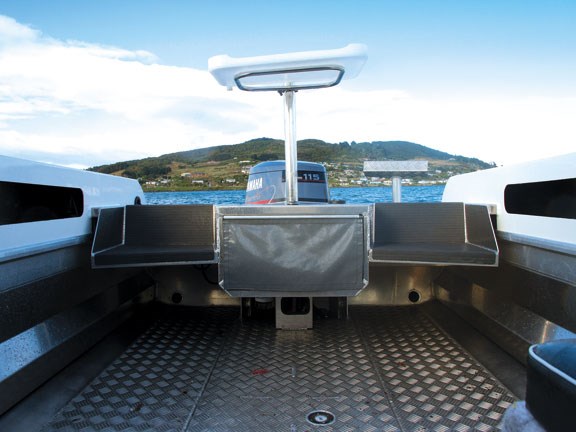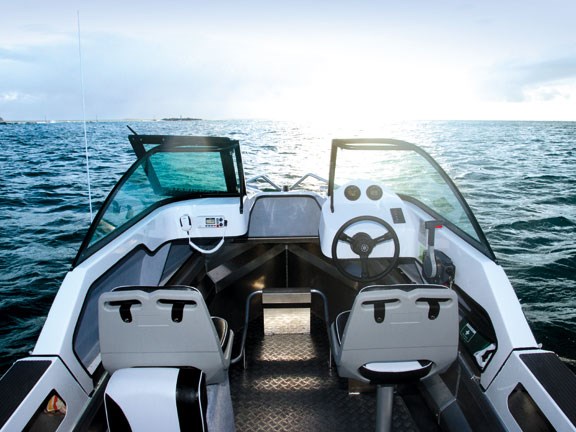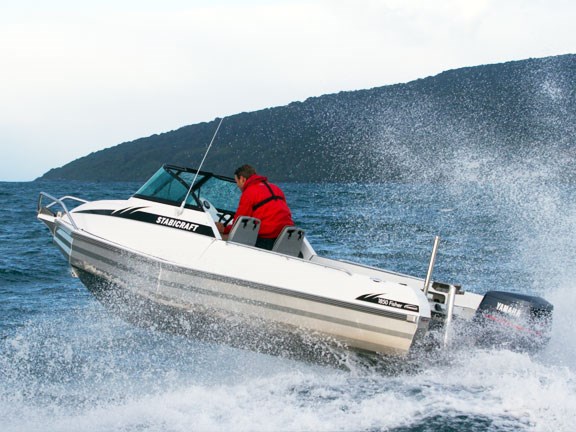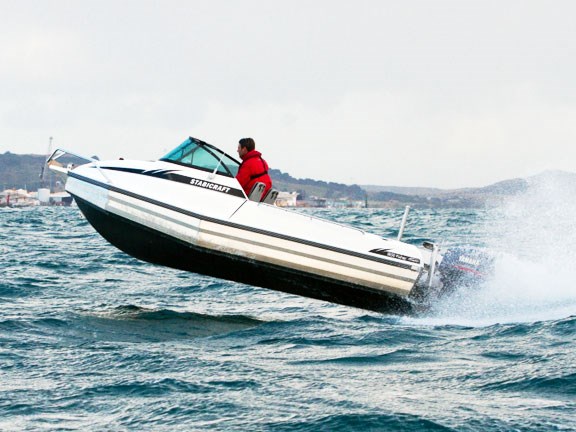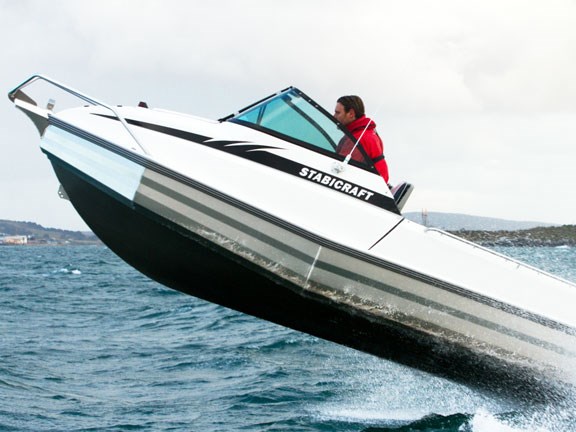 Stabicraft has nothing left to prove. But just in case there are still any doubters among the ranks, we took the popular 1850 Fisher for a test flight in the notorious waters of Foveaux Strait, on a day when any sensible person would still be tucked up in bed.
The 1850 Fisher is one of Stabicraft's oldest current models, and there is good reason for it's longevity in today's changeable times: it's bloody popular, both here and over the ditch. The 1850 Fisher is the bigger brother to the well-received 1750 Fisher (previously 509 Fish'r), and between the two of them they're providing a safe adventure platform to over 300 happy customers on both sides of the Tasman.
Since its launch in 2008, this endearing Stabi has answered to a few different call signs, beginning life as the 529 Fish'r, before becoming the 1850 Fish'r and now answering to 1850 Fisher. The name changes were necessary to provide consistency across the Stabicraft range, so as not to confuse the brand's ever-expanding overseas export markets.
Striving for excellence
Stabicraft has just celebrated 25 years' building pontoon boats for waterborne adventurers in New Zealand, Australia and North America, but even after all they've achieved they certainly don't rest on their laurels. The company realises the need to constantly develop its business, goals and, more importantly, its boats to stay one step ahead of the competition.
Through its constant improvement system, Stabicraft continually strives to do what it does better. Staff members are encouraged to speak out if they think there is a better way of doing things, and management listens, with around 250 of the staggering 400-odd suggestions each year being implemented. The end result is happy staff, an efficient factory producing quality workmanship and happy customers.
Stabicraft builds to order and offers a wide range of standard and optional extras, ensuring customers tow their new boats away smiling.
Stability and safety are of the utmost importance, and in the past the company has made no excuses for sacrificing looks in the pursuit of these goals, although each passing generation has seen a step up in the looks department as well.
Stabicraft's commitment to safety is evident in the fact that it employs a full-time compliance person to make sure all current models meet New Zealand CPC, Australian Builders Plate and American Coastguard standards, with the company looking forward to earning the tick of approval from the stringent American Yacht and Boat Council standards in the near future.
While in Invercargill for the test, I had the pleasure of receiving a guided tour through the Stabicraft factory by marketing coordinator Tim van Duyl, and after witnessing the attention to detail and pride that gets poured into each and every one of the 600-odd boats that rolls out of the factory each year, I was certainly impressed.
Fisher friendly
As a Fisher model this boat has the interests of the hunter-gatherer at heart, with uncluttered fishing space, easy clean-up, practicality, stability and safety high on the priorities list. Dropping the anchor at your chosen fishing spot is made easy through the fold-back windscreen and front hatch, which should ease back strain (and crew complaints) come retrieval time.
Navigation lights combined with a removable anchor light on the transom allow for extending fishing opportunities before sunrise and after sunset.
One hundred litres of fuel is available in the underfloor fuel tank, which frees up extra space under the transom for gear storage or additional tote tanks if you're on a serious adventure. Further storage is available in the bow under the cabin top, although bear in mind that there is only a rail separating this area from the cockpit and gear stored here could get wet in adverse conditions.
Cleaning up after a fishing session is made easy thanks to the tread-plate floor and self-draining scuppers. The floor itself is completely sealed, affording underfloor buoyancy with the trade-off being that there is no underfloor storage available to store the catch. An insulated icebox is a better option anyway and there is plenty of real estate available to keep one in the cockpit.
In the interests of both safety and cleanliness, the battery is raised off the floor and neatly hidden behind a vinyl flap in the transom.
Our test boat was kindly on loan from a customer. It didn't have any electronics fitted but I'm told the dash is capable of taking a seven-inch screen. A serious fisho may want to option-in the additional rod holders, live-bait tank (complete with a window and pump) and rocket launcher.
Family fun
Making sure the family enjoys boating as much as you do is a smart move, and this boat boasts a few features to keep them happy, too. A move towards a more family-friendly orientation has seen a change to a fibreglass bonnet (instead of aluminium as used on earlier models), offering smoother lines and a softer composition.
An optional ski pole/bait board has been fitted, with the king/queen passenger's seat providing a good spot to keep a watchful eye on the antics out back. Storage is available below and the plastic base has been carpeted for a better finish and added comfort factor. The transom jump seats look like a fun place to sit on a summer's day and boost the seating allowance to five thrill-seekers. Optional external gunwale handrails should make life easier once back at the ramp.
Getting back on board after carving up the wake should be hassle-free, thanks to the sturdy boarding ladder and low-profile transom. Skis and fishing rods can be stored out of the way in the side parcel shelves, although some sort of lining would be advisable to stop them rattling around.
Pilot licence required
Despite my best laid plans, I somehow managed to arrive in Bluff at the height of summer, smack bang in the middle of a freak weather event. The front page of the Southland Times read: "Season turns topsy-turvy. Twister clouds, hail, snow and rain hit south". Trust me: this was not the kind of headline that I wanted to be reading just before venturing out into the treacherous waters of Foveaux Strait!
Willingly agreeing my absurd request to meet at the Bluff ramp at 6am on a Monday morning, van Duyl wasn't in the least bit worried about the bad forecast looming either. While his official title is "marketing coordinator", van Duyl is also passionate about product testing, too, and has quite a talent for launching Stabis skyward when Trade A Boat comes calling. With that in mind, I had little hesitation in requesting more of the same; he happily obliged, all the while trying to hide his excitement.
Watching van Duyl blissfully launching the Stabi off the swells rolling through Foveaux Strait looked like a lot of fun and I was eager to experience the thrill first hand. With the maximum rated horsepower bolted to the back, good performance was expected and was certainly forthcoming. The abundance of torque, combined with the ergonomic helm set-up, smooth responsive steering and buoyant stability, provided plenty of capacity to conquer the rough stuff.
At no time did this boat feel out of its depth: it gracefully took everything both van Duyl and I could throw at it without any complaints. High-speed airborne landings were surefooted and overall quite gentle on the knees. Unfortunately, the speedo called in sick on the test day and, as the customer didn't have any electronics fitted, no performance figures could be recorded. But if I had to take a punt I would say this boat was capable of around 40mph (35 knots).
This tough and tenacious rig is supplied on a Stabicraft multi-roller trailer complete with submersible LED lights. Getting it in and out of the tide was as simple as sliding it off and driving back on again.
The last word
The 1850 Fisher is one of Stabicraft's most popular mid-range models, and for good reason: it strikes a sweet spot between having ample cockpit space for the serious fisherman/diver and enough comfort and safety to take the family out for a memorable day on the water, while still remaining affordable, functional and easily towed.
Stabicraft likes to look after its customers, which is clearly evidenced in the fact that one of them handed us the keys to his pride and joy for this test. He may well have thought twice if he knew of Tim's reputation, but at least he can rest easy knowing what his boat is truly capable of.
No Stabicraft boats were harmed in the making of this article.
For more information contact Stabicraft, ph 0800 478 224

SPECIFICATIONS
STABICRAFT 1850 FISHER
LOA   5.6m (18.5 feet)
External beam  2.15m
Internal beam  1.55m
Deadrise  17.5o at transom
Tube thickness  3mm
Hull thickness  4mm
Reserve buoyancy 1455L
Dry hull weight 535kg
Tow weight  950kg
Length on trailer 6.7m
Height on trailer 2.22m
Engine   115hp Yamaha Saltwater Series two-stroke
Fuel capacity  100L underfloor
Price as reviewed $50,200
Price from  $41,750
WE LIKED
Safe, stable and exceptionally tough
Plenty of power available with the 115hp two-stroke option
Easy-to-clean fishing platform
Wealth of options with further customisation available from the factory
WE DIDN'T LIKE
There was very little protection from the elements as tested (options available)
Two-stroke fumes were quite apparent on test day
No dedicated dry storage available for wallets, phones, etc

Keep up to date with news from Trade-A-boat or like us on Facebook!