Cruising beauty: Bavaria 36 Cruiser
---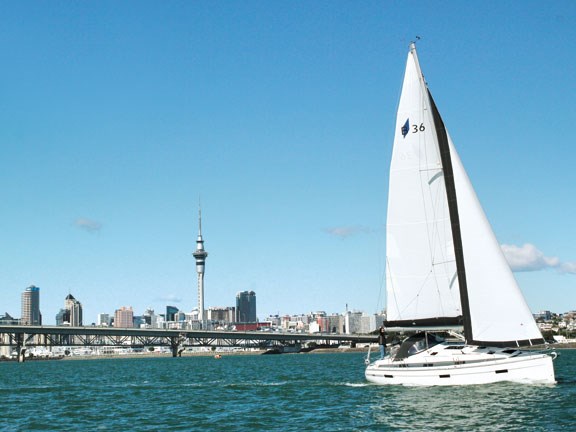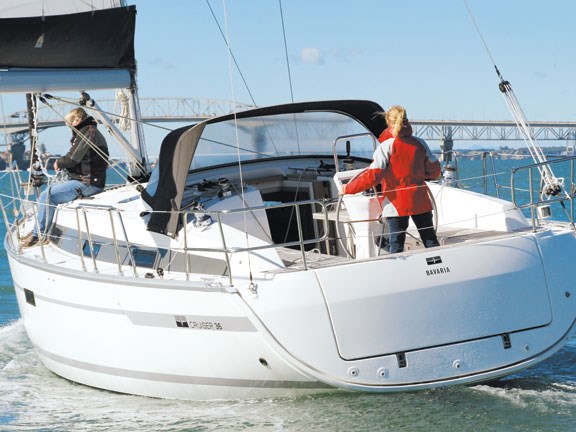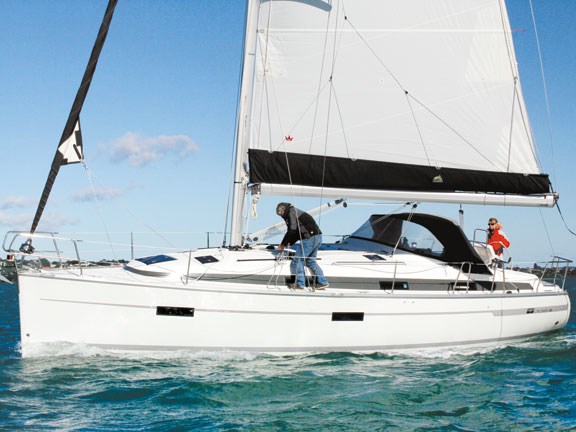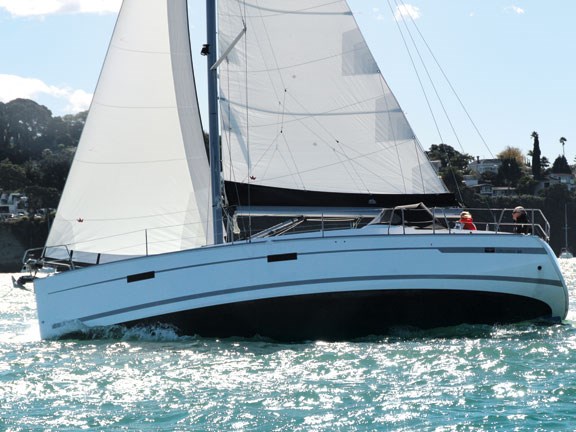 The Bavaria 36 Cruiser is a great midsize cruising yacht, with a class-leading three double cabins, heaps of interior space, plenty of headroom, a well-equipped galley and excellent sailing capabilities, representing good value for those wanting to get into cruising.
Bavaria Yachts has been building premium quality yachts since 1978 and is one of the largest production manufacturers in the world. With a build list of over 30,000 boats and a staff complement of 550 workers, buying a Bavaria is buying a world-renowned brand of excellent quality.
In 2009, Bavaria began the process of redesigning its entire range of sailing yachts, having partnered with Farr Yacht Designs and BMW Group DesignworksUSA. The Cruiser 36 is one of the last models to be refreshed and the full range now spans 32 to 55 feet, in six hull sizes and 12 different configurations. The new Bavarias have a laminate construction hull and decks, with solid FRP below the waterlines. Kevlar is also used to reinforce the bow sections.
Busfield Marine Brokers has one of the three-cabin six-berth models in stock and we were invited down to Westhaven marina to have a look at her. Offering accommodation options typically only seen on bigger siblings, we were keen to see how the layout works.
Shared lines
All Bavarias in the new range share the same clean lines and low-profile coach roof cabin design. We stepped aboard into the teak-soled cockpit and were impressed by the amount of space. Access around the single large central wheel is easy, with instruments set into the single central helm station. A table attached to the helm station turns this into a convivial area for relaxing while underway or at rest.
Two capacious wet lockers under the seats on either side take care of the fenders, ladders, boat hooks and whatever other gear is needed. The self-draining cockpit is neatly closed off, with a unique full-width folding transom that that swings down into a huge boarding platform for swimming, fishing or managing a dinghy. Despite its size, this is easy to raise and lower and clips firmly into place to provide a secure backstop for the helmsman.
Busfield have fitted a spray dodger and bimini top to the vessel – a necessity in New Zealand's often inclement weather. The spray dodger looks about the right size, keeping wind and spray off the helmsman without seriously impinging on his view.
The companionway hatch boards are the hinged type, similar to those used on previous models. These seemed a little less sturdy that I would have expected, perhaps my only criticism of the boat. However, traditional Perspex slide-in boards are also available. Down the short stairway, the interior of the boat is beautifully crafted in a rich mahogany wood.
The master cabin in the bow has a large, raised double bed, which has a generous length and width. An acrylic overhead hatch, as well as non-opening side windows through the hull, give plenty of light and headroom is 1.95m to cater for even above-average-height blokes.
The main saloon features an L-shaped couch on the starboard side, with a straight version on the port. A central table has drop-down sides to keep it out the way when not in use, but provides comfortable seating for six at mealtimes. Set into the panelling on the port side is a slide-away chart table, and a section of the couch folds up to provide seating when this is used as the navigation station. Instruments and VHF radio are set into the bulkhead above the table.
The L-shaped galley on the starboard side is well appointed, with a gimballed gas three-burner stove and oven and a double sink. A built-in 12V fridge keeps food fresh and there is heaps of cupboard space. A stainless grab rail ensures things stay on the counter in rough conditions, while also keeping the galley slave safe and secure.
The port side has the head, with toilet, hand basin and hot water shower fed by the 210-litre on-board fresh water tank and a 20-litre water heater. Busfield has also specified the optional extra 150-litre tank so this boat should be good for extended cruises.
Double cabins on either side of the companionway are again a good size, width and length, although with slightly less headroom than the master cabin. Each cabin has two opening windows as well as an overhead hatch to give light and fresh air.
The companionway stairs swing up easily to reveal the Volvo Penta D1-30 engine, driving a feathering three-blade kiwi prop. The standard configuration is the D1-20 but Busfield chose the bigger engine option to suit local conditions. One hundred and fifty litres of diesel on board give a generous cruising range under power, with a reported speed of just over six knots under power. At this speed fuel consumption is reputed to be a very frugal 2 litres per hour, giving a powered range in excess of 300 nautical miles. This makes motor-sailing a very realistic option with this boat, catering for those days when the wind won't play along or where the quickest route home may be into the wind.
But this is a sailboat and sitting on a marina was no way to experience her. So we arranged to head out on the water as soon as the conditions were perfect, in other words about 20 knots of wind. Being Auckland, we did not have long to wait long…
Blessed for the test
On the review day, we were blessed with clear blue skies but a wind that made things a little unpleasant on the photo boat. However, Colin Rees of Busfield Marine Brokers had no difficulty with the Bavaria, which lapped up the wind and chop. Ably assisted by Christine Bird, together they demonstrated how easily the boat is handled by one or two people.
The rigging is a Selden two-spreader mast, with a roller-furled gennaker up front. The mast towers nearly 17m above the waterline and the fully-battened main provides 69m2 of surface area. To take care of the mainsail when not in use, Busfield has fitted Doyle Sails' Stackpack and Lazy Jacks, which makes single-handed raising and dropping of the mainsail a simple process in any conditions.
Out under the harbour bridge, Rees had her under a full head of sail, with her main providing most of the power to get close to maximum speed. As the photos show, the cast iron keel keeps her at a comfortable angle, well in keeping with the Bavaria's intended use as a cruising rather than a racing yacht.
After taking the required photos, the boat hove-to and I was able to go on board. We got underway again and it became clear how well she was laid out for short-handed (or even single-handed, with an autopilot fitted) sailing.
The halyards and sheets are led directly across the cabin top into the cockpit behind the spray dodger, ensuring everything can be controlled from one place. Cam cleats hold everything tight and neat. Force can be applied to sheets and halyards when needed thanks to four self-tailing dual-geared winches, two on either side.
Handling the Bavaria 36 proved to be easy and even less experienced sailors will have no problems. Steering seemed to be light and positive, with the large deep spade rudder giving good control. The broad spreaders efficiently distribute the force down to the hull and Bavaria's double main sheet system means that there is no traveller for the boom. The boom passes comfortably overhead and the lack of traveller means that going about is safe and undramatic.
She did not seem to exhibit any nasty traits like wanting to round up. The forces required for steering and even trimming the sails were light, despite the stiff breeze on the day. Of course, we were not able to test her light-wind handling but this Bavaria has a reputation as a slippery hull that is efficient in even very gentle breezes.
Soon it was time to head into the marina so again we brought her round and started the Volvo Penta. While powering directly into the wind we furled the headsail and dropped the main. All done without leaving the cockpit, thanks to the Stackpack and Lazy Jacks.
Since we were not going to use the sails again, Rees went out on deck to zip up the mainsail into the Stackpack, although this could have been done once we were back on the marina berth. The deck has a good non-slip surface moulded onto it, ensuring a secure footing even when wet. The hatches for the cabins underneath are flush-fitting, providing an uncluttered deck and little to trip up or stub your toe on.
The boat proved as easy to manage under power as it was under sail, and Rees has no problems with putting her back on the berth. Bow thrusters are available from Bavaria as an option, but on this size boat are probably not needed unless you are operating in a crowed marina. The keel draws 1.95m, although Bavaria also makes a shallow-keel version that has a draft of just 1.63m.
We did not make use of the anchor, but an 15kg Delta anchor on an electric windlass makes it easy to lower and raise the pick, again all done from the safety of the cockpit. Busfield Marine Brokers also supplies a set of fenders and docklines with the boat, so she is all ready to go.
Overall Bavaria has a winner with this boat. At her pricepoint she is great value, representing a lot of boat for the dollar. The three-cabin option gives more berths than most similar cruisers, and her handling is suitable for even relatively inexperience sailors.
For more information contact Colin Rees or Christine Bird of Busfield Marine Brokers, ph 09 302 1220.
Feel free to make a comment or ask us a question about this story on the Trade A Boat
page.
For the latest reviews, subscribe to our Trade A Boat magazine here.
Keep up to date with news from Trade-A-boat or like us on Facebook!