Review: Fish City FC 500
---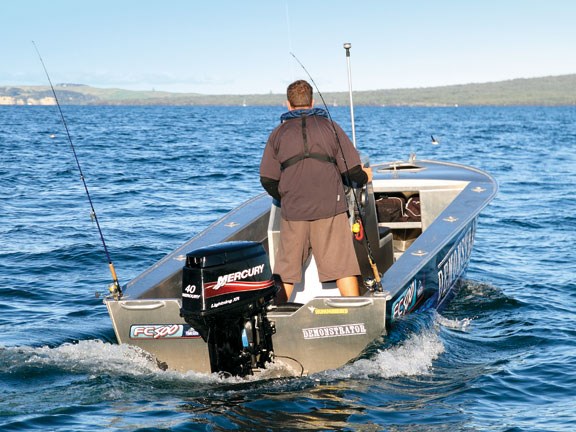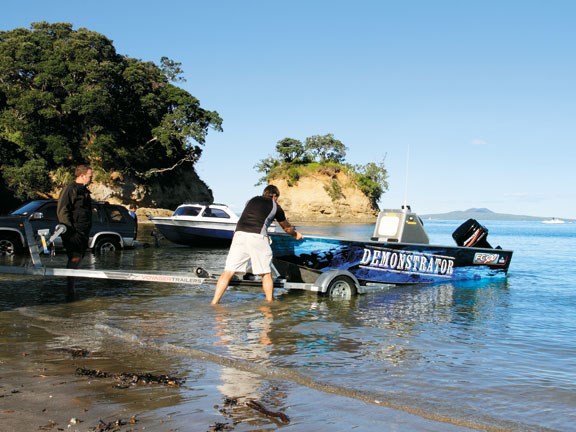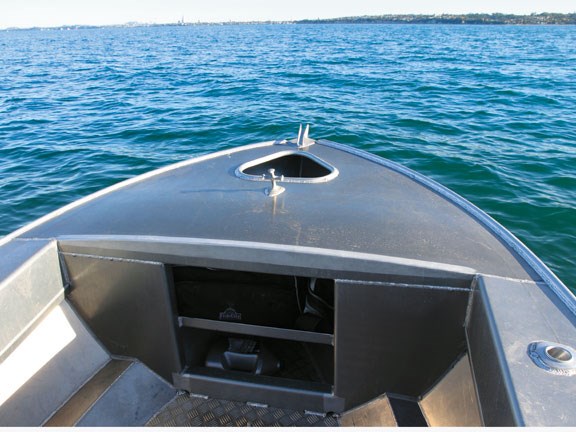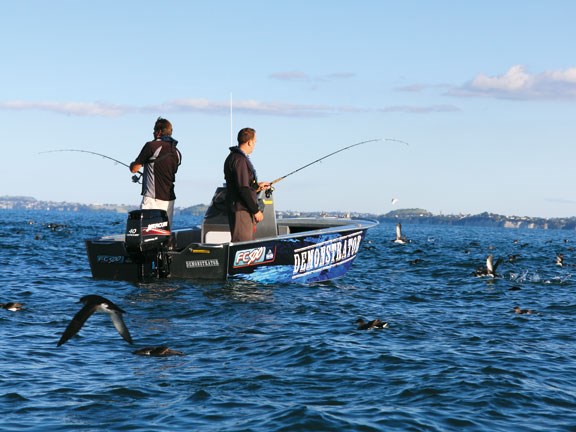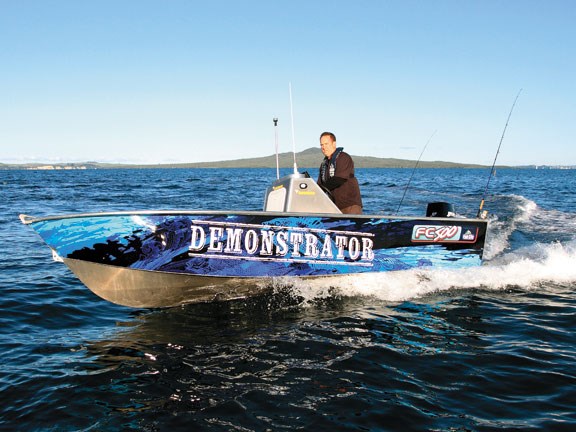 When the team at Fish City went looking for a tough, safe, stable and user-friendly fishing boat to fulfil customer requirements they couldn't find one, so set about designing their own.
They say we use 20 percent of our possessions 80 percent of the time; it's certainly true that if that possession (in our case a boat) is a hassle to use then it's destined to become a driveway ornament and the subject for many an ear-bashing from the better half. But if that same possession is easy to use, cheap to run and brings home a feed of fresh fish, your ears will be eternally grateful and chances are the boss will let you out more often.
Now, the 'FC' in FC500 could stand for a lot of things: fisherman's companion, fish catcher, fishable craft … the list goes on. What it actually stands for is Fish City, a business founded almost two decades ago in Hamilton by Ross Christensen. Fish City's dedication to providing fellow fishermen with the best boats and tackle at great prices saw the opening of a second branch in Albany, Auckland, which has just celebrated 10 years in business. Christensen still holds the reins today and will be popping the cork at the Hamilton branch's 20th anniversary this year.
Fish City customers were looking for a solid, stable, no-nonsense fishing platform which was easy to tow, easy to launch off a beach, cheap to run and wouldn't break the bank. Christensen and boat sales manager Craig Archer hunted around and discovered that the boat their customers were looking for didn't exist, so they hit the drawing board and set about creating their own.
Simple, affordable and easy to use
When it came to taking their idea to fruition, ease of use was high on the list of priorities: "We recognised the need for something that was affordable, user-friendly and easy to use for fishing and diving. It had to be built in New Zealand for New Zealand conditions and be strong enough to go anywhere. What we quickly realised was that some of these imported dinghies were severely lacking in those areas – basically, what we were looking for didn't exist. We also wanted something that you could just pop in for a fish late in the afternoon. For a lot of our customers this is their second boat: they buy one to leave at their bach so they can go fishing at a moment's notice," explains Archer.
The focus on simplicity and affordability certainly seems to have hit the spot: "The boss had to come up with an idea to stop me from selling them as fast as we got them on the showroom floor so we had our demonstrators sign-written. We released the smaller FC430 in November 2011, after thoroughly testing and developing it over the winter and we've already seen hull number 32 come through the shop.
"The FC500 was only released a few months ago as we've been really focused on getting it right before putting it out there. Now we feel it's ready to compete with the other 5m fishing boats in the market," says Archer.
Fishable features
While at first glance she may seem like a basic centre-console tinny, closer inspection reveals that Fish City has managed to pack a lot of usable features into this 5m hull. First, having eight solid rod holders and a live-bait tank is a real bonus and a must for a serious fishing boat.
"The rod holders are all aluminium and are welded in. We haven't used plastic ones to save a few bucks, so if you want to hang a set-line retriever in a rod holder there's no problem," asserts Archer.
A bung-operated live-bait tank has been cleverly designed into the transom which also adds structural strength to the outboard mount.
Maximising the time spent fishing versus cleaning up the floor is fully welded tread-plate, with sealed buoyancy below. Fish City has also taken the additional step of adding buoyancy under the gunnels to help inhibit rollover if swamped, with Archer adding, "We're currently going through the process of getting these boats to survey specifications and one of the requirements is floatation at gunnel height, so we've added closed-cell foam underneath the gunnels for buoyancy. The FC500 already meets the calculated minimum requirement with the underfloor buoyancy alone so it will not sink and unless you take a wave sideways in a bar, it's not going to roll over on you either."
With no underfloor storage available, Fish City has cleverly turned the entire base of the centre console into a large storage locker capable of housing a chilly bin or dive tanks. There's no risk of damaging any precious wiring, either, as it's all housed above with the battery. LED navigation lights and a removable anchor light are standard, allowing extended fishing times or a quick fish before work – nothing will get you in the boss' good books more than a feed of fresh fish. The battery switch, GME GX600 VHF and Hummingbird 550 depth sounder are all fully waterproof, as you'd expect.
Soft-bait containers and the like can be kept within easy reach on top of the console, where the outer rim acts as a handrail of sorts, but I would like to see more grab rails available for passengers. A perspex screen and T-style bimini top are optional to offer some weather protection at the helm.
As far as customisation goes, Fish City is prepared to bend over backwards to make sure the customer gets the boat and engine they want: "We'll fit any brand of outboard – it's not a problem – and if we don't have it we'll source it. Customisation is really a little bit of whatever you want, within reason. We've done our research so we know what our customers' want and have set the standard specifications accordingly. At least half of our FC range sold so far has gone out the door as standard," adds Archer.
Anchoring is kept hassle-free, with the open self-draining anchor locker within easy reach. A couple of shelves below help keep gear off the floor which can be kept dry and secure with the addition of a lockable panel. And just to prove that Fish City really has put a lot of thought into the design, Archer explains the thinking behind this handy little option: "The lockable front storage panel is available so that you can throw your tackle boxes in, lock it and relax while stopping for a beer at the pub on the way home."
Beach launching made easy
I met Archer and showroom manager/mad-keen fisherman Greg McKinney on a stunning Friday afternoon at Fish City's Albany branch. We hooked the FC500 and our kindly supplied FC430 photo boat up to the tow balls and headed off to see if any autumn workups were in action.
Now, many a seasoned boatie has been left red-faced trying to launch their vessel off the beach so to keep their customers' egos intact, Fish City commissioned Voyager Trailers to custom-build the aptly named Low-rider trailer – it certainly proved its worth. While backing down Waiake beach on Auckland's North Shore, we were greeted by the sight of a couple struggling to get their older fibreglass boat on the trailer, with their four-wheel drive well and truly up to its front axles in salt water. Thankfully, I didn't have to even get our back wheels wet before Archer gave the signal and the FC500 glided off the trailer.
MJ BT - FC500_01.JPG – The Low-rider trailer makes beach launching easy, unlike the poor 4wd in the background.
To handle the extra knocks while beach launching, the FC500 has a 4mm bottom but due to calm conditions, the boat's wide gull-wing hull and ample buoyancy, it didn't even touch the sand. The outer gunnel edge has been extended away from the hull to help keep spray to a minimum and also doubles as a full-length grab rail for easy handling. The Mercury 40hp EPLTO was quick to burst into life and we headed off in search of dinner.
The fish test
The idyllic conditions were extremely pleasant and didn't provide much of a testing ground but we managed to find a few stray wakes to test the ride, which seemed rather capable and well mannered. McKinney told me he'd been out the week prior in 25 knots and was impressed how well this boat handled the conditions, although he did admit to getting wet which has to be expected on a windy day given the open design.
Our test boat had the optional Hummingbird 597 GPS/fish finder combo fitted and although no rev counter was available, the Mercury 40hp sounded to be comfortably cruising at 16 knots and dished out 28 knots at WOT with two people on board. The stability was impressive, both at rest and underway, and at one stage we had three fully grown men standing against the transom to keep all our stray limbs out of the photographs without any issues.
With 360 degrees of fishing space at our disposal there was more than enough space for three anglers on the day, and although we found the workups we were looking for they only produced small Kahawai. We put these to good use testing the live bait tank's functionality before setting them free to fight another day.
The last word
Serious everyday fishos without a trust fund will love this boat. It's also perfect for the bach or for towing to a remote coastal campground for a holiday to remember. Fish City's practical experience certainly shows through and the team has done a good job of putting together a standard package that can be towed straight to the ramp to put a feed on the table without breaking the bank. And when it's so easy to use and cheap to run why wouldn't you be getting a leave pass whenever the weather allows?
For more information contact Craig Archer at Fish City, ph 09 476 4282, email craig@fishcity.co.nz or visit fishcity.co.nz.
Feel free to make a comment or ask us a question about this story on the Trade A Boat
page.
For the latest reviews, subscribe to our Trade A Boat magazine here.
Keep up to date with news from Trade-A-boat or like us on Facebook!