Rayglass Protector 9m Cabin
---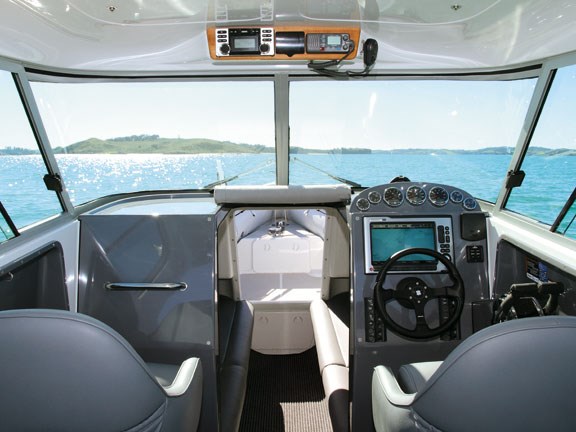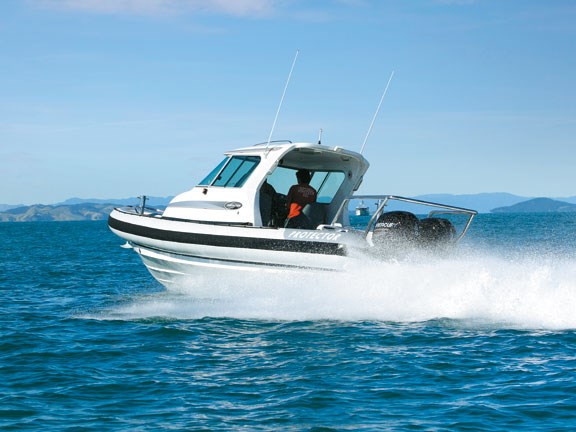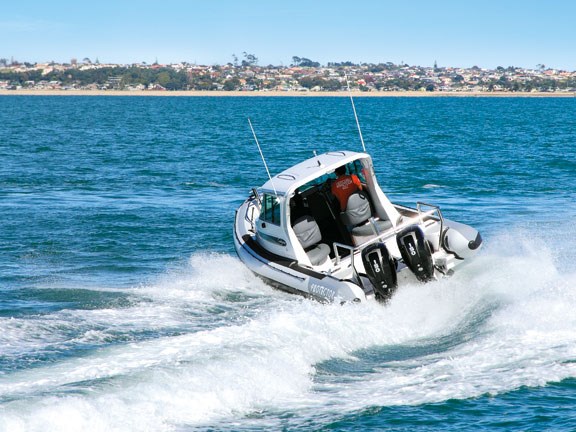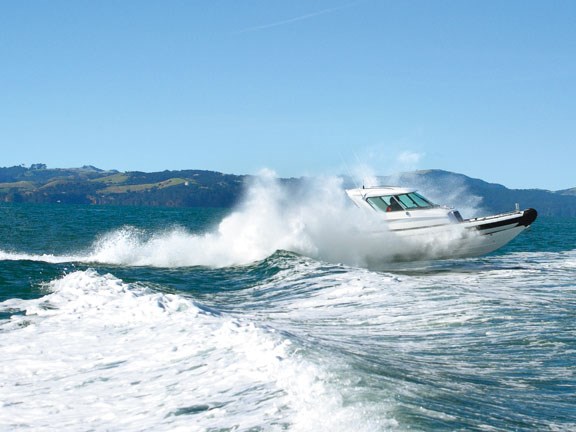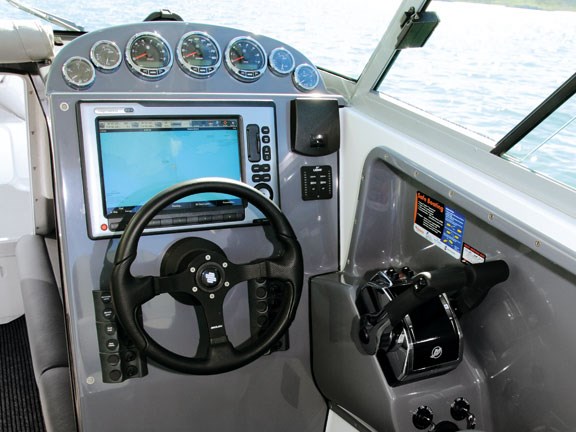 If you're going to trust something with your life, you better be sure it's up to the task. With Rayglass' new 9m Protector you're in safe hands.
Celebrities employ bodyguards to keep them safe. While most of us mere mortals don't require that level of daily personal protection day to day, it's reassuring to know that many rescue units employ Rayglass Protectors to keep watch over us out on the water.
Prestigious fibreglass manufacturer Rayglass Boats prides itself on its commitment to maintaining the highest quality standards right across its range of acclaimed models. The attention to detail and exceptional quality doesn't go unnoticed, with Rayglass picking up two awards at this year's Hutchwilco Boat Show: the Legend 2200 Hard Top won All Purpose 6-7 Metres class; the Legend 2500 Cruiser Top took top honours in the All Purpose Open class.
Improving on excellence
Rayglass' Protector range was first developed in 1997 to diversify the brand's existing stable of award winners. It's certainly been a roaring success. Rayglass Protector international sales and marketing manager Lyndsay Turner summarises the brands rise to international acclaim.
"We initially sent Protectors out to different Coastguard regions for rescue work and regional councils as harbour master patrol vessels. Their success saw us leap-frog into the America's Cup, before exporting them around the world to be used for leisure, especially in the yachting fraternity. Police work followed, which then saw us exporting into Europe. We had a huge presence in the 2007 America's Cup in Valencia, with over 100 Protectors on the water. From there we've gone from strength to strength and are enjoying global dominance with the brand due to our focus on quality," Turner comments.
In fact, the Rayglass name is such a good one that 90 percent of Protectors sold get shipped overseas. Turner personally ensures that every Protector is sea-trialled and thoroughly tested before being sent on its way.
"I want to know that when the customer opens the shipping container on the other side of the world that all they have to do is pump the tubes up, turn the batteries on and go boating. It's always nice to receive the thank-you call from a happy customer on the other side of the world as well," he adds.
When it came to making the acclaimed 8.5m Protector even better, the design team certainly had their work cut out.
"It was a tough one for us. The 8.5m went so well and had such a good reputation but we felt we could take it to another level. Our customers wanted to bolt on more horsepower so we decided to expand out to a 9m hull. It's worked absolutely fantastically – in fact, it's a bit of a weapon and it's hard to know where to go to from here," explains Turner.
Rayglass took the opportunity to tweak a few other features while back at the drawing board and Turner says, "We've now gone to a through-bow anchoring system and soft-rider seats as standard. The longer hull also opened up more deck area in the back. This allowed the transom to be remodelled so the engines can be trimmed right out of the water for mooring at a marina. We tried different waterline lengths and the 9m hull hits the sweet spot. It's just awesome!
"It goes like hell and you can just keep throwing more horsepower at it and it'll go faster and faster. It's the all-round boat: it's quick, will get you home in any weather and the bottom line is it's the boat that Coastguard will come and rescue you in," he adds.
Business or pleasure
Whether you're looking for a capable, all-round pleasure boat or a fast, stable all-weather workhorse, the Protector can easily multitask. The range's versatility and hull-friendly inflatable tubes make it popular with professional racing crews worldwide.
"The professional race boat hulls are made from carbon fibre so they only want a soft-sided hull coming alongside for transferring crews or supplies. When they're out racing they like to bring their wife's, girlfriends or kids along to watch dad race and it gives them a nice comfortable platform – complete with a toilet – to hang out on. And at the end of the day it also becomes a tender so it covers all the bases," explains Turner. Rayglass' client base features names like the America's Cup, Louis Vuitton Cup, Norwegian Police and Coastguard as well as the seriously rich with impeccable tastes.
"Our customers come from across the board. We've sold Protectors to holiday home owners from the Pacific Islands to the Marlborough Sounds, to superyacht owners worldwide, through to commercial patrol and rescue use. It's a boat that can be used across the range, and I've got plenty of customers that love using them for fishing as well," says Turner.
Our test boat was officially unveiled at this year's Auckland stopover for the Volvo Ocean Race, where it was used as a stable platform for the boating media to capture all the action. The commercial-style bollards stem and stern hint at the Protector range's strong commercial heritage but they're far from industrial, with a gleaming stainless steel finish. When not being used to provide a secure fixture for towing, a stylish optional bait board can be fitted neatly over the top and further options are available to increase the fishability rating.
The heavy-duty Hypalon tubes feature no less than seven individually sealed chambers, grab ropes all round and are UV and petroleum resistant for good measure. And talk about tough the commercial-grade hull: it meets survey specifications and carries a five-year structural warranty. Both the front and rear decks are self-draining to quickly disperse any unwanted water on days that only a Protector would enjoy.
Whether you're watching a race, fishing or on the job, the movable rear seats allow for a forward, rear or side view from the roomy cockpit while drinks are served. A couple of rear-facing seats provide an additional sheltered view aft in case the weather's less than perfect.
Stepping forward into the cabin there's plenty of seating capacity, with twin 6'6" long running full-length down each side. While not specifically designed as bunks, I'm sure they could provide a solid night's sleep for a couple of mates on an extended fishing trip if required. An electric toilet is hidden beneath and a roll-down screen on hand to ensure privacy on a crowded race day. Headroom is a fraction short for taller blokes and at 6'1", I had to duck my head slightly when standing.
The front cabin layout can be customised to suit, with a gas cooker and fridge being fitted to the Norwegian Police Protectors – perhaps to keep the coffee hot and the doughnuts fresh? A large hatch offers access to the bow area but with the through-hull anchoring package taking care of all the hard work, you're free to enjoy the fresh air and view instead.
A comfortable test
Rayglass rounded up a bunch of boating journos to showcase this new weapon and treated us to a bit of luxury aboard Hembrow's private launch/photo boat, so I can't justify calling this one 'work'. After enjoying a few pleasantries and fresh coffee, we each took turns behind the wheel trying in vain to find fault with the fault-less handling. Now stepping behind the wheel with so many eyes watching could cause a bout of excessive perspiration, but with this boat it really was hard to put a foot (or hand in this case) wrong.
Ergonomics and comfort at the helm are excellent, with the luxurious leather seats featuring an extendable front cushion which folds down to provide leg support while standing. A huge array of gauges and a flush-mounted Raymarine E120W screen provide a daunting array of information. Sunglasses aren't necessary to enjoy the expansive view, with large polarised safety glass windows providing a protective screen. Further protection is provided by the sleek hardtop which affords plenty of headroom and fresh air on demand thanks to the sliding side windows.
Once we'd all had a play, Turner took the wheel to properly showcase the 9m Protector's extraordinary ride. A passing 40-footer presented the ideal opportunity so without further ado, Turner put the hammers down and made a beeline for its wake at WOT! There was no backing off the throttle before impact, either, just the words 'hang on!' before we sliced through with little change in disposition and only so much as a mere 'vrrooomph' sound on what was an impressively soft landing.
It is not hard to see why these boats are held in such high regard by rescue and enforcement agencies – good luck trying to outrun one, especially when they can be spun around with more grip and g-force than most rollercoaster rides can offer.
What's better than having one of Mercury's new 150hp four strokes on the back? Having two of course! Twin Mercury 150hp four-stroke outboards provided quiet and smooth propulsion with impressive acceleration. With a top speed of 43 knots with 300hp on the back, the mind boggles at what she'd be capable of with 600hp fully wound out. While having two engines increases the servicing costs, these Mercs have been cleverly designed to keep this as straightforward and cost-effective as possible. A twin rig also affords additional piece of mind, meaning you can limp home slowly on one in the unlikely event of mechanical failure.
It goes without saying that at 3500kg towing weight, this capable craft requires an equally capable tow vehicle but if one of these is on your shopping list, chances are this won't be an issue. It's also over the legal towing width with the tubes inflated so carries additional requirements, or you can deflate the tubes to slip under the 2.5 metre width restriction.
The last word
Does Rayglass' new 9m Protector live up to expectations? Damn right it does! Excellence in manufacture and design combine to produce an impressive boat with insane capabilities that certainly does its heritage proud.
While it excels as serious workhorse, it also possesses enough style, space, comfort and finesse to suit many requirements. And when the work's finished for the day and it's time to play, it makes for a pretty awe-inspiring toy as well.
For more information on the Rayglass Protector 9m Cabin contact Lyndsay at Rayglass Boats, ph 09 573 7979, email lyndsay@rayglass.co.nz or visit rayglass.co.nz.
Feel free to make a comment or ask us a question about this story on the Trade A Boat
page.
For the latest reviews, subscribe to our Trade A Boat magazine here.
Keep up to date with news from Trade-A-boat or like us on Facebook!