Birds of a feather: Sea Ray 185 Sport
---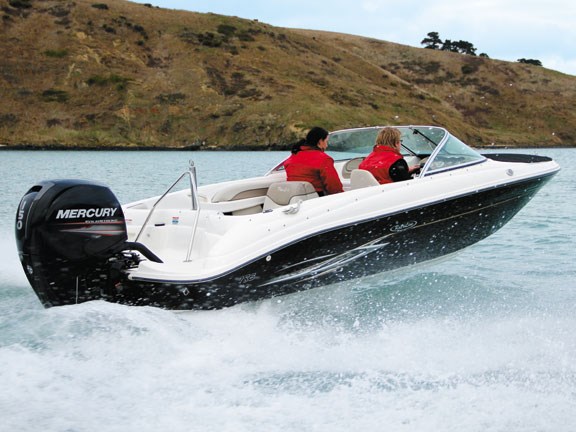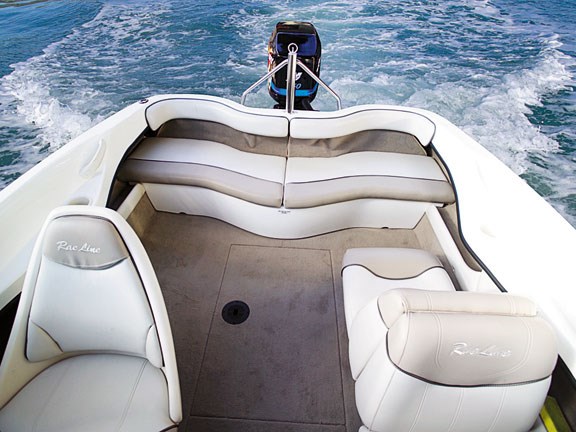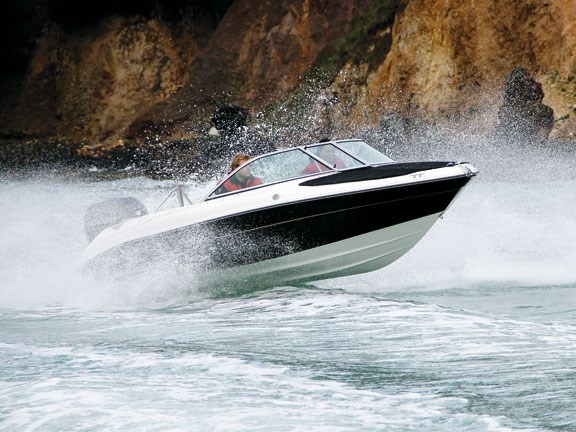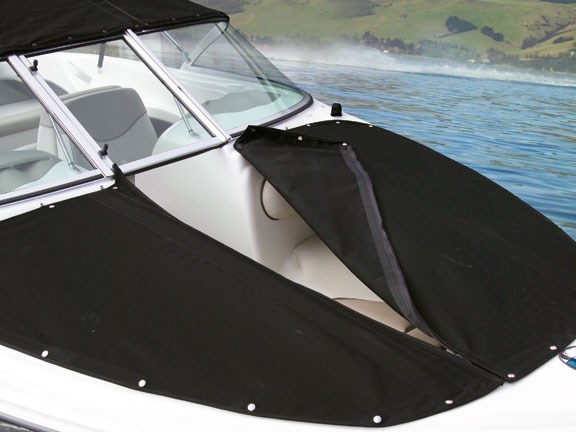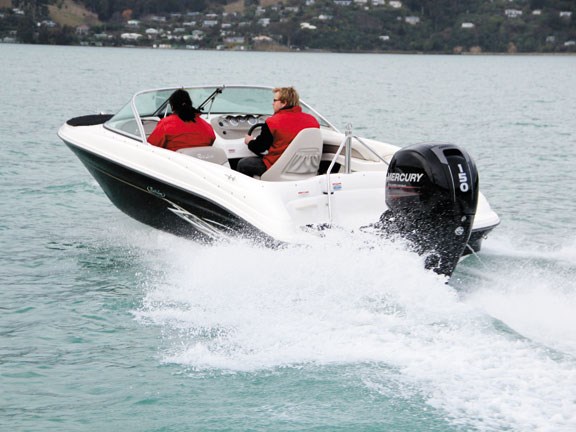 Born in the US, the latest Sea Ray 185 Sport bow rider provides a glimpse into the future style of American sports boats. But has style overtaken practicality? Steve Raea travels to Christchurch to find out.
There was something a little incongruous about boating on this cold, overcast Christchurch winter's day. Thankfully the earth was as still as the winter air but the buckled, twisted roads were a poignant reminder of what had been, as we wound our way up the lower Port Hills to the mouth of the Lyttelton Tunnel.
Ahead of us a fluorescent orange Sea Ray 185 Sport bow rider bounced awkwardly on its trailer as it disappeared into the half-light of the tunnel, its bright LED tail lights reflecting an iridescent glow through our fogged-up windscreen.
Beyond the tunnel, Lyttelton unfolded in a kaleidoscope of grey, as low cloud and mist rolled in over the harbour. A biting southerly had whipped up whitecaps, which crashed onto the craggy shore of Quail Island at the entrance to Diamond Harbour.
There was not a lot of sparkle on Diamond Harbour this morning and the prospect of getting out of a warm car and into the cockpit of one of two open bow riders for a mid-winter boat was not instantly appealing. But amid the overcast, there was an air of anticipation as we looked down on a pair of 19-foot bow riders tied in alongside the launch ramp, in stark contrast to Diamond Harbour's sunken marina.
We were here ostensibly to check out the performance of the locally-manufactured Rae Line 185 bow rider, powered by Mercury's new in-line four-cylinder 150hp four-stroke outboard. This is the first Rae Line 185 fitted with the new engine. For comparison purposes, Sports Marine had also offered up the new Sea Ray 185 Sport, powered by the 4.3-litre 220hp Mercruiser inboard. This latest incarnation of Sea Ray's popular entry-level bow rider also clearly demonstrates significant design change from the previous generation boat from which the Rae Line 185 was born.
The history
As a Canterbury manufacturer, Rae Line is well regarded for its small entry-level bow riders and weekenders', ranging from 18 to 24 feet, and the finish and quality of these boats is in no small way attributable to the company's previous licenced production of Sea Ray craft.
The relationship between Sea Ray and Rae Line is unique and predates the turn of the century. Even today, Rae Line remains the only manufacturer outside the massive US Brunswick Corporation to have manufactured Sea Ray boats under licence. It is noteworthy, too, that Sports Marine is Sea Ray's longest serving global dealer.
As the world's biggest manufacturer of recreational boats, Sea Ray was not about to gamble its global reputation on a little-known kiwi manufacturer without being confident that Ray Line's manufacturing processes and quality control was in check. To this end, Sea Ray invited Rae Line factory manager Rhys Williamson to Sea Ray's Florida factory for a 12-month tour of duty. The outcome was positive and by 1999, Rae Line had earned Sea Ray's tick of approval to begin production of the Sea Ray 180 and 185 bow rider.
Sports Marine managing director Scott Williamson says it was no small undertaking tooling up for production, with each model having to be built to CE specifications for export markets which included New Caledonia, Tahiti and the UK. It was a heady market back then and the locally-produced 180 and 185 bow riders flew out the door in their hundreds, from Sports Marine dealerships in Auckland, Christchurch, Wellington and Sydney. This generated the income and impetus to tool-up and produce larger Sea Ray weekend cruisers.
However, just as Rae Line released its fourth Sea Ray model under licence and was embarking on its own R&D for further Rae Line releases, the global economy went into freefall and with it international demand for new boats.
A measure of that today, says Williamson, is an 86 percent decline in new boat sales across all Brunswick Corporation brands, including Sea Ray. "We haven't taken quite the same hit here but it is a tough market. Our challenge has been to cut costs without compromising quality or profitability and we've introduced aggressive new pricing across our brands. The introductory offer for the new Mercury-powered Rae Line 185 bow rider is a case in point."
The manufacturing arrangement with Sea Ray ended in 2006, when Rae Line chose to concentrate its efforts on developing its own brand for the kiwi market but it still uses Sea Ray moulds and components for its locally produced bow-riders and weekenders. Rae Line has subsequently developed the Rae Line 186 cuddy cabin and has had considerable success with the model both here and in Australia, where it was voted the 2011 Family Boat of the Year by Australia's Trailerboat Magazine.
The boats
Berthed together at Diamond Harbour Marina, the Rae Line 185 looks markedly different to the new Sea Ray 185 Sport and there is little outward sign that these boats are birds of a feather. But this is not surprising, given that the new Sea Ray 185 has undergone its most extensive makeover in the history of the model.
The new Sea Ray has been redesigned from the ground up and if there are two areas where the new 185 looks to distinguish itself, it is in aesthetics and practicality. By lowering the windshield and raking the aft end down, designers have lent the US-built 185 Sport a sleeker, more aggressive profile, further separating the 185 from what Sea Ray calls a "sea of sameness" in the 17- to 20-foot market.
In the bow there's more freeboard, which gives greater depth to the seating and here, you'll find a step instead of a cushion. Sea Ray reasons that the apex seat is so rarely used that it has taken the practical approach and put a step there because that's what it's always been used for.
A new gull-wing engine hatch doubles as a full-beam sunbed and opens from the centre outwards on each side. Aft of this is a standard extended swim platform with ladder. Styling is typically Sea Ray, with striking iridescent orange and white graphics and matching upholstery.
It is a smart package, no doubt, but there is a problem. By lowering the windscreen and placing the seats deeper into the hull, Sea Ray has somewhat negated the purpose of a windscreen – protection from the wind. They've also put the top of the windscreen in line of sight and you would have to ask if this is really progress. But for this, the new Sea Ray 185 is an emphatic statement in design and a clear indication of where the manufacturer is heading in terms of its small boat design.
While perhaps lacking the same eye-watering graphics, the New Zealand-made Rae Line 185 is no ugly sister and, in some ways, lauds it over the Sea Ray with an air of respectability and purpose, thanks in no small part to the sleek designer cowling of the new Mercury 150hp outboard.
Both boats are superbly finished and attention to detail is obvious right down to the piping on the squabs. Step on board and there really is very little to discriminate between both boats in terms of fit-out quality because the major components fitted to the Rae Line are made by Sea Ray and installed just as they would be in the US.
With seating for seven, both bow riders are pitched squarely at recreational family boating on inland or sheltered coastal waterways. Essentially a jack of all trades and master of none, these bow riders have the wherewithal to accommodate most activities, to a point. They're fast, agile, superbly comfortable and roomy and a lot tougher than you might expect. While you might not choose to venture too far from shore, you can be reasonably confident that, in the right hands, your bow rider will get you home safely.
However, the Rae Line has a distinct advantage over its US cousin and this stems from Sea Ray's efforts to further distinguish its new model in its so-called "sea of sameness". The aft sunbed/engine cover has effectively robbed the boat of any practical ability to fish from the transom. This, to my mind, is a biggie given kiwis' love affair with fishing and it puts the Rae Line a notch or two ahead of the Sea Ray in terms of all-round practicality.
The build
Strength is achieved through good design, sound construction and quality materials. All three are evident in the Sea Ray and the Ray Line which are built to exacting tolerances.
Economies of scale have allowed Sea Ray to lead the charge in automated boatbuilding processes, with five-axis CAD/CAM milling machines that turn out foam moulds within 1/2000 of an inch of a computer drawing. Foam moulds allow the company to build hull and decks as a single piece and this means greater strength, a better finish and more stiffness – all at a lower production cost.
The company has also introduced closed-moulding technology, whereby resin is injected directly into a closed mould laid up with fibreglass matt weavings. Robotic forming and finishing equipment is then used to drill holes and attach fittings to the hull in automation practices now common in the automotive industry.
These manufacturing refinements are evident in the Sea Ray and, to a lesser degree, the Rae Line 185. The boats are extremely fair and feel solid underfoot; stiff and willing in a short chop.
The level of R&D that's gone into the interior is also clearly evident: the seating position and seats are pretty much spot on; there's plenty of space between the helm and passenger console and the bow pit is roomy with good legroom all round. Storage is also good, with dry, lined, compartments under the bow lounges and generous side pockets, topped off with a wet ski locker in the floor. The Rae Line also features a full internal foam-filled liner and optional button down carpet.
In assessing the ride and performance of these bow riders, we have to keep in mind their intended application and use, which will predominately be sheltered water recreational water sports. Their price point is at the upper end of entry-level, yet the quality, finish and styling is everything you would expect of a boat costing twice the price. In fact, I'd go as far as saying that in some ways these boats set the benchmark for ergonomic design and styling – a reflection of course of the huge R&D that goes into them.
Both boats share 19 degrees of deadrise and a generous 2.29m beam; a fine entry at the bow and stepped chines to vent spray and increase stability at higher speeds. The hulls are good performers, with vice-like grip in tight, high-speed, turns and both hulls dance happily on their hindquarters when trimmed well out. Again, the boats are equally responsive trimmed well in and surprisingly gutsy in a chop.
The drive
The Sea Ray 185 comes standard with a 135hp three-litre four-cylinder MerCruiser petrol engine, with an Alpha One leg but Sports Marine prefers the larger optional six-cylinder 4.3-litre MerCruiser for New Zealand conditions.
It is a good call, delivering ample power to pull a skier with a boat full of people and their gear. Under lighter loads, the boat is a veritable rocket ship and literally jumps out of the hole, racing to 30mph in just seven seconds. Keep the hammer down and the boat will race to a top-end speed of 50.8mph, which is right at the top of the 4.3s operating range. That's impressive by any reckoning but not quite as impressive as the Mercury-powered Rae Line, which goes from rest to plane in three seconds, zero to 30 in about six seconds and tops out at an eye-watering 53.8mph.
The new three-litre in-line four-cylinder 150hp is a game changer for Mercury and midsize boat owners wanting a reliable, robust and less-sophisticated four-stroke outboard. Mercury claims it to be the lightest 150 four on the market and is backing it with a three-year anti-corrosion warranty. At three litres, it's a lot of engine for 150 horses, but Mercury says herein lies the key to reliability and longevity.
The high displacement means the engine doesn't have to work hard to develop horsepower and torque and the higher the torque the faster the hole shot and acceleration. It is also whisper-quiet and without any hint of low-revs vibration.
For my money, the outboard-powered Rae Line would be my pick of the two boats for the simple yet important reason that I can still cast a line out from the rear of the cockpit without giving up anything to the Sea Ray. Sure, I don't have an aft sunbed but I'm not 18 and I'm not on spring break.
Verdict
Both boats deliver an exhilarating ride and are just plain good fun, without vices. They're also very highly specced as standard, with nothing else required to get you out on the water. Sure, they have their limitations but to my mind, the quality, finish and value inherent in these bow riders is superb. From a pricing perspective, they're a hard act to follow.
Boats supplied by Sports Marine Christchurch, 507 Moorhouse Ave, Christchurch. For more information, ph 03 379 9208 or email peter@sportsmarine.co.nz.
Feel free to make a comment or ask us a question about this story on the Trade A Boat
page.
For the latest reviews, subscribe to our Trade A Boat magazine here.
Keep up to date with news from Trade-A-boat or like us on Facebook!