Personalised performer: DNA 821HT
---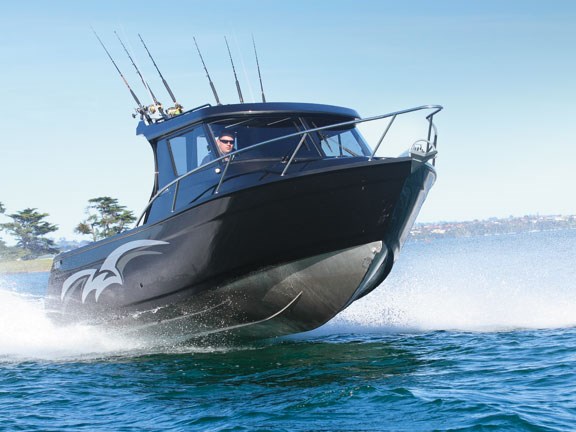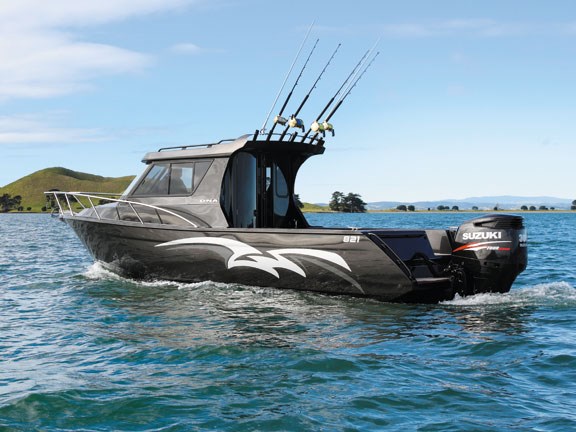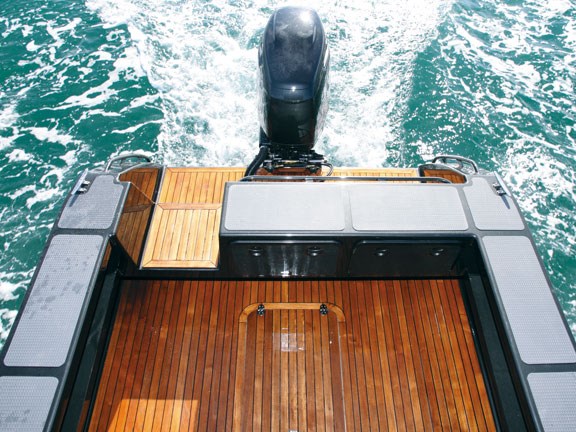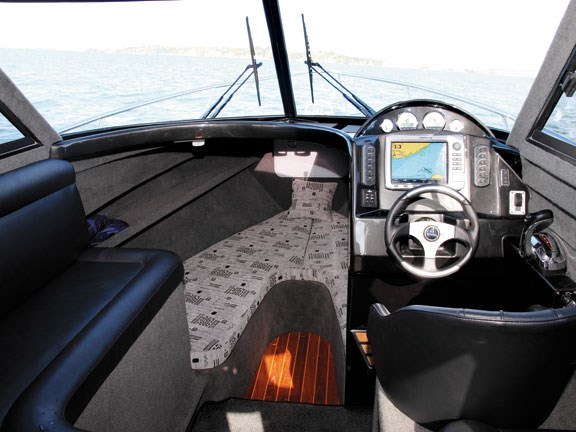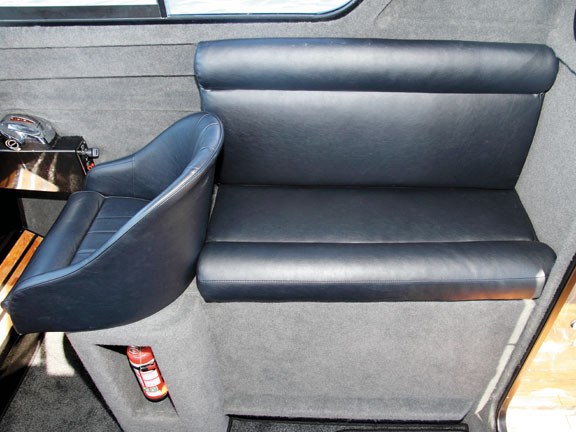 When customisation is part of your genetic code, the customer can choose the boat of their dreams. Matthew Jones puts the DNA 821HT through its paces.
Life is full of choices, some good, some not so good. Being able to fully customise your dream boat to suit your every need has got to be a good choice. With today's ever increasing pressures on our leisure time, when the chance to get away from it all arises, it tastes just that much sweeter when your boat is set up exactly to your liking.
Cracking the genetic code
DNA Boats evolved out of founder Jason Elvines' overriding passion for boats. Elvines built a couple for himself before deciding to pursue boatbuilding/design as a career. As soon as his apprenticeship was signed off, he left to carve out his own path some six years ago, initially getting into 3 to 4m pontoon boats before discovering a passion for 3D design.
"At DNA Boats our aim is to produce aesthetic vessels through 3D modelling. All our boats are CNC-cut plate aluminium so our accuracy is 100 percent," says Elvines.
Another of DNA Boats' goals is to produce lighter, better performing boats while retaining a quality ride: "We put a lot of effort into keeping the weight down through smart design in our framing system to offer great performance while retaining all the strength. We've adopted this system for all of our boats, from our smaller pontoon boats through to our 9 and 10m boats," he adds.
The DNA range is as good looking as it is diverse, from the smallest 3m dinghy to the biggest boat to date at 10.5m. Hull options include both pontoon and monohull designs, which are built to survey standards.
The choice is yours
Our test boat was custom-built for a client whose requirements included beach-launching capabilities and a top-notch finish.
"With this boat in particular we wanted to demonstrate what level of aesthetics could be achieved with an alloy boat when it's designed and finished right. Our customer also wanted a good comfortable day boat with basic overnighting and beach launching capability. This is why we went with the outboard option," says Elvines.
Being able to safely and easily beach launch an 8m-plus boat is certainly a nice option to have and one that opens up a wide world of boating opportunities.
"The trailer has been custom-designed for launching and retrieving in the tidal Abel Tasman area, so we've used angled cross-members to reduce the height by about 100mm and it's worked so well we make all our trailers this way now," explains Elvines.
Atomix Boats has recently been appointed North Island dealer for DNA and is the first point of contact in the north, with branches in Auckland and Wellington. DNA Boats deals direct with South Island customers. Securing Atomix Boats as a principal dealer has been a positive step forward for DNA and Elvines is now looking ahead to export markets.
Customisation is said to be limitless, with a full design and build service offered. Atomix Boats' Richard Cains says this is why he chose DNA Boats to partner their existing GRP and inflatable range. "With DNA Boats being designed in-house we can take the hull specifications and put any sort of superstructure and cabin layout on top. It's pretty easy for us so we don't have premium charges for design changes and anything above the hull structure is up to the customer," he comments.
Stylish comfort
With her stunning metallic charcoal paint job, sublime finish and tasteful teak detailing, this boat certainly attracts attention wherever she goes. My colleagues, Steve and Norman, both admired and commented on her impressive appearance while she was tied up at Auckland's Westhaven Marina.
Getting on board for the test was a pleasant experience, thanks to the Portofino transom and high-quality teak flooring. The only obstacle was the outboard wiring loom, which was easy enough to step over.
On entering the cockpit, a separate toilet with ample room is set to port. A shower and rod rack aren't included but there's plenty of room to tick these boxes. The starboard side is fitted with a handy hot and cold wash basin, with gas califont and storage beneath.
Access to the cabin is through a bifold door, which is both stylish and functional and of adequate size for easy passage into and out of the cabin. Headroom inside is generous, with plenty of strategically-placed handholds. The cabin layout features a sociable seating arrangement which will easily afford five crew and skipper a comfortable ride if the weather turns sour.
With the design brief requiring only basic overnight capabilities, there's really only sleeping accommodation for two. Nevertheless, it's very comfortable with full-length bunks. Storage is abundant and there is stowage under each seat. Fitted with a gas hob, galley options extend to a small sink with fridge below for those requiring a higher level of live-aboard facilities.
In order to maximise cabin space within the hardtop, access around the side has been kept to a minimum, but it's still easily navigated with plenty of hand rails to grab. There's also great foredeck access through the forward hatch if required but with an Anchorlift windlass fitted there's no requirement to venture forward of the cabin.
Choose your pastime
The 5m2 of teak-bejewelled cockpit space on offer could be put to good use wrestling big game fish or accommodating divers but set-up, as it is, has 'chillaxing' written all over it.
The gunnels are wide, with plentiful non-skid making for backside-friendly seats. There's also plenty of space for a couple of sunloungers and the Portofino transom looks like an inviting place to perch with a cold one in hand, savouring a picturesque anchorage. A generous underfloor bin also accommodates an oversize ice bucket to chill whatever takes your fancy.
Although the owner chose not to specify rod holders or bait board, there's ample space on the gunnels and transom to turn this DNA into a formidable fishing machine. However, storage for seven rods is provided in the overhead rocket launcher and there is room for more in the generously lined parcel shelves.
Landing the big one should be straightforward, courtesy of excellent transom access and an expansive self-draining cockpit albeit a secure transom door would be required for offshore game-fishing. A stylish DNA-branded drain plug feeds a deep bilge well, complete with automatic bilge pump to quickly disperse any unwanted water.
Behind the transom hatches twin batteries are neatly housed off the cockpit sole, with a voltage sensitive relay fitted to ensure correct charging. A saltwater wash-down pump is included to keep the cockpit clean and odour-free.
Cruising in comfort
We departed Westhaven Marina and headed out into a slight breeze towards a patch of blue sky for the photo shoot. Atomix Boats kindly supplied its new 420SC (sliding console) as the photo boat. Conditions were much more pleasant than forecast and it turned out to be one of those magic winter days that just get better with each passing hour.
With the photos sorted it was time for a spell on the helm. Heading home over a slight chop the DNA's ride was smooth and pleasant with the weight-saving design dishing up a spirited performance all the way up to 39 knots. A couple of passing ferries provided the required launch pad to test the ride. We comfortably sliced through a solid metre of wake at 25 knots with all vertebrae intact and no jarring to speak of.
The trim range on tap was huge with 50 percent, able to be applied without any loss of grip on the water or boat performance. This made pinpointing the sweet spot a little tricky but it does offer the skipper a wide range of adjustment to suit conditions on any given day.
With the outboard tucked in, turns were fast and tight, with no detectable prop-ventilation. Trim tabs and wipers were fitted but they weren't required on the day.
Cruising at 25 knots (4000 rpm) was effortless and carefree and with 300 litres of fuel under the floor, we could have easily embarked on a 200 nautical mile round trip. By chucking a couple of lures out and dropping back to 7 knots (1500rpm) range would increase to just over 300 miles.
Finding a metaphor to describe the Suzuki Precision Control throttle system is not easy but 'smooth as silk' comes quickly to mind. After experiencing this fly-by-wire system for yourself you'd never go back to cables. The 300hp V6 four-stroke outboard also provided smooth, quiet and responsive power throughout the rev range. At idle I found myself constantly checking the rev counter to make sure it was still running.
Relaxing back into the comfortable helm seat was pleasantly soothing with an empowering and ergonomic helm setup at the fingertips. Combine this with the expansive views through the large curved glass windows and Porsche-like performance and you have a boat that's a true pleasure to drive.
As previously discussed, beach launching is a possibility thanks to the great-looking lowered twin-axle trailer complete with brakes. But at around 3-tonne towing weight, you will need a suitable tow vehicle but your boating possibilities will know few boundaries.
The last word
Our test boat was commissioned as a taxi for a holiday home owner in the Marlborough Sounds, so it was lacking some of the usual fittings you'd expect to find on a boat of this calibre, such as rod holders, bait board and boarding ladder. However, the fit-out is top quality and with a few more options added, this boat would be a serious fishing machine and a capable overnighter. But therein lies the beauty of a custom build: you can have as much or as little as you want - and stay within your budget.
The DNA 821HT is a true custom package, built on good foundations. What DNA Boats essentially offers is a blank canvas upon which to create your dream machine.
For more information contact Jason Elvines, ph 03 542 3977, email info@dnaboats.co.nz or visit dnaboats.co.nz.
Feel free to make a comment or ask us a question about this story on the Trade A Boat
page.
For the latest reviews, subscribe to our Trade A Boat magazine here .
Keep up to date with news from Trade-A-boat or like us on Facebook!