Delher 41
---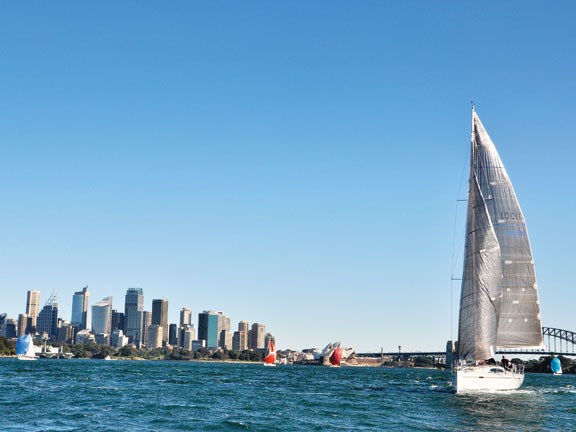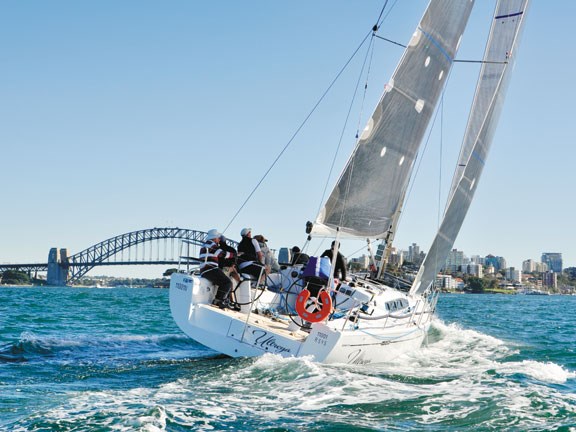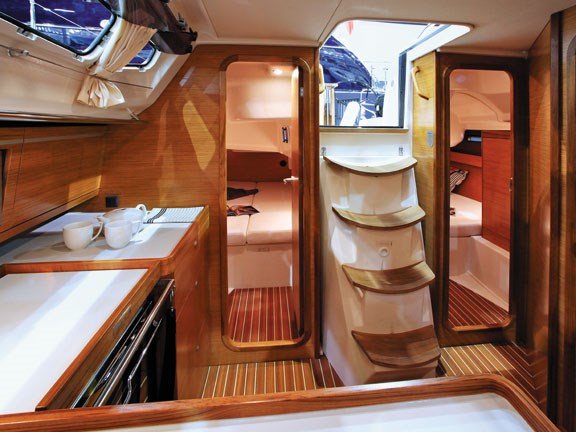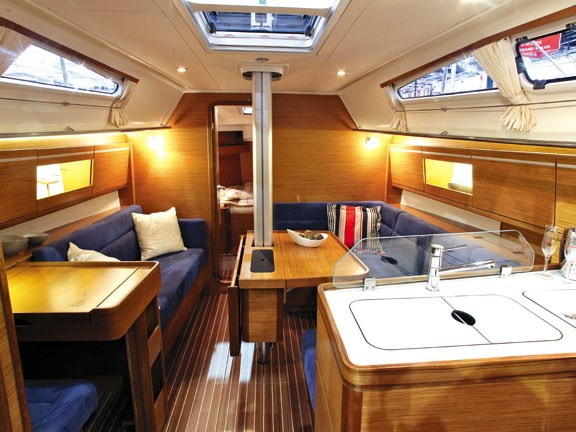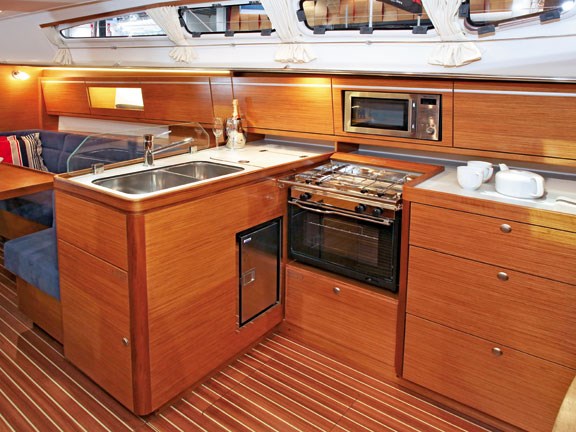 There is no shortage of race yachts that will cruise comfortably, but is it really feasible to have a production yacht worthy of the mantle of racer/cruiser? James Nichols says it is and it's in the shape of the new Dehler 41.
Rolf Vrolijk, principal designer for Alinghi, took it upon himself to ensure that the new Dehler 41 made a statement of his company's commitment to the Dehler cause.
Dehler, a bespoke German yacht manufacturer, recently became a part of the Hanse Group, which also owns Moody Yachts. The effects of this takeover for Dehler have become immediately apparent: the increased economies of scale afforded by being part of a much larger buying group allow these yachts to be priced 20 to 30 percent below where they were two or three years ago, and with no loss of quality or workmanship.
As I walked along the jetty towards the new Dehler 41, my first impression was that this indeed looked like a fast boat, but the proof would be in the pudding. I had my reservations about a yacht designed and built to be a performance racer and a luxurious cruising boat. Is it really possible to incorporate the best elements of both and not fall foul like so many hybrids before, as a jack-of-all-trades and a master of none?
Performance construction
Being a part of the larger Hanse Group has in no way compromised the build process of Dehler Yachts, which has enjoyed a reputation for quality and artisanship. Indeed, at this stage, Dehler continues to utilise its own manufacturing line in Freienohl near Dusseldorf. I deliberately avoid use of the word 'production' because the build process would be considered highly labour-intensive by most.
The Dehler 41 is a full vinylester lay-up boat with a foam core. This process is much more expensive than polyester and balsa but it provides considerable advantages from the point of view of stiffness and lightness – elements which are key to the success of any cruiser/racer.
The hull is GRP and of vacuum-infusion sandwich construction, using very thin layers of glass fibre, a foam core and hydrolysis-proofed vinylester resin. The deck is a GRP hand-laid sandwich with end-grain balsa core. Combined, this method of construction provides a very durable yet light structure, without taking shortcuts or making sacrifices in terms of fit-out or creature comforts.
Magnetic personality
Aboard the new Dehler, it is immediately apparent that this is a quality yacht, built with exacting attention to detail. For a 40-footer, the open cockpit is generous and fulfils the promise of being a great entertainer, with many clever touches like the mainsheet track checked flush into the cockpit sole.
But for its cruising practicality, it is ergonomically laid out for racing duty. Flush deck hatches further enhance the 41's smooth racing lines and eliminate another potential obstacle to avoid when working the deck. In fact, there are very few toe-stubbing appendages on this yacht and even the deck cleats can be pushed down level when they're not required for berthing.
Options in focus
Below deck, the Dehler 41 is spacious and well appointed. Little things, like the quality of the taps, are noticeable, as too is the subtle Dehler logo on the chart table top.
The review yacht has a large double master forward, a well laid-out saloon and galley (with double sink) and an aft cabin on the starboard side with a double berth. On the port side aft is a large stowage locker, accessed via the head and separate shower stall.
There are three interior and accommodation layouts to choose from. Alternative options include a mattress and shelving or a mirror image of the starboard aft cabin, albeit at the expense of the desirable shower stall and wet gear/sail locker.
As mentioned, the boat we reviewed has the standard set-up, with all the 'wet parts' of the boat together and the sail locker accessible internally or from the cockpit. Downstairs is a very comfortable place to be, without being overly opulent. It is light and airy with two topside horizontal windows each side. Topside is equally impressive, with posh twin Carbonautica wheels.
The yacht also has an alloy rig set-up in Germany, though carbon fibre spars are an option along with a removable transom, which can be taken off in less than half a day for serious racing.
Healthy appetite
The new range of Dehler yachts has only recently become available in this part of the world through Australian importer and sales agent Team Windcraft, yet it has found considerable initial success, with eight yachts sold in Australia in less than a year. This clearly hints at a growing appetite for the new-generation yachts – boats which effectively blur the line between performance cruiser and competitive racer.
While this boat is one of only two 41s in Australia, the owner has already had some racing success since upgrading from his Hanse and the crew is learning more, week by week and tweak by tweak. Hamilton Island Race Week is on the sailing programme and will prove a good measure of the boat's pace.
This Dehler 41 has a bespoke feel and being quite serious about his racing, the owner has opted to extend the forestay right to the stem of the yacht, rather than the standard inboard self-furling fixing point.
On the water
Our review 41 is clearly a slippery yacht, moving well in even the lightest zephyr. The boat is highly responsive, picking up speed and power in the gentlest puffs, and I was strangely reminded of an English America's Cup boat, first seen during the Fremantle campaign, called White Crusader. While everyone else was becalmed on a foggy day at Royal Burnham Race Week, it came out of the mist like an enormous apparition, moving ahead like a harbinger of perpetual motion. So, too, the Dehler 41.
It really was onwards as we hoisted the smallest kite. However, I would love to have experienced what this boat has to offer in a greater variety of conditions, other than the barely-perceptible puff we experienced on the harbour.
Dehler has thought of nearly everything to make a manageable and competitive yacht. Again, great attention to detail is evident everywhere you look, such as the quality wooden foot blocks to assist the helmsman when the boat is heeled. I do wish someone had remembered to sort out a couple of winch handle pockets, though, as there are plenty of positioning points in the big cockpit. Regardless, if the 41's responsiveness on the helm is anything to go by then I am confident that stronger winds would afford an exhilarating and controlled ride.
The upshot
All too soon, our time on the water was over, but I took a little longer to examine the remaining aspects of interest once we tied up. Delving deeper into the hatches, lockers and cupboards reinforced my view that there has been no scrimping on material in areas not visible without searching.
Prices for the Dehler 41 start at AUD$351,000 and the review boat, with its optional lead-iron T-shape keel, was launched for AUD$377,186.
In summary, the Dehler 41 is a very well-put-together package, as befits a semi-custom yacht, and there is a wide variety of options that can be added dependent upon budget, taste and style. These include teak side decks, cockpit speakers, additional mooring hardware and optional cruising pack or racing pack.
Feel free to make a comment or ask us a question about this story on the Trade A Boat
page.
For the latest reviews, subscribe to our Trade A Boat magazine here.
Keep up to date with news from Trade-A-boat or like us on Facebook!