Image 8.5M FishMaster
---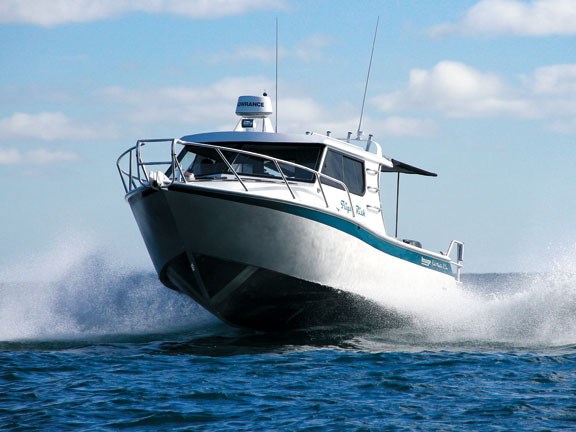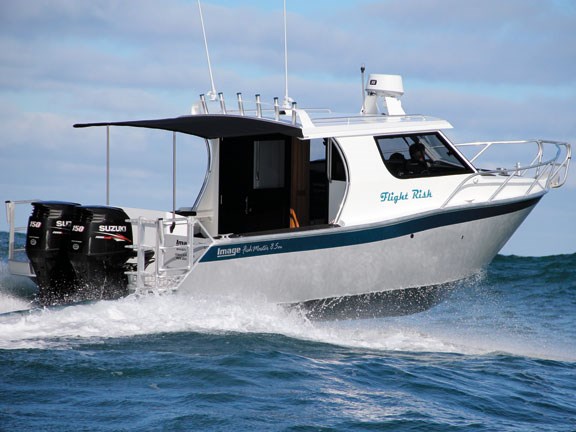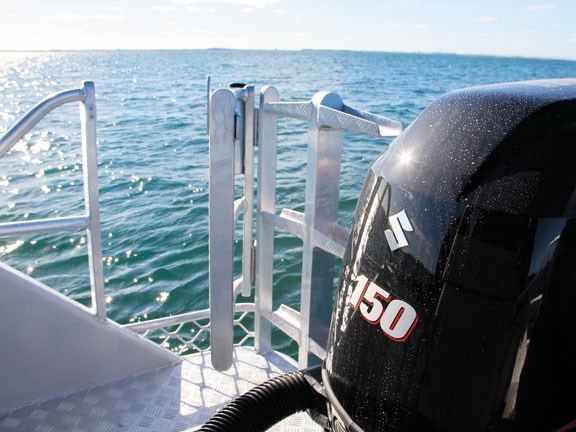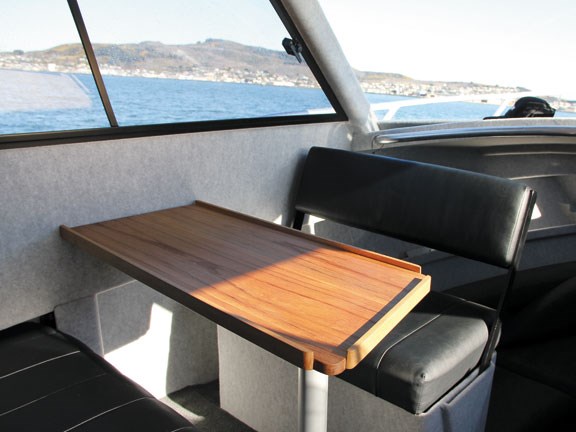 Image Boats has carved out a successful niche in the large trailer-boat market, with a range of serious offshore performers perfectly adapted to their natural high-latitude environment. Steve Raea travels south.
With coastal sea areas Puysegur, Foveaux and Conway lapping at their door, it's bewildering that Bluff and Invercargill are home to some of New Zealand's most proficient and prolific recreational trailer boat manufacturers.
Among brands that call the deep south home is Invercargill's Image Boats, which engineers custom-built alloy trailer boats to perform in sea conditions that would void some other manufacturers' hull warranties.
Adapting boat design to cope with these types of conditions has been a necessity for Image Boats and it is why the brand is sought out in equal measure by offshore recreational fishermen and commercial operators who have no interest in risking their lives or their livelihoods in lesser boats.
Image Boat's founder, Dean Wilkes, is pragmatic about his boats and he's not prone to talking them up for something that they are not.
He is the first to describe his boats as rugged to the point of being agricultural in part, but he points out with a wry smile that in the 12 years he's been building under the Image brand, none of his boats have been brought home broken.
That's certainly something, considering 124 Image vessels have rolled out of his Invercargill factory – the vast majority for delivery to lower South Island buyers fishing and working in the high latitudes of the Southern Ocean.
Wilkes falls back on the analogy of the Land Cruiser to encapsulate his boats' key qualities of toughness and reliability – a four-wheel-drive of the sea. And not unlike the Land Cruiser, Image boats are built for a purpose – and thus are purpose-built.
That purpose, says Wilkes, is offshore fishing in safety, with a range that allows the boats to be taken out wide and to stay out wide for as long as it takes to achieve a positive result. This necessitates live-aboard facilities and a level of creature comforts. This is another area where the brand excels.
The newest boat to leave Wilkes shed is the Image 8.5m Fishmaster, Flight Risk, which is destined for Melbourne and the recreational waters of Port Phillip Bay and offshore rigors of Bass Strait.
To be tracked down by an Australian buyer is a coup for Wilkes, because his business has been largely built on word of mouth. Image Boats' marketing is modest and Wilkes doesn't use dealers to spread the Image word. But the brand's reputation for robust engineering is well established and reflects Wilkes experience building large commercial work boats, both here and in Australia. A sheet metal worker by trade, boatbuilding was a natural progression and it's an industry that has treated him well.
While strictly a custom boatbuilder, the Image Boats' range shares similar design traits and features which make them distinctive. These features are prominent at the stern, with Wilkes gated transom. This harks to the boat's practicality and functionality as a dedicated fishing platform.
Design evolution
Wilkes designs his own boats and the Image hull shape has changed little over the last 12 years. Key features across the range include a single variable chine, strake-less hull and 18-degree transom deadrise – a compromise between stability at rest and ride quality.
His boats are handsome, with big shoulders to muscle through the rough stuff but they're also relatively fine in the bow to track well through an awkward shop. The 8.5m Fishmaster is offered as standard with a beam of 2.7m but can be widened to 2.9m depending on the boat's application.
Wilkes also offers clients an option to raise topside height at the bow and, conversely, lower topside height at the transom. This is partly to improve the boat's aesthetics by introducing a variable 'classic' sheer, but also serves to increase cabin volume.
He says his boats are most comfortable cruising between 20 and 28 knots, so they're not overly quick but they are easily driven and therefore don't require excessive horsepower. Fuel economy is also important given many Image Boats are put into charter and commercial operations.
Flight Risk is powered by twin DF150 Suzuki four-stroke outboards with counter-rotating props and this, says Wilkes, has proven to be an excellent option delivering ample power, good economy and the redundancy that many buyers require for offshore voyaging. "The key advantage with twin outboards, and particularly with the Suzukis, is the bigger prop area, which works very well on this hull. The boat lifts onto the plane at 13 knots and is actually very efficient for its weight," he adds.
He says some buyers opt for a single 250hp outboard and says that works fine too and is a cheaper option, with less capital outlay and servicing costs, but he recommends the twin outboard installation for its improved bite on the water and smooth power delivery.
Tough as nails
The heart of an Image hull is the fabricated triangular cross-section, formed by a fully-welded internal keel bar and seam-welded transverse stringers. These in turn are capped with a seam-welded alloy plate for additional stiffness and rigidity.
Four full-length bearers are checked and seam-welded to support the cabin and cockpit sole, while five alloy bulkheads, internal horizontal keel strip, aft cabin bulkhead and transom construction provide lateral support to prevent wracking and twisting in heavy conditions.
All metal work is from 5083 marine-grade aluminium and construction utilises 6mm plate from the keels on to the waterline, 4mm plate for the topsides and 3mm plate for the cabin sides and cabin top. The cockpit sole and boarding platform is fabricated from 4mm aluminium checker-plate.
The boat's standard 350-litre fuel tank is fixed into the bilge below the hardtop sole to keep weight low and centred. This in turn creates additional underfloor space aft for the boat's full-length cockpit locker, which spans the bridge deck to the transom.
Cockpit
Moving aft, the transom has a dual walk-through to the oversize boarding platform and outboard pod, flanked by farm-gate-strength transom aluminium railings designed to keep anglers safe in awkward beam-seas.
The boat's offshore credentials are further evident in the transom design, which includes a sizeable bridge deck cum step from the boarding platform to the cockpit. This will prevent wash spilling over the transom and finding its way into the cockpit when backing down hard on a catch.
A new feature to the 8.5 is the starboard-side boarding platform door that swings inboard to facilitate stress-free berthing when coming in alongside jetties and wharves shorthanded. The door allows you to secure the transom without having to straddle the gunwale. Once attached, it's a simple case of idling forward to bring the bow in alongside.
The cockpit is vintage Image: solid, practical and fitted to work best for four anglers, although size-wise, there's room for more. The central aft bait station is the nerve centre and incorporates a large bait station, with bait board and integrated stainless steel sink. The bait station lid hinges outboard and is secured by a single metal bar. The design isn't flashy but it's practical and works.
The forward face of the bait station is sealed with an aluminium door which opens into the cockpit for access to the boat's battery isolator switches and battery banks. These are set off the cockpit sole in a dedicated shelf and securely contained by a raised aluminium lip.
Plumbing for the live-bait tank, fresh water wash-down pump, LPG gas supply to the bait board sink and the boat's twin bilge pumps is neatly fastened and labelled within the enclosure. At cockpit sole level, there are plastic access panels to service the boat's bilge pumps.
The cockpit carries twin full-length parcel shelves for general stowage and these are well braced with a solid alloy rail just beneath the gunwale. The gunwales are at hip height for offshore security but are wide enough to provide a secure seat when the boat is at rest.
Moving forward, the aft head, holding tank and shower unit is on the port side and enclosed with a single anodised aluminium door. This is flanked to starboard, with a twin bench seat atop a fabricated stowage locker that could be utilised for built-in cockpit refrigeration if required. As is, the unit is large enough to accommodate a drop-in chilly bin.
The hardtop cabin is enclosed with a matching single aluminium door, with a sensible bridge deck to contain any wash from the cockpit finding its way inside. Overhead, the hardtop roof extends well aft for all-weather protection. It is fitted with three overhead handrails, though these are bit of a stretch, such is the generosity of headroom. That said, there is no shortage of well-placed handholds.
Rod stowage is a little compromised by the optional bimini that covers the full length of the cockpit. The bimini is mechanically fastened to the aft edge of hardtop, preventing access to the overhead rocket launcher. This shouldn't be an issue with twin rod holders recessed into each gunwale and a further two welded onto the rear transom gates.
While the protection offered by the bimini is useful, its design is a bit flimsy for my liking, with two small-gauge uprights slotting into the bait station to support the aft end. It's adequate but not bulletproof, like almost everything else.
Accommodation
The Image hardtop and V berth cabin is a veritable sanctuary with the aft door closed against the weather. Designed and equipped to provide a moderate level of self-sufficiency, the internal layout hits the target nicely with a compact galley, raised dinette and generous vee-berths with optional overhead pipe berths.
The galley is fitted with a sink, hot and cold water and a two-burner LPG hob. A small 12 volt fridge is recessed into the saloon seat base opposite, behind which is a full-height yet shallow pantry shelf with rimu door. Galley stowage is generous with six deep drawers built into the timber galley unit.
The raised saloon provides comfortable seating for four with a small rimu table that drops onto cleats to provide an additional sea berth if required. The forward seat back hinges aft to provide a comfortable bench seat for passengers when underway.
The quality of fit-out is in keeping with the rest of the boat: practical and comfortable but not flashy. The cabin space is fully lined and carpeted and the upholstery is hard-wearing and fit for purpose.
A big plus is the boat's full-length V-berths and very generous sitting headroom. This gives the cabin a sense of volume and space. There is an abundance of natural light and ventilation, with overhead cabin deck hatch and sliding windows in the hardtop and rear bulkhead.
The helm station is in proportion to the boat's internal layout and provides plenty of options and space for flush-mounting widescreen navigation instruments, radio gear and switch panels. In this instance, instruments include a new-generation II Lowrance HDS10 combination plotter, fish finder and radar and twin Garmin GME 10 digital engine readouts for the twin Suzuki 150hp four-stroke outboards.
The helm seat is large and comfortable but like so many hardtop designs, the Image is a boat that just feels better when you're standing at the helm. To assist, the helm seat folds back neatly and out of the way. The boat's instruments are all within easy reach and the twin throttles fall comfortably to hand.
While a curved glass windscreen is an option, the owner here has opted for the conventional and considerably cheaper standard 6mm safety glass windscreen which detracts little from what is a purposeful-looking boat.
Being a custom boatbuilder, Wilkes recognises that buyers have differing tastes and to accommodate this has grown the list of options now offered across the Image Boats range. However, value is Wilkes priority and he keeps a tight hold on costs and this is reflected in his bottom line.
"We're competitive in the market and have manageable overheads and a small team. The only downside perhaps is built time which runs at about three months. This fluctuates according to how much work we have on but buyers are happy with that. For many, placing an order comes after a year or more of studying the market and deciding what options they want," Wilkes remarks.
Sure-footed
Launching from Bluff, we headed out of the harbour in perfect conditions with a light to moderate breeze and a comfortable 1m swell with a little tidal chop on top, hardly testing conditions for a boat of this calibre. However, this was short lived. Beyond the entrance the confluence of current charging around the bottom of the South Island and an out-going tide kicked up a confusing sea that had no form to it, making it difficult to read.
For all of this, the Fishmaster pushed on in a sure-footed and predictable way, comfortable in her sweet spot somewhere between 25 and 28 knots. What was telling was the pounding being dealt out to our companions close by in two smaller boats.
They coped fine but were taking a lot of air and rolling awkwardly on their chine, at times nosing into the back of waves. The big Fishmaster was far more gentle, pushing through with only a modicum of lift. I knew which boat I was glad to be on.
Soft-riding is a state of mind and subjective; one person's idea of a soft-riding boat is another's knee-trembling nightmare, but I'm on safe ground using the adjective to describe the Fishmaster's sea-going manners. Sure, it's a planing hull and planing hulls slam when pushed too hard but at its intended design speed the Image is all class.
As Wilkes says, the boat is not a rocket ship but the twin four-stroke Suzukis have heaps of torque and smooth power delivery across the rev range and, with some of the largest props on the market, they make easy work of lifting the boat out of the hole and onto the plane.
The boat's hydraulic steering is moderately light but firm, with excellent feedback particularly when leaning the boat into turns at speed. The counter-rotating props grip on the water is unshakable and the big boat straightens out and lifts smartly with power on.
The ambience in the cabin is all peace and tranquillity, with the cabin door closed to the elements and the whine of the twin engines. Conversation is easy, with the internal linings and carpeted sole soaking up much of the noise of alloy on water, save for the sluice of the deep-vee slicing the top of the swell.
In summary
Image boats are built for a purpose and they serve it very well. They're tough, dependable and robust and suited to wide range of applications. They're a big roomy boat on the water and this translates to a big boat on the trailer – this is their Achilles heel.
You'll need a big wagon to get the boat from A to B and launching and retrieval might be daunting at first, but it's all about technique. Wilkes makes it look easy, driving the boat onto the Image-built trailer with calming confidence.
Built to survey, the Image Fishmaster range of vessels have proven themselves in a variety of applications and the operators and owners I've spoken to over the years swear by them. Therein lies the only recommendation that holds any real water. h
Built and supplied by Image Boats, 24 Bay Road, Invercargill. For more information, ph 03 214 4573, email dean@imageboats.co.nz or visit imageboats.co.nz.
Feel free to make a comment or ask us a question about this story on the Trade A Boat
page.
For the latest reviews, subscribe to our Trade A Boat magazine here.
Keep up to date with news from Trade-A-boat or like us on Facebook!