Explorer 5.3 Tender
---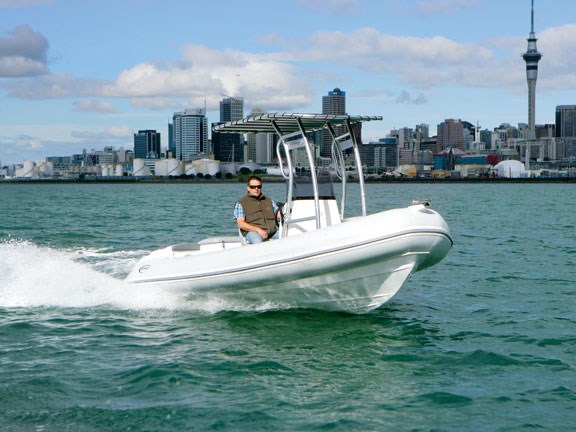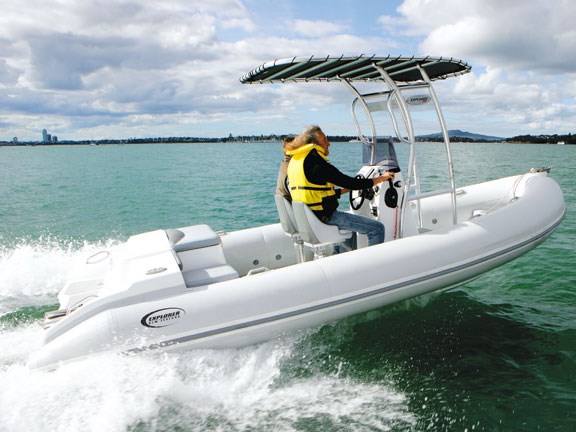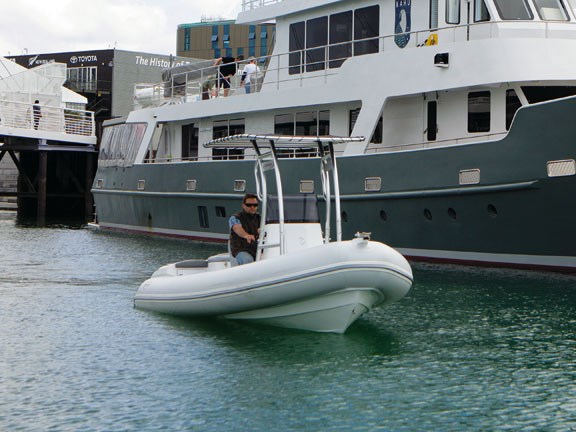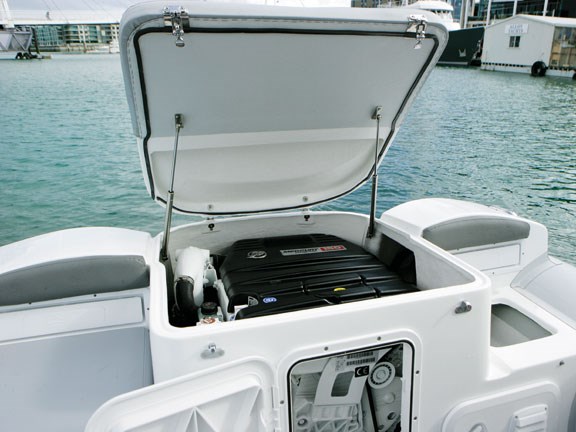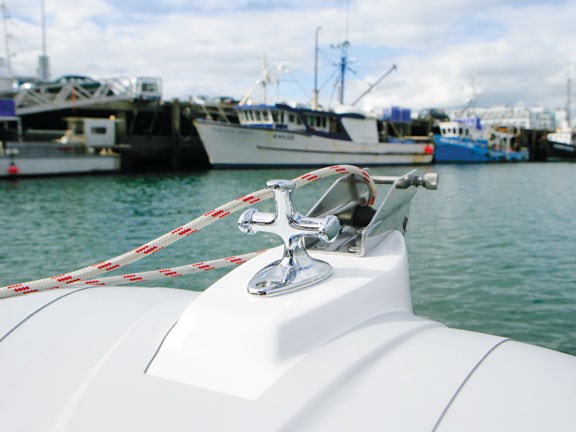 With the growing preference for standardising fuels carried aboard, large boat owners are looking beyond petrol-driven outboards for their inflatable tenders and are beginning to explore a new generation of spirited diesel inboards.
The race developing within the sports/luxury inflatable boat market seems to have no ban on innovation or steroids, a design cocktail clearly evident in the release of the new diesel-powered 5.3m RIB from Auckland's Explorer Inflatable Craft.
Explorer director Mark Goodhew is well known for his work with high-performance sports boats and race engines, but says increasing customer demand for efficiency and convenience has fuelled the development of diesel-powered RIBs within the Explorer range.
The release this month of the 5.3m diesel-powered tender to Kahu suggests that the positives of diesel inboards outweigh the negatives, further quashing the misnomer that diesel engines don't perform.
"They do perform," says Goodhew, "and better than you'd expect. They also offer excellent fuel economy, with the added convenience and safety of being able to fuel directly from the mother ship. It makes a lot sense."
First look
Immediate impressions of the new Explorer as it surged up alongside us were those of a toothpaste ad: long, clean white pontoons, uncluttered with the usual appendages, such as handholds, ropes and pontoon rubbing strakes common to inflatables. This is purely for aesthetics because these items are quite handy for exhausted water sporters. So what at first may seem like a plain Jane is GI Jane when you step on board.
The other overwhelming impression is of its latent power, invisible to the eye because it is neatly concealed under the engine cover, which, like a benevolent transformer, turns into a comfortable bum rest. It is the ear that zones in on the smooth, turbine-like 'hummm', more noticeable because of its subtleness and awesome understatement. This was going to be exciting.
Goodhew's vision is to promote New Zealand-made quality to the world and that quality is evident everywhere you look.
Explorer's factory in Kumeu, West Auckland, produces Jet Sprint hulls alongside its range of Explorer craft. It also manufacturers Hypalon tubing for Sea Legs amphibious RIBs and has an engineering shop for tooling high-powered engine parts.
Explorer's speciality is combining alternative power plants, especially testosterone-filled inboard diesel and jet engines built for customers' unique applications and requirements. Of course, all this experience is combined in the latest 5.3m Explorer, powered by MerCruiser's two-litre, 150hp turbo diesel.
Stepping aboard, the stability is accentuated by the large Hypalon tubes, with five airtight compartments. The finish is superb, with no over smears of unsightly glue as found on lesser Asian imports.
The hull is solid fibreglass, with a 20-degree deadrise and a fine entry, providing the delicate balance of efficiency underway and stability at rest. The RIB weighs in dry at 850kg, of which 450kg is the engine.
The walk-around centre console (three variations offered) seats the pilot and co-pilot comfortably in hip-cupping seats, which give you something to push against when the G-force kicks in on the turns.
The seating layout and design is a credit to the brief for a luxury tender thanks to all the other things it comprises. The boat comfortably seats seven adults and a child.
At the bow is a neat bollard and roller and an under-seat anchor locker for the 2.5kg Kawini anchor and chain set-up for the tropics.
Under the floor are several sealed lid compartments which self-drain into a bilge with a pump. The engine bay at the rear is also a self-contained compartment, with its own float switch bilge pump isolated from the rest of the hull.
The centre console provides adequate space for a chart plotter, VHF and fish finder, although no electronics have been fitted at this stage. The unit also comprises three sealed storage areas, a top unit for phones, etc, a glovebox and a larger area under the helm for life jackets and bulkier items. There's also underfloor storage options fore and aft.
The tall console windscreen is effective at deflecting what little spray might whisk over the bow while at speed in a chop and a pair of 50mm self-draining plugs take care of any wash or water carried on board by swimmers and divers.
Speaking of shelter, the most identifying feature (if you could call it a feature) is the T-top bimini towering above the centre console, like a single palm tree on a small, sand-fringed island. It is an off-the-shelf frame post fitted for the tropical sun – it looks a little odd and ineffectual. It also blocks the navigation lights. However, it does provide a useful structure from which to attach wakeboards, skis, rods and spotlights. And that was the brief for the boat – a water-sports-capable workhorse; function with thoroughbred form.
The stern is where the action is at and where the main features take pride of place. The scene is set by the simple and clever design of foldaway bollards. And like the bollards, it's what you don't see that sets the standard. There are no wires or cables, fuel lines or cavities and most noticeably, there is no giant outboard. Consequently, there is a wonderful area to relax and a useful rear boarding platform – a trademark feature of the Explorer brand. It offers a generous, stable deck for working or playing from, with a step ladder and useful hand rails. One can imagine underwater lights would complete the picture of luxury at night.
Back to the stallion in the boot. Smoothly opening the gas-strut stable door reveals a black beauty: MerCruiser's two-litre, QSD 150hp turbo-diesel inboard, with second-generation Alpha One stern leg driving a three-blade 21-inch prop, propelling it all the way to 40 knots with a cruising speed of around 27 knots. The engine is mounted on two longitudinal bearers which run the length of the hull.
A 140-litre diesel tank lives under the centre console for ideal weight distribution and while fuel performance trials have yet to be carried out, Goodhew estimates usage at about 10 litres an hour at cruising speed.
For the driver, the engine responsiveness and efficiency and manners of the hull all add up to an exhilarating ride in a variety of self-created sea states. While some luxury tenders might make you feel old and sensible, this engine made me feel young and spirited, although the bimini overhead felt like a top hat.
It is the engineless view over the stern that combines James Bond retro with The Jetsons future and makes the Explorer 5.3 a candidate for the contemporary tender, with a futuristic power plant to boot.
For the prospective purchaser, alternative power options are where Explorer has the most room to manoeuvre, depending on customer requirements for size, weight, power and cost. Options extend to the light and compact Mercury Sport jet, Hamilton jet, Scott jet, Yanmar diesel or MerCruiser QSD, each offering niche advantages for specific requirements.
Certainly on this version the MerCruiser QSD was calm and quiet in its delivery, powered up in seconds and enthusiastically bounding over its pressure wave and onto the plane in no time. The fact you can literally sit on the engine cover and have a conversation is sound testament to its user-friendliness.
Fuel stop
Boats today necessarily carry diesel, LPG, petrol and oil for a variety of inboard and outboard engines. The move to standardise fuel use coincides with the timely transformation of marine diesel engines as an alternative to petrol outboards. The benefits are immediately visible when looking at the smooth, modern lines of the Explorer 5.3.
While aesthetics maketh the superyacht, it is the extraordinary performance of this new era of inboard diesels, expertly matched to proven hulls like those from Explorer, that is setting a new precedent in the RIB market.
The tender is already being utilised in Vanuatu and will no doubt demand a bit of attention for its stylish and powerful understatement.
Feel free to make a comment or ask us a question about this story on the Trade A Boat
page.
For the latest reviews, subscribe to our Trade A Boat magazine here.
Keep up to date with news from Trade-A-boat or like us on Facebook!