Haines Hunter SF535
---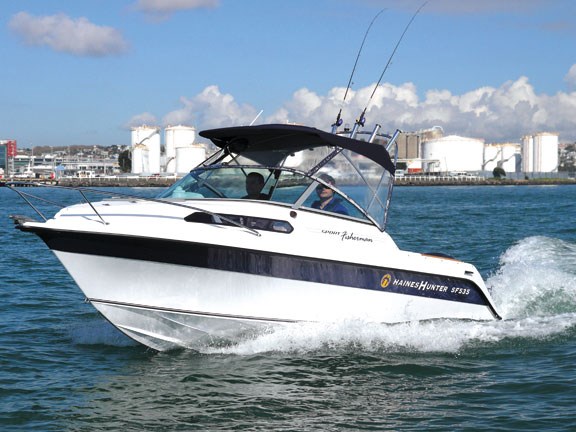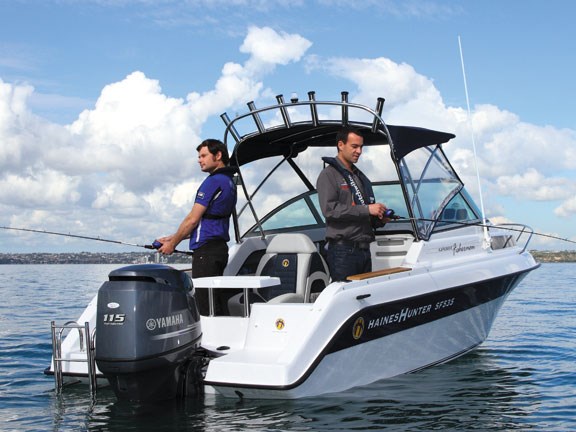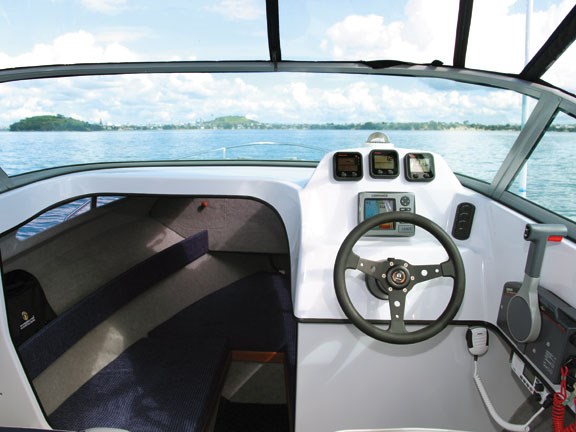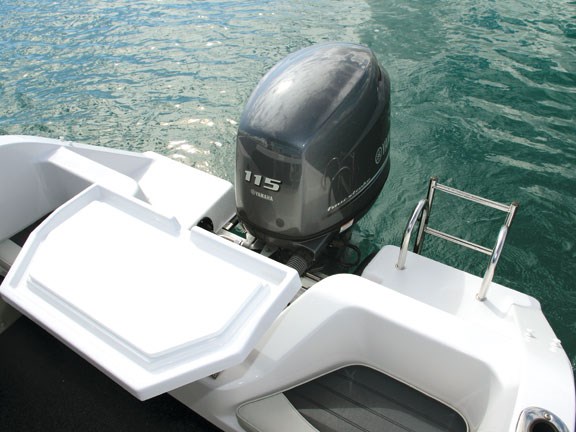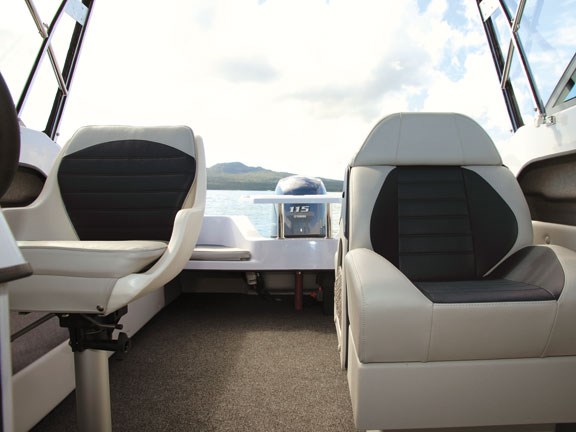 Haines Hunter's SF535 is a modern kiwi classic, with over 2300 hulls built since the model's introduction in 1987. Matthew Jones puts one to the test to find out just what it is that makes this boat so enduring.
There is one key attribute that will weather the test of time and that is quality. A Haines Hunter boat exemplifies quality construction and it is a brand that needs no introduction, with boaties enjoying quality time on the water in Haines Hunters since the early 70s.
One of the brand's most popular models, the SF535, has stood the test of time, celebrating 25 years in production with more than 2300 hulls built. Such big numbers cement its status as a true kiwi favourite and Haines Hunter New Zealand managing director Lionel Sands says there are plenty of the original hulls produced still going strong today.
Sands credits the model's popularity and longevity to its inherently soft-riding, 21-degree deep-vee hull and the boat's handling characteristics, common across the Haines Hunter range. It is also a manageable size that doesn't require a large tow vehicle and the boat performs well with moderate horsepower.
"We designed the SF535 with families in mind and made the model affordable to help people get into boating and the outstanding boating lifestyle that New Zealand has to offer. Conversely, the SF535 is also popular with the not so young who are looking to downsize into a smaller yet capable boat, so they can continue to enjoy their boating," says Sands.
While the model's deck and topsides have undergone cosmetic and functional enhancements over the last two and a half decades, the 21-degree hull shape has remained unchanged.
"The proof of the pie is in the eating," says Sands. "The SF535 is one of the biggest selling 18-foot GRP boats in New Zealand and customer satisfaction with the performance of the boat is high. This is also reflected in the second-hand market. I've got two seven-year-old second-hand boats on the yard priced at $45,000, so the model retains its resale value better than many other brands."
Crafted by craftsmen
Sea Craft is the manufacturing arm of Haines Hunter. It certainly knows what it's doing, having built boats since 1946. From its state-of-the-art facility in Auckland, Sea Craft can produce 250 Haines Hunters per year. In today's automated world, craftsmen are a rare breed, but they're alive and well at Sea Craft under management's hands-on guidance.
"We endeavour to retain a level of craftsmanship of days gone by wherever possible and we achieve this by ensuring that one man takes ownership of the build process from start to finish.
"Our factory is temperature controlled and our hulls are entirely laid up by hand, with extensive use of woven rovings for strength and durability.
"Our boats are also CPC compliant, which means their buoyancy, construction and standard equipment meets industry standards. The SF535 is CPC rated for six people (450kg) and is backed with a five-year structural hull warranty," adds Sands.
He also points out that a tanalised timber girder system, fully encapsulated in GRP, is used in the SF535's hull to further enhance the hull's structure.
Quality time
When quality time with the family is called for, the SF535 offers a comfortable and stylish getaway craft. Getting aboard is safe and easy, thanks to the boat's stylish yet practical Portofino transom.
The cockpit is fully carpeted, providing a feeling of comfort and safety underfoot. However, it's not ideal for fishing and will need thorough cleaning to keep the boat looking and smelling fresh.
The deluxe branded seats are comfortable and stylish, with a seating capacity for five (as tested). Cockpit seating can be customised to suit, with the option for luxurious back-to-back seats – adjustable pedestals or a mix of both. Generous storage is available beneath the back-to-back seats, with further stowage in a self-draining bin under the floor.
Two rod holders are fitted as standard but the boat's fishability can be increased, with optional rod stowage racks and a custom factory-built bait board complete with rod holders. The bait board lifts out and can be replaced with a ski-pole for towing water toys. The optional bimini top with full clears provides excellent protection and generous headroom, with a functional rocket launcher attached.
Anchoring up for a family picnic is no hardship through the front hatch, with the anchor neatly stowed in the self-draining anchor locker, but it is a bit of a stretch to the fairlead. An optional power capstan can be fitted if you'd prefer. Getting around the side decks is possible but in order to maximise cockpit space, the decks have been kept to a minimum width.
The cabin features comfortable full-length bunks and good headroom when sitting. An optional infill can be included to form a comfortable double berth if overnight cruising is on the agenda. Indeed, part of the SF535's popularity stems from the options list and the fact you can tailor a package to suit your specific needs and budget.
Sands says the base model boat still delivers a fairly comprehensive package. It comes with a 120-litre stainless steel underfloor fuel tank, hydraulic steering, navigation lights and bilge pumps as standard. A base package fit and ready for sea will cost a smidgen under $50,000 and a high-spec package with all the fruit and the latest four-stroke technology retails for just under $70,000.
The ride
With a rare glimmer of sun, we slid the SF535 off her trailer and ventured out onto Auckland's Hauraki Gulf for a stunning mid-winter boat. While conditions were nothing short of glassy, many boaties were out on the water, providing plenty of wake to test the hull's credentials.
Attacking wake at speed was no issue, with the highly-regarded, 21-degree hull slicing through cleanly. It tracked beautifully and there was no sign of any slip or jarring during tight turns. Prop cavitation was non-existent. Eventually I gave up on trying to find any weaknesses and instead relaxed back into the helm seat and enjoyed the ride.
The 115hp Yamaha four-stroke sits in the middle of the horsepower range for this hull and dished out plenty of power with two blokes on board. It should prove a good match for economical general-purpose family use.
We recorded a cruise speed of 20 knots at 4000rpm for a range of around 145 nautical miles from the 120-litre underfloor tank. The hull held the plane down to around 12 knots and with the hammer down, climbed effortlessly to 33 knots. Sands tells me that with the maximum rated 150hp on the back, this hull is capable of 43 knots (50mph).
Ergonomics at the helm are excellent, with everything in easy reach and easy sight. The view through the windscreen was clear and enjoyable. A Lowrance HDS5 unit sits neatly flush-mounted behind the wheel and there's enough room to upgrade to a seven-inch screen or two five-inch units.
This quality package is supplied on a DMW Premier Series multi-roller trailer with submersible LED lights. At a standard towing weight of 1200kg, it should prove a comfortable tow for most family tow vehicles.
The last word
With its charismatic styling, refined elegance and family-friendly layout, it's not hard to see why the Haines Hunter SF535 is so popular. All the care and craftsmanship invested in the boat is evident in the high level of finish on show. Handling is hard to fault, making the SF535 a boat that affords quality time in comfort and style.
Feel free to make a comment or ask us a question about this story on the Trade A Boat
page.
For the latest reviews, subscribe to our Trade A Boat magazine here.
Keep up to date with news from Trade-A-boat or like us on Facebook!