Jeanneau Cap Camarat 8.5CC
---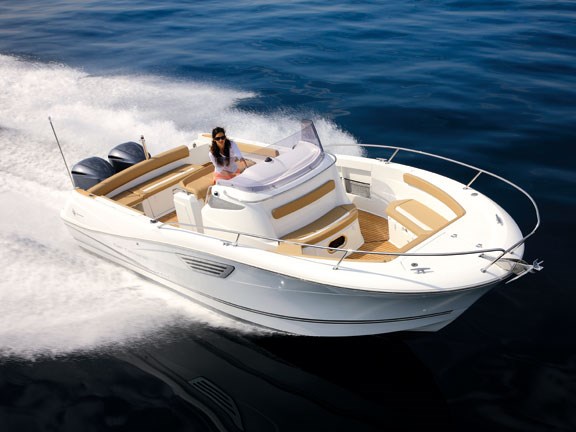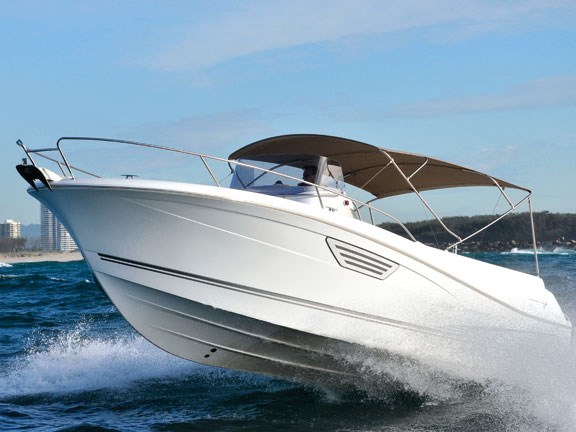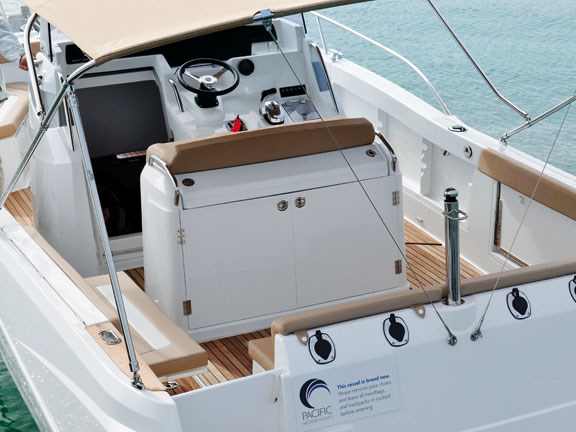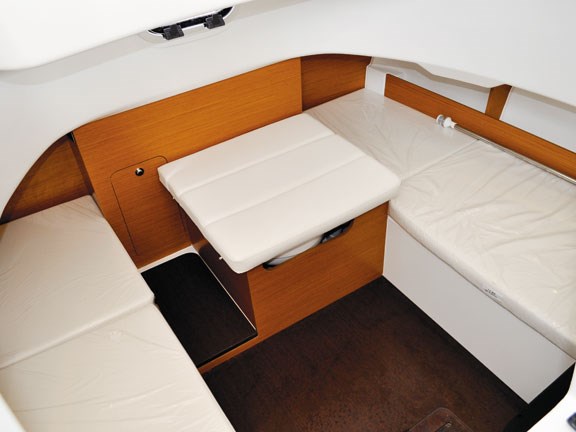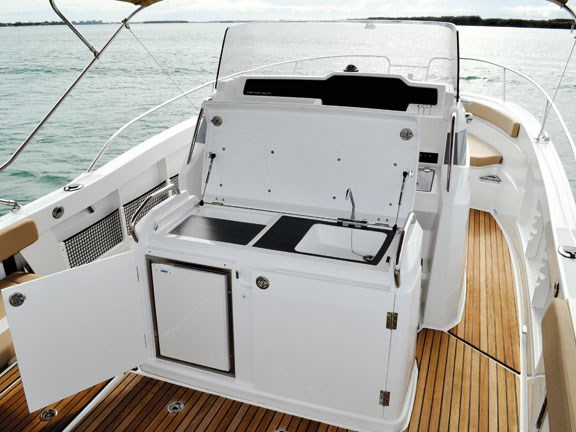 The Jeanneau Cap Camarat 8.5CC is a luxury centre console design that melds fishing, family boating and luxurious appointments in an impressive package, with escape written all over it. Australian Kevin Smith predicts a big future for the competitively priced Camarat in New Zealand and Australian waters.
If there was ever going to be an imported boat range to turn heads down under and give our locally-produced larger trailer boats a run for their money, it's got to be the Cap Camarat line-up from French production yacht builder Jeanneau.
One of the first of the new range to be showcased in this part of the world is the Cap Camarat 8.5m Centre Console. It spun my head around on first glance. It's an impressive, sexy design, but what blew me away was just how a standard centre console could be transformed from a dedicated fishing boat into something more akin to a luxury runabout.
When it comes to luxury centre consoles, this boat puts the W in wow, especially if you're relying on your better half's final blessing. It not only looks flashy but it has all the creature comforts to suit the entire family. And don't worry, dad – it will also delight your fishing mates and perform as a serious offshore fishing machine.
Before getting into the bling, it is important to point out where these craft originate from and that is the Jeanneau factory in Les Herbiers, France. While this boatbuilder is a common name and brand within the international sailing fraternity, it is not so well known for its power boat line-up in this part of the world.
But that said, Jeanneau knows what it's doing when it comes to matching horsepower to hulls and in the last 30 years, the company has sold more than 20,000 powerboats. This equates to around 667 boats a year, or 55 boats per month. To be able to manufacture that kind of volume, a company has to be extremely proficient and well established, with a production plant to match.
In the next year, there is talk of 16-plus new models being added to the Jeanneau powerboat range, although only a select few are likely to appear in New Zealand and Australian waters. But again, the French demonstrate their talents for naval architecture and production boatbuilding.
Classic lines
As mentioned, the 8.5m Cap Camarat is one hell of a head spinner and comes across as a very sophisticated and stylish boat, especially for a centre console design.
Due to its sheer size, there is plenty on offer in terms of the boat's layout and rather than listing each and every item in the general specs list, I'll concentrate on the standout features that magically drew me in.
As you board the 8.5CC, the sheer beauty of the interior design captivates, with teak decking, quality mouldings, beautifully polished stainless steel and colour-coded trims that add up to an aesthetically pleasing boat.
The stern is set up as a comfortable seating area, as well as the main fishing platform. When it comes to reclining, there is a three-quarter rear lounger and something that really appealed to me – flush-mounted seating built into the cockpit sides. These simply pull out and effectively triple the amount of seating in the cockpit, creating a great area for entertaining, with the helm seat tilted forward to reveal an entertainment module secreted away in the seat console. This also services the cockpit, with an in-built fridge and a plumbed sink/prep-area that has provisions for a small cooker. Its easy to visualise champagne with smoked salmon here and a spot to fillet a good-sized tuna.
Fishability
Now, all that might sound a bit glam but when the seating is stowed away, you regain all the extra space needed for some serious fishing in comfort, with padded coamings to lean against courtesy of the seats' backrests. There is also a number of rod holders in the transom, a moulded storage space in the port cockpit side and recessed rod racks on the starboard side. There's also more than enough deck hatches for gear, fish, tackle and sundry items. If the Camarat was to serve primarily as a fishing boat, it would be a simple matter of customising the boat to suit.
When it comes to centre consoles, this boat has one of the most interesting designs I have come across. First, it is big in size and has a massive windscreen which does a good job of protecting the seating area, consisting of a triple bench seat lean post. Secondly, the dash angle is good, with ample space to flush-mount large electronic instruments and gauges and thirdly, and the main highlight for me, is the drop-down section into the cabin.
Due to the big dimensions of this boat and high deck line, Jeanneau has managed to create a two-berth cabin with toilet and sink, and it has achieved it quite comfortably. It's spacious for a centre console and adequate for overnighting. It's also perfect for taking shelter if caught out by a rouge passing shower and the kids will love it.
Moving forward, the Cap Camarat 8.5CC features a typical bowrider design, with wrap-around three-way seating up front and a settee up against the console. As the main social area for fine weather days, there's provision for a drop-in table and drink holders next to the seats. A tapered bow rail and electric anchor winch complete the picture.
Overall, the layout might look pretty simple but it is far from it and there is a lot more to these centre consoles than what you might find on more conventional trailer boats. I just love the fact that everything is so neat and precise with a quality finish. But wait, there's still more – like the full rear bimini, extra stainless steel bollards and grab rails.
Outboard performance
Adding to its already-impressive characteristics is the 8.5CC's performance. With a fresh 25-knot breeze and a 2m swell for sea trials, the conditions would surely weed out any inherent design faults, none more so than the effectiveness of the boat's windscreen. I have to admit I was pleasantly surprised with the ride of this machine.
As tested, the Cap Camarat's maximum-rated 300hp Suzuki four-stroke outboard was a nice match and did the job with ease, powering the big boat out of the hole and through tight turns at speed without hesitation.
While conditions were not great offshore we pushed on directly into the teeth of a southeasterly and building swell. Like any boat you're unfamiliar with it took a bit of time to get the feel for it but once I had it running at a comfortable speed for the conditions I was initially a little disappointed.
I felt the boat was travelling at 15 to 18 knots which was about right in the conditions for your average trailer boat but this is not your average trailer boat. My sense of disappointment was short lived after turning the GPS on to discover we were in fact travelling at between 27 and 32 knots without being battered around.
Changing heading to put the boat on its beam and, later, running downwind with a following sea, our speed could comfortably be increased, all the while the boat maintaining a comfortable, dry and very stable ride.
An interesting point was that the 8.5CC was not fitted with trim-tabs and given what I had seen thus far I'm not convinced that they're necessary such was the boat's stability. But that said I'd fit tabs if the boat were mine, simply to have the ability to manipulate the ride to suit any given sea state.
For a big boat, the Cap Camarat is actually really easy to drive, thanks to the electronically-assisted control and hydraulic steering. It rides very well and handles nicely and is responsive on the water
If I had the choice – and the finance – I would definitely opt for a twin-motor set-up, particularly for long-range hauls offshore which I have no doubt the Cap Camarat is well capable of. However, twin outboards would deliver extra power and, more importantly, give you redundancy and the peace of mind of a twin engine set-up.
The wrap
With an overall length of 8.37m and a beam of 2.98m, the Jeanneau Cap Camarat is not going to be an easy proposition for trailering – in some ways the boat would better suit on-the-water berthing – but that is the only question mark hanging over a thoroughly impressive all-round package.
In terms of price, it falls well within the bounds of similar imported craft and leaves many in its wake for all-round versatility, finish, classic good looks and design.
Feel free to make a comment or ask us a question about this story on the Trade A Boat
page.
For the latest reviews, subscribe to our Trade A Boat magazine here.
Keep up to date with news from Trade-A-boat or like us on Facebook!