Foveaux Boats Custom 9.5M Super Cruiser
---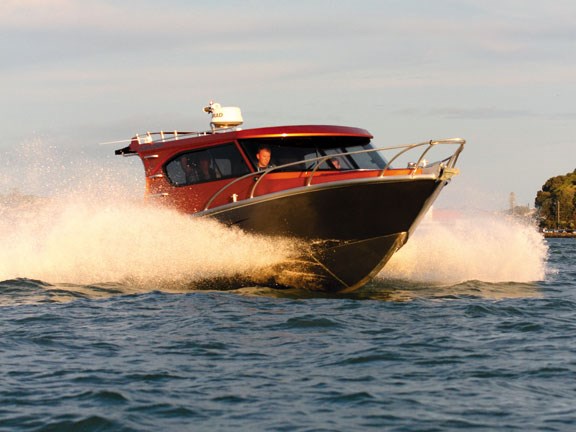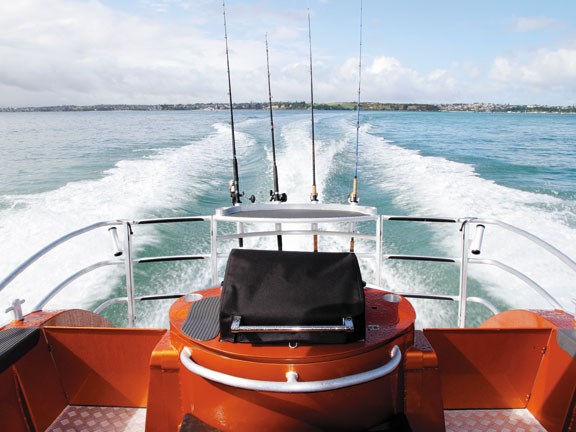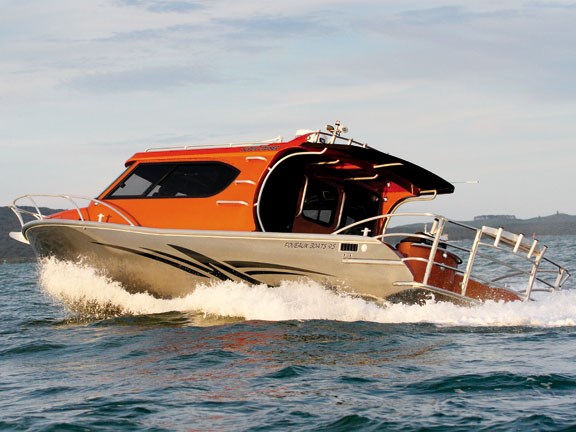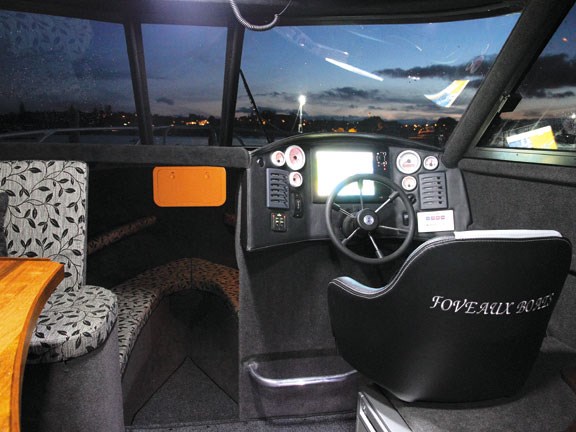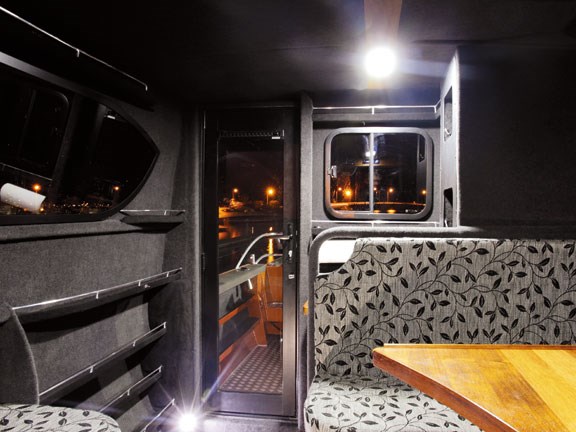 It was one of the star attractions at the 2012 Auckland On Water Boat Show, so when Foveaux Boats asked if Trade-A-Boat would review its new 9.5m Super Cruiser, we were only too happy to oblige. Matthew Jones reports.
Foveaux Boats shares its name with the foreboding stretch of water that crashes in on its doorstep - the infamous Foveaux Strait. It's a place that demands respect and harbours a fierce reputation that would make the hairs on the toughest southern man's neck stand on end. When you live and play in such a location you'd better have a strong and capable boat. Foveaux Boats' second offering ticks both boxes.
As a division of the Port Maintenance Group, Foveaux Boats has a wealth of experience in marine engineering, construction and ship repair. Managing director John Roderique's family have been shipwrights for six generations dating back to the 1800's, so moving into producing its own range of craft was a no-brainer.
"It's in the blood. We've always been involved in repairing boats so I decided it was about time we started building them as well," says Roderique.
Like Roderique, Foveaux Boats' manager, Che Watt, also has a lifetime of experience with boat building. His childhood memories include his father building jet boats in the lounge.
"When we were kids we had a jet boat as our coffee table," he recalls. It's this kind of experience and passion that combine to produce a special kind of boat; one which drew a lot of attention at this month's 2012 Auckland On Water Boat Show.
A development from the show is that Orams Marine Sales have now been brought on board as Foveaux Boats' North Island dealer. Foveaux Boats will continue to look after its South Island customers directly.
Freedom of choice
Foveaux Boats use CAD design and CNC cut aluminium to enable customisation to the highest degree. Watt says there isn't any limit to what they can customise and they can fabricate pretty much anything the customer wants… within reason of course. A six metre hardtop is currently under construction and Foveaux Boats will build up to fifteen metres if required. "We're keen to make the biggest trailer boat that you can tow," says Watt.
The beauty of a custom-build is that you can set it up to suit, and Watt feels this particular layout would work well for either charter or pleasure. The first set of plans for "The Demo" (Trade-A-Boat March 2012) can be put into MSA survey and plans for this model are currently getting approval as well.
If you've got a keen eye you'd notice the commercial approach to welding - while it's not the prettiest, it's been done this way for maximum strength - and strength definitely trumps looks when the chips are down.
The secret formula
The secret to spending more time on the water is to make sure all members of the family feel comfortable, and they certainly should be aboard this boat. "We wanted to build a boat for the whole family; not just for the man of the family, so we've included the luxuries of home as well," says Roderique.
This Super Cruiser's layout has been designed so families can enjoy a few days away while also being able to venture offshore with the lads on extended fishing excursions. Being trailerable (with the right tow wagon and launch site), it also has the benefit of being able to be towed to different destinations. "If you don't like it in one place, simply put it on the trailer and take it somewhere else," says Watt.
One thing that can make any boat feel small is clutter, but this shouldn't be a problem on board this boat with storage everywhere: a place for everything and everything in its place. There's plenty of shelving and multiple under-seat lockers throughout. A large under-floor bin in the cockpit will take care of the catch or dive gear. The private toilet cubicle has ample legroom when seated and multiple shelves for toiletries while you enjoy a hot shower.
Bloke heaven
There's nothing quite as exciting for a Kiwi bloke as a well appointed cockpit with cup holders located beside each rod holder. There are two separate areas to drool over here. The first is the cockpit with a modicum of shelter provided by the overhead bimini top, thigh-high gunnels with rubber non-skid and comfortable centre seat on top of the engine cover. The other is the all-important barbecue.
The inboard engine takes up a decent chunk of the cockpit space but by opening either of the twin transom doors and stepping out onto the fully caged duckboard, a bloke can make as much mess as he wishes, while taking in the salt air and ocean lapping at his feet.
Twin fold-down boarding ladders provide easy access to crayfish country below. There are no less than 14 rod holders on offer with another eight in the overhead rocket launcher. Once the hunter-gatherer urge has been satisfied, the salt water wash-down pump reaches into every corner for a quick and easy clean-up, thanks to a tread plate sole and automatic bilge pumps. Tek Dek and tube floor matting are also offered as options.
Entertainment central
Upon opening the full glass cabin door and entering the cabin you're greeted with a spacious and comfortable lounge. Immediately to port is the well equipped galley with a sink and two gas hobs. An open-style pantry at the back puts all your ingredients within easy reach and the cupboards below will take care of the pots and pans.
While the Simrad NSS12 touch screen with its 1kW transducer is a serious fish-finding device, it's also able to play DVD's, display radar and the GPS chart too. A couple of powerful speakers complete the entertainment experience onboard the Super Cruiser. LED lighting provides for a soothing ambience without sapping the batteries, and removable carpet has been included for easier cleaning at the end of a trip away.
The L-shaped couch is both comfortable and large. Even a big family will slide in around the classy wooden dining table and, when it's time to call it a night, an infill squab converts the front cabin beds to a full length double. The table also drops down to create a second smaller double in the main cabin.
Four seasons in just a few hours
The Foveaux Boats team was only in town for a few days and, with prospective customers waiting for sea trials, there was no time to waste; the guys towed the boat directly from the boat show to the launching ramp just in time for a sunset photo shoot for the magazine.
Heading out the following morning for the official test we were grateful for the protection of the big hardtop. To make the southern men feel right at home, Auckland turned on its changeable best - dishing out visibility-sapping showers, a cold and gusty sou-wester and a smattering of brilliant sunshine - all within the space of a few hours while we put this impressive boat through its paces out on the Hauraki Gulf.
While seated comfortably at the helm, good vision can be enjoyed through the large glass windows with only a slight intrusion from the centre support beams. Each gauge and switch on the sporty vinyl dash has been precisely laid out for maximum aesthetics and usability. The DTS throttle was a pleasure to use, although being quite tall I found the throttle position a bit low for my liking.
Turbo-charged torque was in abundance thanks to the 265hp CMD TDI diesel. At a comfortable cruise of 21 knots at 3000rpm, she's only sipping 1.26-litres of diesel per nautical mile. Multiply that by the 430-litres of fuel in the tank and it gives an approximate range of 341 nautical miles; more than enough for a few days at sea. Due to the boat show deadline Foveaux Boats was still awaiting delivery of the correct props, so as-tested it was over-propped and the engine couldn't reach its targeted 4200rpm.
The half metre of chop was hardly noticeable and no bother, nor a suitable test for the solid hull. Having experienced what Foveaux Boats' nine-metre hull was capable of in the rough of their home Strait, I'd expect this slightly bigger hull to perform even better when conditions turn sour. Throwing 9.5m of boat around produced no unpleasant surprises either. The trim tabs meant a level attitude was easy to maintain at all times.
At just under 3.5 tonnes and over the legal width of 2.5m she's a sizeable towing prospect; you'll need over-width flags to be displayed and to find a suitable ramp. The triple axle, braked trailer has been fitted with rubber skids specifically to drive on as 3.4 tonne is a lot of boat to winch by hand. They essentially help hold the boat in place until the winch cable can be tightened up and the safety chain attached.
The last word
Foveaux Boats has raised the bar again in their second offering from the Deep South. The design brief for this particular vessel was for family comfort, entertainment and offshore capability. They've certainly hit the mark. The superb layout is hard to fault, and of course it can be fully customised to suit.
Feel free to make a comment or ask us a question about this story on the Trade A Boat
page.
For the latest reviews, subscribe to our Trade A Boat magazine here .
Keep up to date with news from Trade-A-boat or like us on Facebook!