Regency Legacy 700 Limited Edition
---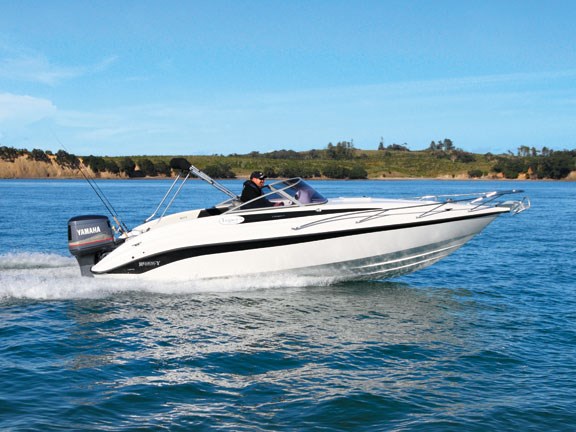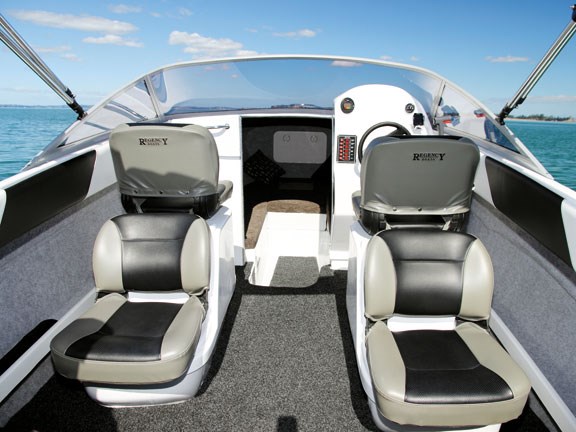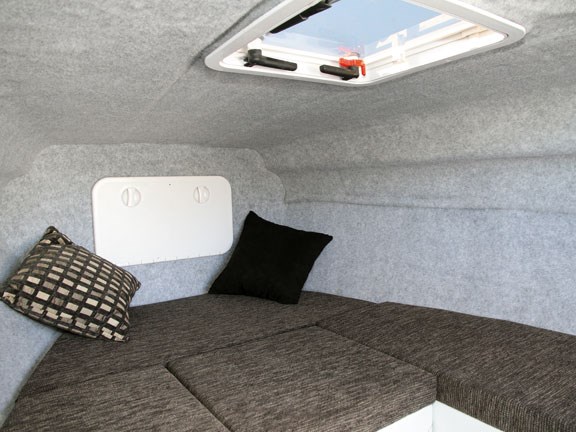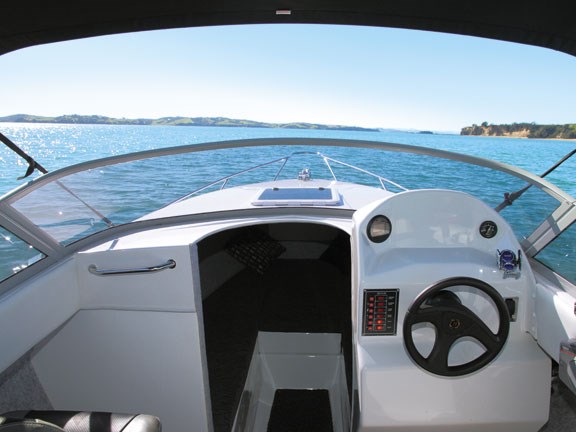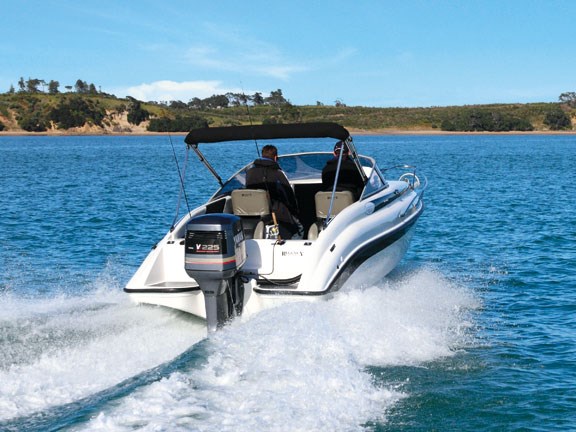 Regency Boats has combined American sports boat styling with quality New Zealand manufacturing in a fuel-efficient hull design. Matthew Jones finds this potent combination makes for a rocket-like, head-turning ride.
Renowned for being fast and eye catching, sports boats are all about speed, sex appeal and style. Regency Boats has taken this a step further and added a fuel-efficient hull shape to the mix. The result? Speed without the need for outlandish amounts of wallet-sapping power to propel it.
Lifelong boating enthusiast Shane Vickery started Regency Boats in order to offer fuel-efficient hull designs to the trailer boat market. These frugal hull shapes first came to the attention of Trade-A-Boat in May 2012 when we tested the Regency Monaco 480 Limited Edition. Regency Boats kindly supplied its bigger brother – the Regency Monaco 580 Limited Edition – as a photo boat for this test (see next month's issue for the full review). These complete the Regency range for now, but keep an eye out for an RIB constructed from the same 7m hull as the Regency Legacy 700.
Vickery details the Legacy 700's design brief: "What we wanted to achieve is a modern, sporty look that's a little different from the rest while being easy to push. Our range features economical hull designs to offer greater fuel economy, which is a big issue these days."
Regency Boats also offer the Legacy 700 in a hardtop, either fully enclosed in glass or with clears. This can also be retro-fitted to existing cabriolet hulls should customers decide they want greater weather protection at a later stage.
Customer focus
Customer satisfaction is paramount at Regency Boats which is why Vickery offers as much choice as possible. In order to cater for individual tastes Regency Boats will assist you to choose the brand of engine, electronics and trailer options that best suit your style of boating.
"We want you to have exactly what you want, right down to your preferred interior colour scheme," says Vickery.
To help make these all-important decisions easier, Regency's purpose-built showroom in Karaka, Auckland, is nearly complete.
"We're in the process of finishing a 450 square metre showroom that will have two boats of each model on display. One will be fully set-up as a turn key package with outboard, electronics and trailer. The other will be a hull and deck package on a cradle without an engine or accessories."
Regency's showroom design includes plans for a marine themed undercover area, complete with a jetty and enough water to float boats off their trailers. This means customers will be able to step on and off the boat as if tied up at a pier, providing a tantalising preview of what their specific boat of choice will look like once its on the water.
Regency Boat's employs Black Pearl Fibreglass to build their hulls. The Regency Legacy 700 demonstrator utilises timber in its construction but Vickery says he "absolutely hates wood." Additional moulds have been created so all future Regency Boats will be fully composite to avoid any potential for rot.
Spacious accommodation
On boarding the 700, the first feature to catch my eye is the enormous cabin that provides for super-stretched bunks. An infill squab can be included to make a double berth with dimensions that would put many luxury hotel beds to shame. An electric toilet is neatly hidden underneath the berth and a canvas (zipped or domed) door can be added for privacy and overnighting.
For safety, the area beneath the bunks is dedicated to sealed buoyancy. This limits the amount of storage on offer but there's ample room at the end of the bunks or beneath the infill for a few overnight bags. Shelves could easily be added along the cabin walls if more storage is required.
An electric capstan is included as standard for push-button anchoring convenience and the boat's deep anchor locker should alleviate any potential for chain jams. The front hatch provides easy access to the foredeck when it's time to spread out on deck and take in some rays.
Relax in style
Whether you prefer to relax with a fishing rod in one hand and a drink in the other, or watch the kids frolic behind the boat's wake on water toys, the Regency Legacy 700 will certainly multi-task with ease.
When it's time to kick back and relax, the boat's king/queen seating options offer real comfort for those onboard. But if you'd prefer to stand and dangle a line over the side to see if anything is biting, the high-sided, padded gunwales provide a perfectly safe, comfortable and stylish leaner in this regard and extend right across the transom.
There are three storage lockers in the transom to stow tackle, and supplementary storage lockers beneath the seats that are large enough to take care of the water toys, lifejackets and sundry items. The moulded fibreglass cockpit floor has grip-tread and a removable carpet overlay for comfort. If you're out fishing with the lads for the day, simply remove the carpet for a quick and easy clean-up. The cockpit sole is fully sealed for additional buoyancy, with the trade-off being a lack of under-floor storage.
Two stainless rod holders are mounted each side of the transom and an optional Manta stainless steel bait board can be mounted over the outboard well to increase the number of rod holders to six. A towing eye is also an option for water sports enthusiasts.
If exploration is on the cards then the 320-litre fuel tank should put plenty of picturesque locations within reach. The filler is located on the transom for easy refuelling from either side.
The bimini top height can be set up to suit different heights and provides welcome respite from the sun without encroaching on the view. The Portofino-style transom offers easy access to the water and with rubber grip-tread, looks like a comfy place to sit and cool off as well. Regency Boats allows you to select the position of the boarding ladder to suit your intended usage.
Slice and dice
It was a stunning but near freezing winter's morning when we arrived at the ramp for on-water testing, so I was thrilled when Vickery demonstrated how the 700 could be launched single-handed and without getting wet feet. With the weather gods smiling we headed out onto Auckland's Hauraki Gulf for the photo-shoot, hoping to bin a few snapper for dinner in the process.
Vickery fitted a Yamaha 225hp two-stroke to the demonstrator purely to see what this hull is capable of. Performance on test day was nothing short of blistering – topping out just shy of 46 knots. However, with a hydrofoil fitted to the outboard leg, the boat started to get a little flighty at this speed. Trim tabs will be fitted as standard on future Regency Legacy 700s to address this.
The long knife-like hull has been designed to slice and dice, which it did comfortably and quietly. It gripped hard in tight figure eight turns and easily cut through the wake generated at speed. This feature is important when it gets rough. As configured, at 2500rpm the boat sits off the plane at eight knots and at 3000rpm she's pulling 20 knots: once on the plane, she really takes off.
As a demonstrator, the boat had no electronics fitted but there's plenty of room to flush mount a reasonably large combination plotter/sounder. In true sports boat fashion the windscreen height is quite low so easily looked over when standing, but the top of the windscreen is at eye level when seated.
I'm pleased to report that it catches fish too, with both under-seat fish bins filled with snapper after an easy morning's fishing.
The last word
Regency Boat's Legacy 700 is a stylish, sporty and sexy speedster with a sparkling finish to match. I could happily imagine myself cruising into a picturesque anchorage with my wife relaxing on the foredeck and the kids safely tucked away in the spacious cabin up front.
It lends itself well to turning heads while enjoying quality time with the family or, alternatively, fishing with a few mates. Either way, good times are assured. h
For more information contact Shane Vickery at Regency Boats, ph 021 749 076 or email regencygroup@xtra.co.nz.
Feel free to make a comment or ask us a question about this story on the Trade A Boat
page.
For the latest reviews, subscribe to our Trade A Boat magazine here.
Keep up to date with news from Trade-A-boat or like us on Facebook!