Salona 38
---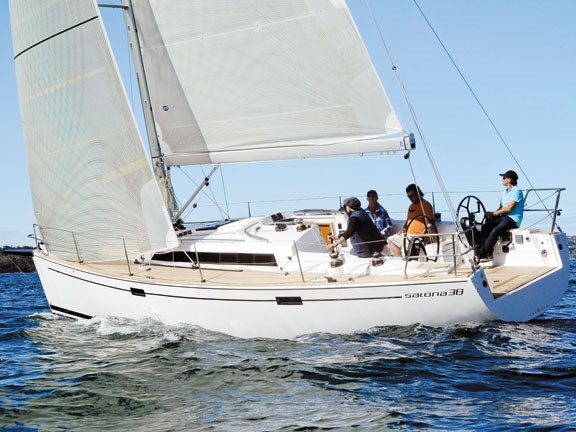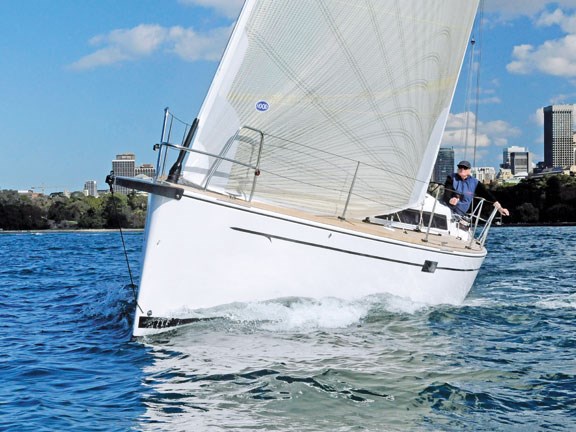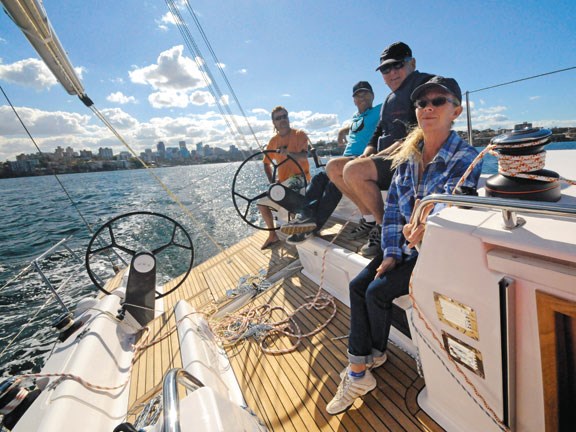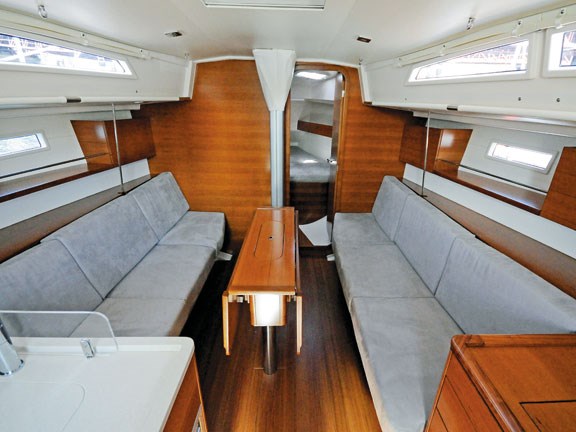 Designing a successor to the Salona 37, one of the most respected European yachts of the decade so far, can't have been an easy task for J&J Design. Little wonder the Salona 38 retains most of the 37's DNA, with the odd chromosome tweak here and there. ALLAN WHITING reports.
Working on the basis that "If it ain't broke, why fix it?", J&J Design has retained the Salona 37's hull shape and keel dimensions, but given it a tad more length and beam, with a nearly-plumb stern. The test Salona 38 sported a stubby bowsprit, but that's essentially for a cruising gennaker; racers' will probably opt for a conventional kite and pole.
The 38's rig preserves the 37's proportions, but with a slight increase in mast height and sail area. A triple-spreader rig with rod rigging was fitted to the test boat, but there are several options available to prospective buyers.
Although almost identical to the 37 in coach house and deck layout, the 38 has some important differences: strip windows down each side of the coach house streamlines its appearance, and the more vertical stern provides additional cockpit length and width for an improved twin-wheel layout.
The Salona 38 stays true to the original design in preserving a relatively narrow coach house, with wide side-decks. While this thinner house slightly restricts headroom at the beam ends of the saloon, there are significant pluses; wider decks for easier crew movement and a narrow shroud base to allow tighter headsail sheeting angles along with complete freedom in overlapping jib design.
A German mainsheet layout sees the sheets disappear beneath sidedecks and emerge just forward of the coaming winches, with the sheets at an angle that should eliminate winch-drum overrides.
The 38's larger cockpit area features a teak cover panel over the no-compromise, sole-mounted traveller and a teak-faced transom beam. When cruising, the traveller car can be cleated to port or starboard and the panel dropped over the track and lines, forming an unobstructed floor. Likewise, the transom beam offers sailing security, but can be removed for racing or water access at anchor.
All hinges and latches are oversized, suggesting great durability, but panel fit is variable.
Tradition below
Step down the Salona 38's seaman-like companionway and you enter a traditional-boat world. Other than for new horizontal-grain, light wood finish the inside is virtually unchanged from the 37's practical interior. It's all proved to work but lacks a 'wow' factor.
A portside galley features a large, gimballed three-burner stove with oven and a foldaway cover panel that enhances bench space. There's a top-loader 80lt fridge/freezer and beneath the double-sink, a 50lt day fridge.
Opposite the galley is a large nav station, with full-sized chart table and electrical and electronic equipment centre.
The saloon seats six around a central drop-side table and the settee backrests raise to form crew bunks pullman-style, held in place by integrated webbing straps.
Sail berth
The forward cabin is fitted with a double vee-berth that lifts on gas struts to reveal copious sail storage space beneath. In concert with that arrangement is a large deck hatch above the bunk, while a second hatch to port sits above what is an optional forward head space.
Our test yacht had a two-cabin/single-head layout, but two-cabin/two-head and three-cabin/single-head versions are also available. The main head is situated aft of the nav station. It's spacious and incorporates a shower and wet locker.
Suction cup-lift saloon sole panels hide one of the Salona's chief claims to fame: the yacht's very strong construction. Pull-up the sole and some of this inbuilt ruggedness is revealed. A saloon-long and shroud base-wide stainless steel lattice is integrated with the hull inner moulding, tying the shrouds, keel and mast step together in a stress-sharing connection. The keel bolts are massive.
Not visible is the boat's hand-laid GRP hull and deck construction, with sandwich laminate above the waterlines, carbon-fibre panels at hull stress points and clear gelcoat below the waterline. Salona IBC versions are made with a vacuum-infused lay-up that employs air-evacuating membranes to ensure there are no residual gas pockets in the resin.
All Salonas' are claimed to exceed Germanise-Lloyd specifications; in the case of some criteria to a level 200 percent in excess of requirements. Integrated forward and aft collision bulkheads are watertight.
Performance & handling
A 30hp Yanmar made light work of motoring the Salona 38 out of the tight US Yachts' moorings in Sydney's Darling Harbour. The boat manoeuvred responsively forward and aft without prop walk and the 'green' motor pushed it along at 7kts-plus, without much noise and almost no vibration.
Sydney Harbour put on a building nor'easter for our late-winter test, with a breeze ranging from five to 12kts. This was the boat's maiden sail, so what turned out to be quite sparkling performance would doubtless improve with some tuning. For example, the mainsail topped out before achieving optimum tension, so, in the absence of a Cunningham, we sailed upwind with a tad more hollow than ideal.
Even without the benefit of sea trials the Salona 38 was an impressive performer. It was happy to sit at 28 to 30 degrees apparent and made 5kts-plus to windward, with a best of just over 6kts in a 12-knot lift. Eased off the wind into a tight reach, it accelerated briskly to over 7kts.
German mainsheet layout, a full-width traveller and tight headsail sheeting angles make trimming a doddle, while broad sidedecks without leg-cramping toe-rails invite the crew to a rail-sitting party. In the interests of safety, however, the forward deck sections ('adventureland') have teak toe-rails to help the bow folk stay onboard.
Small twin wheels were sited so that the helmsperson could sit on the sidedeck seats and play the wheels without reaching for them. The wheel needed only a very light two-finger movement that was relayed instantly to the deep rudder. Steering for wind shifts didn't require handfuls of wheel movement and sail trim changes could be felt as slight helm-pressure variations, suggesting the steering arrangement has been done by someone who knows how to steer a boat. Sailors who like a tiller will love the Salona 38's wheel steering.
Although broad of beam aft, the Salona 38 isn't as extreme as some recent boats we've trialed so there's not a no-man's-land of cockpit to cross between tacks. The helmsperson also scores lift-up sole wedges for foot braces, allowing comfortable inward seating.
Final word
Salona's 38 is a fitting successor to the award-scoring, race-winning 37. With more sail area and optimised IRC and ORC ratings, it should prove equally as popular in Europe and attract a new following in Australasia.
The boat's balance from the helm is as good as it gets in a cruiser-racer and crew work is aided by wide decks and a low coach house profile.
Feel free to make a comment or ask us a question about this story on the Trade A Boat
page.
For the latest reviews, subscribe to our Trade A Boat magazine here.
Keep up to date with news from Trade-A-boat or like us on Facebook!