Surtees 5.8 Gamefisher
---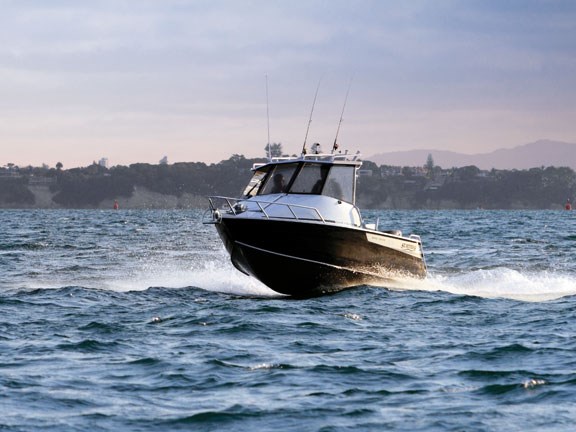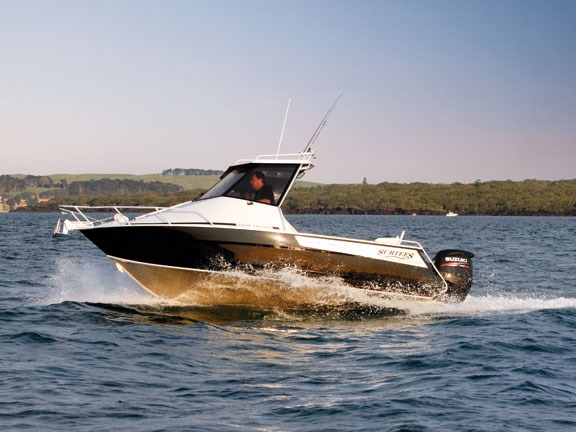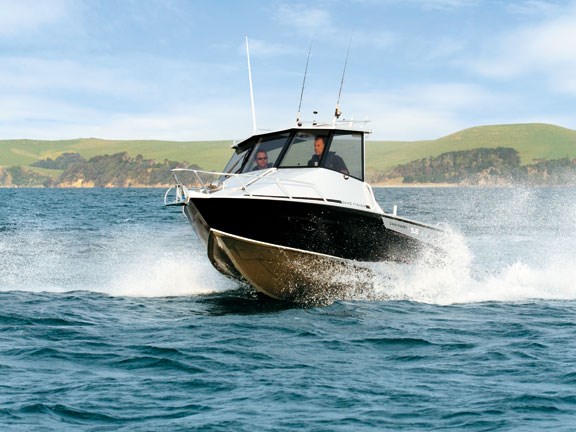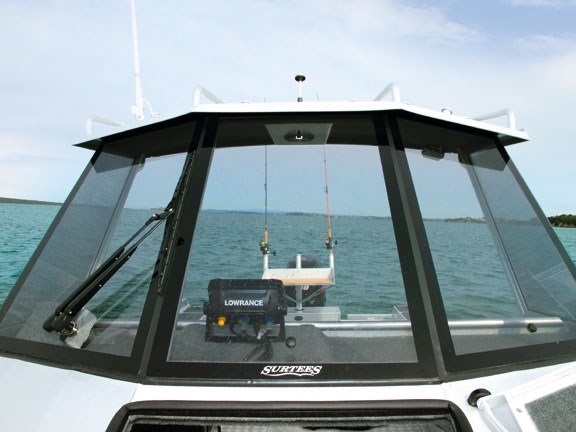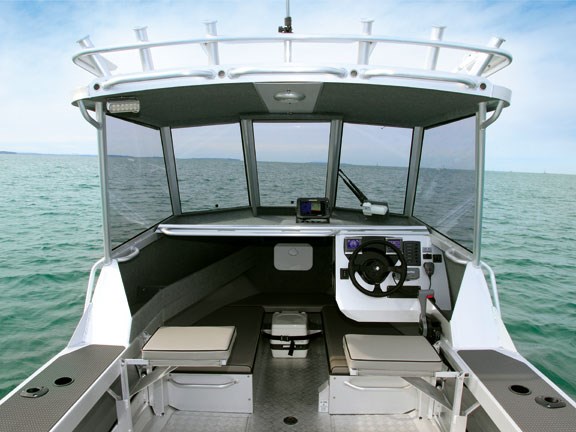 While it's one of the company's newer models, the 5.8 Gamefisher is already fast becoming a Surtees icon. Matthew Jones took one for a ride to find out why.
Surtees has built an enviable reputation out of manufacturing high-quality, capable craft packed with clever, practical features. The company has won 21 awards (and counting) in the last 11 years.
While others are stumbling, Surtees is pushing forward, buoyed by its focus on quality and the brand's exceptional reputation.
"We're focusing on getting bigger and brighter," says Surtees sales manager Cliff Schick. "We've recently ramped up production from 25 boats a month to 32 - it's just gone mad."
Of these only approximately 60 percent are for the domestic market; the rest manufactured for export.
Schick says Surtees didn't really agree with the New Zealand CPC standard and instead has attained international CE certification, which he says is a lot harder to achieve in terms of compliance.
"All Surtees boats are fully CE certified so we can export into Europe and the United States without any drama. We're one of the only companies operating in New Zealand to achieve CE compliance."
There is a new 8.5-metre Surtees model set to be launched in the next couple of months which will become the new flagship in the Surtees Range, taking over the mantle from the 7.3 Gamefisher.
Fishing Boats NZ kindly supplied a 7.3 Gamefisher as a very comfortable photo boat for this test as well, so see next month's issue to check out how that performed.
The Surtees philosophy
All Surtees models across the range have the trademark Surtees flooding keel, non-pounding hull and easy-loading trailer catch for an effortless launch and retrieve even when you're single handed. Every Surtees boat is overbuilt with six fully welded under-floor stringers and is pressure tested to ensure sealed buoyancy compartments built in under the cockpit floor are airtight. Each boat is backed by a six-year, worldwide hull warranty. Next year will be the company's 20th anniversary and in all that time Surtees has never had a hull failure, says Schick.
Commercial sign-off is also available with minimum hassle. "All Surtees boats are built to MSA survey standards. The only requirement to achieve survey is a simple swap-out of the windscreen from our standard 4mm tinted toughened glass to 6mm clear glass. As we've now passed the five-year threshold, our boats go straight through," says Schick.
Since its launch at the 2012 Hutchwilco Boat Show, the 5.8 Gamefisher has been well received in the market with around 130 boats produced in just 30 months. Schick explains why: "We've completely changed the hull shape for a better and drier ride. It's also priced right and has just about killed off our 6.1m market. It's another popular boat that's going to become a Surtees icon, just as the Surtees 5.5m Workmate has," he says.
Fishing Boats NZ managing director Andrew Carlson says that increasing the fuel tank size in the new 5.8 has proved a winner, increasing buyers' on-the-water range and opening up entirely new destinations for customers that want to fish or cruise out wide.
"With the increase from 130- to 150-litres this boat now becomes capable of exploring Great Barrier Island; this is partially why we've sold four of the model this month alone," explains Carlson.
Carlson says the boat's popularity stems from the fact that it effectively bridges the gap between a small boat and a big boat, yet retains the qualities of a boat that is manageable and economical to run.
"It's just a nice affordable rig that's got the range to cover the whole of the Hauraki Gulf. And weighing in at just 1.3-tonne it's still relatively light to launch, retrieve and park at home which is a big factor for many buyers."
Fishing made easy
It might seem insignificant but having a handhold to grab onto while climbing aboard from the trailer when at the boat ramp is the first of many sensible touches that are trademark Surtees. The extra-wide, thigh-high gunnels (complete with rubber non-skid for comfort and safety) provide a secure step and comfortable place to park while waiting for the fish to bite.
Drink (or sinker) holders are fitted beside each of the four gunnel-mounted rod holders, with a further two rod holders fitted on the transom. The solid self-draining bait board has a removable wooden cutting board for easy clean up. The bait station also carries three rod holders so there's rod storage for all. The board itself is easily removed and an optional ski-pole can be slotted in place for skiing or towing water toys. There's another six rod holders in the rocket launcher above the cockpit and a wrap-around hand rail for security when standing on the gunnels.
A sliding parcel shelf-cum-rod holder provides a convenient spot to rest your rod while rigging up bait from the built-in live-bait tank. Alternatively you can secure up to four rods out of harm's way, bringing to 19 the number of rod holders fitted as standard.
Clever, practical and functional
Fold-away seats provide extra fishing space if needed and tuck neatly against the cockpit sides when not required. This really opens up cockpit space. Soft-rider pedestals are offered as an option if you prefer extra comfort over practicality. Handholds are in abundance and are fitted in all the right places. An under-floor bin provides some out of the way catch storage and an Icey-tek chilly/fish bin complete with squab is also on the options list.
An infill squab is also available for the cuddy cabin and the 1.7-metre bunks can be extended by 300mm to provide a comfortable berth for over-night adventuring. A courtesy curtain can be fitted for privacy when using the portable onboard toilet. Getting secure access to the anchor is easy through an oversized deck hatch, although manual anchoring duties on the review boat are taken care of by the electric Lewmar windlass.
As any diver knows, getting in and out of the water with dive gear on can be a challenge. Surtees' answer is a solid T-bar ladder that doesn't require divers to remove their fins to use it. And rather than having a single grab rail on the transom (which a wet hand can easily slide down), Surtees has gone one better and manufactured handholds for a more secure grip. Dive bottle holders are also offered as an optional extra.
A fold-down transom seat creates additional seating for two across the rear of the cockpit and securely encloses the boat's twin batteries and battery switches, which are mounted high off the cockpit sole for protection against cockpit flooding.
At the helm, all controls and electronics have been set-up for comfortable and practical use. There's no room to flush mount a nav screen, so the new HDS7 Gen 2 Lowrance touchscreen on the review boat is mounted on the dash. This unit provides a wealth of information and is intuitive to use, even for a Gen-2 virgin like myself. Hardtop visibility and headroom is excellent and while fitted with a single wiper, there is provision to fit a blade for each of the windscreen's three panes.
On test
It's no secret that a Surtees boat comes packed with clever features to make your boating safer and more enjoyable, but do they really make that much difference? I can safely say the answer is yes on all counts.
Takapuna Boat Ramp on Auckland's North Shore is exceptionally busy at the best of times, so it's always nerve-racking launching and retrieving a brand new painted boat with so much other boat traffic about, let alone with the on-lookers admiring this boat's eye-catching finish.
Thanks to the Surtees trailer catch, the launch was as simple as lowering the outboard, turning the key to fire the Suzuki four-stroke, driving forward to unlock the catch before shifting the throttle to neutral to allow the boat to glide back off the rollers - stress-free launching personified.
Heading out into a choppy Rangitoto Channel gave us a chance to test another of Surtees' clever features: the full length flooding keel. Whenever you're faced with a head sea and whitecaps rear their ugly head, the flooding keel can be filled and sealed to increase the boat's displacement which makes a notable difference to ride quality in choppy water.
"You wouldn't do it in a following sea because you want the nose to be light, but into a head sea, lock it in," says Carlson.
Flooding the under-floor ballast chamber is as simple as letting the boat sit for 30 seconds and pulling the transom-mounted cord up tight and locking it into place. You drive the boat in exactly the same way but, being heavier, the bow and 19 degree transom vee slice through rather than pound across any chop for a better ride… albeit at the expense of increased fuel use of course.
With the transom flap open, the ballast is discharged within seconds as you power off and is barely noticeable. Surtees' has added a front breather to assist the ejection process and it's a vast improvement over an ageing 5.5m Workmate that I was fishing on in the Far North last week. The ballast chamber can also be closed on the trailer to provide additional buoyancy for beach launching, or when extra hole-shot is required.
The ride
The rock-solid hull and moderate deadrise cut through chop with ease and deliver a comfortable, dry and well-mannered ride at any speed. We had no issues pushing the boat at wide-open throttle through a pesky chop to record performance figures, and while the outboard fitted was technically bigger than the recommended power output for this hull, the boat lapped it up.
Suzuki's new generation DF140A features the manufacturer's "lean burn" technology and was a powerful match, delivering smooth, quiet and responsive power while being pleasantly clean-burning.
In cruising rev range the Suzuki is using less than one-litre per nautical mile and with 150-litres of fuel under the floor a lot of ocean can be covered in a short time. It's always a bonus at day's end to step off a boat without a headache or ringing ears.
This capable performer was supplied on a single axle un-braked trailer which provided a comfortable tow through congested Auckland traffic behind a 3.0-litre family station wagon. However I'd personally opt for a bigger tow wagon or tick the box for optional trailer brakes for long distance towing with a full load.
The last word
The Surtees 5.8 Gamefisher is a well-featured and quality package from a respected manufacturer and is showing all the early signs of becoming a Surtees icon. Its crisp handling and ride are top-notch and the clever features incorporated aren't just marketing hype. They're Kiwi ingenuity at its best and they actually work, and work well. There's also plenty of factory options available to set the boat up to suit a broad range of boating applications. Just add water, a few mates and your ticket to adventure waits.
For more information contact Andrew Carlson, ph 09 410 4369, email andrew@fishingboatsnz.co.nz or visit fishingboatsnz.co.nz.
Feel free to make a comment or ask us a question about this story on the Trade A Boat
page.
For the latest reviews, subscribe to our Trade A Boat magazine here .
Keep up to date with news from Trade-A-boat or like us on Facebook!