Fyran 559 Pontoon
---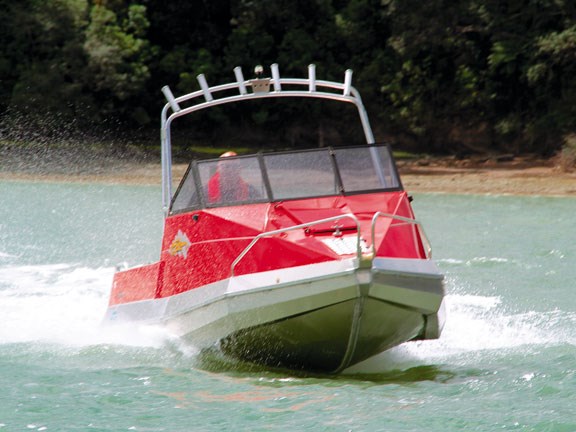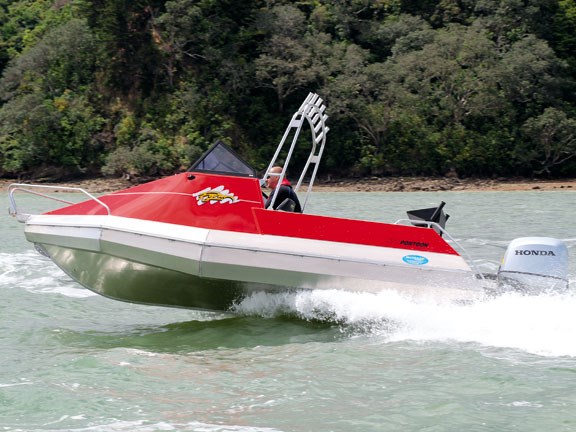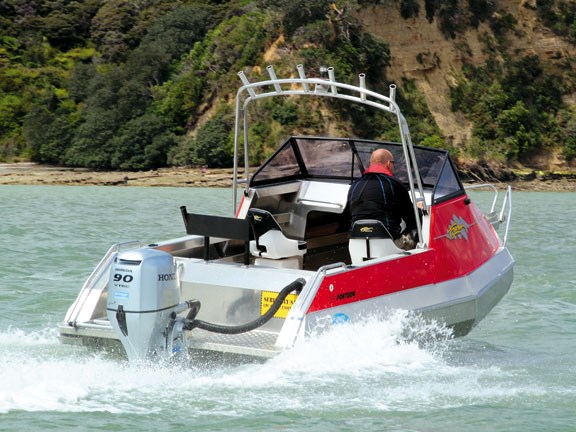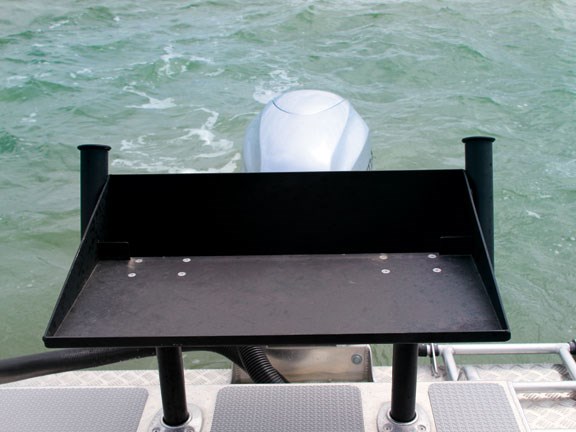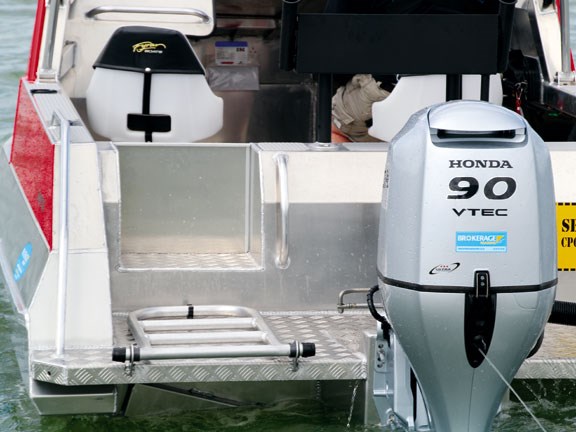 Fyran has built a solid reputation for soft-riding hulls with a fine entry bow, characteristics that are at odds with the usual broad beam of a pontoon hull. On the other hand, the stability and safety aspects of pontoons are hard to beat, so Fyran spent over a year producing a design that satisfied both requirements. The 559 Pontoon is its latest model in the new range of pontoon boats.
The first Fyran pontoon hull was the 599 model, launched in March 2012. Available in hardtop, cuddy cabin and centre console, this has rapidly become a popular seller. However, Gary Stephenson of Brokerage Marine felt there was demand for a slightly lower price point, a more economical model that could also be easily managed single-handedly while still having enough space for a serious fishing expedition. A lower towing weight would also make the smaller model more appealing to those with a more modest vehicle.
The 559 Pontoon is the result of these considerations, and seems to be a good compromise of size, stability and weight. An overall length of 5.6m, and power requirements in the 70-100hp range, plus a dry towing weight of around 950kg, makes this an economical proposition. Available in a choice of paint options, the review boat was finished with red topsides and the silver Honda 90hp four-stroke nicely completing the image.
Fyran has maintained its standard design requirement for a soft-riding and fuel-efficient hull by keeping with an overall beam of 2.2m on the 559, only fractionally wider than the ever-popular 560 Horizon model that has the same overall length. By using specially shaped oblong pontoons, they manage to incorporate the pontoon into the sides without sacrificing much in the way of cockpit space. The pontoons still have toe kicks under the gunwale, enabling a safe stance when leaning against the side.
Viewed from the side, you can see that the pontoon rises and tapers towards the bow, acting as a wide, downturned chine to keep spray down and away from the boat while not affecting the fine entry. The pontoon section, unlike some designs, forms an integral part of the hull design and hence is in contact with the water while underway. This aids in providing additional stability, both at speed as well as at rest. An 18 degree deadrise at the transom mitigates some of that extra wetted surface and improves rough-water performance.
The model we tested was the cuddy cabin, with a walk-through windscreen. A centre console variant is available but the cuddy configuration gives shelter from the elements while not adding much in the way of weight or windage. The cuddy area of the cabin is, of course, for storage only. There are no squabs but rails are fitted to stop items sliding around. The review boat didn't have a bimini fitted, but that would be an obvious optional upgrade.
Anchoring this boat is a breeze. Fold open the mid-section of the acrylic windscreen, open the huge aluminium hatch, and step right through to the bow. A sturdy bollard is welded to the cabin top, and a small treadplate hatch covers the anchor locker. No winch is fitted but, since you are standing fully upright and braced in the hatch area, there is no difficulty in pulling the anchor up. A split bow rail assists in making it easy to lift the anchor right up and stow it securely in the anchor locker.
The main cockpit area has two swivelling padded seats fitted to plastic pods, which provide additional storage space underneath. A parcel shelf runs down either side of the cockpit, although this does not extend forward into the cuddy area. The sides of the cabin are extended back past the helm position to give some shelter from the elements, and a useful storage shelf for the skipper and passenger is built into this. The shelf incorporates a useful, rounded edge to stop items bouncing out.
The review boat had no electronics fitted, but there is plenty of dashboard space that could accommodate a range of options. The rev counter and trim gauge are sensibly fitted over on the right, leaving maximum flexibility for fitting other items in the space available. Welded footrests are provided for both seat positions, but no adjustments of seat height or position is possible.
The rocket launcher arch is fitted with six rod holders and there's a provision for mounting a VHF aerial or spotlight. Sensibly, the arch is mounted on hinges, and undoing two pins allows it to be folded completely flat.
This enables the boat to be stored in a standard garage or under a carport.
The cockpit is sizeable, and could fish four adults with ease. There are no further seats in the cockpit, however, so while underway only the skipper and one passenger can sit down. The deck is treadplate and uncarpeted, although several optional coverings are available. The transom has a large step-through on the port side, with a drop-in hatch keeping water out in rough conditions. Fyran's excellent powder-coated aluminium bait board is fitted into two rod holders in the transom, with its removable cutting board surface and clever tray to prevent knives and other items from bouncing out.
Stepping through the transom, the boarding platform is one of the biggest seen on a boat this size. The huge flat area has little clutter from the cable and mountings of the Honda BF90 and would be quite safe for even two anglers to stand on while fishing. Another comfortable and safe position would be sitting on the transom, facing astern with feet on the boarding platform. It is interesting to note the pontoons extend past the back of the main hull and form a support under the boarding platform. A larger than usual aluminum boarding ladder drops down off the back for swimmers to get back on board, and two sturdy handholds are welded to the transom.
It was a somewhat choppy day when we took the Fyran out for a play, which was ideal for a boat test. Fyran boats have always proved extremely capable in rough waters, and the 559 Pontoon proved no different. The cockpit is completely unlined so, not unexpectedly, the hull produced a fair bit of noise from the chop. Some carpet could be added to mitigate this, but since this is intended as a serious fishing boat, this is unlikely to be a concern to most potential owners.
The Honda BF90 seemed well matched to the hull size, and acceleration was very good. The severe chop meant we were unable to get anywhere near full throttle, but in the conditions we were able to sustain over 20 knots and despite regular 'air time' we didn't feel overly uncomfortable or out of control.Getting the boat airborne in the chop proved easy, and landings were textbook Fyranz, i.e. smooth and soft. While the effect of the pontoons was noticeable, it was mild and, in general, added little in the way of extra 'bang' on landing.
However, the pontoons performed their secondary duty as extra wide chines extremely well, and we took very little spray on board. The boat also handled tight turns superbly, with the chines biting in and dragging the boat around like it was on rails. The hull has no planing strakes but, unlike some other strakeless hulls, there was almost no sideslip in moderate turns – no doubt also thanks to the pontoon chines providing grip.
One area where Fyran's traditional hulls have copped some criticism is their stability at rest. Long, narrow, fine-entry hulls may be smooth riding and fuel efficient, but this comes at the cost of being tender. This pontoon design should silence all the critics, as any tendency towards tenderness has disappeared. This is one stable boat, despite it still having a narrower beam than some of their competitors. We had two large adults on board, and even with both of us hanging far over on one side we got no more than a very moderate amount of lean. This is a boat that would inspire confidence in a big swell, in conditions where a non-pontoon model would be rolling about and distinctly uncomfortable.
Of course, all Fyran boats are built to CPC standards and are unsinkable, so the pontoon model is just as safe as all other Fyran models. What the design has done, however, is change the position of the buoyancy, moving it out wider and adding stability. The hull is built of 4mm marine-grade aluminium, and a keel bar gives maximum strength should you make a mistake when coming ashore or coming alongside a wharf.
We didn't measure the fuel consumption, and conditions on the day also prevented us from realising the maximum hull speed. However, the Honda is known to be a very economical unit, and using two or more tote tanks means you will never unexpectedly run out of fuel. For longer trips, it is a simple matter to bring along an extra tank, and there's space under the transom for three tanks to be fully tucked away – or four if turned at right angles.
Fyran is clearly onto a winner with this boat. Combining all its proven quality and brand features in a boat that overcomes what was arguably the only shortcoming of its other designs means that this Fyran now covers all the bases. If you are after a modest boat that will keep you safe even if you get caught out in adverse conditions, then you should take the 559 out for a test ride. The price of the boat as tested is $57,250, supplied on a Hoskings single-axle, galvanised and unbraked trailer.
For more details contact Gary at Brokerage Marine on 0800 FUNAFLOAT or visit their web site at brokeragemarine.co.nz.
Feel free to make a comment or ask us a question about this story on the Trade A Boat
page.
For the latest reviews, subscribe to our Trade A Boat magazine here.
Keep up to date with news from Trade-A-boat or like us on Facebook!